The Land Down Under has its fair share of excellent streaming services. We have the likes of 9Now, 7Plus, ABC iView, and so many more. Apparently, the region needs more, which brings us to Streamotion – the home to Australia's newest entertainment streaming service, Binge.
The channel shows content from all over the world, but due to licensing rights and much like its Sports counterpart Kayo Sports, it's only available in Australia.
Well, that won't be the case for long. We've already helped you unblock Kayo, and now, it's time to do the same with Binge. Here's everything you need to know.
Unblock Binge Anywhere – Quick Steps
Time needed: 4 minutes
To watch Binge outside Australia, the following steps should be taken:
Subscribe to a VPN service.

We tested dozens of VPNs. Only BulletVPN managed to unblock Binge.

Download and install BulletVPN.

Get the VPN application on your device.

Activate BulletVPN.

Sign in with your username and password.

Connect to an Australian server.

This will grant you an Australian IP address.

Launch Binge's website or app.

Sign in with your credentials.

You now have Binge in your country.

Enjoy thousands of movies and TV shows wherever you are.
The New Australian Brand Binge
Binge is a streaming service brought to you by Foxtel, the home of Foxtel Now and Kayo Sports. The new channel saw the light in 2019 after being rebranded from what was known as Project Ares.
In a 3-year time, the service saw huge popularity in the region, harnessing more than 679,000 subscribers (as of 31 March 2021). Binge won't be replacing Foxtel Now. However, it will be providing a lot more content from several broadcasters around the world for a more reasonable price.
As of now, Binge offers three tiers of monthly subscriptions defined by the quality of the streamed content you'll be getting as well as the number of simultaneous streams allowed. You'll find the plans below:
$10/month: SD Quality/1 Device.
$14/month: HD Quality/2 Devices.
$18/month: HD Quality/4 Devices.
As you can see, the subscriptions range from $10 to $18, marking the channel as pretty affordable compared to other streaming services in Australia. Finally, with a single subscription, you can watch Binge's content on the following devices:
Apple TV
iPhone
iPad
Android
Android TV
Samsung Smart TV
Telstra TV
Chromecast
Windows PC
Mac
That's quite the coverage, considering the channel hasn't been around for long. Whether you prefer small screens or big ones, you'll definitely be enjoying Binge on your device.
Can I Watch Binge Outside Australia?
Short Answer: NO. While Binge can be streamed on almost every device, the channel cannot be streamed in every country. In fact, it's only accessible within the Australian border.
Binge, just like most streaming services, applies geo-blocking. It restricts user access based on his/her location. How does it find out? Simple, it examines their IP address, one of the geo-location techniques websites and services use to pinpoint your whereabouts.
Once it figures out that you're outside its area of coverage, it'll block you instantly. When we were testing the service, we came across three different error messages. Take a look at what you'll be getting if you try to watch Binge overseas:
#1: "Access Denied. You don't have permission to access "http://auth.streamotion.com.au/authorise?" on this server."
#2: "An unexpected error occurred. If the issue persists, please contact the Binge Support Crew. Error Code: 3005."
#3: "Sorry, Binge is only available within Australia. Error Code: 3004."
The last error message shows the problem clearly. Bing is not accessible outside Australia. So, we addressed that the problem is your IP address.
You should obtain an Australian IP to watch Binge abroad, and with a Virtual Private Network and the steps above, that can be done easily.
What is a VPN?
A VPN is a perfect tool to protect yourself against hacking attempts and bypass the internet's censorship. A Virtual Private Network works by rerouting your traffic through a server of your choosing.
Once you establish a connection, the VPN encrypts your data (Enhanced Security) and hides your IP address (Enhanced Anonymity), granting you a temporary one based in the country where the server is located.
With the new IP, services, and websites will take on the impression of you being a resident within their coverage area. As a result, you'll be able to access any restricted channels in the area wherever you might be.
Binge is Australian-based, which means you'll need an Australian IP address. You can easily acquire that by connecting to an Australian VPN server and finally, stream Binge anywhere.
Any VPN? Not Quite
Obtaining an Australian IP address is easy, but getting the channel to work is the hard part, not for you, but for the VPN provider itself. Lately, channels have been blocking VPN traffic, and Foxtel's channels are well known to be among the toughest.
Kayo Sports and Binge actively block known VPN IP addresses from accessing their streams, which has been a growing problem for providers.
Even credible VPNs still face problems with this VPN-banning mechanism. We used one of the best VPN in the industry, connected to an Australian server, and tried to stream a video on Binge. This is what we got:
"We have detected you are on a VPN. Please disable your VPN to view this content."

If such a credible VPN was blocked, one would think that Binge is definitely impenetrable. Well, we'd beg to differ as we tested dozens of VPNs to aid you with your problem.
Unblocking Binge – The Best VPN
Binge was very hard to unblock, mainly because it was able to detect most of the VPNs we tried. However, we managed to find one single provider that was able to get this amazing channel to work abroad – BulletVPN.
The provider, as we described it in our BulletVPN review, is "The only service with a perfect unblocking record."
Tests don't lie, and apparently, BulletVPN lives up to its claims.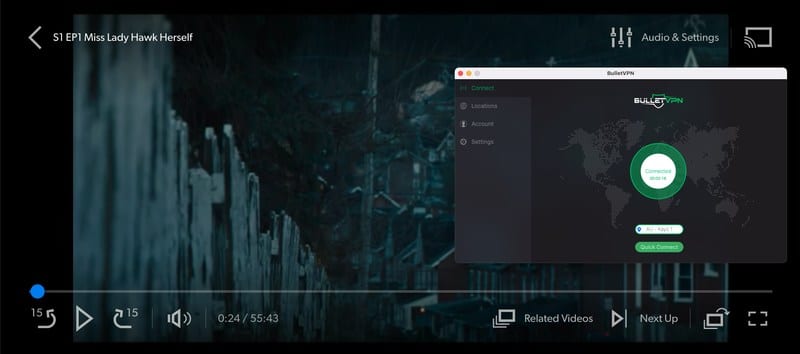 BulletVPN has ten servers in Australia, and 6 of them are dedicated to unblocking Kayo Sports. These servers are well-optimized to bypass any VPN ban applied by the channel.
Kayo and Binge use the same techniques to block VPNs, which is why BulletVPN is the perfect tool to unblock them both.
As an added bonus, BulletVPN offers a Smart DNS service, which allows further unblocking capabilities on devices where it doesn't have native apps.
We're referring to the likes of Apple TV, Samsung Smart TV, Android TV, and Chromecast (Devices supported by Binge).
Now, we have to state that BulletVPN is the only provider that was constantly stable during our tests, but others might prove credible for the task as well. Check them out in the table below.
Binge Anywhere – FAQ
Do you want to know more about Binge and what it has to offer? Then make sure you check the following FAQ section:
We've previously mentioned that Binge offers content from companies all over the world. That's an understatement, to be honest. What we mean to say is that Binge has made deals with the biggest production companies in the world.
Here are some of the titles you'll get to watch:
Titans
Westwood
Succession
Superman & Louis
American Horror Story
Doom Patrol
His Dark Material
Ozark
The Boys
Game of Thrones
The Leftovers
True Blood
Watchmen
The Witcher
Chernobyl
Russian Doll
Line of Duty
The Wire
The OC
Stranger Things
Black Mirror
Mindhunter
Breaking Bad
Peaky Blinders
Sons of Anarchy
Money Heist
The Handmaid's Tale
Big Little Lies
The 100
Supergirl
What Production Companies Does Binge Include Titles From?
You'll be able to watch movies and television shows produced by the likes of ViacomCBS, Fremantle, ITV, Paramount Pictures, BBC, WarnerMedia, Discovery, Inc, Endemol Shine Group, A+E Networks, FX, Sony Pictures Television, and more.
Not to mention that Binge also offers live streaming of 19 Foxtel linear channels with no content blacked out.
Can I Watch Binge for Free?
The channel itself is not free. However, if you're a new subscriber, you can benefit from a 2-week free trial on Basic, Standard, and Premium subscriptions.
Can Any VPN Unblock Binge?
Unfortunately, that's not possible. We tested a lot of VPN services, but only BulletVPN managed to unblock the channel overseas.
What Devices Can I Watch Binge on?
You can stream Binge on the following devices:
Apple TV
iPhone
iPad
Android
Android TV
Samsung Smart TV
Telstra TV
Chromecast
Windows PC
Mac
Watch Binge Anywhere – Final Thoughts
After a huge battle with Stan, Foxtel secured distribution rights for HBO content in Australia, making Binge the best home for Game of Thrones, Chernobyl, True Blood, and more.
It'll also be the home of the long-awaited "Friends Reunion,' so basically, it's a must-have channel. Now, you have all you need to access Binge abroad.
All you have to do is get a BulletVPN subscription, connect to an Australian server, and start binging your favorite shows.
If you have any questions about setting up BulletVPN on your device, please don't hesitate to contact us in the comment section below. We'll be more than happy to aid you.