Sky Go is, by far, one of the best channels to get you unsurpassed British TV to your screens. The online streaming service has it all, be it premium TV series, live channels, and the best sports from all over the world.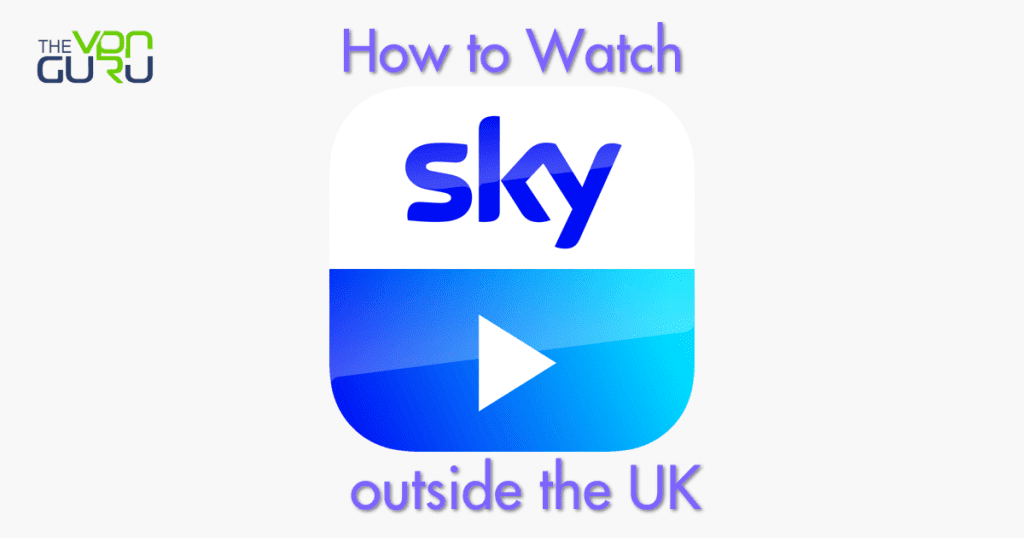 However, if you are an ex-pat abroad, a student overseas, or on vacation outside the UK, you will notice that Sky Go no longer operates in your region due to geo-restrictions.
In this simple how-to guide, we will show you how to unblock and watch Sky Go abroad in around 5 minutes.
Get Sky Go Outside the UK – Quick Steps
Time needed: 5 minutes
Unblocking Sky Go is pretty straightforward. We're not going to take too much of your time here. So, here's how you can watch Sky Go anywhere:
First, you must subscribe to a reputable VPN service.

Not all VPNs can unblock Sky Go abroad, so we highly recommend ExpressVPN for the job.

Download and install the VPN application on your device.

Most VPNs have dedicated clients on Android, PC, macOS, iOS, as well as Fire Stick.

Activate the VPN app, sign in with your account, and connect to a UK server.

This will provide you with a British IP address.

Launch the Sky Go app on your streaming platform.

If you don't have the app, we've included a step-by-step guide to help you install it.

Log in with your Sky credentials and start watching.

Enjoy premium content wherever you may be.
Unblock Sky Go Anywhere – Complete Guide
We still have a lot to talk about when it comes to unblocking Sky Go abroad. Check out this full review to know more:
What You Need
Before you get to watch Sky Go in your region, make sure you have all of the following:
A VPN subscription.
Sky ID.
A Sky Go-compatible device.
A friend or a relative in the UK.
Sky Go – Going Nowhere Outside the UK
Sky Go one of the biggest streaming services in the United Kingdom. In fact, the channel has over four million household users and over 1.4 million unique users a week.
However, while the numbers are outstanding, Sky Go's viewership is only allowed within UK borders. The channel geo-blocks its content mainly for copyright reasons.
It can determine your location by examining your IP address. Once it pinpoints your whereabouts, it'll block your access accordingly.
If you try watching Sky Go programs overseas, you will get one of the following geo-errors:
"Sky go is only available to users connecting from within the UK or Republic of Ireland. You appear to be outside of these territories."
"Sky ID Error 288."
"Sorry. The video you are trying to watch cannot be viewed from your current country or location. Please try selecting a different video."
"Your Sky content cannot currently be viewed in this country. For more information, please go to www.sky.com/EUPortability. Code: 1314"
Your location dictates what you get to access online, and your IP address is the main issue when it comes to geo-blocking.
With a VPN, you get to change your IP address to one in the UK and access Sky Go wherever you may be. The steps above will get your task fulfilled instantly.
What a VPN Can Do!
VPN refers to a Virtual Private Network. It sends your Internet traffic to a new server of your choosing to spoof your location.
In this instance you a VPN service with UK servers. This way the Sky Go servers would assume you are physically in the UK. That's all.
Sky Go does provide a great range of channels, and it supports a wide array of devices. To unblock Sky Go abroad you have to follow the steps provided above.
However, a VPN is so much more than a tool to bypass geo-restrictions. In fact, with a VPN, you get the following benefits:
All Internet traffic is encrypted. Your traffic cant be interrupted or inspected.
VPN is resistant to restrictions applied by ISPs that can affect Smart DNS. Some examples are DNS Hijacking and Transparent Proxies.
A VPN hides your IP address so that no one can spy one what you do online.
If your ISP is throttling your connection, a VPN can bypass that by concealing your identity.
I have tested a lot of VPN providers. ExpressVPN works best if you want to get Sky Go in the USA, Canada, Australia, or elsewhere outside the UK. You can also use any of the top VPN services listed below.
Not All VPNs Are Equal!
In the past, it was an easy task for any VPN to unblock Sky Go outside the UK. Even some free providers were able to get the job done.
However, since Sky TV is only permitted to broadcast in the UK and it pays big money for this privilege, the major broadcaster waged a war against VPNs.
Let's think logically for a second. Sky and BT Sport pay around £4.464 billion for the Premier League, while NBC Sports got that for 1 billion only.
That's when you start to understand why viewing territories are protected. They pay big money for the rights and lose a lot as users start streaming from abroad.
Now, Sky Go is tightening its grip on VPNs by blacklisting any IP address that has an abnormal level of activity. If you try to access any video from abroad using an unreliable VPN, you'll get this:
"Content not available."
We've included 4 of the top VPN providers that proved to be up for the test. According to our tests, all the VPNs on our list can and will unblock Sky Go anywhere.
How to Stream Sky Go Overseas – DNS Proxy
Smart DNS Proxies are different from VPNs by design. Smart DNS Proxies only redirect the segments of traffic-related to identifying your location. See a few more notes about DNS Proxies :
Unblocks multiple regions at once. You can watch Sky Go, American Channels "Netflix, Hulu, Fox, ABC Go, WWE Network", Canal Plus all at once without change of configuration.
All Network devices are supported and setup is quite easy. This includes Smart TVs, PlayStation, Xbox, Apple TV and other devices not supported by VPN.
No bandwidth speed hit, as not all traffic is re-routed.
All the VPNs in the list above offer a Smart DNS service. They're all reliable when it comes to unblocking Sky Go abroad. However, BulletVPN is the only one that allows you to test the service for free as it offers a 1-day free trial.
Creating a Sky Account – The Steps
Getting the Sky Go app isn't enough to stream the outstanding Sky content. You need a Sky TV subscription first, then everything will fall into place. Here's how you can do it:
First, head over to sky.com
On the next page, select "Build Your Package."
Choose your bundle and customize your package with TV Extras if you want.
Scroll down to the bottom of the screen and hit Continue.
Click continue with just TV and submit your information.
Next, you should enter your property details and install the app.
Submit your payment method so you could finalize the process.
You now have a Sky TV account.
Please note that you cannot subscribe to Sky TV from abroad. If you have a relative or friend there, you might want to contact him/her to help you out.
Getting the Sky Go App Overseas
If you've reached this part, we're assuming you already have a Sky ID and a VPN subscription. Now, it's time to teach you how to download and install the Sky Go app on any device you might be operating:
To get Sky Go on your Android or iOS device, follow the steps below:
Download and install the VPN app on your Android, iPhone, or iPad.
Change your respective App Store region to the UK:
Download the Sky Go application.
Sign in with your Sky account and start watching.
Are you using a desktop device? Then this is what you need to do:
Download the VPN application on your Windows PC or Mac.
Sign in with your VPN account and connect to a UK server.
Head over to https://www.sky.com/watch/ and the website will redirect you to your respective download page.
Download the Sky Go Setup and install the app on your device.
Launch Sky Go, sign in, and start watching.
Chromecast doesn't have a native Sky Go App, which is why these steps are required:
On your Android or iOS, download the Sky Go app.
Install the VPN on your router (Connect to a UK server) or configure Smart DNS on it.
Launch the Sky Go app on your mobile and sign in.
Play your video and hit cast.
Watch any Sky Go content on your big screen using Chromecast.
Just like Chromecast, Apple TV does not support the Sky Go app. To watch the channel on the platform, here's what you need to do:
Install the VPN on your router or configure Smart DNS on your iPhone and Apple TV.
Get the Sky Go app on your iPhone and sign in.
Start playing your video.
Click on the AirPlay icon at the bottom of the screen.
You're done.
Sky Go Anywhere – The FAQ Section
Aside from unblocking Sky Go abroad, we also answered some of your frequently asked questions below:
Can I watch Sky Go on a Browser?
Unlike most channels, Sky Go has a dedicated app on desktop devices, which is the only way to stream Sky's content. However, if you want to watch sports, you can stream via the Sky Sports website.
Do I Have to Pay Extra on top of My Sky Bundle?
The first time you subscribe to Sky TV, the setup costs up to £68.95 aside from the bundle.
What Devices is the Sky Go App Available on?
You can download and watch Sky Go on Android, iOS, PC, and Mac. If you want to watch on your gaming consoles (PlayStation/Xbox), you need Sky Go Extra, which can be obtained if you have one of the following Sky products:
Sky Mobile
Sky Q experience
Ultimate on Demand
Sky Multiscreen
What Channels Do I Get on Sky Go?
With Sky TV account, you get access to 300+ channels, including Sky Atlantic, Sky One, Sky Comedy, Sky Replay, The Food Network, MTV, SYFY, Comedy Central, E!, TLC, Eurosport, Sky Sports, National Geographic, Discovery, Animal Planet, and more.
What Sports Can I Watch on Sky Go?
Once you get the Sky Go app, you can watch the likes of UEFA Nations League, Premier League, EFL Cup, Cricket, The Open Championship, US Open, Formula One, Top Rank boxing, more.
Can Any VPN Unblock Sky Go?
No. A lot of VPNs we tested couldn't access the channel abroad. The providers in the table above were successful.
Unblock Sky Go Outside UK – Watch as an Expat Abroad
Whether you are a UK ex-pat working or on holiday in Spain, Saudi Arabia, UAE, Cyprus, Australia, USA, Canada, France, you now have the ability to watch Sky Go anywhere.
Getting Sky Go might be tricky at times, but we're also here to help. If you stumble upon any issue, don't hesitate to contact us in the comment section below.