How to change Google Play Store Region in 2023
|
Each country has a different Google Play Store version. This means that the apps, games, TV shows, and movies available in the US Google Play Store are not the same in the UK, France, Germany, Australia, Canada, or Spain.
How can I change my Google Play region? All you need is a VPN. Find instructions on how to change your Google Play country and unblock new movies, apps, and games with no root.
How to change Google Play Region Without Root – VPN
Sometimes you get the following error message "This app is not compatible with any of your devices". Google determines the Google Play Store Region you get by looking at your IP address.
This means that you can switch your Google Play Store region by switching your IP address. VPN allows you to do that. Install a VPN app on your Android device. Select a VPN server in the region you want to unblock. Enjoy new apps, games, movies, and TV shows.
Changing your IP address to US using VPN, also unblocks US-exclusive apps like Pokemon Go, Netflix, Amazon Instant Video, Hulu Plus, FXNow, WWE Network, CBS All Access, Sling TV, and many more.
VPN encrypts all your traffic. Websites and hackers won't be able to snoop on you when you use a secure VPN connection.
VPN apps are available for Android smartphones, tablets, Windows PC, iPhone, iPad, and Mac.
These apps make installing VPN pretty straightforward.
Whether you own a Sony Xperia, Samsung Galaxy, HTC, LG, Motorola, or Huawei, you can use the same procedures to change your Google Play Store region.
Verify that the VPN provider you sign up with has a large number of VPN servers across the world. The following VPN providers are the best I have tested so far.
If you use your Android devices in public places such as airports, hotels, hospitals, or restaurant, using a VPN is also very important. VPN allows you to encrypt your traffic when using your Internet mobile connection as well as when you are connected to a public WiFi hotspot.
Never underestimate your online privacy! Here is a list of the best VPN apps on the Google Play Store.
How to change Google Play Region on Android – Step by Step
Follow these steps to change your Google Play Store country using VPN:
Install the VPN app provided by your VPN provider on your Android device.
Choose a VPN server in a country of your choice (UK, US, Canada, Spain, etc.)
Establish a VPN connection.
On your Android device, go to Settings -> Apps.
Search for the Google Play Store app.
Click on it.
Press "Force Stop".
While there, click on Storage and clear Cache and Data.
Exit settings.
Relaunch the Google Play Store App.
You will notice that the currency in the Play Store has changed depending on what server you connected to.
Finally, enjoy a different region/country.
Switch Google Play Country to USA/UK – PC/Mac Browser Alternative Method
If the steps above do not work for you for whatever reason, try this alternative method to change your Play Store country instead.
Instead of setting up an American VPN connection directly on your Android device, you can alternatively set up VPN on your PC/Mac instead.
Then, connect to an American VPN server.
Head over to Google Play Store using your PC/Mac browser.
Search for US Android app you want to install.
Click on 'Install' and choose your Android device from the drop-down menu.
The installation process will now begin on your Android Smartphone or tablet.
Best VPN to Change Google Store's Region
There are hundreds of VPNs out there to choose from, but not all of them can actually get you what you need. That's why I took it upon myself and reviewed 4 of the top VPNs to use for Google Play. Here they are:
ExpressVPN
ExpressVPN will headline our list today since it's one of the top providers in the industry. It provides users with high-level protection and privacy. Not to mention that it guarantees to bypass regional restrictions.
ExpressVPN is based in the British Virgin Islands and has more than 200,000 IPs provided by its network of 2000+ servers. Your data will always be protected with military-grade encryptions through 256 bit AES.
You'll be able to benefit from a VPN connection on 5 simultaneous devices. Furthermore, you can communicate with their support team at any time of the day. They're available 24/7 to answer all your concerns.
ExpressVPN also has extra features such as DNS Leak Protection and an automatic Internet Kill Switch. If you want to know more, give our ExpressVPN Review a quick gander.
BulletVPN
Despite being relatively new to the industry, BulletVPN stands tall to provide reliable security to its users through its 256 bit AES encryption.
Not a very large server network compared to the others on our list, but still, it has them scattered strategically around the world. You get to pick from 150+ servers in 55 countries, which is perfect for unblocking websites from all over the world.
For those that would just need to access geo-restricted services, the provider also includes Smart DNS in its offering.
By the way, BulletVPN is one of the few VPN providers that can actually unblock Netflix outside the US. Security-wise, they include OpenVPN, L2TP/IPSec, IKEv2, and PPTP and have apps for most of the operating systems out there. For more info, skim through our BulletVPN Review.
NordVPN
NordVPN excels when it comes to its server network and the security features it offers. Let's begin with a server network of 5000+ servers across 62 countries. If that doesn't help you bypass regional restrictions I don't know what will. Perhaps it could be SmartPlay? NordVPN's own Smart DNS Proxy.
NordVPN applies 256 bit AES encryption. It also has a double VPN protocol, which routes its data twice through its servers instead of once. This means you get double the encryption, but with an even slower speed.
There are servers optimized for streaming, torrenting, downloading in bulk, or playing games online. And finally, NordVPN allows 6 simultaneous devices to share a VPN connection. Want more? Take a look at our NordVPN Review.
SurfShark
Last but not least, we have the VPN that's been buzzing the industry. Whatever you're using, I'm sure that you're thinking of switching to this one. First, it offers unlimited simultaneous connections and a network of 800 servers in total.
Additionally, it has support for both OpenVPN and IKEv2 VPN protocols, as well as full DNS leak protection. Remember double VPN with Nord, this one calls it Multihop.
SurfShark offers neat features users get to enjoy such as CleanWeb, which blocks malicious links, ads, and trackers. Do you want to check more about this VPN provider? Read our SurfShark Review.
Benefits of Changing Your Region
Google Play features different apps from various regions. You'll be able to see what your IP address allows you to see. Changing your region can help you out a lot. Here's why:
Access Region Blocked Apps: You can literally tap into a new library of content if you change your Store's country. Let's say you're living in the UK and you want to download Microsoft Cortana. I'm sorry my friend, but you'll be getting this message instead: "This item is not available in your country."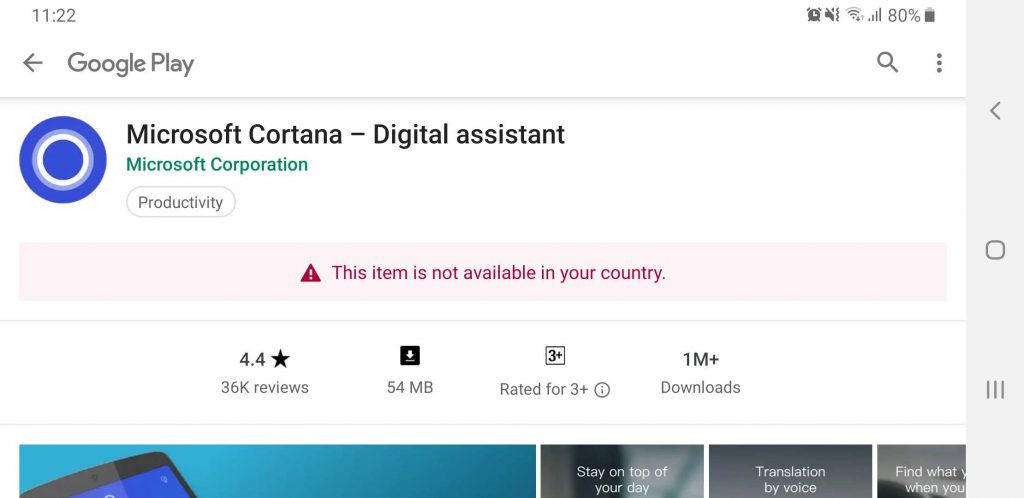 After you connect to a VPN server in the US and change your region, you'll be able to download the app wherever you are.
Get Better Prices: Each region comes with a different merchandise price as well. If you find an application on Google Play and it's expensive, try to connect to a different server and see if you can get it for a cheaper value. You'll be able to pull it off in the end.
Top Movies Available on the US Play Store
Here are my top picks of what's available now in the store's library. Check it out wherever you are.
Glass
Bumblebee
Spider-man Into the Spiderverse
Avengers Infinity War
Fantastic Beasts: The Crimes of Grindelwald
The Kid Who Would Be King
Aquaman
The Lego Movie
Holmes & Watson
Replicas
Serenity
Game of Thrones
Better Call Saul
The Blacklist
The Flash
Grey's Anatomy
Dragonball Super: Broly
Venom
An Alternative?
The steps above will guarantee to get thousands of new applications not available in your country. However, in some cases, it might not work for all of you.
Also, Google Play Store's most desired applications might come as premium, which may exceed a user's budget. That's why most of you search for an alternative.
What you may not know is that not all download sites are safe. As an alternative App Store, users can always check the widely popular Aptoide, which offers everything there is in this department, and for free regardless of whether the app is premium on Google Play or not.
You can install Aptoide on your Android device and check a whole new world of downloadable content with a push of a button.
How to Switch Google Play Country
The method explained above has been tried on various Android devices. If you still face any issues with using VPN to change your Google Play Store region, please get in touch with us by leaving a comment below.
Save
Save