Google Play Store is the safest and most efficient way to get applications on Android. However, a lot of apps might not be available due to several reasons, including the user's location. Moreover, there are dozens of premium apps that exceed the user's budget. So, how can Anroid users get such applications? Easy, an alternative marketplace that goes by the name of Aptoide. Don't have it yet? Here's how you can download/install Aptoide on your Android device.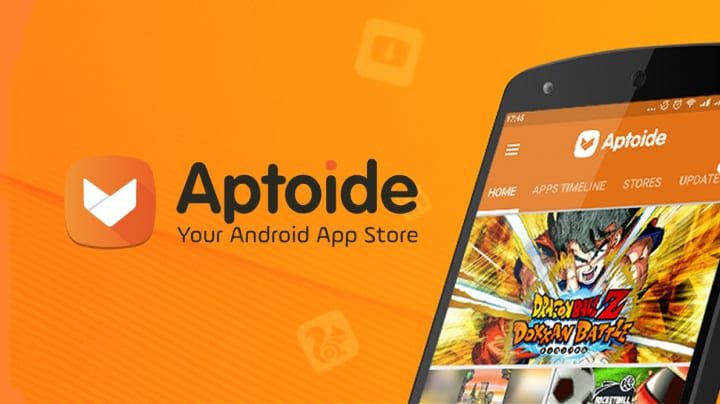 How to Download/Install Aptoide on Android – Content Index
There's no doubt that Aptoide can open new doors for every single Android user out there. That's why we decided to teach you everything you should know about the app itself, what does it offer, and how to install it on your device.
What is Aptoide?
Aptoide has been around for more than 9 years now, offering Android users the best applications for free. Even if the app is premium and requires a payment in the official app store, Aptoide allows users to get it free of cost.
Moreover, the App Store offers convenience and the ability to create and manage our own store, follow community recommendations, and discover new content.
Number don't lie, and with Aptoide, numbers do matter. In fact, this Android App Store has more than 200 million users and is downloaded more than 4 billion times. Up till now, Aptoide has more than 1 million applications available for downloading and is available in 40 different languages.
To sum it up, Aptoide is an alternative for Google Play Store where so many apps are not available due to location or due to the fact that they don't comply with Google's conditions for their store.
Now, it might be the perfect go-to solution for downloaders, but it's also beneficial for developers. Aptoide gives developers customizable white-label App Store solutions, through which they can upload and distribute their own Android Apps.
Google Play might not accept such apps, despite being free of any malware or flaw. This gives Aptoide a plus in this department. As for the apps, let us show you an example of the difference between the two.
Google Play has premium applications, while Aptoide offers them all for free. We searched for an app called Monument Valley 2 on Google Play. The app is premium and it costs $4.99.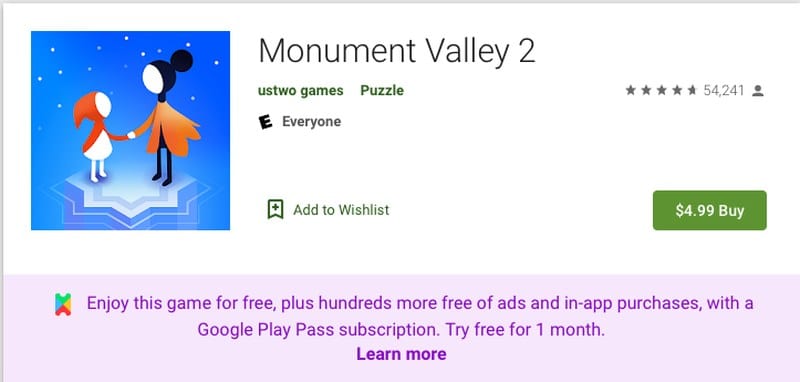 Anyone who wants to download this app has to pay the amount mentioned above first. However, by using Aptoide, things take a better turn. The same application is available on the alternative store for free.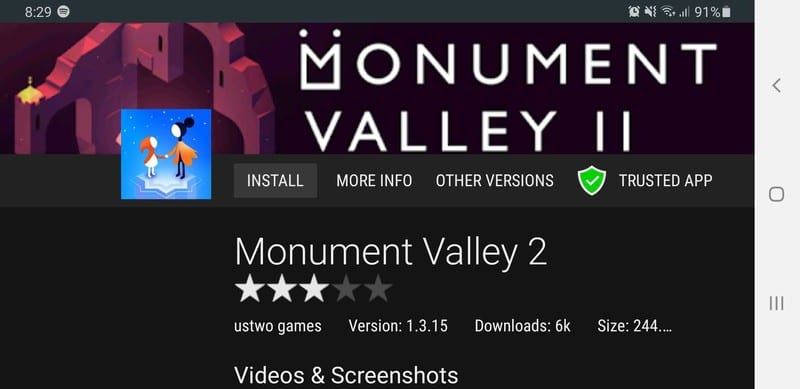 We were able to install the application directly and use it without having to pay a single penny. Monument Valley isn't the only premium game we found for free on Aptoide. They're in the hundreds.
Aptoide's Compatibility
Aptoide has two versions – the normal one that works on Android mobiles and the TV dedicated applications for Android TV. Please note that Aptoide TV also works on mobiles, which can beneficial at times.
Aptoide is compatible with devices that run Android OS. These include:
Android Mobiles
Amazon Fire TV/Stick
Nvidia Shield
Sony Bravia (Android-based)
Turewell T9
MINIX NEO U9-H
Mecool MK9 Pro
Ematic Jetstream
A95X Max
Xiaomi Mi Box S
Getting the Aptoide App on Android
Unlike iOS devices, it's relatively easy to sideload apps on Android. Apple is opposed to third-party app stores. With Android, it doesn't matter if the application is available on Google Play Store, be it location issues or the app itself, anyone can download anything via alternative stores.
Aptoide itself is not available on Google Play, imagine that! However, sideloading comes with a price and it comes in the form of malware. You can find trusted websites to download APK files and sideload them on your device without worrying about security threats.
When it comes to installing Aptoide on your Android mobile, things couldn't be easier. With a few clicks here and there and an approximate waiting time of a couple of minutes, you'll be diving into a wide variety of free apps in not time.
Using your mobile's browser, visit Aptoide's official website. You can download the APK file there. As an alternative, you can get the APK for this trusted download link.
If you chose the website, you'll be redirected to this page. Undearneth Install Aptoide App, click on Download.
On the next page, the website will inform you that your download will start automatically. Also, it'll tell what to do since you need to enable installation from unknown sources.
Wait a few seconds and the following pop up will appear. This states that such a file can harm your device. If you wish to proceed, click ok.
Once the download is done, you'll be asked to install it. Click on Package Installer to proceed.
Once you click that, another pop up will appear asking you to start the installation.
Now the installation proceed will initiate. Wait a few moments and launch Aptoide.
Welcome to a whole new world of free applications courtesy of Aptoide.
There you have it. You now have Aptoide on your device – a new market for a whole new downloading experience. Everything is for free, despite being premium on the official Android store.
Your Android TV Gets Aptoide As Well
Android is Android, and whether you have an Android device or a TV Box, Aptoide can easily be installed on it. Actually, any app can be sideloaded on Android devices. However, this special app marketplace goes by a different name when it comes to Android TV Boxes.
Aptoide TV is its name, and it functions the same way as its mobile counterpart. However, unlike the one on Android, there's more than one way to get it on your TV Box. To be exact, you have two methods to do so.
However, all the ways require a File Manager. Most of Android TVs have one pre-installed, but if yours doesn't, get ES File Explorer from Google Play.
All you have to do is pick one and follow the steps below as we included the steps for all of them:
Web Browser:
This is probably the easiest way to get Aptoide TV on your TV set. With a few clicks here and there, you'll be able to access a wide range of "Free" applications on your Android TV. Here's what you need to do:
First, launch your Android TV and head over to Settings.
Next, enable the "Unknown Sources" option.
After that, open the browser on your Android TV.
Visit this link, which will take you straight to Aptoide TV's official website.
Click on Download Aptoide TV.
Now that you have the installer file, run it using a file manager (most Android TVs have those). If you don't, get ES File Explorer.
Wait for the installation process to finish.
You've successfully installed Aptoide TV on your Android TV.
Using the web browser is probably the easiest way to get Aptoide TV on your TV set. However, a lot of us fear getting our device infected by unknown malware, so we prefer different methods.
USB Method
Those who don't like to download stuff straight on their Android TV for security reasons, have a different way for getting the Aptoide TV app. It's simple, it's easy, and doesn't take a lot of time.
This method requires a PC, a USB, and of course, the Android TV set. With those around, follow the steps below:
First, turn on your PC and open your browser.
Now, visit this link as it takes you to Aptoide TV's official website.
Click on Download Aptoide TV in order to get the installer.
Next, plug in a USB to your PC and copy the installer file on it.
After that, insert the USB flash drive in your Android TV box.
Run the installer from your File Manager.
Now, you can use Aptoide TV on your Android TV box.
This might be a bit longer than the first method, but some users prefer such precautions in order to avoid any unwanted malware that may tag along with their files.
The Frequently Asked Question – Is Aptoide Safe?
Android devices do allow you to sideload applications, but they also warn you of such acitivities. They tell you that such files might harm your device, and some of them do.
If the source isn't credible, hackers and cybercriminals might take advantage of that. Even with Aptoide, some apps might be tools for hackers to get a hold of your data, so be careful when you download one.
Aptoide is a free and open source market, so literally anyone can upload an app without having to ask for permission. This makes the popular software vulnerable to illegal applications.
Some applications aren't just illegal, but they pose a security threats as they may be hosted by cybercriminals. Once installed, the host can easily harvest personal information and sensitive data without the user's knowledge.
Now, aside from security, we have to note that Aptoide can be installed by everyone, including children. This is quite alarming as the market place also hosts adult applications not suitable for their age.
That said, Aptoide sure had a shady past due to copyright and software piracy issues, but the app itself is safe. It put a lot of effort to improve everything and enhance the security of the apps offered.
Moreover, it uses top-level technology to detect those that are potentially dangerous due to the presence of viruses or other sorts of malware.
We also ran the Aptoide installer through one of the most credible Virus Scanners on the web and nothing negative came up.

As seen above, Aptoide's installer is clean and 52 credible sources confirm that. The app itself is safe to use, and the applications are examined before making it to the store.
However, according to Aptoide, all apps with Trusted Badge are safe to use. There are four other badges that depend on the reputation of the developer: Trusted, Unknown, Warning, and Critical.
Users should follow what others have claimed and avoid those that are not marked as trusted. It's their device's security in the end, they'll be risking it all for a single app.
Safety Precautions and Unlimited Access
No matter how safe the applications you decide to install, you should have safety precations installed on your device first. That includes antivirus software and of course, Virtual Private Networks.
First, an antivirus application will protect your device against any malware infection. VPNs, on the other hand, help encrypt your data and hide your identity while online.
While getting applications that are not available in your country has become easier with Aptoide, you still need a VPN to get them. For example, Hulu cannot be downloaded outside of the US on Google Play, but on Aptoide, it's one click away.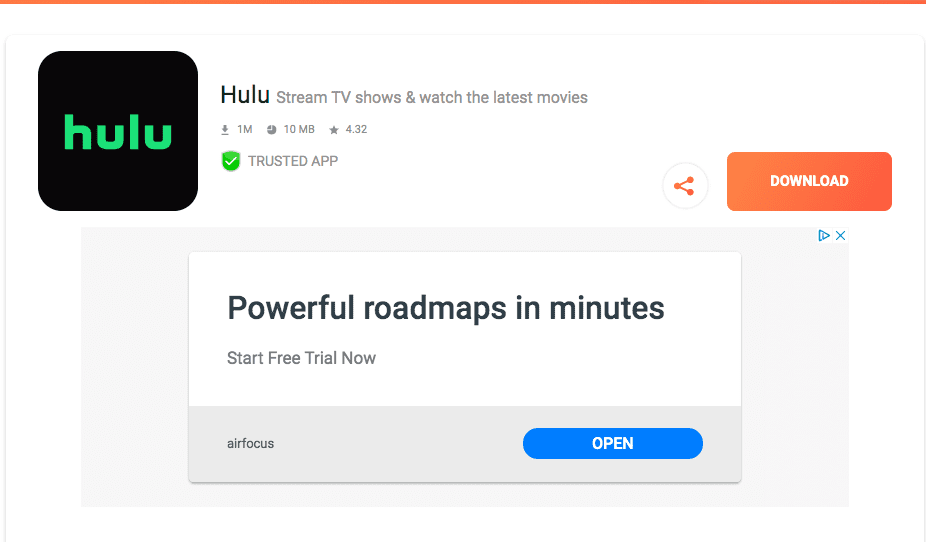 However, getting the app will do you no good if you're not using a VPN. This cybersecurity software allows you to change your location and appear to be browsing the web in a country of your choosing.
That's based on the server you connect to. In Hulu's case, you have to connect to a US server to obtain an American IP address. Then and only then will Hulu be fully functional in your region if you're outside of the States.
VPNs are all over the market, but the ones credible enough to unblock Hulu are few. Only the best VPNs for Android can get the job done, and you should pick one of them for the task.
Issue With Google
Aptoide has launched a campaign to raise awareness and inform users and other startups about how Google treats its app. Aptoide claims that Google prevents users from freely choosing their preferred app store.
Also, they state that google marks their application as unsecure, while also claiming that their store is "proven… 100% secure":
"We would like to be treated in a fair way: Play Protect should not flag Aptoide as a harmful app and should not ask users to uninstall it since it's proven that it's 100% secure.

Restricting options for users goes against the nature of the Android open source project [ref10]. Moreover, Google's ongoing abusive behaviour due to it's dominant position results in the lack of freedom of choice for users and developers.

We would like to keep allowing users and developers to discover and distribute apps in the store of their choice. A healthy competitive market and a variety of options are what we all need to keep providing the best products."
A couple of years ago, Atpoide estimated that the Google Play removal and flagging of its app had cause the loss of 15% to 20% of their user base. That's why Aptoide came up with this campaign as it's demanding to be treated in a fair way, as mentioned in the quote above.
How to Install Aptoide on Android – Final Thoughts
Aptoide is a perfect market place and an outstanding Google Play Store alternative. Whether the app is premium or abscent from Google Play, Aptoide surely has it free of cost.
Having Aptoide on your Android device is very important, especially if you wish to have a smooth downloading experience. Now you have what it takes to download and install Apotide on your device. Let us know how everything worked out in the comments below.