The football competition we've been waiting for since 2018 is finally here. Yes, the 2022 FIFA World Cup will commence on November 20th, 2022 and it's more exciting than ever. Such a global phenomenon requires international broadcasting, and that's exactly what it has.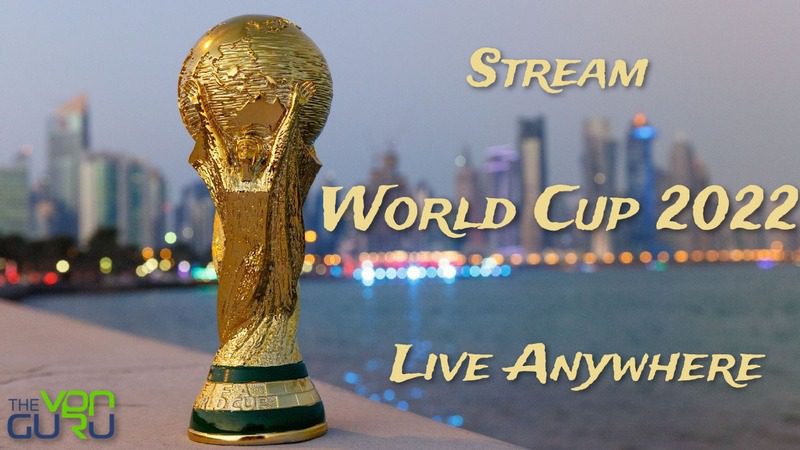 The 22nd World Cup is broadcasted all over the world via various streaming services. However, geo-restrictions still apply, which prohibit a lot of streamers from watching the epic showdown between 32 of the world's best national teams.
From pricey subscriptions or limited access to no access at all, there's always a reason to find the perfect channel to stream the World Cup. Don't fret, we're going to help with that. Here's how you can watch FIFA World Cup 2022 live anywhere.
Stream World Cup 2022 Live – Quick Steps
Time needed: 6 minutes
This year's World Cup promises a lot of excitement and amazing matches. That's why we won't be taking too much of your time. To stream the legendary competition live in your region, the following steps are required:
Subscribe to a VPN service.

For an extensive server network, we recommend using ExpressVPN.

Get the VPN app.

Download and install the VPN client on your device.

Activate the VPN application.

Sign in with your username and password.

Connect to a VPN server.

Select a server in the country where your preferred channel is available.

Launch the channel's app or website.

Sign in with your account if required.

Watch the 2022 World Cup live.

Enjoy two months of non-stop football action wherever you are.
Stream World Cup 2022 – The Full Guide
We have a lot to discuss, which is why we created the following comprehensive walkthrough. Make sure you go through everything for additional information.
What You Need
To stream the 2022 World Cup live anywhere, you need everything on the list below:
A VPN subscription.
An account with your preferred channel (Some require none).
A compatible streaming device.
FIFA World Cup 2022 – The Channels
When it comes to sports, nothing is more popular than the FIFA World Cup. Every year, the competition harnessed not millions, but billions of viewers all over the world.
In fact, as confirmed by FIFA, the 2018th edition in Russia was watched by a combined 3.57 billion viewers. In other words, more than half of the global population aged four and over tuned in to stream the legendary tournament.
France vs. Croatia alone gained more than 1 billion viewers, which shows how big the World Cup is. Speaking of big, the World Cup's international coverage is huge. Take a look at the channels broadcasting the event below: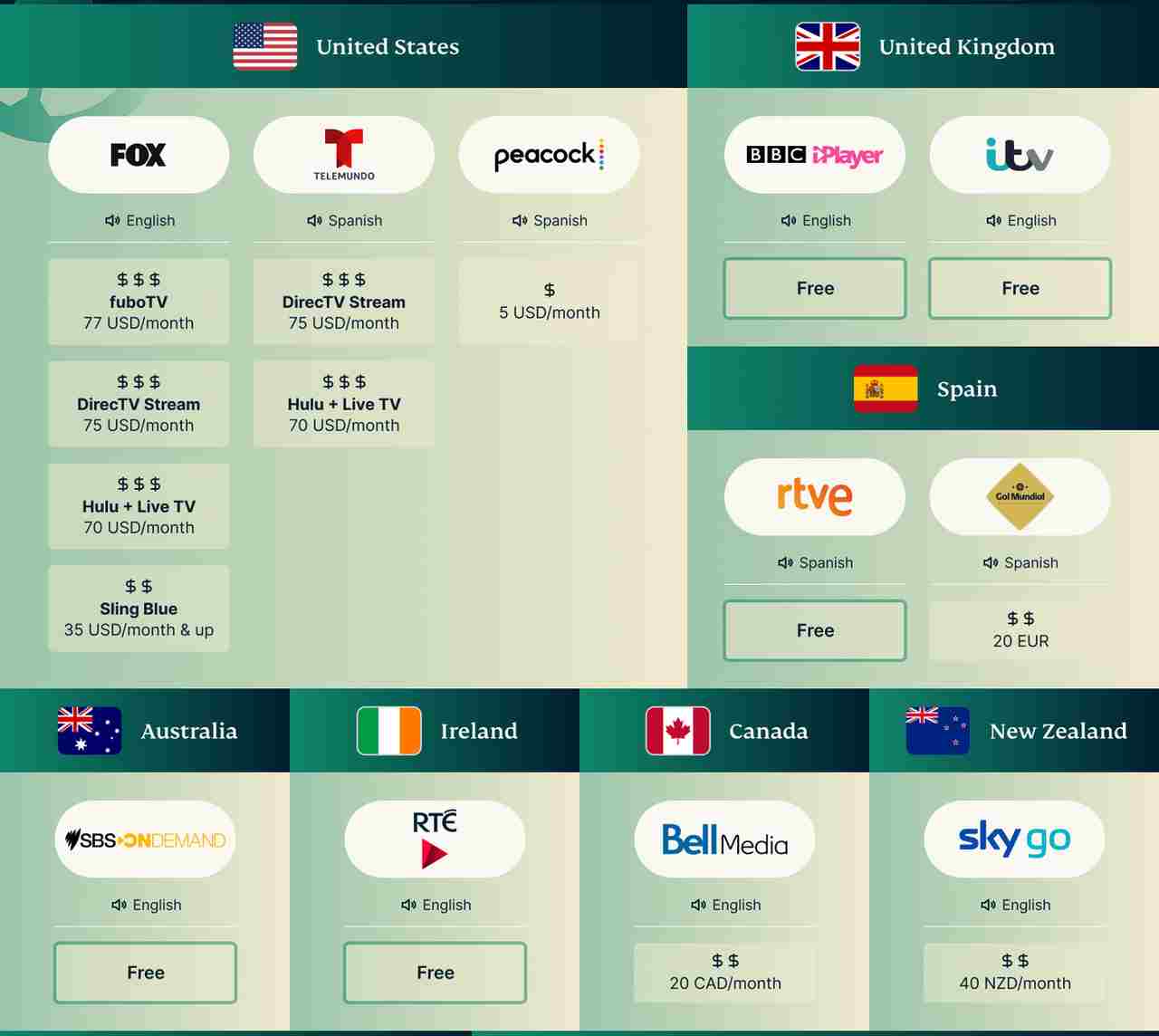 As we mentioned, the World Cup has broadcasters all over the world. Some are free, and some are premium, but we definitely can't fit them within a single table. If you want to check the full list of channels, you can visit this FIFA official page.
Geo-Restrictions Still Apply
Let's be honest, there's nothing better than streaming the entire World Cup tournament for free. Luckily, most of the channels broadcasting the events do provide that.
However, despite the availability of such services, geo-blocking still applies. In other words, if you live in a country that hosts a premium channel or no channel at all, you won't be able to access an international one due to geo-restrictions.
Here's how it works. Due to broadcasting rights, channels are only able to provide content in select regions.
When you visit a channel's website or launch its application, it will examine your IP address to determine your location. Accordingly, you'll be allowed access or blocked on the spot.
For example, residents in the United States can watch the World Cup via Fox Sports. This is a service that requires a cable subscription. For most of you, this is not an option as you'd prefer a free one.
If you try to watch a free channel such as BBC iPlayer outside the UK, your access will be immediately terminated. You'll get the following error message instead of the video you're trying to stream:
"BBC iPlayer only works in the UK. Sorry, it's due to rights issues."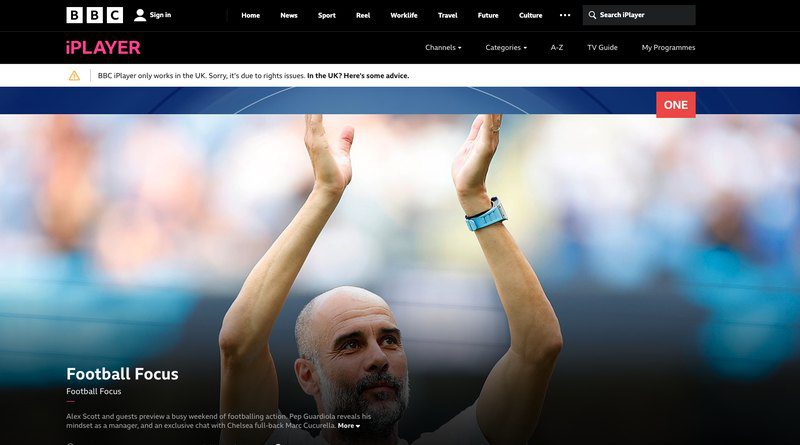 Rarely do we see an error message stating the exact reason for the block. BBC iPlayer does inform you that copyright agreements are the main reason for this.
Now, such restrictions can be very frustrating, especially if they are what's standing between you and the 2022 World Cup. Don't worry! By following the steps above, you'll be watching every single game for free, wherever you may be.
A VPN's Benefits
The entire bypassing process cannot be performed with a Virtual Private Network. Here's why. A VPN is used to enhance a user's online privacy and security.
It applies military-grade encryption, which protects your data (sent or received) from outside interference. Not even your ISP can decrypt such a defense mechanism.
Aside from that, a VPN cloaks your IP address and provides you with a new one based in the country where the selected server is available.
Once the connection is established, you'll appear to be browsing the web from that region and you'll have full access to exclusive services there.
For example, if you connect to a UK server, you'll receive a British IP address. With that, you'll be able to watch BBC iPlayer, ITV, and other UK-based channels regardless of your physical location.
To be frank, here's what a VPN can do:
Enhances your online security by applying military-grade encryption.
Anonymizes your browsing activities by cloaking your IP address.
Unblocks major streaming services all over the world.
Please note that the aforementioned benefits can only be provided by a reputable VPN. As a recommendation, we suggest you give ExpressVPN a try.
The service has servers in 94 countries, including the ones where broadcasting channels are available. Not only that, but the connection speeds are top-notch.
Based on our tests, ExpressVPN managed to maintain excellent speed rates and our videos remained in top quality.
Now, ExpressVPN might be our top recommendation, but it's not our only one. We tested several other VPNs and they also managed to get the job done. Check them out in the table below.
FIFA World Cup 2022 – FAQ
Do you have more questions about the 2022 World Cup? Then give this FAQ section a quick read.
When Will the 2022 World Cup Begin?
This year's World Cup will take place between 20 November and 18 December 2022.
Can I Watch the World Cup for Free?
A host of free streaming services are broadcasting the entire competition for free. All you have to do is connect to a server in the channel's respective country and start streaming.
How Many Teams Are Participating in the Tournament?
The 2022 World Cup will have 32 national teams competing for the trophy.
Which Teams Are Competing in the 2022 World Cup?
The teams are divided into groups. Here's how they all stand:
Qatar, Ecuador, Senegal, and the Netherlands
England, IR Iran, USA, and Wales
Argentina, Saudi Arabia, Mexico, Poland
France, Australia, Denmark, and Tunisia
Spain, Costa Rica, Germany, and Japan
Belgium, Canada, Morocco, and Croatia
Brazil, Serbia, Switzerland, and Cameroon
Portugal, Ghana, Uruguay, and Korea Republic
Can I Watch the World Cup on Kodi?
Yes, you can. Several broadcasting channels have official add-ons on the Kodi platform. That includes ARD, ZDF, BBC iPlayer, Rai Play, and RTP Play. All of them are free.
What Venues Are Hosting the World Cup Matches?
As we all know, the hosting country is Qatar. You can find the list of 8 venues below:
Lusail Iconic Stadium
Al Bayt Stadium
Stadium 974
Al Thumama Stadium
Khalifa International Stadium
Education City Stadium
Ahmad bin Ali Stadium
Al Janoub Stadium
Watch the World Cup Anywhere – Final Words
Streaming the 2022 World Cup in any region has never been easier. Now, with the steps provided in this guide, the ball is finally in your field.
No geo-restrictions can stop you from watching all the football action happening in Qatar on the 20th of November. Remember, if you need help with anything, anything at all, feel free to contact us in the comment section below.