How to Watch TSN Outside Canada
|
The Sports Network aka TSN is Canada's leading English sports channel. The NFL, NHL, NBA, hockey, soccer, and the FIFA world cup are all brought to you via TSN. Sadly, only Canadians get to catch up with their favorite sports events.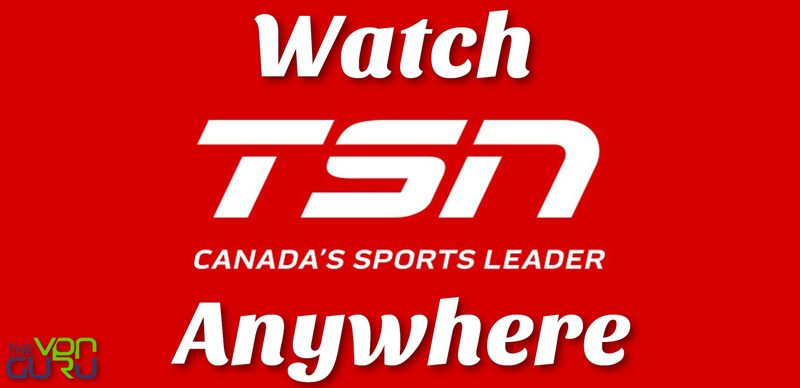 There is, however, a loophole to watching this channel even if you were outside Canada. Although you would need a valid account to watch TSN online, streaming it from the US, for example, is not exactly mission impossible.
In this guide, we've rounded up everything you need in order to unblock TSN in your region. It's easy, it's comprehensive, and it's all yours.
Watch TSN Anyhwere – Quick Guide
Time needed: 4 minutes
Unblocking TSN outside Canada is an easy task. All you have to do is follow the steps below:
Subscribe to a VPN service.

Make sure it has servers in Canada. For guaranteed results, we recommend ExpressVPN.

Download and install the VPN app on your device.

Most providers support major operating systems such as Android, iOS, Mac, and PC.

Activate the software and sign in with your account.

You might be prompted to enter a verification code found in your account.

Connect to a Canadian server.

This will give you a Canadian IP address.

Launch TSN's website or app.

A step-by-step installation walkthrough is provided below.

Sign in with your TSN account.

You're prompted to use a TSN Direct account or your TV provider credentials.

Watch TSN wherever you are.

Enjoy leading Canadian and international sports anywhere.
TSN Anywhere: In-Depth Walkthrough
You now know how to unblock TSN, but there's more to it than just that. Why is it blocked? Why VPNs are the ultimate unblocking tools? Find out everything in this comprehensive guide:
What You Need
To watch TSN in the US, Australia, the UK, Germany, or elsewhere outside Canada, the following is required:
A VPN account.
TSN Direct account or a TV cable deal.
TSN-compatible device.
TSN – A Canada Exclusive
You can find just about any type of sports on The Sports Network. It is after all one of the biggest channels in the Canadian region.
Back in August 2020, TSN reported 6.8 million subscribers, which is a huge number. However, all of these users are located inside Canada.
For those abroad, we're sorry to state that you're geo-blocked. Just like many streaming services, TSN applies geo-blocking, where it examines your IP address to determine your location.
If your whereabouts happen to be overseas, the channel will immediately terminate your access. In other words, TSN requires a Canadian IP address. Living abroad doesn't provide you with one, resulting in getting one of the following errors:
"Sorry, the content you are trying to view is not available in your location."
"We're sorry, this content is only available for viewing in Canada. 72." (Browser Error)

"Playback Error. Sorry, the video you have selected is not available for viewing in your region. [01]."

Fortunately, you wouldn't have to deal with a blockade if you use a VPN. All you need to do is follow the steps presented above and you'll be able to stream TSN wherever you are.
A VPN's Benefits
VPNs have been around for quite some time now, offering top-level security and anonymity to their users. When you connect to a VPN server, the service encrypts your data and shields it from any third party that tries to intercept it.
Moreover, it cloaks your IP address and replaces it with a temporary one based on the server's location. This ensures total anonymity and allows you to access material not made available in your region.
For example, if you connect to a Canadian server, you'll receive a Canadian IP address. As a result, you'll be able to watch TSN, along with other Canada-based channels wherever you may be.
Now on to the most important part of this whole bypassing process which is choosing a good VPN service provider.
You're already too saddened by the fact that TSN isn't accessible where you live that you're not in the right headspace to judge whether a VPN is good or not. Luckily for you, we've already done the research and work for you.
Look no further, ExpressVPN has got you covered. They provide their users with an anonymous IP, which they can use to bypass geo-restricted material like TSN at the touch of a button.
How to Watch TSN Outside Canada with Smart DNS
So now you can watch the channel, thanks to the virtual private network trick we presented you with. However, that's not all we have to offer you. Besides a VPN, another method is Smart DNS proxy.
This also can be used to bypass regional restrictions and unblock channels that are not available in your country.
You don't get a new IP address, unlike VPNs. A Smart DNS offers a way to redirect users' traffic through a mediating server, which helps hide the customers' real location. This is how you use a Smart DNS to bypass TSN Go.
Head over to Unlocator and sign up for a free 7-day trial.
Follow the tutorials to configure Smart DNS on the device you wish to use.
Finally, go to the TSN website and sign in.
You can now watch The Sports Network
All the VPNs in the table above have perfected the art of bypassing geo-restrictions. Not to mention that all of them also offer free Smart DNS.
We suggested Unlocator as it's the only VPN that offers a stand-alone Smart DNS plan. Unlocator offers a 7-day trial, which means if it doesn't work, you can always switch to another DNS proxy.
Get TSN on Any Device Outside Canada
If you're here, we can assume that you already got yourself a TSN account. Now, it's time to get the channel itself on your device. Just follow the guide below based on the platform you're using:
Mobile
If you happen to have an Android or iOS device, the following is required in order to get TSN:
First, connect to a Canadian VPN server.
Next, change your native App Store region to Canada:
Download and install the TSN app.
Enjoy!
Desktop
Do you like watching sports on your PC or Mac? Then this is going to be very easy:
Open your VPN and connect to a Canadian server.
Open your preferred browser and visit TSN's website.
Sign in with your account and start watching.
Xbox
Xbox devices are not natively compatible with VPN clients. That's why instead of using the app, you have to do the following:
Install the VPN on your router or configure Smart DNS on your Xbox.
Switch your Xbox country to Canada and get the TSN app.
Launch the client and watch your favorite sports anywhere.
Samsung TV
Apple TV
TSN Anywhere – FAQ
Do you want to know more? Then make sure you check these "Frequently Asked Questions."
Can I Watch TSN for Free?
Some content can be streamed for free on TSN. However, if you want live broadcasts, you must subscribe to TSN Direct, or sign in with your provider's credentials.
What's the Difference between TSN Direct and TSN?
Both are the same. However, TSN requires a cable subscription, while TSN Direct requires a monthly fee (no TV provider needed).
What Devices Can I Watch TSN on?
You can stream TSN on Android, iOS, PC, Mac, Apple TV, and Samsung Smart TV.
Which Sports Does TSN Broadcast?
TSN has a lot to offer in terms of content. You'll be able to stream the likes of NBA, NFL, Golf, Tennis, NHL, La Liga, Serie A, and more.
Get TSN in the US
Watching TSN outside Canada is very much achievable. Now that you know what you need to do to get TSN in the US or any other country, you can witness all the exhilarating action, athleticism, and fantastic physical abilities provided by The Sports Network at any time, anywhere.
If you have any questions about how to unblock the channel abroad, don't hesitate to drop us a comment in the section below.