Watch ITV in USA – Unblock outside UK Abroad
|
Whether a channel offers its services for free or not, it's not right to deprive people of content based on their location. When I left the country during my vacation, I lost all my ITV privileges and it seemed like a helpless case since the channel is only available in the UK. A lot of you expats making a living abroad understand what I've been through. Well, that was a problem until I stumbled upon VPNs and Smart DNS proxies. So, do you want to know what tricks I have up my sleeves? I'm going to show you anyway. Here's how to unblock ITV outside the UK.
ITV in the US – The basics
If you're here, you've probably gone through the same issue I did a while back. Once you leave the United Kingdom and connect to the internet in a different country, your IP address will change. It will change into one valid in the country where you reside at the moment. For example, if you travel to the US, your IP address will become American. That's why you lose access to ITV.
ITV requires a UK IP address. If you don't have that, your wonderful streaming experience will shift into a frustrating geo-error message that states:
"Sorry. We've detected that you're outside the UK. ITV Hub is only available for viewing in the UK."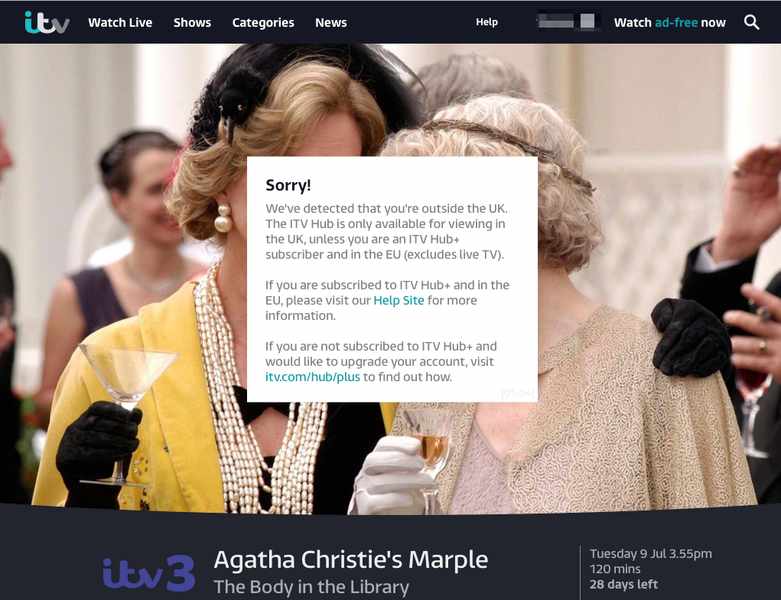 Calm down, fellow streamers, there's a way around it. If you want to bypass this error and watch ITV Hub in Spain, Australia, USA, Canada, or anywhere else outside the UK, you have to spoof your online location. See what I did there? "Online Location", you don't have to be physically present in the UK to operate ITV. Luckily, you can do so if you make use of either a VPN or Smart DNS. Shall we take a look at how you can do that?
Get ITV Hub in the United States with a VPN
So if you want to enjoy British shows such X Factor and Coronation Street. What about some Agatha Christie mysteries? I already showed you that I watched Marple, would you care to do so as well? Well, if you're in the US, here's what you need to do:
First of all, get a VPN subscription. I've been using ExpressVPN to watch ITV abroad for quite a while now.
Their application is available for download on their official website. Just pick whether you want it on Windows, Android, Mac, iOS, or FireStick and get it.
Activate the client and log in with your credentials.
You want a British IP address, right? Then connect to a UK VPN server.
Now, launch ITV's website or activate the ITV Hub application.
Enjoy watching both live and on-demand ITV content from anywhere in the world.
Best VPN for ITV USA
A VPN stands for Virtual Private Network and is a network concept that redirects your traffic through a private tunnel formed between your device and the VPN server. Once you're connected, you'll be able to:
Change your location to appear to be coming from the UK or US or elsewhere depending on the location of your VPN server.
Encrypt your traffic and protect it from inspection and eavesdropping.
Access all websites based on the location of your VPN server. So if you choose a UK server, you will get BBC Iplayer, Demand 5, ITV and UK Netflix. If you choose a VPN server in the USA you will get Hulu Plus, Fox, HBO Go, and US Netflix.
Setup of VPN from subscription to setup is an affair of a couple of minutes "Apps for all mobile and desktop OS".
I personally do use a VPN Service called ExpressVPN. They offer great 24×7 support, 2000 servers across 168 locations and high-grade encryption standards.
If that's not what you're looking for, you can use these best ITV VPN providers below to access the channel in the US and anywhere else across the globe.
Last Updated Today


30-Day Money-back Guarantee
Unlimited Bandwidth
Apps For All Your Devices
24/7 Live Support
Visit ExpressVPN
Unblock & Watch ITV in the USA outside the UK using DNS
Looking for a service that operates on a different turf than a VPN? Alright then, enter Smart DNS Proxy. Unlike a VPN, this one doesn't encrypt your data and rechannel your whole traffic. No, it redirects chunks of your traffic that help that channel figure out your current whereabouts. Hence, the name "Smart". A few more notable benefits of Smart DNS can be seen below.
One of the major benefits you get from Smart DNS is that you can set it up on any device. That includes a wide range of platforms a VPN cannot cover due to incompatibility. We're talking about PlayStation, Xbox, iOS, Roku, PC, Wii, Nintendo Switch, Android, and Mac.
You can watch multiple regions at once. For example, ITV or BBC Iplayer as UK TV content and Canalplus as French content, while enjoying US Netflix. All using the same configuration.
Your traffic is not encrypted, this means less protection but a bit more speed. And Smart DNS only supports sites listed on the providers' channel list. This includes normally the most commonly used entertainment sites though.
I personally can only recommend Unlocator. They sport a 7-day trial, excellent personal support, and great speeds. I have had not so encouraging experiences with other providers, for example, some browser plugins work good but don't support my Smart TV or iPhone, other providers slowed down my Internet. That's why Unlocator is considered one of the best Smart DNS services in the world.
Create an ITV Account
Alright, so you can watch ITV's content for free, but it's not that simple. You can't access this channel's shows, movies, and live streaming unless you create a free account. It's pretty simple and straightforward. Do you want me to help you out? This is how to sign up with ITV:
Firstly, go to ITV's official website.
Do you see the "Sign in" where the cursor is pointing? Click that.
Now you have two options, sign in and sign up. We're here to Sign Up.

Submit your details. You can input "WC1X 0AA" as a Postcode.
Mark Terms and Condition section.
Click on Submit.
An email will be sent to you. Click on the link inside to confirm.
Et Voila. You have an ITV account now.
ITV Player Supported Devices
You can stream ITV's content on several devices. That includes the following:
Apple TV
Windows PC
macOS
iOS
Amazon Fire Stick and TV
Now TV Box
Samsung Smart TV
Roku
Android
Best Shows on ITV
Still wondering why you need ITV in your life? Take a look at what the channel offers in terms of content:
American Dad
Coronation Street
Champions League (Highlights)
The Chase
Hell's Kitchen
Inspector Morse
ITV Racing
Love Island
Ninja Warrior UK
The Real Housewives
Rugby – Six Nations
Sherlock Holmes
Take Me Out
The Cruise
The Cube
The Voice (UK)
X-Factor
ITV Live Channels
These are the channels you can tap into once you get ITV in the US:
ITV
itv2
itvbe
itv3
itv4
C-itv
itv encore
How to watch ITV in USA, Australia, or Canada – VPN or Smart DNS Proxy?
If you have experienced or found either VPN or SmartDNS better than the other to get ITV abroad please share your thoughts.