ITV Hub has been entertaining users for a long time now. The legendary channel provided premium content that catered to everyone's taste, and now, it's rebranding: Enter ITVX.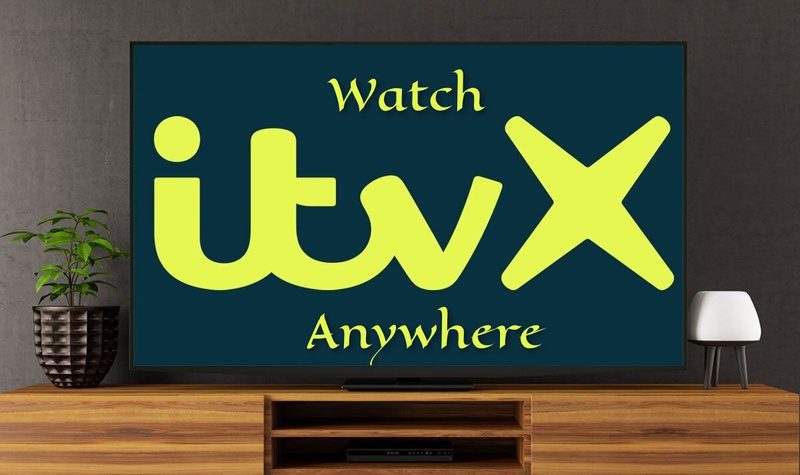 With more than 10,000 hours of on-demand content, ITVX is proving to be a huge upgrade to its predecessor. However, despite the rebranding, ITVX still shares one thing in common with its HUB counterpart – they're both only available in the UK.
Yes, ITVX is geo-restricted abroad, but we can fix that with ease. Here's how you can watch ITVX anywhere in the world.
Getting ITVX Overseas Quick Guide
Time needed: 10 minutes
To save you the trouble of reading the whole tutorial, we summed up the necessary steps you need to take in order to get ITV in the USA, Canada, Australia, and the rest of the world here:
Get a VPN subscription.

I've been using ExpressVPN to watch ITV abroad for quite a while now.

Download the VPN app.

Install the ExpressVPN app on your PC, Mac, Android, iPhone, or iPad. Amazon Fire Stick is also supported.

Connect to a UK VPN server.

Login to the ExpressVPN app using your ExpressVPN account and choose a British VPN server.

Create your ITV account.

You need an ITV account in order to sign in to the ITVX app. We've included detailed steps on how to create one in case you don't own one already.

Download and install the ITVX application.

We added a "how to download and install ITVX" section below in case you don't know how to.

Watch ITV in the USA or anywhere else abroad.

You're done. You will now be able to access ITVX as if you were in the United Kingdom.
Keep in mind that you can use the same procedure to unblock other UK streaming services. This includes BBC iPlayer, Channel 5, BT Sport, and Sky Go.
Watch ITVX Anywhere – All You Need to Know
ITV is a leading commercial broadcaster in the UK with over 33.6 million registered user accounts to its ITVX online service.
With the steps above, the popular channel can be streamed all over the world. However, aside from unblocking it, there's a lot more to shed some light on, which is why we created the following in-depth guide:
What You Need
Before you get to access ITV in your region, you'll need to have all of the following:
A credible VPN service.
ITVX account.
Decent connection speed.
ITVX-supported device.
ITV Overseas – The basics
Once you leave the United Kingdom and connect to the internet in a different country, your IP address will change. It will change into one valid in the country where you reside at the moment.
For example, if you travel to the US, your IP address will become American. That's why you lose access to ITV.
ITV requires a British IP address. If you don't have one, you won't be able to stream any of the content ITV has to offer. Instead, you will get the following geo-error message:
"Outside the UK? Due to our broadcast and content licences, you can only watch ITVX in the UK. Error code: 01-04."

That's just one of the errors that show up when you try to stream ITV overseas. Check the list below to see if you've encountered any of these:
"Not available. Sorry, this show isn't available right now."


Something went wrong. Sorry, we're not sure what went wrong. Please try again by clicking on "Refresh" below or see ITVX Help for help with troubleshooting: Error code: 10-07.


"Whoops, something's not quite right. We can't seem to find your internet connection. This might be an issue on our side, but in case, could you double-check your connection and try again?"
"Trouble loading content. Sorry, we're having trouble playing this content right now. This is usually caused by a slow network connection."
"This video isn't available right now. Check our Shows section for more great programmes."
If you want to avoid getting geo-blocked and watch ITVX in Spain, Australia, the USA, Canada, or anywhere else outside the UK, you have to spoof your online location.
You can do so and ultimately get access to ITVX abroad if you make use of either a VPN or Smart DNS. Neither solution eliminates the need for an ITV account, though.
Create an ITV Account Overseas
You can't access ITVX's shows, movies, and live streams without an account. Here's how you can create one in a couple of minutes.
First of all, head over to ITV's official website.
Next, click on "Sign in."

Now you have two options, sign or register. We're here to Register Now.

Enter your email address, and a strong password of your choosing, then click Continue.

Submit the necessary details and hit Next.

Fill in the boxes with the needed details and proceed.

You're prompted to enter a postcode. Use "WC1X 0AA."

You now have an ITVX account. Head over to your email and verify it.

Enjoy thousands of titles with ITVX.
Please note that if you're already registered with ITV Hub, your account will automatically shift to that of ITVX. You don't need to go through these steps again.
Another thing we need to mention is that ITVX will also come with a premium tier. This subscription will cost £5.99/month or £59.99/year.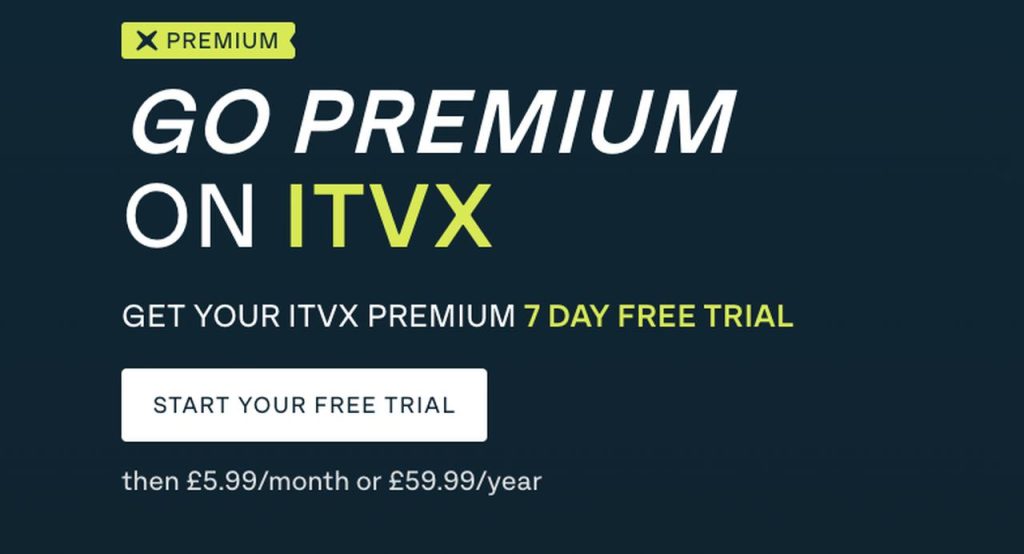 Subscribing to ITVX Premium removes ads and also gives you access to all the content from BritBox. Not only that, but you'll also get to try the service out courtesy of its 7-day free trial.
ITV VPN Ban Fixed – The Best VPNs
A VPN stands for Virtual Private Network and is a network concept that redirects your traffic through a private tunnel formed between your device and the VPN server.
Once you're connected, you'll be able to change your whereabouts to appear to be coming from the UK, US, or elsewhere depending on the location of your VPN server.
With a connection to a UK server, you'll be able to unblock ITV anywhere. However, we have to note that not all VPNs are able to do so, courtesy of ITV's VPN banning mechanism.
The channel has blacklisted hundreds of VPN IP addresses, resulting in the blocking of most users' attempts. If you're using a non-credible VPN, these errors might appear:
"Are you connected? Please check your network connection as we can't load the ITVX."
"Oops something went wrong. Please check your network connection and try again."
With thorough testing and evaluation, we were able to handpick 4 VPNs that managed to reliably unblock ITV outside the UK:
ExpressVPN
BulletVPN
NordVPN
SurfShark
We do recommend ExpressVPN and the rest on our list due to their efficiency and consistency in unblocking ITV. The providers have several servers in the UK and all over the world.
The four providers above are, without a doubt, the best ITV VPNs. Try them out – they offer a 30-day refund policy.
Unblock & Watch ITV in the USA outside the UK using DNS
Looking for a service that operates on a different turf than a VPN? Alright then, enter Smart DNS Proxy. Unlike a VPN, this one doesn't encrypt your data and rechannel your whole traffic.
It redirects chunks of your traffic that help that channel figure out your current whereabouts. Hence, the name "Smart." A few more notable benefits of Smart DNS can be seen below.
One of the major benefits you get from Smart DNS is that you can set it up on any device. That includes a wide range of platforms a VPN cannot cover due to incompatibility. We're talking about PlayStation, Xbox, iOS, Roku, PC, Wii, Nintendo Switch, Android, and Mac.
You can watch multiple regions at once. For example, ITV or BBC Iplayer as UK TV content and Canal+ as French content, while enjoying US Netflix. All using the same configuration.
Your traffic is not encrypted, this means less protection but a bit more speed. And Smart DNS only supports sites listed on the providers' channel list. This includes normally the most commonly used entertainment sites though.
All of the VPNs in the table above provide a Smart DNS service. They are all eligible to unblock the ITVX outside the UK.
If you want to test the technology out, BulletVPN offers a 1-day free trial. That way, you can see what the provider is capable of before you make up your mind.
ITVX App Download outside the UK
When it comes to streaming ITVX outside the UK, the steps above are more than enough. Installing the app, however, requires some extra steps.
But before we head over to the installation process, we have to note that the ITVX app is not yet operational.
ITVX went live in the UK, three weeks earlier than its original December 8 launch date. Due to this early launch, the channel is only accessible through its website.
We assume that ITVX will be compatible with the same devices that ITV Hub supported, so here's the installation process:
If you have an Android mobile, tablet, Sony Android TV, or Nvidia Shield, here's what you need to do:
First, subscribe to a VPN service, download the app on your device, and connect to a UK server.
On your Android platform, change your Google Play Store region to the UK.
Download and install ITVX.
Sign in with your account.
Start streaming.
Users who stream content on their iPhone or iPad should follow the steps below:
Get a VPN subscription and download the app.
Change your iOS App Store region to the UK.
Download the ITVX application.
Connect to a UK VPN server.
Launch ITV, sign in, and you're done.
If you're operating a desktop device, do this to watch ITV Hub abroad:
Sign up with a VPN service and download the app on your Mac or PC.
Launch the app and connect to a UK server.
Now, head over to https://www.itvx.com/.
Sign in with your account and start watching.
On your Smart TV, things work differently, especially when it comes to getting a VPN connection as they don't support VPN clients. To get ITV Hub on your Samsung Smart TV, this is what you need to do:
First, subscribe to a VPN service.
Change your Samsung Smart TV region to the UK and get the ITV app.
Launch the ITV app, log in, and watch your favorite shows anywhere.
Just like Samsung Smart TV, Apple TV does not support VPN clients. That's why these steps are required to get ITV Hub:
Subscribe to a VPN service that has Smart DNS.
Change your Apple TV region to the UK and get the ITV app.
Launch ITVX and stream anywhere.
To download and watch ITV on Fire Stick, follow the steps below:
Sign up for a VPN service and download the app on Fire Stick.
Connect to a UK server.
Switch your Amazon account's region to the UK and download the ITV Hub app.
Activate ITVX, sign in, and you're good to go.
Unlike all the devices on our list, Roku neither supports VPN nor Smart DNS. Therefore, follow these steps to get ITV Hub on Roku:
Subscribe to a VPN and install it on your router (Connect to a UK server). You can also configure Smart DNS on the router.
Change your Roku account's region to the UK and download ITVX.
Open ITV, sign in with your account, and start streaming.
ITVX Abroad FAQ Section
You now have all the answers regarding how to unblock ITV overseas. However, we'd like to share other questions shared by our readers below as we're sure you'll find them useful:
Yes, it does. Keep in mind that not all VPNs are capable of unblocking ITV in 2022.
Yes, ITV is a free streaming service, but it's ad-supported. However, for £5.99 a month, you can upgrade to ITVX Premium, and get all the features of the ITVX, but with extra benefits like ad-free telly and downloads.
If you currently reside outside the United Kingdom, you do need to subscribe to a VPN or Smart DNS service to access it, though.
Is there any way I can watch ITV for free overseas?
Yes, there is. Sign up for a free 7-day Unlocator trial to unblock ITV abroad. There is no need for a credit card or any other form of payment.
Can I install ITVX on my FireStick?
How Can I install ITV on Kodi?
What Devices Can I Watch ITVX on?
You can stream ITVX on Apple TV, Windows PC, macOS, iOS, Android, Amazon Fire Stick, Now TV Box, Samsung Smart TV, Roku, Nvidia Shield, Xbox One, and Sony Android TV. (If ITVX is following in its Hub's counterpart steps).
Can I Download Content Using a Free Account?
Unfortunately, no. You can only download content and watch on the go if you're subscribed to ITV Hub+.
Do I Need an Account to Stream ITVX?
Yes, you do. You can't watch ITVX without creating an account.
What Channels Do I Get to Stream Live?
With an ITV account, you'll get live access to ITV, ITV2, ITV3, ITV4, ITVbe, as well as CITV. With ITVX Premium, you can also gain access to Britbox.
What Are Some of the Best Shows on ITV?
Once you unblock ITV in your region, you'll be able to stream content such as American Dad, Coronation Street, Champions League (Highlights), The Chase, Hell's Kitchen, Inspector Morse, ITV Racing, Love Island, Ninja Warrior UK, The Real Housewives, Rugby – Six Nations, Sherlock Holmes, Take Me Out, The Cruise, The Cube, The Voice (UK), and the X-Factor.
How to watch ITV in USA, Australia, or Canada – Final Words
Now that you know how to get ITVX outside the UK, you will elevate your streaming experience to a whole new level.
The steps above are more than enough to get the task done. Nonetheless, if you feel like you stumbled upon any issue, feel free to contact us in the comment section below.