How to Get a UK IP Address Abroad?
|
How to get a UK IP address abroad? Whenever you go online, your ISP assigns you a public IP address. This enables you to send and receive Internet traffic. Various websites and apps are restricted to certain regions. Whether you get to browse through these apps and explore their content solely depends on your IP address. British apps such as BBC, ITV, and Sky can only be accessed from within the United Kingdom using a UK IP address. That means UK expats living in Australia, New Zealand, USA, or Canada are blocked from watching their favorite UK TV channels and shows abroad. There's a workaround though. Getting a British IP address outside the United Kingdom is possible. It is done through a virtual private network. A VPN lets you change your IP address and secure your internet activity. So, if you want to get a British IP in the USA, Canada, Germany, Australia, or anywhere else in the world, read along.
How to Get a British IP Address Abroad
A VPN can provide you with a British IP address. To do so, just follow these instructions to get a UK IP address in USA, Canada, Australia, or anywhere else overseas:
Sign up with a VPN that provides VPN servers in the UK. ExpressVPN is a good example.

Download and install your VPN app on your PC, Mac, Android or iOS device.

Launch the application and sign in with your account.

Choose a British VPN server and connect to it.

Check your IP address via a website like WhatIsMyIP.network

Your actual IP address is now hidden and you seem to be surfing the internet using a British IP address.
If you'd like to go online using your real IP address, you can disconnect the VPN connection anytime. While many might be tempted to use free VPNs to get a British IP overseas, we suggest not going down that route. Free VPNs aren't reliable and might even put your privacy and security at risk.
Best VPNs to Get a British IP Address
When you start searching for a VPN to download, you'll notice a lot of options. It's up to you to pick the one that suits you the most. Keep in mind that most often than not, free VPNs are useless. To help you with your decision, we've included a list of VPNs to choose from.
The Benefits of Getting a British IP Address
Getting a British IP address can benefit you in several ways. From circumvention regional restrictions to gaining top internet security. Let's take a deeper look into the matter.
Bypass Geo-restrictions
Have you ever tried to stream online channels like BBC iPlayer, Sky Go, ITV, Now Tv, Channel 4 or Channel 5? If you're residing in the UK, you won't have a problem. However, if you live anywhere else abroad, these channels would be inaccessible to you. You could fly out to the UK, or take the easy way -get a VPN. A virtual private network unlocks any geo-restricted content online. Watching British channels from anywhere in the world is now possible.
With a British IP address, you can access the following channels no matter where you're located:
ITV
Sky Go
BBC iPlayer
Eleven Sports
Bt Sport
Channel 4
Using Public WiFi Networks Safely
Libraries, airports, cafés have a tempting offer: public WiFi. However, you should hesitate before connecting to the said network. It's often not safe. Public WiFi, as useful as it is, presents many dangers. It might be a trap put by hackers to access your information. Or, maybe a hacker is using it at the same time, making your data vulnerable to spying eyes.
The solution is to encrypt your data through a virtual private network. It secures your information, which denies any party to pry on your activity. So, a VPN lets you enjoy safe online browsing through public networks.
Increasing Online Privacy
Your activity online is not as secure as you might think it is. When you go online, you're being monitored by a lot of parties; Google, Facebook, your local government, even your Internet service provider. To avoid this surveillance, you can get a VPN to encrypt your online activity. It doesn't allow anyone to keep track of which websites you're visiting or what you're downloading.
Best VPN to Get a UK IP Address Abroad – The Top Notch
If you operate with one of the best VPNs for the UK, you'll easily obtain a British IP address. However, finding one isn't that easy. Therefore, I'll shed some light on 4 of the top VPN providers that you can use for such a task. Here they are:
ExpressVPN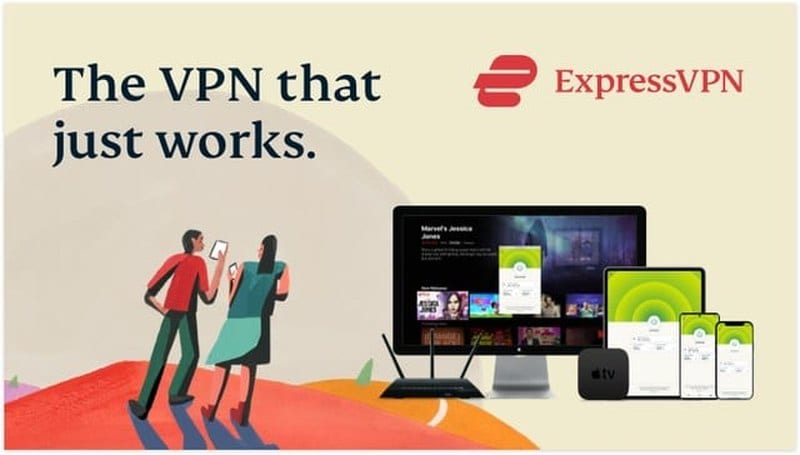 ExpressVPN is by far the best VPN to get a UK IP address anywhere. That's simply because it has dozens of servers in the United Kingdom and they're blazing fast as well. All you have to do is download the application on a compatible device such as Android, iOS, PC, or Mac and hit the connect button once you select a UK server. It's very easy as their client is easy to use.
On the other hand, this provider cares a lot about its customers' internet security and privacy. You'll be aided all the way with the top security protocols and privacy features to hide your IP address. Want more? Check out what else this VPN has to offer:
Strict Zero-Logs policy.
2000+ servers in more than 90 countries.
VPN servers distributed all over the UK.
5 simultaneous connections.
24/7 live chat support.
1-month cash-back guarantee.
MediaStreamer Smart DNS Proxy.
BulletVPN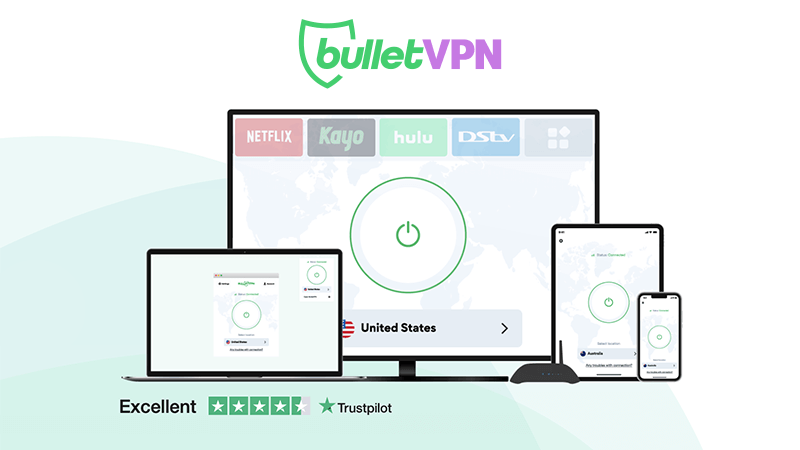 Let's cover the drawback of this VPN before we jump to the good stuff. BulletVPN doesn't have that many servers in its network. It covers 31 countries which are a bit small compared to the other VPNs on our list.
However, we tested their servers and we got very good results. Your connection doesn't drop that much when your data gets encrypted. A slight difference can be noticed that's if it was noticed.
As for security, BulletVPN will treat you with the best there is in the industry. Not to mention the ability to unblock American Netflix wherever you are. This VPN also has its own Smart DNS service.
So, if you're witnessing a frustrating drop in your connection, you can always use DNS proxy to watch your shows with perfect internet speed. Here's what BulletVPN has within its pockets:
Zero network traffic logging.
30-day money-back refund guarantee.
Clients for PC, Mac, iOS, and Android.
24/7 live chat support.
Smart DNS.
Unlimited server switching and bandwidth.
6 simultaneous connections.
NordVPN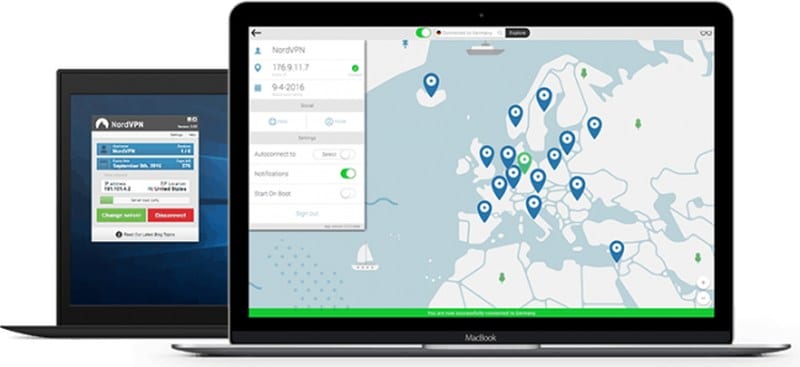 NordVPN is also a top contender when we speak of obtaining IP addresses from different countries. The service has more than 5000 servers scattered all around the world, including the UK. This VPN guarantees the safest online experience you can ever imagine. This is due to the military grade encryptions it provides when you connect to a server.
Moreover, NordVPN gives you access to hundreds of channels by using their SmartPlay DNS Proxy feature. You don't have to rely on the VPN features only, just use Smart DNS and stream at full internet speed without any interruption. But wait, there's more:
High-level security protocols.
A Kill switch.
CyberSec.
Double VPN
Connect 6 devices under one subscription.
Blazing Fast Servers.
More than 5000 servers in 62 countries
Works well with Netflix.
SurfShark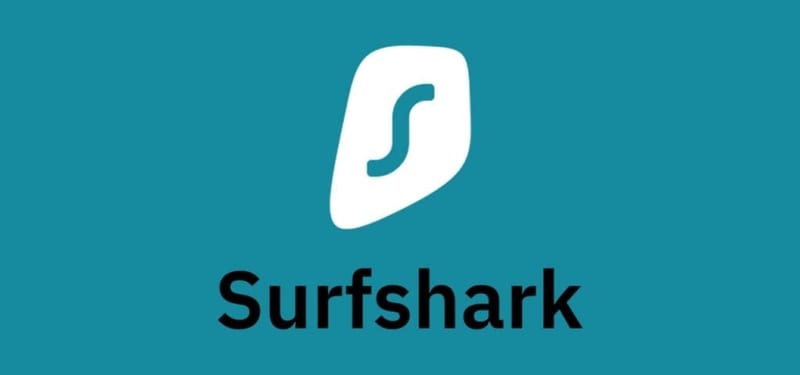 New VPNs are always avoided for no reason at all. Once a VPN is added to the market, you should take some time and check out what it has to offer. SurfShark has definitely topped the charts of the VPN business the moment it hit the industry. Imagine a new VPN with over 800 servers in 50+ countries. Can you predict how many it will offer in the upcoming years?
On the other hand, it's one of the only VPNs that offer unlimited simultaneous connections. Everybody you know can benefit from a VPN connection under one account only.  The service is quite safe and it cherishes users' privacy with its strict no logs policy. There's more, check it out:
800+ servers.
IPv6 Leak Protection.
Unlimited Bandwidth.
Unlimited simultaneous connections.
No logs policy.
Supports Torrents.
256-bit Encryption.
Unblock American Netflix.
Amazing servers in the UK.
Getting a British IP Address Outside UK – Parting Words
Getting a British IP address outside the UK is very easy. The whole process won't take more than a few minutes. So, invest in a VPN and enjoy watching British channels anywhere in the world. You can even do so on public WiFi while being completely safe.