How to Watch SuperSport outside South Africa
|
SuperSport is one of the biggest African online sports channels. Part of the DSTV Network, it mainly offers subscribers the ability to watch major sports competitions from around the world live online. But unfortunately, any sports fanatic who lives outside South Africa cannot access the channel due to geo-restrictions.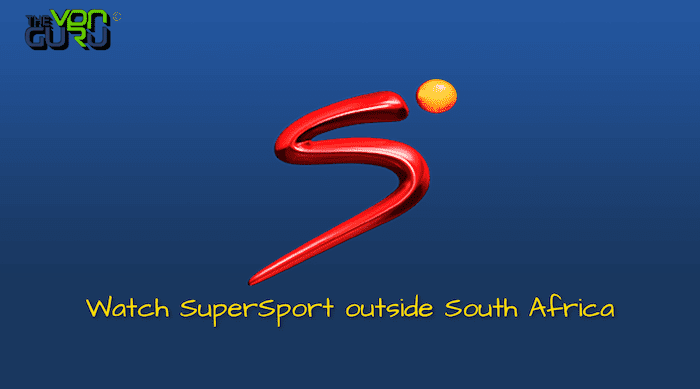 Aside from not being able to stream SuperSport without a DStv subscription, the channel cannot be accessed in big countries where sports are cherished such as the US, the UK, and Canada.
Simply put, this issue will be in the past in a couple of minutes. In this article, we're going to show you how to bypass regional restrictions and watch your favorite events on SuperSport wherever you may be.
Unblock SuperSport Anywhere
Time needed: 3 minutes
Since SuperSport boasts the biggest sporting events in the world, we're going to assume that you're in a hurry to unblock it. If so, this is what you need to do:
Subscribe to a VPN service.

Not all VPNs can unblock DStv, which is why we recommend BulletVPN.

Download the BulletVPN app on your device.

Compatible devices include Android, iOS, PC, Mac, as well as Fire TV.

Activate the VPN client.

Sign in with your BulletVPN username and password.

Connect to a server in South Africa.

BulletVPN has dedicated servers in South Africa to unblock DStv.

Launch DStv's app or website.

We'll show you how to get it on your device in a comprehensive guide.

Sign in to DStv.

To access SuperSport, submit your DStv credentials.

Stream SuperSport anywhere.

Enjoy the best sports on SuperSport wherever you are.
The Full Comprehensive Walkthrough
We have more to talk about, which is why we came up with the following guide. It has more details you should go through:
What You Need
To get SuperSport outside of South Africa, everything on the list below is required:
DStv subscription (Premium Package).
A VPN account.
DStv-compatible streaming platform.
DStv's SuperSport – Big, but Limited
As mentioned, SuperSport is probably the best major streaming service for sports broadcasts in South Africa. When we say major, we're referring to the biggest leagues and tournaments.
That includes the English Premier League, La Liga, Champions League, FIFA World Cup, ICC Cricket World Cup, Super Rugby, Roland Garros, US Open, and much more. It truly is the 'World of Champions.'
The channel is brought to you by Multichoice, and so far, it's technically the clear market leader with over 10 million subscribers in the country.
Unfortunately, we have to note that DStv is only available in very few countries, with its biggest library dedicated to South African residents.
You see, the channel can determine your location by examining your IP address. If it's not South African (You living abroad), your access will be terminated. This is what we call geo-blocking and it's mainly there for copyright reasons.
So, in other words, if you try to watch SuperSport on DStv while overseas, there are the errors you get:
"We're sorry. Something went wrong. Please wait and try again in a few minutes."


"Sorry, we're unable to play this video right now, something went wrong on our side. Please retry in a few minutes or play another video."


"Error 500. There is a problem with the page you requested."
If you're streaming DStv overseas, you're bound to get one of the error messages above. Luckily, with the steps we've provided you, you'll be able to circumvent the imposed geo-restrictions and watch SuperSport wherever you are.
VPN Explained!
As a sports enthusiast who's constantly abroad, trust me when I tell you that the best way to bypass geographic blocks is with a virtual private network (VPN).
This baby is very effective because it reroutes your traffic to another network of your choice, then gives you an IP address from the region that you selected. This process tricks streaming channels like SuperSport to think that you are inside their coverage zone, which means you'll be able to view their content from anywhere.
VPNs also offer excellent security and privacy features like traffic encryption and zero-logging. As a result, you'll have total anonymity whenever you go online. Even your own internet service provider won't be able to see what you're doing.
And if you think getting a VPN is a complicated matter then think again because your next service is just a few clicks away.
Best VPNs to Unblock SuperSport
Do you want my advice? Put your mind at ease and sign up with BulletVPN. Here's why. BulletVPN has more than 150 servers across 55 countries, most of them in South Africa.
Also, the service doesn't log your traffic or keep tabs on your online activity, which makes it a perfect choice if you're worried about your privacy. And did I mention it uses the strongest encryption to prevent anyone from monitoring your traffic?
Furthermore, should you ever face any problems or questions when you're using BulletVPN, you can contact their round-the-clock customer service via live chat or email.
There are no regrets when you subscribe to BulletVPN because in case you're dissatisfied with the service, you can get a full refund thanks to their 30-day money-back guarantee.
These features are excellent and all, but that's not why we recommended the provider. You see, SuperSport is part of DStv, which applies tough VPN blocks. Any random VPN won't get the job done, so we tested a lot of them.
BulletVPN managed to be consistent when it came to unblocking the channel, and a dozen others. If you want to check other providers, the list below will give you a slight clue.
Smart DNS Alternative
If you're not the VPN type then your only other option to unblock SuperSport from abroad is a Smart DNS proxy. But keep in mind that setting one up on your device isn't as straightforward as a VPN because proxies don't have dedicated apps. Therefore, you have to configure them manually.
Unlike VPNs, these tools only reroute part of your connection to spoof your location. They don't hide your IP address nor encrypt your traffic. Some users see this as a positive thing because your internet speed won't drop. But others who are privacy-concerned prefer to avoid them.
But the most important thing to remember is that Smart DNS proxies don't function properly if your ISP uses transparent proxies or DNS hijacking.
Choose a well-known and efficient Smart DNS like Unlocator.
Set it up on your device. You'll find these tools to be compatible with almost every device, including iOS, Android, Mac, PC, Smart TV, Apple TV, Amazon Fire TV PS3/PS4, Xbox, and Roku.
Enjoy watching your favorite teams outside South Africa.
If you prefer using a Smart DNS proxy over a VPN, then your best pick has to be Unlocator. It provides easy and clear video tutorials and guides to help you set it up smoothly on your device, and it also supports over 200 channels. Therefore, if you're a TV lover, you'll be able to watch your favorite shows on BBC iPlayer, HBO, Hulu, Amazon Prime Video, AMC, and much more.
But you don't have to commit to it just yet. Test it out for free thanks to the 7-day free trial period.
How to Get SuperSport on Any Device Anywhere
As we mentioned, SuperSport is part of South Africa's major streaming service DStv. If you want to watch the channel, you'll have to choose the proper subscription provided by DStv.
Aside from that, you'll have to get DStv on your device. This can also be a hassle as geo-restrictions also apply to the channel's app, even within App Stores.
But as we taught you to unblock the channel abroad, we're going to teach you how to get it on any device you might be operating.
It's very easy actually. All you have to do is follow the setup guide that reflects your streaming platform and you can watch SuperSport via DStv anywhere.
SuperSport Unblocked – FAQ
Need more info? Make sure to check the following "Frequently Asked Questions" section:
No, DStv requires a subscription in order to stream its content.
What Plan Should I Choose to Watch SuperSport?
All of DStv's packages have at least one SuperSport channel. However, the Premium Package has every single one of SuperSports channels.
What Devices Can I Watch DStv on?
You can watch SuperSport via DStv on Android, iOS, PC, Mac, Apple TV, and select Smart TVs.
What Can I Watch on SuperSport?
The question is: What can't you? The channel is probably the biggest in the world in terms of content as it broadcasts almost every major sports event in the world. We're talking about the likes of football, cricket, rugby, tennis, basketball, and motorsports.
How to Unblock and Watch SuperSport Abroad – Wrap Up
Have you tried any of the methods we suggested above to unblock SuperSport outside South Africa? If so, how did it go? Share your thought and experience using VPN or Smart DNS to bypass geo-restrictions in the comment section below.