Voot is arguably the most popular streaming service in India. However, Voot only allows streaming to those who reside within the Indian region. If you're an expat overseas, the channel blocks your access almost instantly.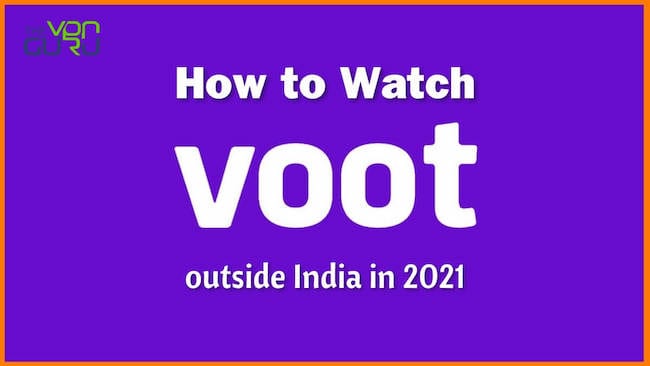 Geo-restrictions limit your internet experience, and we're here to fix that. So, here's how you can watch Voot in the US, UK, Canada, and elsewhere around the world.
Unblock Voot Anywhere – Quick Steps
Time needed: 5 minutes
Let's get down to business. Unblocking Voot takes around 5 minutes and we're here to guide you through it. Just follow the steps below and you'll be watching Voot in your region seamlessly:
Sign up with a VPN provider.


Make sure the VPN has servers in India. We recommend ExpressVPN.

Download and Install the VPN app.


You can do so through their website or directly through your native app store.

Launch the VPN application and sign in.

You might be asked to submit a code sent to your email.

Now, connect to an Indian VPN server.

This step provides you with an Indian IP address.

Launch Voot's website or download their app on your device.

If you don't know how to install the app, we've included a step-by-step process below.

Watch Voot wherever you are.

Enjoy over 40,000 hours of video content on Voot anywhere.
Voot Anywhere – The Full Walkthrough
We already gave you what you need in order to unblock Voot outside India. But there's a lot more to know, especially when it comes to the channel's blocking techniques, the best VPNs to use, and how to get the app on any device:
What You'll Need
If you want to access Voot abroad, make sure to have everything on this list:
A VPN subscription.
Voot account (Free or Premium).
A device that supports Voot.
Voot & Geo-Blocking
If you're an Indian living in the diaspora, then chances are that you're itching to get a taste of this newfound explosive content that comes with Voot – a channel that has more than 1 million paying subscribers.
The only obstacle that you might find in your way is the fact that the ISPs in your current location may not be in support of users streaming through Voot.
You'll end up with an error that blatantly states that you won't be able to access the site. Here's what you'll be getting:
"We're expanding one step at a time. As flattered as we are to know how eager you are to consume our content, we're working hard as we can give you the entertainment you deserve. Until then, we're only available in India. Stay tuned and we'll reach out to you when we're available in your country."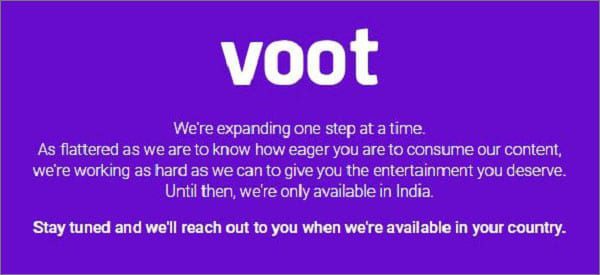 This is just one of the errors you'll encounter if you try to watch Voot abroad. Yeah, there's more:
"Not found."
"Something went wrong. Session ID 8956baa5-8bd2-7f14-b812-df8a8bba6cc5:1ace9517-19ee-31ac-ad32-790a73ffde74."
"400."
"Invalid Country [CA]." (The country code shows up based on your location)
"User locale not entitled for playback(1910)."
"failed to connect to vootapi.media.jio.com/49.40.40.27 (port 443) from /10.8.0.149 (port 38012) after 60000ms(121)."
The obstacle above can be worked around, but only if you're aware of the right solution to implement. In short, you need to get an Indian IP address in order to watch Indian channels like Voot, SonyLiv, and Hotstar abroad.
Using A VPN to Unblock Voot Outside India
A VPN service can be used to work around all the restrictions that you'd face when accessing Voot from outside India because once you sign up with a credible provider, your connection then becomes encrypted. This means you'll be able to hide the activities that you'd have going on online.
You'd be able to hide all this from your ISP provider, as well as any other party that would want to know what you're up to on the Internet.
Subscribing to a VPN service also means that you then become anonymous online. Once you connect to a remote server, your IP address immediately changes from the actual one that reflects your location to a virtual one that corresponds to the location of the remote server as your actual location.
In this case, connecting to Voot from outside India would mean subscribing to a provider that has servers based in India. Once this is done, you'll be able to access Voot from wherever in the world you may be.
Please note that not all VPNs can unblock Voot abroad. In fact, the channel states its despise for VPN use:
We do not support or advise the use of VPN to access our content. Also, subscriptions purchased using a VPN go against our terms of use and hence are non-refundable.
We tested dozens of VPNs and most of them failed to unblock the channel. If the VPN isn't credible enough, Voot's main page redirects you to (https://voting.voot.com/vote/ec324230-02f2-11eb-bf8c-d128fef771cc?&platform=web).
However, we got 4 of the best VPNs that work with Voot, including the leading provider in the industry ExpressVPN. You can check them out in the table below.
Creating a Voot Account
Assuming you got a VPN subscription, we're going to show you how to create a Voot account so you could watch it in your region:
First, launch your VPN service and connect to an Indian server.
Head over to voot.com
On the top right corner of the page, click on the profile icon, followed by "Log In."
Now, choose the account you want to sign in with (Gmail, Facebook, Apple ID, Email, or Mobile Number).
Submit the required information.
You now have a Voot account.
Getting the Voot App on Your Device
You now have a Voot account and a VPN subscription. All that's left is to get you the app on the device you're operating.
If you're using an Android mobile, tablet, Android TV, or a Sony Bravia TV, follow the steps below:
Download the VPN app on your device, sign in with your credentials, and connect to an Indian server.
Change your Google Play Store to India and download the Voot app.
Launch Voot and log in.
Start watching top Indian content wherever you are.
Getting Voot on your desktop device requires no tech-savvy practices. Here's what you need to do:
Download the VPN on your PC/Mac and connect to a server in India.
Open your preferred browser, then visit voot.com
On the top right of your screen, click on the profile icon, and log in.
Start watching Voot wherever you are.
Getting Voot on Apple TV while abroad requires some extra steps. We've got that covered below:
If you happen to be using a Smart TV, the following is required:
Your first step would be changing your Smart TV region:
Download the Voot app.
Install the VPN on your router or configure Smart DNS on your TV.
Activate the Voot app and sign in.
Start streaming seamlessly.
Fire TV's method is very easy as it supports VPN clients. To get Voot, do the following:
Download the VPN app on your Fire Stick and connect to an Indian server.
Change your Amazon Account region to India and get the Voot app.
If you don't want to switch countries, you can sideload Voot on your Fire TV.
Launch the Voot app, sign in with your account, and start streaming.
Do you want to install Voot on your iPhone/iPad? Then follow the steps below:
Download the VPN app on your device and connect to an Indian server.
Head over to your Setting section and change your App Store region to India.
Download the Voot app and install it on your iPhone/iPad.
Launch the channel's app, log in, and watch your favorite shows wherever you are.
Voot Abroad – The FAQ Department
You probably have more questions about Voot, despite your ability to unblock it. Don't fret, we're here to answer every single one of them:
Some of the content it provides is free, but it comes ad-supported. However, for ₹99 a month, you get access to Voot Originals, an ad-free experience, and 24 hours Before-TV premieres from several channels.
What Devices Can I Watch Voot on?
Voot is available for streaming on PC, Mac, iOS, Android, Android TV, Apple TV, Fire Stick, LG Smart TV, Samsung Smart TV, and Sony TV.
Can I Watch Voot Offline?
Yes, but only if you're using the app. You can do so by clicking on the download button below the Video Player.
Do All VPNs Work with Voot?
No, not all VPNs can unblock Voot outside India. If you want guaranteed results, try one of the VPNs recommended in the guide.
What Shows Can I Watch on Voot?
You can watch TV shows such as Asur, Memories, Bigg Boss, Crackdown, The Gone Game, Illegal, The Raikar Case, Marzi, Wild Villa, and more.
Summary on How To Unblock Voot Outside India
There's no reason you should miss out on any of the series and movies offered by Voot. Being outside India is no longer a hindrance as long as you know your way around.
We've provided you with everything you need to fulfill the task. If you have more questions, drop them below in the comment section.