How To Watch Voot Outside India
|
How to unblock Voot in USA, UK, Australia, UAE, New Zealand, or anywhere else outside India? Voot is arguably the most popular streaming service in India, and with only one and a half years in service, the video on demand platform still has a lot to look forward to. The streaming service also just recently rebranded, so users are still getting used to its new identity. Voot has a lot of plans slated for 2018, starting with the rollout of its premium service. The service is planning to provide the latest exclusive content to its premium subscribers, and also to reach out to its international audience by providing up to 50,000 hours of video from its parent company, Viacom 18's library, as well as TV channels that'll be tailored for each key market.
Voot Abroad
If you're an Indian living in the diaspora, then chances are that you're itching to get a taste of this newfound explosive content. The only obstacle that you might find in your way is the fact that the ISPs in your current location may not be in support of users streaming through Voot. You'll end up with an error that blatantly states that you won't be able to access the site. Here's what you'll be getting:
"We're expanding one step at a time. As flattered as we are to know how eager you are to consume our content, we're working hard as we can give you the entertainment you deserve. Until then, we're only available in India. Stay tuned and we'll reach out to you when we're available in your country."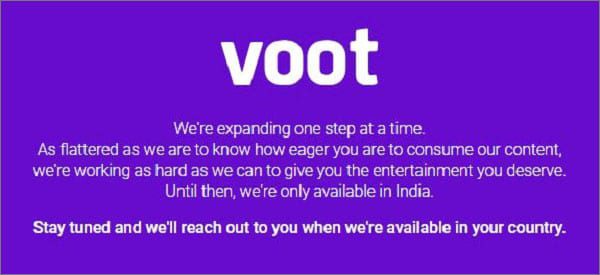 This is an obstacle that can be worked around, but only if you're aware of the right solution to implement. In short, you need to get an Indian IP address in order to watch Indian channels like Voot, SonyLiv, and Hotstar abroad. 
Using A VPN to Unblock Voot Outside India
A VPN service can be used to work around all the restrictions that you'd face when accessing Voot from outside India because once you sign up with a credible provider, your connection then becomes encrypted. This means you'll be able to hide the activities that you'd have going on online. You'd be able to hide all this from your ISP provider, as well as any other party that would want to know what you're up to on the Internet. Nobody would be able to figure out what you're up to online because of the encryption that connecting to a remote server would be able to provide you.
Subscribing to a VPN service also means that you then become anonymous online. Once you connect to a remote server, your IP address immediately changes from the actual one that reflects your location to a virtual one that reflects the location of the remote server as your actual location. In this case, connecting to Voot from outside India would mean subscribing to a provider that has servers based in India. Once this is done, you'll be able to access Voot from wherever in the world you may be.
There are plenty of providers out there that claim to offer a service you can trust, despite not having the infrastructure required to offer that level of service. Many of them are even known to advertise that their service is for free in order to lure large numbers of unsuspecting users into their scheme. What normally happens with most of these "free" providers is that they end up taking records of your browsing activity, and selling the logs out to third-party companies. They are also known for bombarding you with annoying adverts, and spammy emails that we're sure you'd not appreciate.
Last Updated Today


30-Day Money-back Guarantee
Unlimited Bandwidth
Apps For All Your Devices
24/7 Live Support
Visit ExpressVPN
How to Get Voot in USA, UK, Australia, Outside India with VPN
Sign up with a VPN provider; one that has servers in India.
Download and Install the VPN app provided in the link sent.
Then, connect to an Indian VPN server, which will grant you an Indian IP address. 
All you have to do now is visit Voot and binge-watch all the Indian content you want.
The Best VPNs to Unblock Voot Outside India
To unblock Voot anywhere in the world, all you have to do is subscribe to a top VPN service for India. To help you out in making your decision, we've already rounded up a few tried and tested providers that we're sure are capable enough to keep you secure whenever you get online.
1. ExpressVPN
With close to a decade in the industry, ExpressVPN has already made a name for itself as the most reliable VPN service in the market. The provider is based in the British Virgin Islands, and it has won numerous awards that cement its position as the number one online security provider. The service is well known for its exceptional customer service, as well as its easy-to-use VPN that was developed with first time users in mind. The provider operates a network of about 2000 servers that are all well distributed among different countries across the world, India included. ExpressVPN offers all the major VPN protocols (OpenVPN, PPTP, IPSec and L2TP) for its customers to choose from, and also allows each subscriber to have up to 3 simultaneous devices connected to one account. Once you sign up, you're promised a connection that has no logs, as well as no limits on the bandwidth that you'd like to use. The service also allows you to switch servers as much as you want, and if you opt to use their special range of stealth servers, it'll be nearly impossible for even the most Internet restrictive regions to figure out that you're using a VPN. Given the slightly higher cost of a subscription to ExpressVPN, it might be a good idea to sign up for their 30-day money back guarantee offer to try out everything firsthand.
2. IPVanish
Not many providers own all of their servers like IPVanish does. The provider's 1000+ servers are all directly monitored and controlled at their headquarters in Florida, meaning they don't have to consult with other third-party companies whenever something goes wrong. Their modest network of servers avails up to 40,000 IPS, and they're also known to be among the fastest servers you can connect to. Avid online gamers actually prefer the service because they don't get to experience any form of lag, compared to what normally happens with other providers. IPVanish is also known to integrate well with Kodi. This will allow you to stream content through the most popular Kodi add-ons, and also unblock Voot from wherever you may be. If you have a relatively large number of devices that you'd like to protect through VPN, you'll probably find this providers capacity to have up to 10 simultaneous connections per username very much in handy. Also worthy of mention is IPVanish's VPN app. The provider avails versions of this green-themed software that has various versions available for download. You should be able to run it on your Windows, iOS, Mac OS, Linux and Android-based devices without any issues whatsoever. IPVanish has a unique 7-day money back guarantee option that allows you to test out the service before making your final decision.
3. NordVPN
Winding down our list we have NordVPN, a Panama based provider that is famous for its double encryption feature. The providers' selection of 4000+ servers means that it is well able to make it possible for its customers to transmit data through two servers instead of one, thereby improving the level of data encryption. This is not the only advantage users get out of having such a large network at their disposal. NordVPN subscribers are also able to choose which servers to connect to from a specialized server list where servers are optimized for performance. These servers on the list are categorized in the order of best for online gaming, torrenting, file downloads, as well as streaming. Regardless of whatever you'll be up to online, NordVPN guarantees that none of your browsing records will be kept through their zero logs policy. The service also allows for up to 6 simultaneous connections and offers all the 5 tunneling protocols for you to choose from. NordVPN is capable of unblocking Voot from outside India. To sample their premium service, however, you'll have to sign up for their 30-day money back guarantee.
Summary on How To Unblock Voot Outside India
There's no reason you should miss out on any of the series and movies offered by Voot. Being outside India is no longer a hindrance as long as you know which VPN service to subscribe to. You can count on ExpressVPN, IPVanish or NordVPN to unblock Voot outside India for you.