Rai TV is the national Italian broadcasting network. Rai Play offers free live and on-demand streaming of its 14 channels online to Italian residents only due to geo-restrictions.
If you are an Italian ex-pat living in UK, Spain, France, the USA, Germany, or Australia, you cannot access Rai Play and stream its content. However, there's a solution.
To bypass these geographical limitations and unblock Rai TV outside Italy, follow everything in the walkthrough below.
Get Rai Play Overseas – Quick Steps
Time needed: 3 minutes
Getting Rai Play requires no technical knowledge. All you need to do is follow the steps below and you'll be streaming the channel's content wherever you may be.
Sign up with a VPN service.

For guaranteed results, we highly recommend using ExpressVPN.

Download and install the VPN application on your device.

You'll find dedicated VPN clients on Android, PC, iOS, Mac, as well as Fire Stick.

Next, activate the VPN software and sign in with your credentials.

ExpressVPN might send a verification code to your E-mail. Submit that on the app and you'll be logged in.

Connect to an Italian server.

Wait a few seconds for the connection to take place and check your new IP using this IP Verifier.

Launch Rai Play's website or the Rai Play app on your device.

If you don't have the app, you can download it by following these steps.

Create a Rai Play account, log in, and start streaming.
Stream Rai Play Outside Italy – The Full Walkthrough
If you follow the steps above, you'll be able to access Rai TV anywhere. However, that's not everything you should know about the channel.
There's a lot of information to gain from this guide in terms of Rai Play's geo-blocking, how to get it on your device, and what content can you stream. Keep scrolling and find out.
What You Need
Before you proceed, make sure you have the following:
VPN subscription (A VPN that has servers in Italy).
A RaiPlay account.
Any Rai Play-compatible device.
Good internet connection.
Creating a RaiPlay Account
Before you can get full access to Rai Play, you must create an account. And now that you have a VPN subscription, follow these steps:
Launch the VPN app and sign in with your credentials.
Connect to an Italian server.
Head over to https://www.raiplay.it/.
On the top right of your screen, click "Accedi." You can choose to translate the page to English.
You can use any social media account to log in (Apple ID, Gmail, Facebook, Twitter, etc.)
Choose the preferred login method, and you're in.
You now have a Rai Play account.
Is Rai TV Blocked Outside Italy?
Just like most websites and streaming services, Rai Play applies what we call geo-blocking. This defense mechanism restricts user access to those residing in Italy only.
Anyone living abroad won't be able to access the channels content. To determine the users' location, Rai Play examines their IP address.
Once it figures out that they reside outside its coverage area, the following error messages appear:
"We apologize. The content is not available due to copyright restrictions."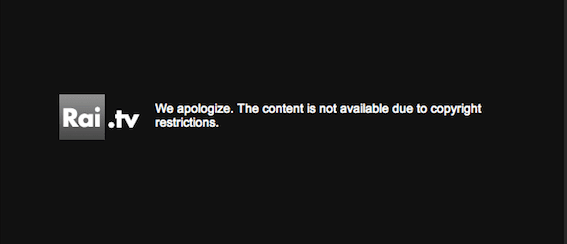 "THEOplayer encounter an error. If this issue holds, please contact your service provider."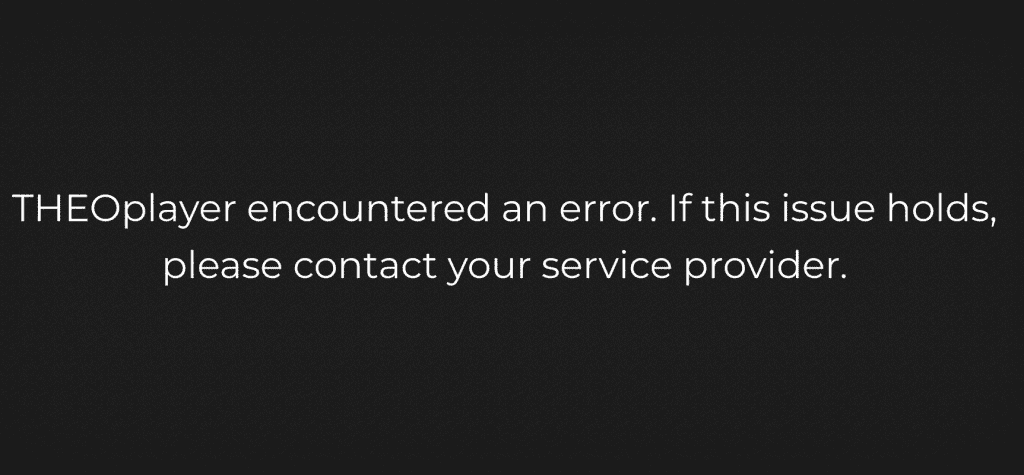 Getting around the geo-restrictions applied by Rai Play is an easy task. All you need is a Virtual Private Network and the step-by-step walkthrough above.
Once you're done, you'll be watching Rai TV no matter where you are.
How to Unblock Rai Play outside Italy – VPN Solution
As mentioned, Rai TV is able to detect your location and subsequently block you from watching any content by looking at your IP address.
A VPN allows you to change your IP address and get an Italian IP address. In other words, you can trick Rai TV to think you are in Italy.
Here's how this works. A VPN reroutes your traffic through a server in a country of your choosing. Once the connection is established, the VPN encrypts your data (Extra security) and cloaks your real IP address (Extra anonymity).
After that, it replaces your IP address with a temporary one based in the country where the server is based, giving you full access to restricted content in that region.
For example, if you connect to an Italian server, you'll receive an Italian IP address. As a result, you can watch Rai Play and other Italian-restricted content anywhere. That's not all as the VPN can do a lot more than that:
Using VPN unblocks channels from all over the world.
Your traffic is encrypted when using VPN. Your private data is kept safe and no one can spy on what you are doing online.
VPN changes and hides your IP address, thus, allowing you to surf the web anonymously.
The software bypasses ISP throttling, guaranteeing decent to excellent speeds all the time.
There are many VPN providers you can choose from, but not all of them have Italian VPN servers or credible enough to unblock streaming channels.
We recommend ExpressVPN as, according to our tests, it's the better performer among other providers. However, ExpressVPN isn't the only service that passed our evaluation. Take a look at the best VPN services to unblock Rai TV outside Italy below.
How to Watch Rai TV outside Italy – Smart DNS Proxy
VPN is not the only way to bypass virtual geolocation blocks. You can unblock geo-blocked channels like Rai TV by using Smart DNS as well.
Smart DNS does not offer data encryption like VPN, but it does not affect your Internet speed either.
All streaming devices can be configured with Smart DNS. This mean you can unblock and watch Rai TV outside Italy on Android, iPhone, iPad, PC, or Mac.
Smart DNS gives you the ability to unblock streaming channels from different regions simultaneously without having to change your DNS configuration every time you want to unblock a different channel.
In case your ISP uses DNS hijacking and/or transparent proxies, you might consider using VPN instead of Smart DNS to unblock Rai TV overseas.
You can try any of the VPN services in the table above as they all have a Smart DNS proxy to offer. However, BulletVPN stands out since it offers a 1-day free trial, giving you the opportunity to test how effective it is.
On the other hand, all the recommended services have a 30-day refund policy, which is also beneficial if you want to try their features out.
Get RaiPlay on Any Device
Whet it comes to streaming RaiPlay, the service made sure to include major streaming devices to support. However, being outside Italy might make getting the channel on your device a bit difficult.
Don't fret. We're here to help. Assuming you now have a Rai Play account, here's how you can install and watch Rai Play on any supported device:
Frequently Asked Questions
You have more questions? We definitely have all the answers. Here are what most of our readers ask before getting to watch Rai Play outside Italy:
How Can I Watch Rai Play in the USA?
To stream Rai Play in the US, you must subscribe to a VPN service, connect to an Italian server, and receive an Italian IP address. Then and only then you can stream Rai Play in the United States.
What Devices Can I Watch Rai TV on?
Rai Play can be streamed on Android, iOS, PC, Mac, Amazon Fire TV, as well as Smart TV.
Do I Need a Rai Play Account to Stream?
You can access some content without having to register to Rai Play, including some content on the 14 Rai channels only live and and a few clips on demand.
However, with a Rai Play account, you get to access Rai's vast library of content, no limitations. Also, you'll be able to choose Favorite titles, watch content offline, as well as resume watching from where you stopped.
Yes. The channel is totally free. No subscription fees are required to stream RaiPlay's content.
What Channels Do I Get to Access?
With Rai Play, you can stream content from 14 Rai channels, including Rai Uno, Rai 2, Rai 3, Rai 4, Rai 5, Rai YoYo, Rai Premium, Rai Gulp, Rai Movie, Rai Sport, Rai Cinema, and more.
Can I Watch Rai Play on Kodi?
Yes, you can. Rai Play has an official add-on within Kodi's official repository.
How to Unblock and Watch Rai outside Italy – Smart DNS or VPN?
RaiPlay is one of the most well-known TV channels in the world. That's why everyone should be able to access what it has to offer.
Now, once you're done with this guide, you'll be joining anyone residing in Italy as Rai Play is yours for streaming. All the details are presented above. However, if you have any more questions, feel free to drop them in the comment section below.