How to Watch Kijk Outside the Netherlands
|
KIJK is a popular online streaming platform in the Netherlands. It allows free access to content from several big channels such as SBS6, Net5, and Veronica. Not to mention that it's the official UFC broadcaster in the country.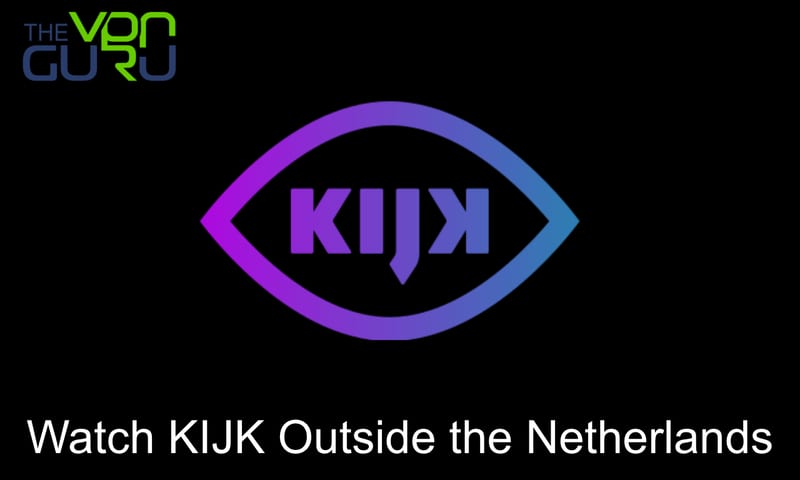 However, access to KIJK is limited to anyone outside of the Netherlands. If you live or travel beyond the country's borders, the channel will deny your access to most of its content, mainly anything that's new.
But that's all about to change. If you want to watch KIJK outside the Netherlands, here's everything you need to know.
Quick Guide
Let's cut to the chase. Follow the steps below and learn how to unblock KIJK outside the Netherlands.
Subscribe to VPN service. ExpressVPN has several speedy servers in the Netherlands
Download the ExpressVPN application and install it on your device.
Launch the VPN client and log in with your credential.
Connect to a Dutch server.
Watch KIJK anywhere.
In-Depth Guide
The steps above allow you to access KIJK wherever you are. However, if you need a more detailed walkthrough, scroll a bit further:
What You'll Need
Before you get to enjoy what KIJK has to offer, make sure you have:
A KIJK account (For more privileges).

iPhone, iPad, Android, PC, or Mac.

A credible VPN.

Good internet connection.

Our guide.
KIJK & Geo-Restrictions
In the Netherlands, TV viewing makes up roughly 2,5 hours or 160 minutes of daily activities.
This includes both live and catch-up streaming. KIJK is a very popular channel in the country, mainly because it offers top content for free.
However, just like every Dutch channel, it only operates within the Netherlands' borders.
It uses geolocation techniques such as checking its visitors' IP addresses to hide much of its content from viewers who are based outside the Netherlands.
If you try to access KIJK from overseas, you'll receive a geo-error message that looks exactly like this:
"Helaas kan de video niet worden afgespeeld. Mogelijk is deze niet meer beschikbaar, wordt de browser niet ondersteund of kijk je vanuit het buitenland."
The error is informing us that the video might no longer be available, the browser is not supported, or that we are watching from abroad. We know that the first two are not correct, so it's definitely our location.
Your IP address dictates what you get to access online. However, if you use a VPN or virtual private network, you can hide your IP and appear to be virtually browsing the web from anywhere in the world.
A VPN's Capabilities
A Virtual Private Network is first and foremost a tool that enhances one's privacy and security while surfing the internet.
Once a connection is established, the VPN shields your data with military-grade encryption, making it next to impossible for anyone to intercept it.
Moreover, the VPN cloaks your IP address and replaces it with a temporary one based on the connected server's location.
With that new IP, you get to access anything restricted to that region wherever you may be.
For example, if you connect to a Holland server, you'll receive a Dutch IP address. As a result, you'll be able to watch KIJK anywhere. That's not just it. A VPN has a lot of benefits to offer:
Helps bypass ISP throttling.
Allows you to surf the internet anonymously.
Unblocks websites and streaming services from all over the world.
Encrypts your data and protects it from hackers and snoopers.
Provides dedicated apps to ease your connection process.
With a VPN, your internet will never be the same. You get to enjoy unrestricted, unlimited, and secure browsing with a push of a button.
Best VPN for KIJK – Our Top Recommendation
The market hosts hundreds of VPN providers, but there is only a handful of them worth investing in. First, you have to stay away from free VPNs – that's a must.
These services not only jeopardize your private information, but they don't offer the quality that premium ones do. Speeds are mediocre and will definitely affect your streaming quality.
Not to mention the buffering instances you'll be witnessing along that way. That, of course, if the free VPN was able to unblock the channel, to begin with.
We've tested hundreds of VPNs over the years, and ExpressVPN has always maintained its position as the top contender in the industry.
It provides a wide server network, excellent speeds, great security features, and a 30-day refund policy.
Despite being our top recommendation, ExpressVPN is still competing in the industry, which means there are other contenders. Take a look at the table below to see what other options you have.
KIJK Anywhere – Frequently Asked Questions
We might have answered most of your questions in the guide above, let's answer the rest in the following section:
Do I Need a KIJK Account to Stream Content?
No, you don't. You can stream all of KIJK's series, movies, and live coverage for free without having to create an account. However, being a registered user gives you more privileges such as previewing your favorite show, continuing from where you left off or creating personal lists.
What Devices Can I Stream KIJK on?
KIJK can be streamed on Windows and Mac via browsers by visiting kijk.nl. The service also has dedicated applications for iOS and Android. Moreover, you can cast KIJK directly from your device to Chromecast.
Why Do I Keep Seeing Ads on KIJK?
KIJK is a free platform, which means it doesn't make any revenue from users but does receive income from ads. If that wasn't the case, the service wouldn't have been able to offer its content free of charge.
My VPN Is Connected, Why Can't I Watch KIJK?
That's mainly due to the fact that the channel has detected that you're using a VPN. As mentioned above, you need to use a credible VPN. You can pick one from our recommendation list.
Can I Watch UFC Live Events for Free?
You certainly can. In some countries, users can buy the event as PPV. In others, there are no PPV charges, but there's a required monthly subscription. However, in the Netherlands, you can watch any UFC fight for free.
How to Watch KIJK Outside The Netherlands – Final Thoughts
KIJK is a channel that everyone should have access to, and after finishing up with this guide, everyone will. As seen above, unblocking KIJK couldn't be easier.
If you still have questions, we'll be happy to guide you through anything. Just drop us a line in the comment section below and we'll reply as soon as possible.