Can I watch NRK outside Norway? That's a good question, and the answer is no. NRK.no is a Norwegian TV that provides videos on-demand and live TV online only in the Norwegian territory.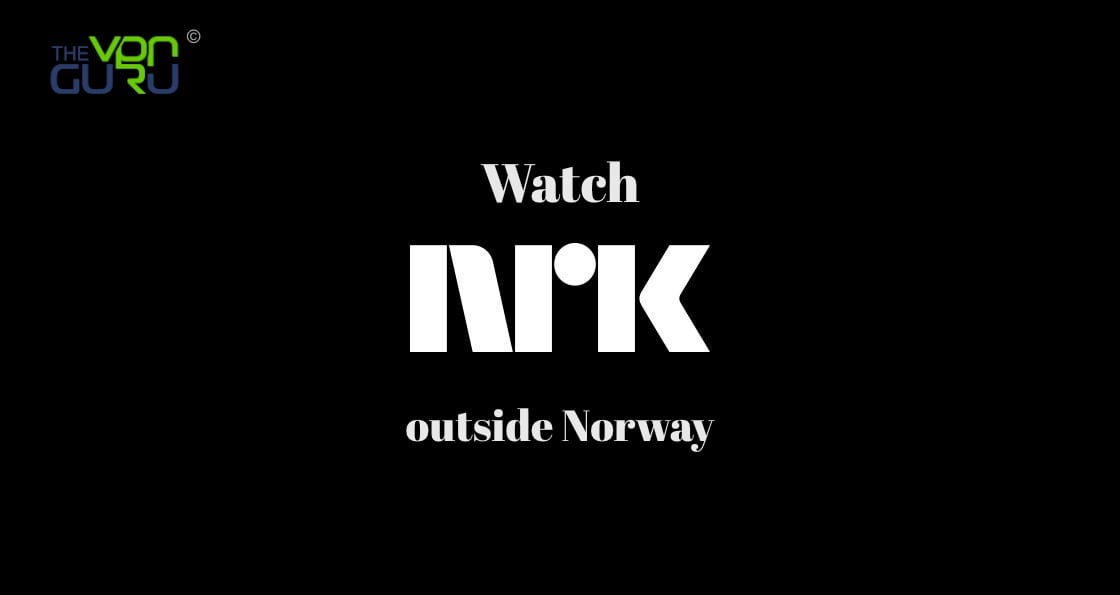 If you live abroad in countries like the US, UK, Canada, Australia, and Germany, you'll notice that the channel is completely blocked.
However, bypassing geo-restrictions has been our area of expertise for quite some time now. Therefore, this is a full guide on how to watch NRK anywhere in the world.
Watch NRK Outside Norway – Quick Walkthrough
Time needed: 4 minutes
NRK is a popular streaming service that has a lot to offer in terms of on-demand content as well as live streaming. In other words, it's a must-have. Let's get down to business. Here's how you can watch NRK TV anywhere in the world:
Register to a reputable VPN service.

We recommend ExpressVPN for the task due to its fast speeds and the availability of Norwegian servers.

Download and install the VPN application on your streaming platform.

Clients are available on major operating systems such as Android, iOS, PC, Mac, as well as Fire Stick.

Next, activate the VPN software and log in with your credentials.

You'll find multiple servers to choose from.

Connect to a server in Norway.

Once the connection is established, you'll receive a Norwegian IP address.

Visit NRK's website or launch its dedicated app.

We've included a section in the guide below that shows you how to get NRK on any device.

Stream NRK TV anywhere.

Enjoy the best Norwegian content NRK has to offer.
Stream NRK Overseas – The Full Walkthrough
The steps above do guarantee NRK streaming abroad. However, there's so much more you have to know about the channel, the VPNs to use, supported platforms, and more.
That's why we've created the following in-depth guide in hopes of shedding more light on the matter:
What You Need
To get NRK in your country, you must first have all of the following:
A reputable premium VPN.
NRK account (Extra features).
NRK-supported device.
A binging appetite.
NRK – Norwegian to the Core
Streaming anything online can be a bit of a hassle courtesy of geo-blocking. This is a defense mechanism used to protect a website/channel's copyrights.
The channel examines your IP address to determine your location. If you're not within its coverage area, it'll block your access almost instantly.
For example, NRK requires you to be in Norway to stream its content. In other words, you should have a Norwegian IP address. If you're overseas, that's exactly what you lack, which will result in obtaining the following error messages:
"Det oppstod en feil under fasting av mediainnholdet. Kontakt NRK Publikumsservice dersom problemet vedvaret."
"Ikke tilgjengelig utenfor Norge."
"Ikke tilgjengelig utenfor NorgeLes mer på hjelpesidene NRK TV i utlandet." (Application).
"NRK har ikke rettigheter til å vise dette programmet utenfor Norge."
The errors above inform you that the service is not available outside of Norway. The first message, however, is telling us that there was an error playing the video.
Different messages, same concept. NRK is not available outside Norway. Luckily, this has been solved in the quick guide above.
What a VPN Can Do!
As mentioned, a VPN enables you to obtain a Norwegian IP address by connecting you to a VPN server in Norway. As a result, you'll be able to stream NRK and any channel that's geo-blocked outside of the country.
It doesn't stop here. A VPN isn't just a tool that allows you to bypass regional restrictions. It also has other benefits that guarantee a better internet experience:
Bypasses ISP throttling to guarantee better connection speed (Credible VPNs only).
Unblocks major streaming services all over the world.
A

VPN encrypts all your traffic to prevent websites and ISPs from spying on you.

You can download VPN apps on PC, Mac, Android, iPhone, and iPad. This makes installing VPN pretty easy.
If you're looking for a VPN provider, verify that they offer VPN servers in Norway before you sign up. ExpressVPN does have servers in all Nordic countries, along with all of the VPNs in the table below.
Watch NRK TV Abroad – Smart DNS Proxy
Another way to watch your favorite Norwegian shows overseas is by using Smart DNS. This technology provides you with a workaround. It changes the path of your connection that reveals your location. NRK will be fooled into thinking you are actually in Norway.
All your streaming devices work with Smart DNS. Stream geoblocked channels on Roku, Amazon Fire TV, Apple TV, Chromecast, PS4, Xbox.
You won't notice any slowdown in your Internet speed.
You get to unlock channels from different regions using one Smart DNS setup. Watch Viaplay and US Netflix at the same time for example.
DNS Hijacking and Transparent Proxies might prevent Smart DNS from working properly.
Not all Smart DNS Proxy services can unlock NRK. However, all the VPNs in the table above have a Smart DNS feature that can.
Try them out, they all offer a 30-day refund policy. If you want to test the technology for free, subscribe to BulletVPN as it has a 1-day free trial.
How to Create an NRK TV Account
Creating an account isn't necessary to stream NRK's content. Nonetheless, having one opens up more benefits, so we felt obliged to teach you how to do so:
First, launch your VPN and connect to a Norwegian server.
Head over to https://tv.nrk.no/
In the middle of the screen, click on Logg inn.
Enter your email address and hit Neste.
Submit your password and select Neste again.
Read the Term of Use section and click "Meld meg på nyhetsbrev fra NRK TV." You can translate the page if you don't know Norwegian.
Enter your first name and continue.
You're now logged in.
How to Get and Watch NRK TV on Any Device
Now that you have a VPN subscription and an NRK account, let's proceed to the how-to stream NRK TV on your preferred platform part:
If you're using an Android mobile, tablet, or TV that's Android-based (Sony TV or Nvidia Shield), you'll need the following to get NRK TV:
Download the VPN application and connect to a Norwegian server.
Next, clear your Google Play Store cache and change its region to Norway.
Download the NRK TV app on your device.
Launch the app, sign in (Not necessary), and stream your favorite shows anywhere.
On Apple TV, things are a bit different as no dedicated VPN client is supported. So, here's what you need to do:
Switch the Apple TV region to Norway and download the NRK TV app.
Launch the app, sign in, and start watching.
If you happen to own an iPhone or iPad, these are the steps required:
Download the VPN app on your iOS device and connect to a Norwegian server.
Alter your App Store region to Norway and get the NRK TV app.
Activate NRK TV and binge away.
Do you want to enjoy NRK TV on the big screen using your Smart TV? This is what you need to do:
Install the VPN on your router or set up Smart DNS on your Smart TV.
Change your TV's region to Norway and download the app:
Launch the app and log in.
Enjoy NRK TV wherever you are on your big screen.
On your Windows or macOS, follow the steps below to get NRK TV in your region:
Get the VPN app on your desktop device and connect to a Norwegian server.
Visit https://tv.nrk.no/ and sign in.
Start watching NRK TV anywhere.
On your Chromecast, getting NRK is not very straightforward. There is a dedicated app, but you can't download it on the device itself while abroad:
Install a VPN on your router or configure Smart DNS on it.
Download the NRK TV app on your Android or iOS.
Launch NRK TV and play a video.
Hit cast and stream it directly on your TV through Chromecast.
PlayStation has become a very important streaming hub in the past few years. To stream NRK TV on PlayStation, the following is required:
Change your PSN account to Norway and download the NRK TV app.
Launch the application and sign in.
Stream NRK TV wherever you may be.
NRK TV Overseas – The FAQ Section
Got more questions about NRK TV? Don't fret, we have all the answers you need:
What Devices Does NRK Support?
You can stream NRK TV on Smart TVs, Chromecast, Android, iOS, Android TV, Mac, PC, Apple TV, and PlayStation.
Do I Need an Account to Stream NRK TV?
No, you don't. An account does give you extra content or allow streaming. It only adds a few more features like the ability to continue your video, get NRK recommendations, and add favorites.
What Channels Can I Stream Live?
Once you unblock the channel, you get live access to channels such as NRK 1, 2, 3, and Super.
Do All VPNs Work with NRK?
No. Not all VPNs can unblock the channel abroad. In fact, even if you were in the country and using an unreliable VPN, the channel will block your access.
How Long Do Shows Remain on NRK TV?
It depends on the show or program. You can learn everything about the program's duration by searching for it and scrolling to More information.
What Shows Can I Watch on NRK TV?
You can stream TV Shows such as The Bold Type, Hvide Sande, Whistable Pearl, The Night Manager, Line of Duty, Thirteen, Advokaten, The Fall, Grace, De Var Fem, and more.
How to watch NRK outside Norway
That is all the info you need about how to unblock and watch NRK TV outside Norway. From now on, geo-restrictions won't be a problem for you anymore.
If you have more questions, kindly drop us a line or two in the comment section below.