The 2019/20 Bundesliga season is officially here everybody. Football fans are in for a treat this year. It's not about how Dortmund will be pushing Bayern even harder this year as they have a win over the champions in the DFL-Supercup earlier this month. No, it's about the fact that the league is available almost everywhere for live-streaming. You saw that right, wherever you may be, there's a channel out there for you. Even if your country lacks a broadcaster, follow this guide and learn how to watch Bundesliga live anywhere.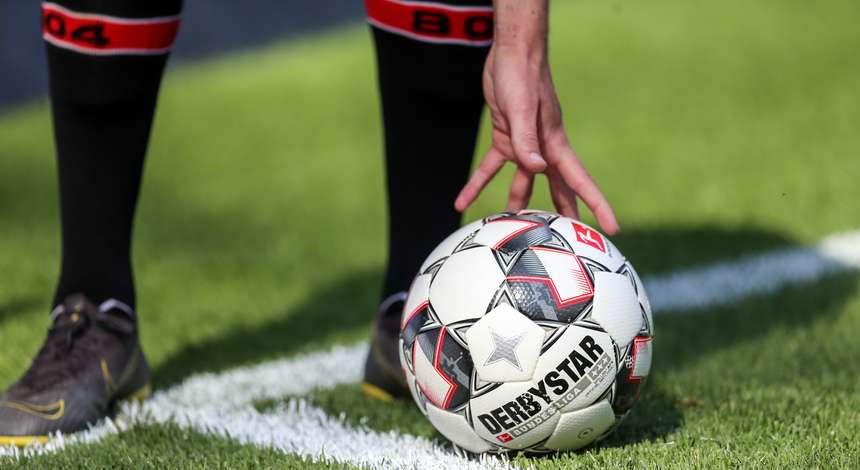 Where to Watch Bundesliga 2019/2020 Around the World?
There's no doubt that Germany provides the soccer world with the best soccer teams ever. That's why there's no surprise of the amount of interest in the Bundesliga across the globe.
Luckily, the sports have broadcasting channels in more than 60 different countries, which means that there's a good chance whoever is reading this has an official channel for the league. However, after taking a look at the channels, some of you might not find their region stated.
You may try to access a different country's channel, but that will get you nowhere. You see, the Bundesliga streaming services are geo-restricted. That means they only allow access to viewers residing in their respective countries.
To determine a visitor's location, they take a peek at their IP address. If the user is not within the channel's area of broadcast, a geo-error message will pop up.
Let me give you an example. Here's what you get when you try to stream BT Sport outside the UK:
"Sorry, this video is not available in your country."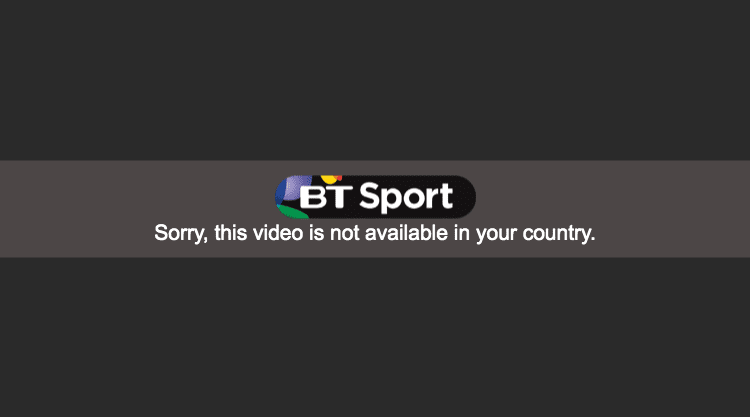 It's alright. No matter where you're residing, I've given you a solution below to circumvent the geo-restrictions imposed on the channels. Before you head to that part, take a look at the 2019/20 Bundesliga official broadcasters:
A Free Streaming Option?
Unfortunately, this section has to be mentioned whenever a major league is ongoing. Everybody likes whatever doesn't cost them money – free samples, free trials, and our case today, free streaming websites.
I know, most of the viewers do that. Sadly, unlicensed streaming websites are inevitable when it comes to major sports events. However, these alternatives will do you more harm than good. First, they provide a far inferior viewing resolution. I don't even think they're in 360p. That's not all; it's considered piracy (illegal).
Well, Bundesliga won't just sit still and watch its content get pirated. They're now working with NAGRA, a world-leading company for content protection and multiscreen television solutions. So, be careful, you can get in trouble just to save up on a few bucks.
If you're still focused on getting free Bundesliga streaming, you can do it the official way. In New Zealand, Youtube is airing all the matches free of cost. However, it's only available to those in the country. If you're abroad, keep on scrolling, you'll be watching Bundesliga wherever you are in no time.
Bundesliga – In Select Countries No More
Regional restrictions can become a pain in the neck sometimes. But that's all about to change now. With a Virtual Private Network, you can avoid geo-blocking no matter where you're residing across the globe.
If you're an expat in a country where no coverage available, you can always dial back into your country that does have a stream. It all depends on the server you connect to.
If you choose a server in the US, let's say, you'll receive an American IP address. That means your traffic will appear to be coming from that region. As a result, you'll be able to stream the likes of ESPN+, Hulu, and of course, Fox Sports. The same goes for every channel on our list if you connect to a server in their respective countries.
Other than that, a VPN has a lot more to offer. Here's a quick glimpse.
VPNs are totally secure. They encrypt your traffic and prevent websites from tracking your activity online.
VPN apps are available to download on PC, Mac, Android, iPhone, and iPad.
Connecting to an Indian VPN server unblocks all Indian websites including Star Sports and Hotstar.
If you wish to unblock streaming channels from other regions, switch to a VPN server located in that country.
VPN rechannels all your traffic via a remote VPN server. While this is safe and does not compromise your privacy, it does slow down your Internet speed by about 15%.
The Steps
The unblocking is very easy once you know your way around. Let me show you how you can watch the 2019/20 Bundesliga live anywhere:
First, subscribe to a Virtual Private Network service. If you're skimming through reviews, I'm quite sure that ExpressVPN has popped up every time.
Once you create an account, download their VPN application on your device.
Run the app, sign in, and navigate to the server list.
Choose a server according to the channel you wish to watch the league on:

US server for Fox Sports.
UK server for BT Sport.
New Zealand server for Youtube (Free).
Canadian server for Sportsnet, etc…

Activate the channel's dedicated application or visit the official website.
Stream Bundesliga 2019/20 live anywhere.
I am currently using ExpressVPN to unblock Star Sports in Germany and watch Bundesliga live free online without problems. ExpressVPN has fast Indian VPN servers which means you won't face any buffering issues while watching Star Sports' live feed.
How to Watch Bundesliga Free Live Online with Smart DNS Proxy
VPN is very reliable when it comes to bypassing geographic restrictions. However, some local streaming channels might be blocked as long as you are connected to the VPN server. If you wish to watch Bundesliga games free live online on your streaming devices but not lose access to your local channels, use Smart DNS.
Smart DNS does not change your IP address. It only looks after the part of your traffic that shows your location.
With Smart DNS, you can unblock channels from different countries concurrently. Watch Star Sports, Sky Sports, BBC iPlayer, and Fox Soccer 2Go at the same time.
All your streaming devices except Roku work with Smart DNS. That includes PS3, PS4, Smart TV, Chromecast, Apple TV, Amazon Fire TV, Xbox, and more.
There is no need to download additional software to configure Smart DNS on your device.
Not all Smart DNS proxy services support unblocking Star Sports outside India. However, Unlocator does. The great news is that you can try out Unlocator to watch Bundesliga live online for free using a free 7-day trial – no credit card required.
How to Watch Bundesliga Free Live Online with VPN or Smart DNS Proxy?
You can watch Bundesliga live free online via any channel of your choice whether you use VPN or Smart DNS proxy. Remember, all you have to do is pick a channel and connect to a VPN server in its respective country.
After that, you can stream Bundesliga wherever you are. So, do you think Bayern will take on its 8th consecutive title? Hit me up with your predictions below.
Save