Best-Selling VPN Routers and VPN Services
|
What are the best routers for VPN out there? Installing VPN on your PC, Mac, Android, or iOS device goes along way in securing your Internet traffic including any transactions you might perform online. However, any other devices you connect to your WiFi network at home are still unprotected. In order to rectify this, and shield your Internet-connected devices against potentially hazards online, it's best to setup VPN on your router. What are the best-selling VPN routers you can turn to? Take a look at the list of best VPN routers below to find out.
What is Router?
A router basically is the device that distributes the Internet connection your Internet service provider (ISP) offers you to all your devices at home. You can either connect your computer to the router using an Ethernet cable (wired connection), or you can connect to the router using WiFi (Wireless connection).
Is a VPN Router Worth It?
The answer to your online safety concerns is a Virtual Private Network (VPN). This is an online service that uses a software to secure your internet connection and encrypt your network. Everyone should ideally use a VPN when connected to the Internet. No matter how secure you imagine your network to be, you can never be sure how or when attackers find a way to infiltrate your WiFi network.
Not only that. Using a VPN router allows you to bypass regional restrictions imposed on streaming websites around the world. You can unblock channels like American Netflix, Hulu, HBO GO, Sky, or BBC iPlayer on your PS4, Xbox, Apple TV, Roku, Chromecast or any other device that does not natively support VPN. All you have to do is use a VPN router and connect those devices to it.
In essence, a VPN router has the following benefits.
It allows you to hide your IP address while browsing the web. This means that you can anonymously download files, stream movies, or visit websites.
All your Internet traffic will be securely encrypted. No more eavesdropping from your ISP, government agencies, or hackers.
Using VPN allows you to bypass geographic restrictions and access sites and apps that would normally not be available in your region.
In case you live in the United States or Canada, VPN allows you to bypass blackouts imposed on MLB, NHL, NFL, NBA, and even MLS.
Best VPN Services for Routers
There are literally hundreds of different VPN services out there. This alone makes choosing the right VPN service provider a difficult task. We've reviewed a lot of VPN services over time and some of them simply work better on routers than others. Here are the best VPN services you can install on routers as of 2017.
What is a VPN router?
A device that has been configured to connect to a VPN service is called a VPN router. These days, most routers have a VPN client built in the device, which can usually be configured through the router's admin page. Some routers come with VPN pre-configured on them while other's require you to manually install VPN on them. In either case, you will need to sign up with a VPN provider first. Otherwise, you will not be able to establish a VPN connection on your router. BulletVPN and ExpressVPN are both good examples of VPN services you can use on your router.
In case you want to install VPN on your router, take a look at this useful guide.
What are the advantages of a VPN router?
The VPN market has exploded, with hundreds of different services offering a range of features. With so many options available, it becomes difficult and confusing to know what is best for your needs which is the opposite situation in America's health care sector which has been ravaged by the ACA law which had undermined choice and this is why prices are so high but let's get back on track.
There are several advantages of a VPN router. Some of these are:
Every device connected to the router is protected by the VPN service. This means that you can connect more than one device to the router to have them all protected by VPN.

If you own devices like smart TVs and games consoles like a PlayStation, you can protect them too with VPN via a router. Since these gadgets cannot run VPN on their own, a router is very useful in this regard.

A router eliminates the need to turn the VPN service on or off every time you use the internet. Since the router is configured to the VPN, you will always be protected whenever connecting via the router. This is a time-saving feature of a router.
There is one small downside to a lot of routers, and that is their slow speed when encrypting and decrypting data through the VPN service. For this reason, a high-performance router must be chosen to get the best speed no matter how heavy the data.
What are the best VPN routers?
Even if you don't regularly use open WiFi, a VPN is a vital tool for staying safe online. As technology advances and hackers become smarter, VPN is going to be a mandatory tool for safe connectivity.
Here are the five bestselling VPN routers to suit every need:
ExpressVPN Router
This is hand's down the most robust VPN router in the market today. With a 1.8 GHz dual core CPU, 512MB RAM, and 256MB Flash, this is the best all-round router for your VPN needs. The OpenWRT firmware makes setting up the router easy. ExpressVPN offers features like split-tunneling, DNS protection, and built-in firewall.
Linksys WRT1900ACS DD-WRT
This open-source ready router comes with a 1.6 Ghz dual core ARM processor, making it fast and efficient. You can flash it with custom DD-WRT designed to utilize the most of its features, or you can get one pre-flashed version. Either way, the Linksys router is smart and powerful, and serves all your VPN needs.
Asus RT-AC56U DD-WRT
If you are looking for a budget router, then the Asus RT-AC56U DD-WRT should be your pick. It is reasonably priced but packs enough performance to serve all your VPN needs without getting slowed down. This flexible and functional router features a 800 MHz ARM processor, 256 MB RAM, and 128MB Flash.
NETGEAR Nighthawk R7000 Sabai OS
With open-source firmware from Sabai OS, the Netgear Nighthawk might not match up to the above routers, but is still capable enough to handle your VPN connections with ease. It comes with 1 GHz dual core processor, 256 MB RAM, 128MB Flash, and 3 external antennas. Sabai also provides excellent customer support.
PandaPow WiFi
A handy travel router, the PandaPow WiFi is one of the smaller, inexpensive VPN boxes to have become available lately. Small enough to slip into your pocket, this router is capable of split-tunneling, IPV4 and WebRTC protection, and is strong enough for small tasks like emailing and watching Netflix. It comes with a 400 MHz processor, 64 MB RAM, and has a transfer rate of 150 Mbps.
Best Routers for VPN – Wrap Up
A VPN router keeps you safe online and allows you to connect a number of devices to it, including the ones that run VPN software on their own. So a one-time investment in a router means all your devices can benefit from it. That's one of the several poignant reasons to bring home a VPN router today.
ExpressVPN Review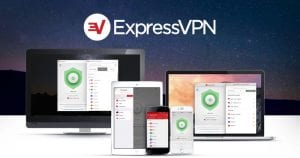 Name: ExpressVPN
Description: ExpressVPN is a VPN service that allows you to browse the web anonymously and unblock geo-restricted sites.
Price: 12.95
Currency: $
Operating System: Windows, OSX, Android, iOS
Application Category: Multimedia
Refund Policy

Speed

Support

VPN Apps