What Is iCloud Private Relay? How Does it Work?
|
When it comes to private browsing, most companies are battling it out to create the best privacy feature out there. From VPNs, and browser extensions, to anti-tracking software, we've seen it all. Now, Apple decided to join the mix by introducing its own feature – iCloud Private Relay.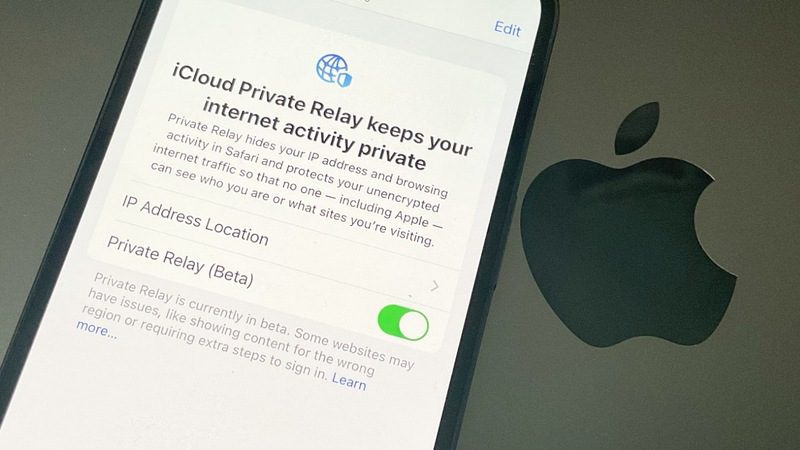 The new Apple technology is still in its BETA version on certain devices. However, based on what it has to offer, we can tell that it's showing a lot of promise.
Private browsing, hidden IP, and encrypted DNS records are more than enough to ensure the ultimate web surfing experience. So, what is Apple's Private Relay? How does it work? And how can you enable it on your device? Find out below.
Apple Branches Out Even More – Introducing Private Relay
It's a known fact that Apple creates some of the most popular products in the world. In fact, more than 1 billion people use iPhones worldwide with over 1.9 billion devices sold since its initial launch. Not to mention that Apple itself revealed that there are now nearly 100 million active Mac users.
iOS and Mac's security are not to be questioned, but there's always room for improvement. Users all over the world tend to download antivirus software and VPN clients to ensure extra security and privacy.
But now, Apple is taking matters into its own hands by elevating its Safari browser's features and including one that hides the users' identity while surfing the web.
It's called iCloud Private Relay and it works by using two separate internet relays to encrypt your data and anonymize your browsing so that no outside entity can see your IP address, location, and browsing activity. In other words, no one can create a detailed profile about you – not your ISP, and most definitely not Apple.
So, here's how it works. Ever heard of Double VPN? This feature reroutes your data through separate VPN servers, doubling the encryption in the process. It's kind of the same, but a bit different.
With Private Relay, your requests are routed through two separate, secure internet relays. In the first relay, the feature encrypts your DNS records, deeming them unreadable by your ISP.
In the second relay, a third-party provider assigns you a temporary IP address and connects you to the site you're visiting. Knowing Apple, this is done using the latest technologies that ensure the best outcome in terms of private browsing.
Is it Complete? Is It Free?
Unfortunately, it's neither. iCloud's Private Relay is still in its BETA version, but Apple is working on issuing the complete fully operational feature.
As for it being free, Apple didn't roll out the feature for those using your Basic iCloud. To be able to benefit from the feature, you must a subscriber to Apple's iCloud+.
On Mac, if you don't have a valid subscription, the entire feature won't show up in the list. On iOS, however, you can clearly see the Upgrade notice next to the Private Relay functionality.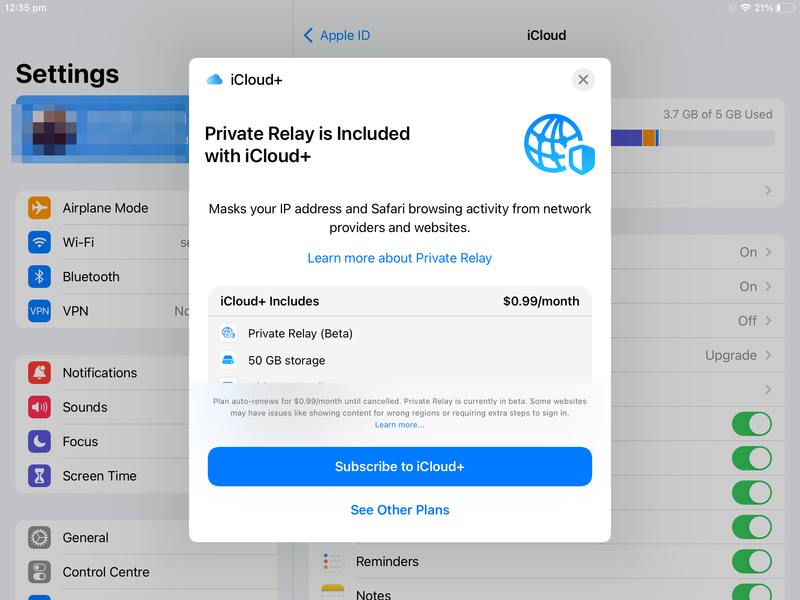 While $0.99/month is not much compared to what users will be getting in return, such a feature should be offered for free. It's still in its BETA version, so we should wait and see what Apple will do with it once the complete version is out.
How to Enable iCloud Private Relay
iCloud Private relay can benefit your browsing experience in so many ways. If it's privacy, you got it – if it's security, you also got it.
However, before you can elevate your browsing anonymity, you have to learn how you can activate Apple's robust feature on the device you're operating.
Don't worry, we're here to help. Whether you're using iOS or macOS, once you subscribe to iCloud+, give the following step-by-step walkthrough a read and learn how you can enable iCloud Private Relay seamlessly:
iPhone & iPad
If you're operating an iOS device (iPhone, iPad), enabling iCloud Private Relay is a simple task. All you have to do is follow the steps below:
On your iPhone/iPad, open Settings.

Next, click on your Profile's icon followed by iCloud.

From the list on the right of your screen, select iCloud Private Relay.

You can now use Safari on iOS to browse the internet with complete anonymity.
MAC
If you happen to be using macOS, the process is a bit different but as easy as the one with iOS. Here are the required steps:
On your Mac, click on the Apple icon on the top left of your screen, followed by System Preferences.

On the top, click on your Apple ID.

After that, select iCloud.

Select Private Relay from the list and you're all set.

As a quick reminder, Private Relay requires an iCloud+ subscription. If you don't have that, you'll just be presented with an "Upgrade" notice. Once you subscribe, you can enable the function using the steps provided above.
iCloud Private Relay – The Apple is Whole Again
When it comes to security and privacy, Apple is the first company that comes to mind. However, despite having such features and regulations to protect its users, there's always room for improvement.
Luckily, the company is well aware of it as it introduced its own take on private browsing – iCloud Private Relay. Now, whoever is using iOS or Mac can surf the web with Apple's Safari without worrying about ISPs or third parties tracking their every move.
That's a good step for Apple. However, such an important feature shouldn't be offered to iCloud+ users only. This is the only drawback we could find. While $0.99 is not much for a subscription, a security feature with that much impact on privacy should be provided for free.