Best VPN for iOS in 2023 – iPhone/iPad
|
What is the best VPN for iPhone and iPad? No matter how secure you think your iPhone/iPad is, you still need an extra helping hand when you surf the internet. That help comes in the form of a VPN. I use a VPN on my iPhone and I access the internet without having to look over my shoulder all the time. Aside from that, I access geo-restricted content from sites such as Netflix, Hulu, ABC Network and others. Do you want to join my "Access the internet freely" club? Read my review of the best iOS VPN services to get a better idea about which providers you can trust and use on your iOS device.
Best VPN for iOS – Content Index
Most people choose Apple products because they're a status symbol, while others use them because their features and build quality is simply unmatched by any other manufacturer in the market. But what would you say if I tell you that a VPN brings your iOS security to a whole new level? Read on and find out more about the best VPNs for iPhone and iPad.
Why You Need a VPN with iOS
As an Apple user, you might be comfortable enough with the level of security that is offered already by your manufacturer, but that security protection is simply not enough. A good VPN service for iOS will ensure that your ISP isn't able to monitor your online activities. Additionally, the NSA and other government agencies will not be able to pick up on your private information since it will be encrypted.
This is what you get when you operate with a VPN while using iOS:
Your Data will get Encrypted
As mentioned before, the number of spammers and hackers out there is on the rise. They are getting more and more clever about how to steal your private information and use it to their advantage. To protect yourself from hackers, as well as law enforcement agencies who also want to get hold of your data for monitoring, your best bet lies in using a VPN.
You'll Evade Censorship and Geo-Restrictions using iOS VPN:
If you happen to live in countries such as Iran, UAE, Russia, Saudi Arabia, Turkey, and China, then you are all too well familiar with the level of censorship imposed within these countries. Such high levels of censorship limit the streaming of content from sites such as BBC iPlayer, Netflix, and Hulu and also restrict access to social media sites like Twitter, Facebook, and YouTube. Using a good VPN for your iOS should allow you to work around such extensive censorship regardless of whichever country you're in.
Safely Connect to Public WiFi Hotspots
How many times have you used free public WiFi hotspots while at an airport, hospital, school, or cafe? What most people don't realize is that these public WiFi hotspots are especially vulnerable to attacks from hackers and cybercriminals. Connecting to a VPN server while using free WiFi hotspots enables you to protect all your private data.
The Perfect VPN for iPhone or iPad
As the citizens of the world continue to spend more time and get more done online, the rise of need to safeguard their data & private information from malicious individuals such as hackers and spammers continue to rise.
This kind of information, when stolen, can be used to cause a lot of pain and suffering to a user. For example, one's private information (usernames and passwords) may be used to access their bank accounts and siphon money. Such a need can be met through the use of a VPN.
You can just go and fetch any VPN you come across with. Quality is always what to look for, it's your privacy at stake here. To shed more light on the matter, these are some of the features a credible VPN should offer its users:
Military-grade security protocols to shield your information against cybercriminals.
iOS devices are secure on their own. However, anyone can tap into your data if you're on a public network. Make sure the VPN offers good encryption.
Ability to unblock geo-restricted iOS apps such as American Netflix, Hulu, Amazon Prime, or BBC iPlayer.
Dedicated servers for specific needs. The more servers the merrier.
How to Establish a VPN Connection on iPhone/iPad
Before we head over to our full review, don't you want to know how to use a VPN first? Alright then, here's how you connect to a VPN on your iOS device:
Before you begin, you'll have to create a VPN account. Check out your best options in the upcoming review.
After that, download and install your VPN's dedicated application on your iPhone or iPad.
Now, launch the VPN client and log in with your username and password.
Connect to a server of your choosing.
Wait a bit and check if you got a new IP address with this IP Verifier.
If you're IP changed, you now have a VPN connection. Your data is safe and private.
Are you looking for a sneak peek? Take a look below so that you can get a slight idea at what's coming later on in this review.
List of the Best VPN for iOS – In-Depth Review
One of Apple's highest priorities when it comes to its customer's needs is security. Tim Cook, Apple's CEO, is even quoted as saying that their customers' privacy is a matter of "life and death". This is why they will continue coming up with even more security features that guarantee the safety of their customer's information.
In light of this, we as end-users should also never take our online security and privacy for granted. That's why it is highly recommended to use a VPN with your iPhone or iPad whenever you go online. The added layer of security is almost priceless.
With an introduction like that, you might be wondering what to choose. Well, wonder no more. This is the full review of the best VPNs for iOS.
ExpressVPN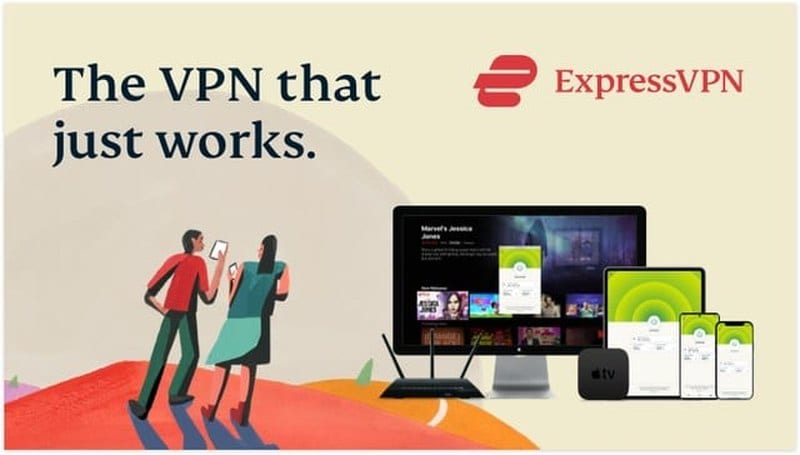 Let's start our review with one of the most demanded VPN providers on the market, ExpressVPN. First of all, speed is very important, especially when you're connected to a VPN as its encryption drops your speeds drastically. ExpressVPN has blazing fast servers in over 136 locations, which pretty handful if you're looking to bypass regional restrictions.
Although it's a bit pricey, have you seen the features you get to benefit from? You get access to a free Smart DNS service along with a shared account on 5 devices. Not to mention the ultimate privacy factor, a strict no-log policy. In other words, you'll be getting exactly what you paid for and more.
Merits
Up to five simultaneous connections.
Torrenting/P2P allowed.
SSL secured.
Over 136+ VPN locations.
You can ask for a refund within 30-days of service.
Optimized apps for iPhone and iPad
Supports unblocking American Netflix
Demerits
Very high prices when it comes to plans.
BulletVPN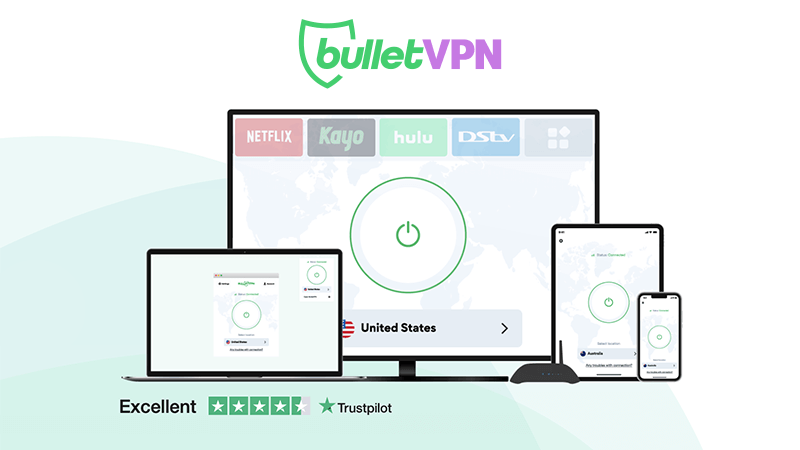 The "Bullet" in the name reflects speed, and speed is exactly what we got the moment we connected to the service. Aside from that, BulletVPN's iOS app was very easy to navigate, allowing us to establish a connection within seconds.
BulletVPN has 154 servers in 55 countries, which is an excellent server network for unblocking geo-restricted content. Moreover, the service offers iOS users the ultimate security they've been looking for with several protocols to choose from. It provides them the choice between PPTP, L2TP, OpenVPN, IKEv1, and IKEv2.
Pros
High-level encryption.
Refund in 30 days.
154 servers in 55 countries.
Excellent server speeds.
Easy-to-use apps on iOS.
Free Smart DNS service.
NordVPN
NordVPN is another fan-favorite for iOS devices. As we mentioned, iPhones and iPads are very secure, but that's not enough to protect these devices from hackers and malware. Luckily, that's where Double VPN and CyberSec come in.
When you use their Double VPN feature, you get to encrypt your traffic twice through two servers. If one makes it next to impossible for hackers to harvest your data, what can two do? CyberSec acts as a shield against malware and malicious software. Therefore, whenever you visit a website, rest assured nothing will infect your device. Oh, they also include a strict no-log policy and a 30-day cash back period.
Pros
Covers 59 countries around the world.
Apps with a user-friendly interface.
User traffic doesn't get logged.
Can connect 6 devices at once.
Panama-based headquarters.
Cons
Servers' speed can be better.
Best VPN for iOS – The Wrap Up
Whatever your reason is for choosing an Apple device, one of the concerns that should be at the top of your mind is how secure your data is. I've done my best and provided you with a list of VPN providers that offer the highest quality of service. Whatever you choose, hit me up in the comment section below with your feedback.
ExpressVPN Review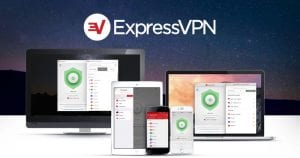 Name: ExpressVPN
Description: ExpressVPN is a VPN service that allows you to browse the web anonymously and unblock geo-restricted sites.
Price: 12.95
Currency: $
Operating System: Windows, OSX, Android, iOS
Application Category: Multimedia
Refund Policy

Speed

Support

VPN Apps