With over 32 million subscribers in the United States, Hulu has certainly become a force to be reckoned with in the ongoing streaming war. However, unlike its competitors Netflix, Amazon Prime, and Disney+, Hulu is only available in the US. Otherwise, it would have harnessed more customers. Hulu is geo-blocked outside the US and a VPN can circumvent this issue with ease. But the question is, which VPN is the best for Hulu? We've tested various VPN services and the ones in this full review fall into the 'Best Hulu VPN 2023' category.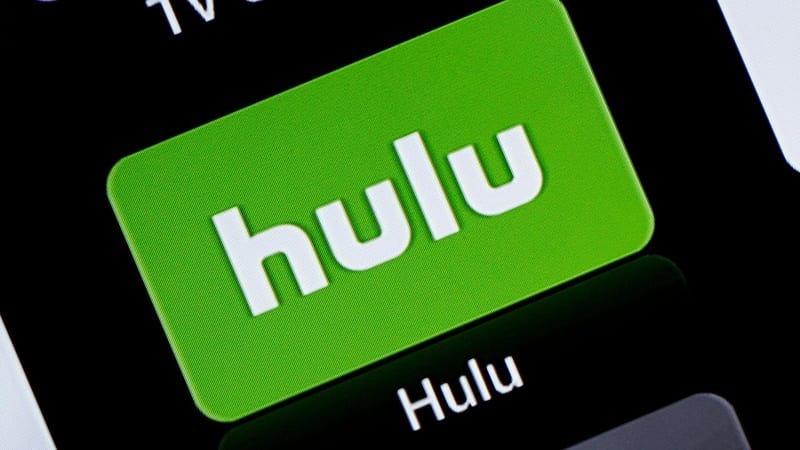 Best VPN for Hulu 2023 Review – Content
Hulu has become a global attraction for online streaming around the world. However, the service isn't available for anyone unless a VPN is used.
What VPN can you use? Which one can actually unblock the channel overseas? Find out in this review:
Hulu's Problem Outside the US
As we mentioned above, Hulu only operates in the United States. The channel applies what we call geo-blocks, a defense mechanism used to restrict user access to a specific location.
A channel that uses geo-blocking examines a user's IP address to determine his/her location. If it's not within the channel's coverage area, the user will be immediately blocked. This is primarily for copyright and licensing reasons.
Hulu is only available in the US, which means it requires an American IP address to operate. Without one, access to its movies and series will be denied and a geo-error message that looks like this will appear:
"Video not available in this location. This video is not available to watch in your location. Please select something else to watch. Error Code: BYA-403-007."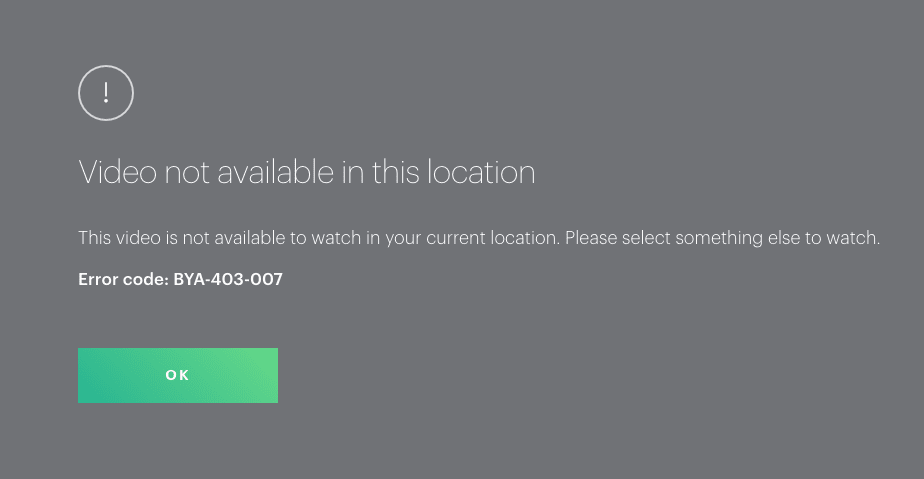 It doesn't end here. While the above message gives streamers some hope that they can stream another title, it certainly isn't possible. The channel is only accessible in the United States, with no exceptions. Here's another error message users might encounter abroad:
"We're sorry, currently our video library can only be streamed within the United States."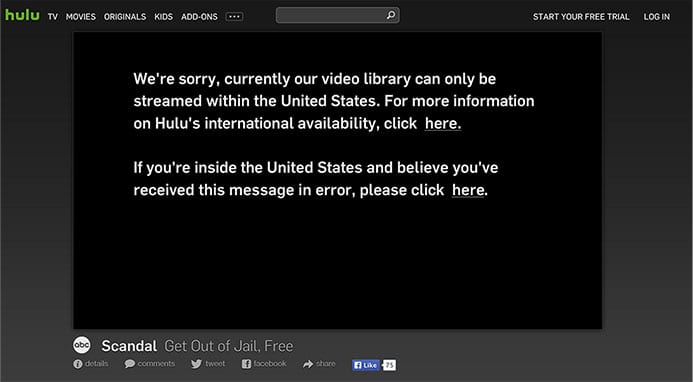 Now, most of you might think that any VPN can grant you an American IP address, which might be true. However, this review was created to show you the best Hulu VPN for a reason.
Not Every VPN Can Unblock Hulu
The problem here isn't whether a VPN can grant you an American IP address or not. In fact, that's an easy task. The real issue at hand is that Hulu, just like most of the major streaming services out there, applies a very tough VPN block.
In other words, only a few VPN providers can circumvent this blocking mechanism. Free VPNs, for instance, have no chance with the channel. Even premium ones aren't able to get the job done.
If the VPN is not credible enough, users will encounter a different type of error. This time, it'll be informing them that the service has determined that they're using a VPN or a proxy to access its content.
"It looks like you're using an anonymous proxy. You'll need to disable it to watch Hulu. Hulu Error Code: P-EDU101."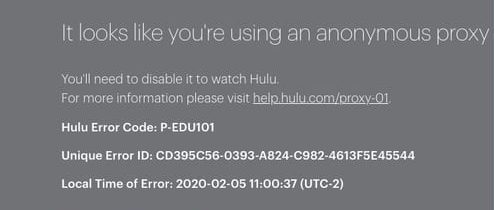 Again, this error comes in different forms. While we were testing VPNs to see which one could get the task done, we encountered some very popular ones that failed.
As an example, we'll show you our experience when we used one of the most popular VPNs in the world, HideMyAss. We connected to a US server and launched the Hulu application on our Android.
Apparently, HMA wasn't up for the task and got blocked immediately:
"Error Playing Video. You appear to be using an anonymous proxy tool. Disable it to play videos on Hulu. Error Code: BYA-403-011."
This is why we stated that it's not about the US IP address you're getting from the VPN; it's about the provider assigning you that IP.
We performed a couple of tests on dozens of VPNs to see which one can unblock Hulu abroad. While some failed (as shown above), others were successful, which you'll be seeing later on in this review.
Best Hulu VPN – The Unblocking Process
As we mentioned, a VPN can grant you a US IP address with a push of a button. But there's so much more to it than that.
A Virtual Private Network is a cybersecurity tool that allows users to shield their data with military-grade encryption and surf the web anonymously.
Once they connect to a server, the VPN hides their IP address and assigns them a new one in the country where the server is located. As a result, they'll be able to visit any website or stream any channel restricted to that area.
Hulu Anywhere – The Steps
In Hulu's case, here's what you need to do:
First, sign up with one of the VPNs in the review below.
Download and install the selected VPN application on your device.
Run the app, sign in with your VPN account, and head over to the server list.
Pick an American server.
Wait a few seconds for the connection to take place.
Launch Hulu's website or application.
Stream Hulu anywhere in the world.
Before we start reviewing the top VPNs for Hulu, we have to note that under no circumstance you should opt for a free provider.
These VPNs are a threat to your online privacy as they collect your data and sell it to sister companies. On the other hand, most of them aren't even capable of unblocking Hulu.
And even if they did, the video quality you get won't be satisfying. Their servers aren't well-optimized for HD streaming, and the speeds are mediocre.
With that said, let's kick off our best Hulu VPN by giving you a quick look at what's to come in this review.
Best VPN for Hulu List
Not all VPNs are created equal, and that's evident when a VPN fails to unblock Hulu abroad. You might search for a VPN yourself, but you'll be wasting a lot of time doing so.
We run VPNs through a strict evaluation process to determine their credibility. According to the tests we performed, we've made a list of the best VPNs you can use with Hulu. Here's the full review:
ExpressVPN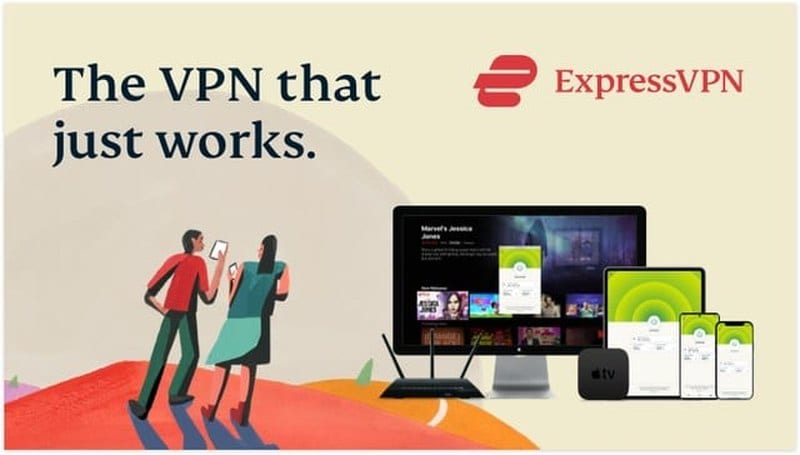 ExpressVPN is a solid choice for accessing Hulu from any place around the world. Its biggest strength is speed. In fact, ExpressVPN is one of the fastest providers on the market.
According to our tests, ExpressVPN's encryption can hardly be noticed courtesy of its well-optimized servers. We only witnessed a 6% drop in connection, which is excellent for UHD streaming.
We also didn't suffer any quality loss, lag, or buffering issues. Besides super-fast connections, you get over 25 servers in the United States. Not to mention that you have access to thousands more in 93 other countries.
It took us one try to access Hulu's content with ExpressVPN. We just connected to a random US server, and the results were as such:
Aside from servers, Hulu also has a Smart DNS feature, which allows users to unblock restricted content without suffering the speed loss we mentioned above.
Smart DNS reroutes the chunks in your traffic that showcase your location. That way, your IP address remains intact, and you don't lose speed as there's no encryption present.
Finally, ExpressVPN offers a 30-day refund policy (in case you're not satisfied) and 24/7 live chat customer service if you need help in the setting up process.
They'll even provide you with an up-to-date list of servers you can use in order to access it. Read our full ExpressVPN review here.
Pros
Five simultaneous connections.
25+ servers in the US.
Unblocks Hulu.
Smart DNS feature (MediaStreamer).
30-day refund policy.
Easy-to-use apps.
Blazing-fast speeds.
24/7 live chat support.
2. BulletVPN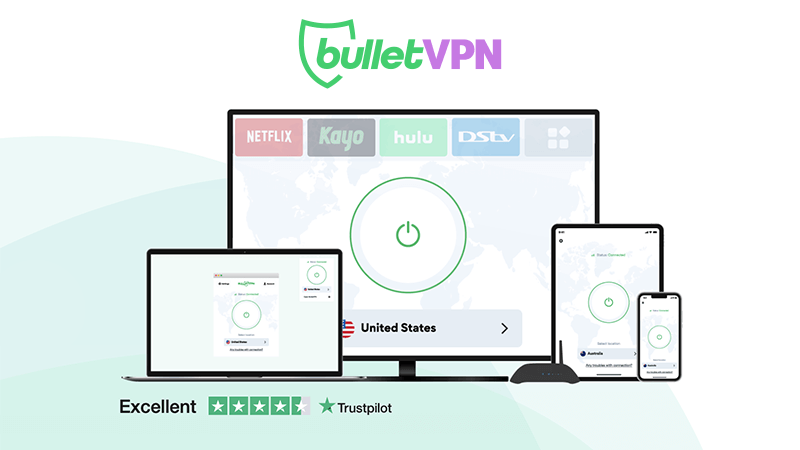 BulletVPN is an Estonia-based company that offers VPN services through a relatively small network of servers. Its most prominent selling features are speed and security.
The provider doesn't fool around when it comes to speed. It's very fast and allows us to stream content in UHD without a problem. In fact, BulletVPN has dedicated servers for such streaming quality, labeled as UltraHD support.
They're available in certain countries, such as the US, UK, Germany, and the Netherlands. Once we connected to one of them, we didn't notice the difference in speed until we ran the test. It was only about 6 to 7%, which is excellent.
BulletVPN covers 51+ countries in terms of service. In the US, the provider has around 15+ servers, and the first one we picked managed to unblock Hulu outside the US: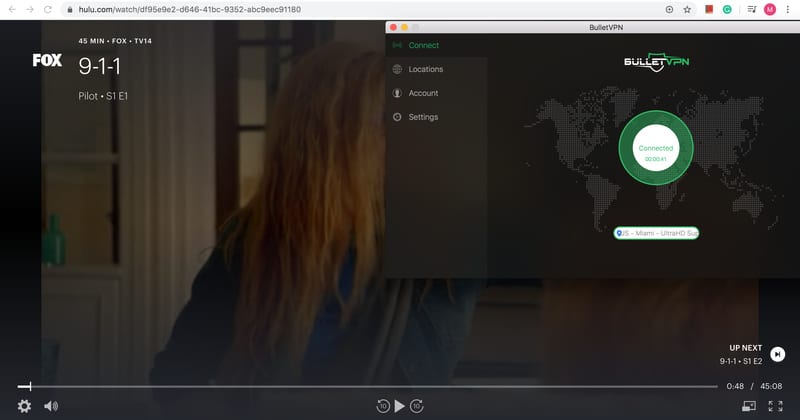 BulletVPN is very easy to use and provides setup guides for almost anything a user might need help with, especially how to set up their Smart DNS service.
Just like ExpressVPN, BulletVPN offers a VPN alternative in the form of Smart DNS proxies, giving users another option to unblock Hulu abroad.
BulletVPN has a 30-day refund policy. What differs here is that it also has a 1-day free trial for new Android users and customers who contact customer support. Read more about BulletVPN review here.
Pros
Six simultaneous connections.
15+ servers in the US.
Supports Hulu.
Smart DNS.
30-day refund policy.
User-friendly apps.
Blazing-fast speeds.
3. SurfShark
If we're making the best VPN for Hulu review, SurfShark has to be part of it. The provider is one of the few VPNs that can actually bypass Hulu's banning mechanism.
Not only that, but when we tested it out, we were able to stream our content without any buffering or quality issues. In other words, the speeds are excellent despite the distance between the server and our real location.
Moreover, SurfShark boasts an outstanding arsenal of features, including multi-hop, CleanWeb, as well as Smart DNS. Let's not forget about the kill switch and the implementation of the WireGuard protocol. For more features, check the list below:
Pros
Unlimited simultaneous connections.
Access to Hulu.
Smart DNS.
30-day refund policy.
Easy-to-use apps.
24/7 live chat.
30-day refund policy.
CleanWeb.
Double VPN.
WireGuard support.
4. Unlocator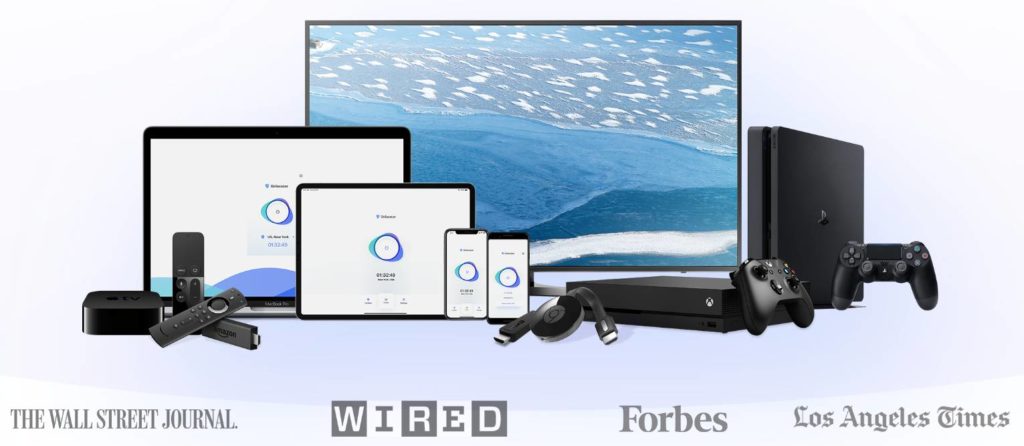 Unlocator launched back in 2013 as a Smart DNS proxy service and has been able to unblock Hulu ever since. But now, it has become a hybrid service, providing a VPN as well.
Despite being new, Unlocator has proved that it belongs on this list for several reasons. First, a lot of the servers we connected to were very fast. Some of them weren't as good, but the overall experience was good.
Unlocator has the smallest server network when compared to the others on the list. It has 3 servers in the United States, which pales in comparison to the others.
However, the first one we used was capable of unblocking Hulu in our region instantly.
As mentioned, Unlocator launched as a Smart DNS service, so it's no surprise to have that feature now. In fact, it's one of the best as it unblocks more than 233 channels.
Moreover, Unlocator has a 30-day refund policy, which comes after their 7-day free trial. So, if you want to take the service for a test drive, you have a lot of time to do so.
Pros
Five simultaneous connections.
Unblocks Hulu.
Smart DNS.
30-day refund policy.
User-friendly apps.
24/7 live chat.
7-day free trial.
Cons
Some slow speeds.
Small server network.
5. NordVPN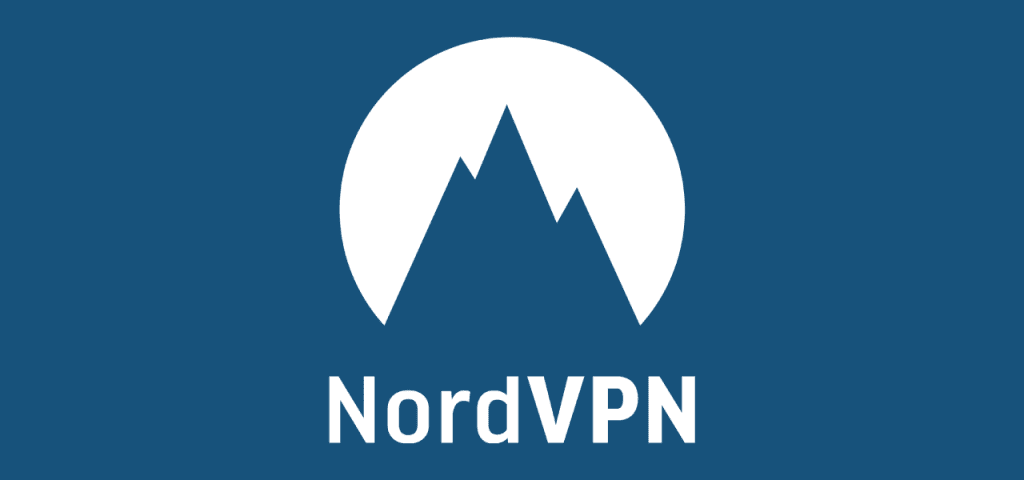 NordVPN's solution to Hulu's block is having thousands of servers available. With nearly 1,880+ servers in the United States alone, you're guaranteed to get the high speeds you need.
New servers are constantly being added to the network. However, we suffered a huge speed loss on some of their servers. We admit the VPN is very fast, especially while streaming, but a couple of servers were disappointing.
NordVPN is one of the first VPN providers to circumvent Hulu's VPN blocking mechanism. The first server we connected to granted us access immediately:
Moreover, NordVPN also offers a Smart DNS service in the form of SmartPlay. This feature allows you to access hundreds of geo-restricted channels around the world on any device, including platforms that aren't compatible with VPNs.
We're talking about Smart TVs, Xbox, PlayStation, Chromecast, and Apple TV. Other important features include super responsive 24/7 customer support, live chat support, 6 simultaneous connections, and a 30-day money-back guarantee.
All this and more makes NordVPN one of the most popular VPNs on the market. Read the full review here.
Pros
Six simultaneous connections.
15 server locations in the US.
Accesses Hulu.
Smart DNS (SmartPlay)
30-day refund policy.
User-friendly apps.
24/7 live chat.
Smart DNS Alternative
We have already given you a quick look at what Smart DNS is. In this part, we'll shed more light on the technology. Smart DNS proxies, just like VPN, allow you to remove geo-blocks and watch streaming channels not available in your regions.
In case you want to learn more about Smart DNS, this is what the technology is capable of:
Smart DNS

does not encrypt your traffic

. Your ISP, among others, will still be able to see what you're doing online.
Setting up Smart DNS

does not change your IP address.

Some ISPs use transparent proxies. If your ISP has implemented such methods, Smart DNS is not for you.
Smart DNS can be configured on all your streaming devices. Watch Hulu on PC, Mac, iPhone, iPad, Xbox, Amazon Fire TV, Apple TV, Roku, Android, Chromecast, PS3, and PS4.
All of the services above have this feature, and they all can unblock Hulu with it. However, the only provider that allows a 7-day free trial is Unlocator.
On the other hand, if you're just looking to unblock Hulu without any extra security, Unlocator allows you to subscribe to their Smart DNS service separately. This helps a lot, especially if you're on a budget.
Conclusion
Whichever VPN provider you choose to watch Hulu in the UK, Canada, Australia, or elsewhere outside the USA, always make sure they have a clear refund policy.
The services above are more than credible to get Hulu abroad. Now tell us, which VPN did you end up with? Let us know in the comment section below.
Best VPN for Hulu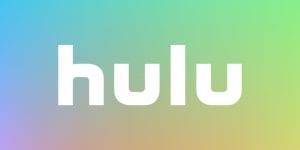 Name: ExpressVPN
Description: VPNs that actually still work with Hulu are far and few between. In case you want to unblock Hulu outside USA, you cannot go wrong with ExpressVPN
VPN Apps

Access Geo-Restricted Content

Speed

Customer Support

Refund Policy