The Best VPN for All Devices
|
The number of devices through which users are able to gain access to their accounts continues to increase with a lot more choosing to have multiple accounts open in almost all of their devices. As a result, it's becoming a lot easier for virtual criminals to log onto just one of the devices used to establish a connection and gain access to almost all the accounts of one specific individual. This only adds to the risk of using a public point of connection, where unsuspecting users are even more prone to attacks where credible information such as bank details and account passwords are likely to be stolen. Regardless of whether you are using your PC, Mac, Android, iOS, Apple TV, Roku, Fire Stick, PS4, Smart TV, or Xbox One, connecting to a VPN has huge benefits. So, what is the best VPN for all devices?
The Need for VPN
Without a doubt, the many devices that come with Wi-Fi connectivity make it very convenient for us to do so many things online while on the move. This convenience however also has a downside that not many seem to acknowledge.
As users who are prone to accessing the same email, social media or even bank account using either our phones, laptops, or tablets, the many points of access that we leave open make for a very successful online attack in case anyone discovers their existence.
One foolproof way to ensure that as a user you're able to have your connection secured across multiple devices is to enlist the services of a VPN provider. A VPN service works by encrypting your connection, thus making it difficult for anyone, your ISP included, to know what exactly you're up to while online.
The Best VPN for All Devices – How A VPN Works
Once you subscribe to a VPN provider, you turn in your actual IP address, in exchange for a virtual one, that links you to a remote server. This way, you can choose to connect to whatever server you want to, and whenever you access a website or channel, it will seem as though you're accessing it from within the particular country.
Using a VPN allows for a wide range of benefits, some of which include:
Increased privacy & security

: Connecting to a VPN service means that your access to the Internet is encrypted, and can therefore not be intercepted by anyone, your ISP included. You'll get to carry out your work online without any worry of someone eavesdropping on you.

Access to geo-blocked sites

: All the sites that you were previously unable to get access to will now be accessible to you through all of your devices.

VPN Apps

: Easy to use VPN apps make it possible for even first time users to navigate through any kind of app without feeling as though they're not sure about what to do.

Increased anonymity

: Using a VPN also means you're able to access various sites and channels without having to worry about them tracking you down.
The Best VPN for All Devices
Choosing the best VPN network to subscribe to can sometimes be a hurdle since there happens to be a wide variety of such services to choose from, as a simple search online might reveal. To help scale down your search, we've gone through most of the providers available online, and we've done a review of the top three that we think you should consider:
1. ExpressVPN – Our Top Recommendation
ExpressVPN sets the standard in terms of what you should expect from a top-tier VPN service provider. Their security is unrivaled, with support for all the popular VPN protocols, as well as 256-bit AES encryption.
Their service is focused on customer satisfaction, and this is evident through the quality of their customer care responses through email, live chat, as well as through ticketing.
Users are encouraged to sign up a friend, and as a result, both will get to enjoy a month of using the service for free. The software that comes with the package allows for it to work on various platforms such as Windows, iOS, and Android.
The servers also allow for unlimited bandwidth, unlimited server switching as well as no data caps. Your browsing history won't also be recorded since the service has a strict no-logs policy.
2. BulletVPN
BulletVPN also has a variety of features on offer, alongside a collection of IPs for their customers to choose from. Encryption is also military-grade, at 256-bit AES, as well as complete support for all the popular VPN protocols.
The service has a network of over 150 servers present in more than 55 countries, and it also allows for unlimited server switching. BulletVPN provides for up to 6 simultaneous connections, allowing customers to have all their devices working under one subscription.
Moreover, BulletVPN allows its customers to only try out the service for 30 days, after which they need to decide whether or not they'll move forward to purchasing a subscription.
3. NordVPN
NordVPN is one unique provider in the sense that not many others have the capacity to provide the kind of features that they do. A perfect example would be its double VPN feature where a user's traffic is transmitted through two separate servers so as to increase the level of security.
The service also offers one of the highest capacities for simultaneous connections, standing tall at 6. Their trial service is also quite unique, since you get to try out the service through their money-back guarantee for the next 30.
You'll be assured that none of your logs will be kept, you'll also have the opportunity to activate Tor over VPN. In addition, NordVPN also has an automatic Internet Kill Switch that activates whenever your VPN connection gets interfered with.
The Best VPN for All Devices – Final Words
It goes without saying that the best VPN for all devices also has to allow for a decent number of devices to connect to the service at once. With NordVPN having the highest level of support for simultaneous connections, then they present a strong case for convincing users looking to secure all their devices to sign up with them. You can go ahead and do so here. Have any questions or comments you'd like us to address? Leave them in the comments section below and we'll be sure to respond.
ExpressVPN Review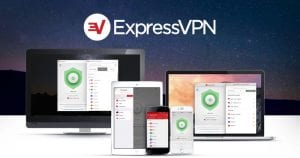 Name: ExpressVPN
Description: ExpressVPN is a VPN service that allows you to browse the web anonymously and unblock geo-restricted sites.
Price: 12.95
Currency: $
Operating System: Windows, OSX, Android, iOS
Application Category: Multimedia
Refund Policy

Speed

Support

VPN Apps