HideMyAss 2023 Review – Why You Should Avoid It
Last Updated On: December 5, 2022

|

1 Comment

|
Based in the UK, HideMyAss, aka HMA VPN, has a market share of over 10 million customers from all around the world. Established in 2005, the VPN provider boasts a well-established network of over 1000 servers, located in over 190 countries. It's one of the VPN services that we certainly had to do a review on. But the question is, do the features fool you? Is HMA actually worth your money? We've listed everything based on our experience with the provider.
HideMyAss Review – Content Index
With a service base that spans over 10 million subscribers per month, one would wonder what the main reason for such popularity is. We went ahead and reviewed the service based on our strict evaluation criteria just to see what the fuss is all about. Here's what we came up with:
Quick Stats
| | |
| --- | --- |
| Money-back guarantee | 30 days |
| Allowed concurrent connections | Five/Ten |
| Supported streaming services | Netflix and Amazon Prime |
| No logs policy | Yes |
| Encryption | AES 256 encryption |
| Security Protocols | OpenVPN |
| Special features | Kill switch, Smart kill switch, split tunneling, IP Shuffle, and Lightning Connect. |
| Customer support | Live chat support (9 a.m to 11 p.m) |
| Server locations | 190 countries |
| Number of servers | 290 server locations (1000+ Servers) |
| Server Switches | Unlimited |
| Supported devices & web extensions | Windows, Linux, Mac, iOS, macOS, Chrome, Firefox |
| VPN legal jurisdiction | The United Kingdom |
| Free Trial | 7 days |
HMA Pros and Cons:
Every VPN has its good qualities, but it also has the bad and the ugly. Below is a list of what we liked and disliked about HideMyAss's service:
Pros:
Free Anonymous Email.

10 Million Active Users.

Free Disposable Email.

7-day free trial.

30 Days Money Back Guarantee

290 server locations in 190 countries.

Kill switch.
Automatic kill switch.
Split tunneling.
IP Shuffle.
Cons:
They collect user data.

UK Based Provider.

IP and DNS leaks.

A day's wait for an email response.

No live telephone support.

14-hour live chat support.
No Smart DNS.
Can't unblock Hulu and BBC iPlayer.
Bad speeds.
Windows client contains malware.
Expensive monthly plan.
HideMyAss VPN Compatibility and Interface
As part of the unique customer experience, HideMyAss redid their website to include catchy terms and phrases that would appeal to any prospective client. The website is of a professional standard and quite easy to navigate through.
The site also provides online access to the panel from which you're meant to configure your connection; a smart little addition that the guys at HideMyAss sought to include.
HideMyAss provides its users with a wide array of supported platforms on which its VPN client can run on. This is for both stationary and handheld devices. The OS platforms include Windows, Mac, and Linux for PCs, and Android, Windows, and iOS for handheld devices.
For Linux, though, a command-line interface is the default for HideMyAss Pro VPN clients, but users can make a special request to get the alpha version, which happens to be a well-customized service.
While checking the application, we found that it is beyond easy to navigate through it. Despite having so many features, the HMA application did not give us any trouble.
In other words, no matter what a user's VPN comprehension level is, he/she will be able to operate the app without having any issue. As a test, we ran the Android HMA client. Here's how it looks like:



Connecting to an HMA server was very fast. We had no problem finding the right server. The only problem we like to address is that the application shows your Real IP address above the newly acquired one, which is kind of alarming.
The Provider's Store Rating
Assessing the application on our own might be detailed, but it's not close to enough. We take into consideration what users have to say according to their personal experience.
That's why it's very important to check what the ratings and reviews on Google Play and Apple Store have to say about a certain product. First, we checked how popular HMA is on the Google Play Store.
Apparently, the provider is very well-received with a 4.1/5 rating and more than 1 million downloads.

HMA isn't just popular on Android devices, it also has a big fan base for those with iOS devices. According to them, the app deserves a solid 4.6/5 rating. Also, HideMyAss has more than 22K reviews, we're sure that there are some mixed reviews among them.
As we mentioned, user reviews are very important to determine the credibility of a certain provider. Make sure you go through as many reviews as possible before you make any decision.
Trust in TrustPilot
TrustPilot's website has been around for quite some time now, providing the best and most unbiased reviews on the internet. The website is one of our go-to sources while we evaluate a VPN.
We paid the site a visit to see what it has to say about HMA. Apparently, it has a 4.1/5 rating, marking it as great.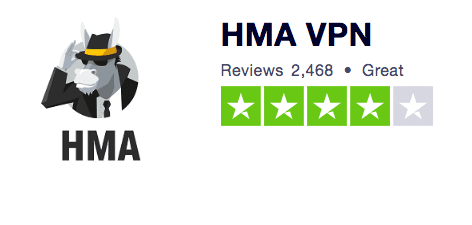 However, one review got our attention, considering their 30-day money-back guarantee. This is what the review had to say:
"Be careful with their 30-day money-back guarantee – You will not get the full amount back. They will come up with ridiculous T&Cs that you need to pay for the bandwidth you have used."
This is very important as the refund policy is one of the key features to try a VPN out. But HMA replied, explaining that the refund policy has been revamped and whoever asks for one will get their money back no questions asked.
HideMyAss VPN Servers
As has been mentioned, HideMyAss VPN has an impressive record of servers distributed around the world, with more than 356 in the US and 300+ in Europe. Their numbers in the US make them the largest server owners there, and the second largest in Europe.
HideMyAss has more than 290 server locations in nearly 190+ countries. You can see the full list below:
Europe
Aland Islands
Albania
Andorra
Austra
Belarus
Belgium
Bosnia
Bulgaria
Croatia
Cyprus
Czech Republic
Denmark
Estonia
Faroe Islands
Finland
France
Georgia
Germany
Gibraltar
Greece
Hungary
Iceland
Ireland
Italy
Latvia
Liechtenstein
Lithuania
Luxembourg
Macedonia
Malta
Moldova
Monaco
Montenegro
Netherlands
Norway
Poland
Portugal
Romania
Russia
San Marino
Serbia
Slovakia
Slovenia
Spain
Svalbard and Jan Mayen
Sweden
Switzerland
United Kingdom
Ukraine
Vatican
North America
Anguilla
Antigua and Barbuda
Aruba
Bahamas
Barbados
Bermuda
The British Virgin Islands
Canada
Cayman Islands
Cuba
Dominica
Dominican Republic
Greenland
Grenada
Guadaloupe
Haiti
Jamaica
Mexico
Montserrat
Nicaragua
Saint Lucia
Puerto Rico
Saint Pierre and Miquelon
Saint Vincent and the Grenadines
Turks and Caicos Islands
Saint Kitts and Nevis
United States
South America
Argentina
Belize
Bolivia
Brazil
Chile
Colombia
Costa Rica
Ecuador
El Salvador
Falkland Islands
Guatemala
Guyana
Honduras
Panama
Paraguay
Peru
Suriname
Trinidad and Tobago
Uruguay
Venezuela
Asia Pacific
Afghanistan
American Samos
Armenia
Australia
Azerbaijan
Bangladesh
Bhutan
Brunei
Cambodia
China
Christmas Island
Cocos Islands
Cook Islands
Fiji
Guam
Hong Kong
India
Indonesia
Japan
Kazakhstan
Kiribati
Kyrgyzstan
Laos
Macau
Malaysia
Maldives
Mongolia
Myanmar
Nauru
Nepal
New Caledonia
New Zealand
Niue
Norfolk Island
North Korea
Pakistan
Palau
Papua New Guinea
Philippines
Pitcairn Islands
Republic of Singapore
Samoa
Solomon Islands
South Korea
Sri Lanka
Taiwan
Tajikistan
Thailand
Tokelau
Tonga
Turkmenistan
Tuvalu
UAE
Uzbekistan
Vanuatu
Vietnam
Middle East
Bahrain
Iran
Iraq
Israel
Jordan
Kuwait
Lebanon
Oman
Palestine
Qatar
Saudi Arabia
Syria
Turkey
Yemen
Africa
Algeria
Angola
Benin
Botswana
Burkina Faso
Burundi
Cameroon
Cape Verde
The Central African Republic
Chad
Comoros
Congo
Cote Divoire
Egypt
Equatorial Guinea
Eritrea
Ethiopia
Gabon
Gambia
Chana
Guinea
Guinea-Bissau
Kenya
Lesotho
Liberia
Libya
Madagascar
Malawi
Mali
Mauritania
Mauritius
Morocco
Mozambique
Namibia
Niger
Nigeria
Republic of Djibouti
Republic of the Congo
Rwanda
Saint Helena
Sao Tome and Principe
Senegal
Sierra Leone
Somalia
South Africa
Sudan
Swaziland
Tanzania
Togo
Tunisia
Zambia
Zimbabwe
HideMyAss SpeedTest
For the purpose of writing an objective review, we had to test out the VPN's speed over different regional IP addresses. Our results were not that great, to be honest.
HideMyAss's speeds weren't that encouraging, especially if a user is searching for quality streaming. We tested several servers, far and near, to see how the speeds vary. The results came as such:
The following is our internet connection's speed without the use of HideMyAss.
Next, we connected to an American server, more specifically, in New York. As you can see in the image below, the speed drop drastically, almost by 75%, which is not good at all.
After that, we tried a server in the United Kingdom. The results weren't that promising as well as the speed dropped even more.
Finally, we tried our luck with a nearby server. The results were better than the ones above, but it's still not good enough to stream content in HD. A video might even buffer while in SD resolution.
Our verdict is: Having a huge global server network means nothing if the internet speed will drop as it did while we were testing it. HideMyAss's server speeds are mediocre. We weren't impressed at all and our videos were barely watchable.
HideMyAss – A Netflix Unblocker?
Protecting what you do online isn't what most users look for in a VPN. A Virtual Private Network is also a means to bypass the internet's limitation and circumvent geo-restrictions imposed by certain services/websites/channels.
Any VPN can unblock specific websites, but to put a provider to the ultimate test, we should check if it can unblock the streaming giant, Netflix.
In case you didn't know, Netflix's most desired library is the American one. Netflix applies geo-restrictions on its content, which eventually, assigns a specific catalog for each country.
Streamers make use of a VPN to access the US version of Netflix, but the streaming service has been applying VPN bans. Not all VPNs are capable of working around that.
We tried a server in New York, California, and Washington. HideMyAss did not disappoint. The service was able to unblock the US catalog in our region.
As seen above, HideMyAss is capable of unblocking the US version of Netflix, but not on all of its servers. So far, users should try the New York server.
HMA with Other Streaming Platforms
Netflix isn't the only streaming destination users look for. There are more major streaming platforms that anyone could keep count of. However, each country has its own popular channel and today, we'll be talking about two of the biggest in the world, Hulu and BBC iPlayer.
Just like Netflix, both of these services are able to determine whether you're using a VPN or not and block your access. First, let's talk about Hulu. To be honest, we tested the service because of a comment on HMA's support page, stating that Hulu is not working.
We did our own tests on the Android application. This is what we came up with:
First, we thought that just like Netflix, a server in New York would work. Well, it did not. We got a message informing us that we're using an anonymous proxy instead.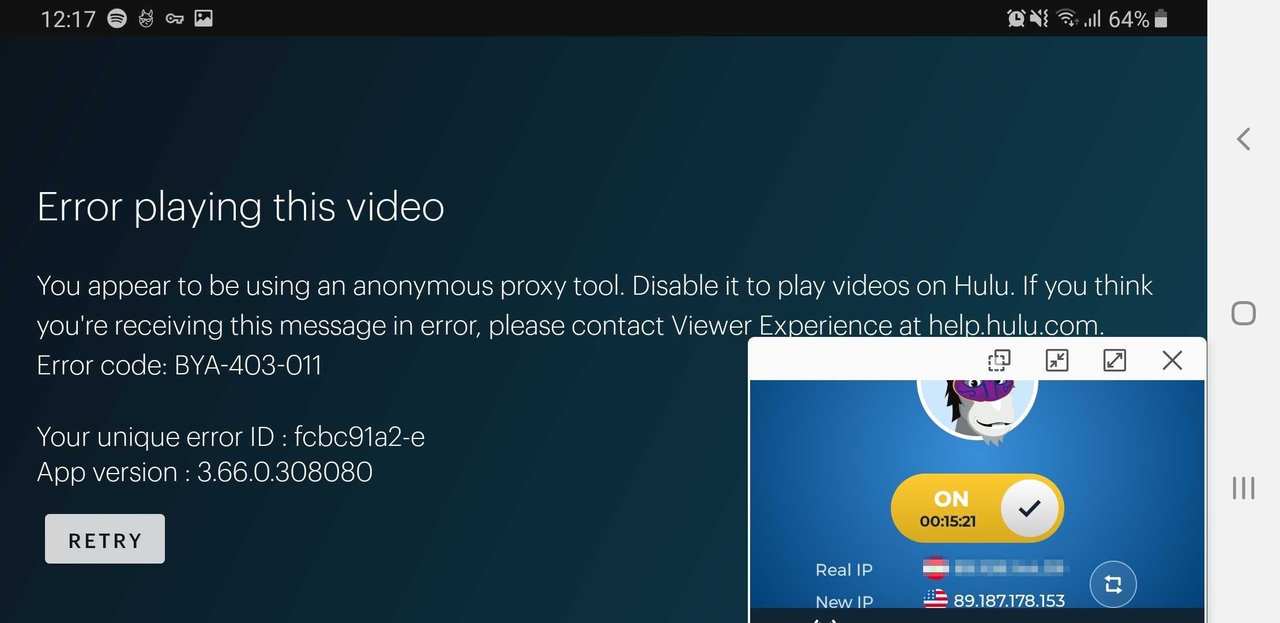 We gave it another try in hopes of unblocking Hulu on a different server. Next, we used a server in Washington, but the results were the same.
It's safe to say that HideMyAss does not unblock Hulu outside the US. Now, as another example, we took it to the United Kingdom and tried to unblock BBC iPlayer.
Sadly, HideMyAss suffered the same fate in the country as BBC iPlayer is also inaccessible using this VPN. It gave us the geo-error message it gives to anyone living outside the UK despite us having a British IP address.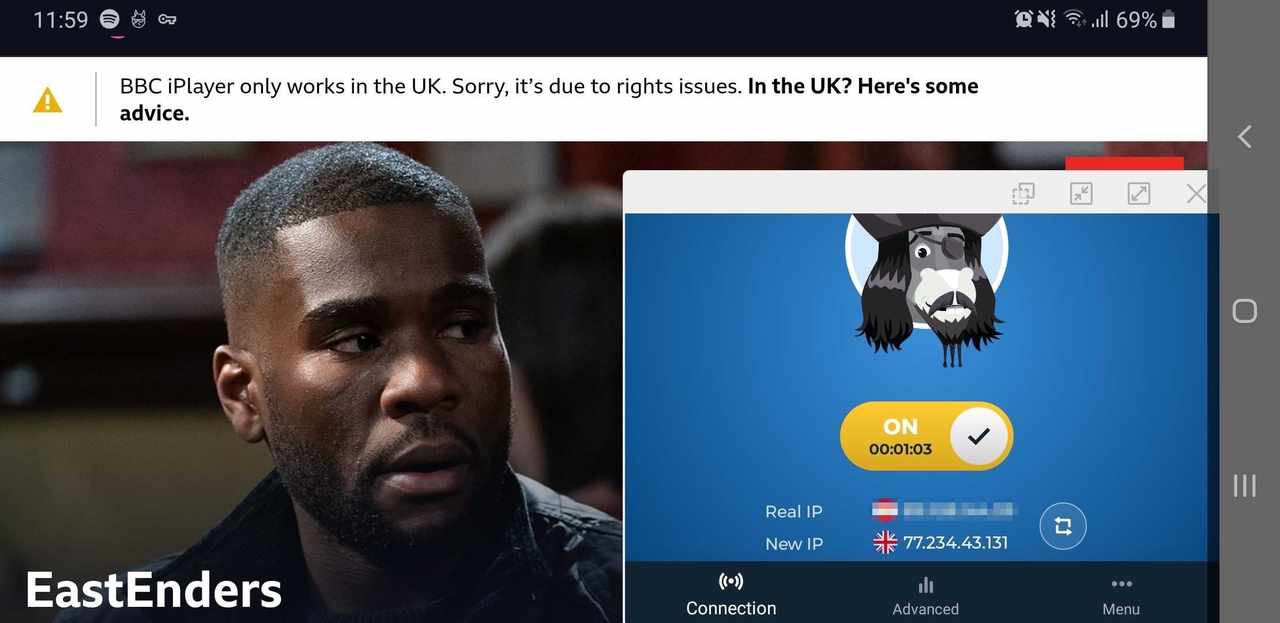 According to the tests we performed, HMA's unblocking capabilities aren't that grand. But it did unblock Netflix, which we consider pretty impressive.
Smart DNS Proxies
A VPN isn't the only way to unblock geo-restricted content abroad. Some providers, if not most of them, now offer Smart DNS proxies as an extra feature.
With Smart DNS, users get to unblock channels around the world without having to lose their connection speed in the process. However, while doing so, they sacrifice the added security as there won't be any encryption present.
Moreover, the technology reroutes the chunks in the traffic responsible for pinpointing a user's location. That way, their IP address remains intact, allowing them to navigate between their local channels and restricted ones simultaneously (losing access to neither).
As we mentioned, most of the top VPN providers in the industry offer this service. However, HideMyAss does not. You can only access geo-restricted content using their VPN servers.
We went ahead and contacted their support team to check if the feature is available or not, their response was as such:


Some streamers don't really care if they have an extra layer of security to their browsing activities. They just want to bypass regional restrictions and access blocked content in their countries.
A VPN encryption will tamper with the internet speed, which may cause a few buffering instances. This is not what a streamer looks for in a VPN.
As an added bonus, HMA offers a free proxy service that has been an alternative for new users who are not quite familiar with the concept of IP masking and unblocking geo-restricted domains. However, its heavy traffic does a lot to cut down on speed as it's free with limited server access, and everyone is using it.
P2P Support
Torrenting has become a daily habit for most internet users around the world. But in some countries, P2P activities are not well-received. Some might use torrenting to download illegal files, while others just download torrents for normal things like streaming, e-books, and others.
HideMyAss made it possible for users to torrent anonymously, dedicating optimized servers for P2P traffic. The servers are scattered across Europe and the United States.
Overall, HideMyAss has P2P servers in the following countries:
The United States (Miami, New York, Seattle).
The Czech Republic.
France (Paris).
Germany (Frankfurt).
The Netherlands.
The United Kingdom (London).
While HMA allows users to torrent anonymously, it still does not encourage what is deemed illegal. Therefore, the provider checks what their customers are downloading as their only allowed to download legal files.
Privacy
When it comes to a VPN's privacy, its headquarter's location matter a lot. HideMyAss launched back in 2005 and is located in the United Kingdom.
To be brief, that's not a good sign. The United Kingdom is part of the Five Eyes association, which means that the government might or will ask the provider to submit personal information about its users.
In fact, HideMyAss had its fair share of data collecting and sharing in the past. A while ago, a hacker named Cody Kretsinger was arrested by the FBI for hacking into Sony Pictures' website.
The FBI got all the information they need from HideMyAss. Apparently, the hacker used their service to disguise his IP address as he visited Sony's website. To defend their action, HideMyAss came up with a lengthy post:
"Being able to locate abusive users is imperative for the survival of operating a VPN service, if you can not take action to prevent abuse you risk losing server contracts with the underlying upstream providers that empower your network.
Some providers choose not to do session logging and instead try to locate the abusive customer by using the intelligence from the complaint, for example, if someone hacks XYZ.com they may monitor traffic to XYZ.com and log which customers have a connection to this website.
Ask yourself this: if a provider claims not to do any form of logging, but is able to locate abusive customers, how are they able to do this without any form of logging?"
That's just a small chunk of what they had to say. However, knowing the whole story matters a lot here, it's the users' privacy after all. That's why we recommend that everyone sees the full post.
Judging a Judge
Back in 2015, disgraced judge Chris Dupuy was arrested for harassing an ex-girlfriend and another woman. He started to post fake advertisements about them, featuring them in the Escort section of a website (we're not gonna mention the URL).
We agree it's a despicable thing to do. But what's interesting about this case is the method by which the judge was caught. Hardcastle, the investigator, stated that he started tracing the masked IP addresses from the ads.
He witnessed masked IPs in Venezuela, Colombia, and Germany. Apparently, the sophisticated software he was using to cloak his whereabouts had a somewhat unsophisticated name: hidemyass.com.
We did mention the word "sophisticated," which implies that the judge was not using HMA's free proxy, but its premium service. As more solid proof, Venezuelan and Colombian servers are only available to those with a premium account.
Privacy Policy
Despite stating that they log no user IP address or any information that may compromise their customers, some details in the policy just don't add up.
First, we came across this:
"We are a UK based LTD company and only comply with UK law."
Second, if customers are using their free proxy, they should know that everything is being recorded. This is what HMA collects when users operate through their free service:
Originating IP addresses.
Encoded URLs of the websites they visit.
The timestamps of their connection.
Files accessed on the websites visited via the proxy.
VPNs are created to secure a user's privacy, but that's not always the case for anonymity. What we presented above may be alarming, but these are the cases reported so far.
Being based in the UK may raise some concerns about HMA's true intentions when it comes to users' privacy. However, the provider claims that it collects no logs now, which is something to think about.
Security
HideMyAss VPN provides 256-bit encryption through OpenVPN. The OpenVPN encryption protocol for TCP and UDP both has 128-bit encryption but OpenVPN-UDP is said to offer better speeds and an ability to bypass more restrictions.
In the past, HMA used PPTP protocol, which comes with MS-Chap version 2 authentication while L2TP with a 3DES/AES algorithm. Now, the only protocol it supports is OpenVPN. HMA has other features to improve your security as you browse the web. Here's a couple:
Anonymous Email
This feature allows you to send anonymous emails to anyone through an email address you come up with by yourself. You can configure the email address to get deleted by setting a timer that dictates how long the address is to stay active.
File Upload
This nifty feature allows you to upload a file and protect it with a password. Users can share these files as long as they have the required password to open them.
They can also specify that only the people using a specific IP address can access and download such files. Aside from this, there's a self-destruct feature that'll allow users to set a time upon which a specific file will auto-delete itself.
Privacy Software
You have a choice of 3 privacy tools that can be used to maximize your security online. They are:
IP Checker: This plugin allows you to check what region your acquired IP address claims you're in.
Panic Button: You're able to hide all your open tabs through one click of this button.
Web Proxy: This is the button that activates HideMyAss's free proxy service.
Secure IP Bind
This feature allows a user to bind particular applications, thus allowing them to only be connected to the Internet via a VPN. In the event that there's no active VPN connection, the application disconnects, preventing your real VPN address from being revealed. This feature is however only available to Windows users but Mac users can apply a secure IP bind by configuring their firewall.
HideMyAss Pro VPN allows you to monitor all connection processes through the connection log accessed on the Dashboard. You also get to fine-tune the HMA VPN connection through the "Diagnostics and Settings" tab from the Dashboard. Also, a new user can access the "Knowledge Base" as a resource for all they would need to know about the service.
IP Shuffle
As the name suggests, this feature allows you to change your IP address to a new random IP at a set interval. While this feature greatly improves your anonymity, the only setback is the brief disconnection that happens every time your IP is changed.
Load Balancing
This feature allows users to enjoy the fastest server connection by automatically switching to a less loaded server based on a regional setting.
Automatic and Smart Kill Switches
A kill switch is a feature available in almost any VPN provider on the market. If you come across one that does not offer a kill switch, look the other way immediately.
An automatic kill switch terminates your internet access if a sudden drop in your VPN connection occurs. And with HMA's IP Shuffle, that's bound to happen a lot.
This feature will act as a shield to your private information as it doesn't allow it to pass through your ISP's servers if the connection is down. You'll get connected again once the VPN connection is restored.
HMA customers can use their Smart kill switch on the whole system or on a specific application. You can also choose applications to automatically launch HMA whenever you activate them.
DNS Leak Test
DNS leaks are very dangerous when operating with a VPN. A user's ISP can learn of everything he/she's been doing while connected to a VPN.
That's why we perform some tests while reviewing a certain VPN provider to check if it's susceptible to such leaks. We ran a couple of tests using HideMyAss.
We used several sources to back the results, but we only got mixed ones. Here are the tests performed:
The first source gave us good results where no IP, WebRTC, or DNS leak were recorded.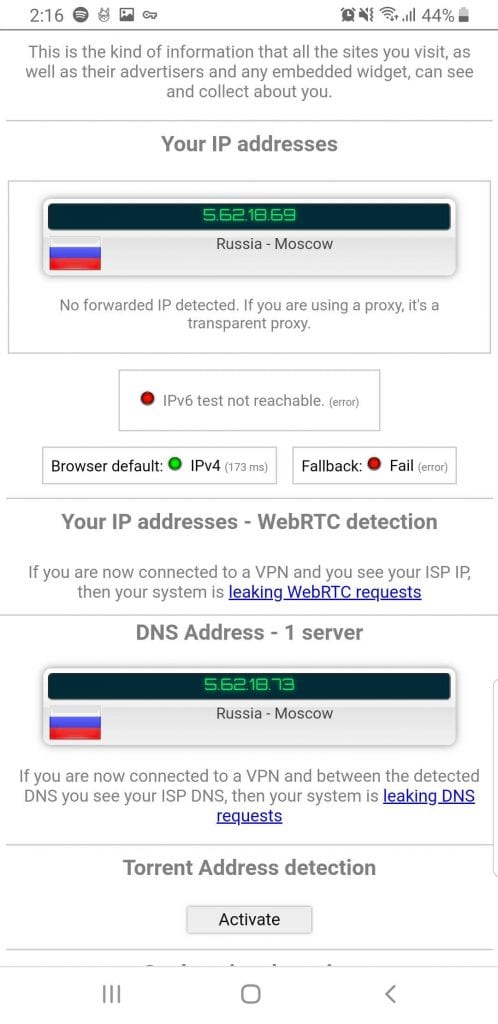 On the other hand, when we used our own tool, different results were shown.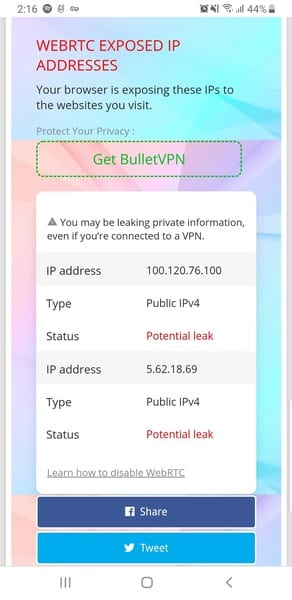 In the second test, it clearly shows that there is some sort of leak while connected to a HideMyAss Russian server. Suck a leak could lead to serious privacy issues as your ISP can see everything you do.
Third-Party Auditing
When we review a VPN, we have to consider that there are other professionals out there doing their best to determine the credibility of the product.
That's why we resort to third-party auditors and see what their tests have to say. A while ago, a third-party researcher found a set of serious security flaws in HideMyAss's Mac client.
According to the security researcher, Han Sahin, multiple vulnerabilities exist in HideMyAss Pro VPN for Apple's OS X operating systems. Han stated that there were bugs in the helper binary HMAHelper, which comes along with the OS X versions of HMA.
The helper is there to load kernel extensions and mage firewall rules and permission. With such flaws in it, any local attacker can exploit privilege escalation and gain root control of user accounts.
Han Sahin said:
"Although disabling the firewall is dangerous enough, it was found that the helper is affected by multiple local privilege escalation vulnerabilities. Taking the FirewallDisable rule as an example, [..] there is no limit to which executable can be executed allowing a local user (or malware) to run any executable as root."
Here's how the bug looks like:
Sahin stated that the older version of the app is still available for download and when he contacted HMA support, they said that this will not be fixed.
HMA Responds
An HMA spokesperson did shed some light on the matter. He stated that the issue cannot be exploited unless someone has direct access to the user's Mac. Otherwise, it won't be a problem. Here's what he said:
"HMA was recently notified of a suspected vulnerability in our Mac products by a third-party researcher, which we have verified. The issue can only be exploited by someone with direct access to your Mac. While this is highly unlikely to be taken advantage of in a real-world scenario, we do take it very seriously. We thank the researcher for drawing our attention to this and appreciate the efforts of the wider research community in helping to keep our users safe."
This gives customers a bit of a relief. But they should keep an eye on recent updates as they fix older bugs in the process.
Virus Scan
HideMyAss has been a subsidiary of the Czech cybersecurity company Avast since 2016. But for a product of a well-known and one of the most popular antivirus companies, HMA sure does have a lot of malware.
While we ran the Windows client through a virus scan, the provider did not come with good results. According to VirusTotal, it's been reported by 4 sources that the application contains malware and Trojan viruses.

A Trojan virus is very serious when it comes to user privacy. It is implied by cyber-thieves and hackers in order to gain access to users' systems. Such a test shouldn't be taken lightly, it really says a lot about a VPN's credibility.
Warrant Canary
A Warrant Canary is a hidden way in which a VPN provider can inform its users that it's being served where it's illegal to do so. If a certain provider gets served with a government subpoena, it's not allowed to contact its customers.
That's where the Warrant Canary comes in. It warns users about its service receiving a gag order from the government in an indirect way.
Avast is as clear as they can be. Their website doesn't have a Warrant Canary, but they do have a Transparency Policy. But according to what we saw, the provider is not promising at all when it comes to privacy.

According to what their website states:
"HideMyAss! (HMA!) VPN product: We have had 102 requests from law enforcement agencies. The countries that requested data for criminal investigations were United Kingdom (71 requests), United States (13 requests), Spain (4 requests), Germany (3 requests), Austria (1 request), Chile (1 request), Czech Republic (1 request), Estonia (1 request), France (1 request), Hungary (1 request), India (1 request), Italy (1 request), Norway (1 request), and Portugal (1 request). From these requests, we disclosed data 39 times in the United Kingdom and 1 time in the United States. The data we disclosed in these instances were root IP addresses, email addresses, and billing information."
When we review a VPN service, we are completely unbiased. However, if we see a flaw, we have to address it. The number of requests isn't an issue as almost every VPN out there receives them.
What matters here is what they do if they received such notices. The provider has disclosed 40 of them, which means that user information was submitted. In our opinion, HideMyAss is doing exactly what it's supposed to protect its users from.
Customer Support For HideMyAss VPN
To be honest, when we contacted live-chat support, they were very helpful and fast in replying. This kind of support helps users the exact time they face any problem with a service.
However, what we did not find as appealing is the short 14 hours per day that the customer chat support facility is available. It really can be stressful when you run into an issue beyond your scope and have no one available to help.
We had to ask them for ourselves to make sure that what the users claim is true. This is a review after all. We contacted their chat support, and apparently, everything is true.
This feature only operates from 9 a.m to 11 p.m. It is a good period of time, but still, if it's competing against the likes of ExpressVPN and other top providers, its limited shift (if we can call it that) does not stand tall next to them at all. Here's the conversation that we had with their support agent: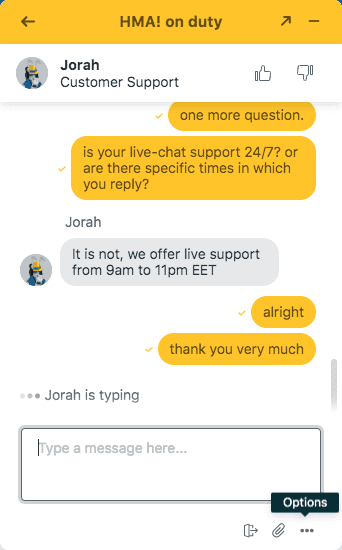 So what would a user do if he/she ran into an issue after the clock ticks 11 p.m? The best resort to turn to would be the HideMyAss community where problems and solutions are discussed and exchanged.
HideMyAss VPN Pricing Plans
The pricing packages offered by HideMyAss Pro VPN are actually not bad. The monthly subscription isn't that expensive as some other providers are, but it gets better if users opt for longer subscriptions. Here are the available plans: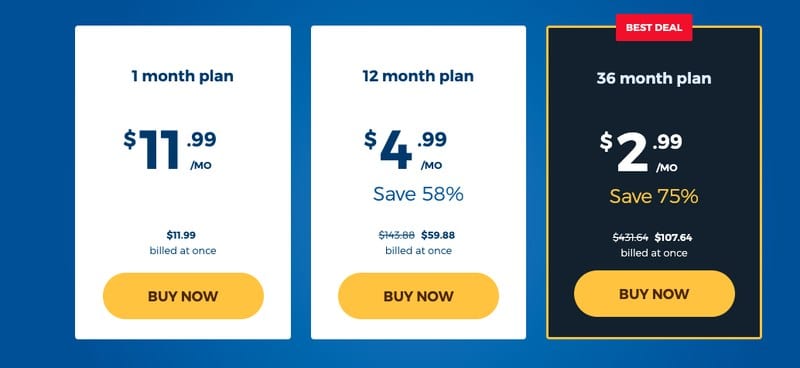 $11.99 per month.

$4.99 per month for a year.

$2.99 per month for 3 years.
For a service that has been there since 2005, their plans haven't changed for a long while, until now. The monthly subscription stayed the same, but the provider added long-term plans that bring down the fee to an impressive 75%. This goes to show how much the company is committed to staying consistent.
Payment Methods
When it comes to paying for their subscription, HMA doesn't fool around at all. They're keen on getting you to subscribe no matter what. Using catchy phrases and the likes, you can't even download the Mac application without signing up.
Attracting you to pay for their service is one thing, and having the right method to do so is another. HMA does not have that diversity in payment options. You can only subscribe to their service through:

Visa
Master Card
Amex
UnionPay
PayPal
What we didn't find is any anonymous payment method such as Cryptocurrency. This part of the review comes after we evaluated the provider's privacy, which means that if users are still interested in it, they have to go all out on privacy.
Automatic Renewal and Money Back Guarantee
Automatic Renewal for HideMyAss VPN means that the service automatically renews itself by deducting the required service charge.
On the other hand, their money-back guarantee stipulates that if within 30 days a customer is not impressed with the level of quality of service, then they are entitled to a full refund of the payment they made.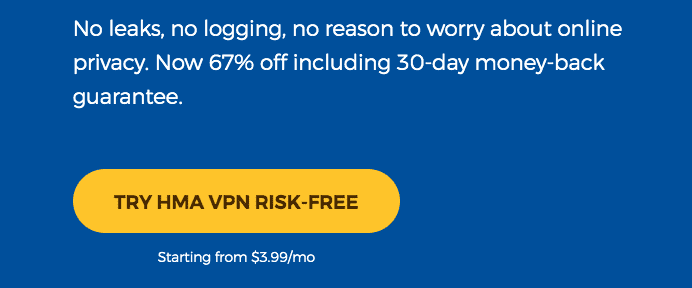 If we were to compare the provider's refund policy with other VPNs on the market, a 30-day money-back guarantee is a great way to start. Some providers offer a 7-day refund policy, while others go all the way to 45 days.
30 days is a fair enough duration to test the service's quality, which is why most VPNs in the industry stick to it.
Free Trial
A free trial is another excellent way to see if the service can live up to your expectations or not. In fact, not a lot of VPN providers offer that, excluding one or two.
But the most important part about having a free trial is that users should not be required to submit any credit card information in the process. In HideMyAss's case, you do have to provide that.
The provider does have a free trial on Android, iOS, and Mac. But the trial, according to the support team, is pre-authorized. We went ahead and asked them what "authorized" means, and apparently, it's where users submit their credit card info. This is how the conversation went down:


We don't totally agree with the method, but at least, they do offer a free trial.
HideMyAss VPN Conclusion
The number of HideMyAss VPN customers has nothing to do with whether it's credible or not. Apparently, it might do you more harm than good in the long run. 
We examined the application from all angles, and not once were we amazed. HideMyAss may be credible in some ways, but the cons overshadow the pros. This is the full review, if you don't see HMA as your selected provider, you should settle for one of its alternatives.
HMA Review
Refund Policy

Speed

Support

Security

VPN Apps