Whether you're American expat, regular traveler, or just an international online user, I know why you're here. I've struggled a lot before when I was trying to access American content in my country. That's because I didn't have a US IP address. Emphasis on "didn't", as in the "PAST". However, I figured out a way to obtain one outside the US and it happens to be by connecting to a VPN US server. In case you don't know your way around, let me be your guide for today's task and show you how to do so yourself.
US VPN server – Content Index
Connecting to a VPN server based in the United States can open up more content to serve your online experience. You have no idea how limited my streaming options were before learning how to connect to the US server. That's why I'd like to show you how to do so:
Why Need a VPN with US Server?
There are many reasons why one would need to connect to a US server. For someone who's located outside the US, connecting to a US server is a must.
Access US-Only Online Content
If you want to access US-based content you'd need a server based in the US with enough upload and download bandwidth. Upon connecting to a US server, you gain the privilege to access all US-based content. You'll no longer face any difficulty when attempting to access American websites, channels, or services.
Browse the Web Anonymously
Other than that, you'll be able to go online with an anonymous identity. Having your traffic rerouted through a US server or any server encrypts your data and changes your IP address. That way, no one can find out who you are or where you are connecting from.
Better Security
Rerouting your traffic through a US server encrypts it. Aside from cloaking who you are and where you're at, it gives you all the security advantages you could ask for. No third party can access your data or modify it. While the US may not have the same amount of control that a country like China does, the US government monitors its residents' online activities.
Escape Blackouts
If you're sick and tired of not being able to watch your favorite sport's game online just because it's being broadcasted on TV, connecting to a specific US server is the solution. If a game is blacked out in an area, it is not available for live game streaming through a particular channel or service. However, a VPN reroutes all of a device's internet traffic through a US server. Depending on where the server is in the US, you can bypass the blackouts and stream the content you want comfortably.
Shop for Less
Online shopping is becoming too expensive for you to handle? Then why are you still doing it without a VPN? When you connect to certain servers, you get to shop online for cheaper prices.
This depends on the country the server is located in. Let's say two different countries offer the same item but with different prices. All you have to do is connect to a server in the country where the merchandise's price is less and you'll be able to purchase it for the desired value.
How to Connect to a US VPN Server?
An internet tool that protects your online security and helps you access whatever content you're after? That's easy, a VPN. A Virtual Private network rechannels your traffic and hides your identity as you appear to be accessing the internet from a different country. That's because you'll be using a dedicated server in a specific country.
Once you're connected, you get to access the region's exclusive content because you'll be operating with a valid IP address. Let me elaborate more. If you connect to a server in the US, you'll obtain an American IP address. Thus, content like HBO, US Netflix, and ABC can be viewed in whatever territory you reside in. It's as simple as that. What's even easier is the process to do so. Shall we learn how to connect to a US server? Let's go:
Before I begin, you need to pick a reputable VPN to work with. I'll be reviewing some of the top ones in the industry to ease your search.
Once you set your eyes on a VPN provider, subscribe to their service by visiting their official website.
After that, download their application on your device. VPNs have clients on most of the operating systems out there including iPhones, iPads, Android, macOS, and Windows. Oh, there's Fire Stick as well.
If the VPN is credible enough, you'll find that its server list is stacked with options to connect to. In our case, we need an American server.
Find one and hit the connect button. You'll have to wait for a few seconds to establish a connection.
When the application informs you that a connection is in place, use this IP Verifier to double-check.
Congrats, you now have a US IP address and can browse the internet as an American user.
Best VPNs with US Servers
The VPN sea is full of fish to choose from, but which one of them can feed your online appetite? Most of the VPNs promise the same services and guaranteed results. However, I came across plenty of them that don't keep their end of the bargain. 
Some are good, others are bad. That's why being extra careful while choosing a VPN is highly recommended. Don't worry, your job is not going to be as hard as you think.
There are some VPN specifics you need to look out for. Aside from having US servers, the VPN you choose must have stealth security features, excellent speed, and most importantly a no-logs policy. Luckily, I did the research for you and here's what I came up with. These are the best VPN providers that have excellent American servers.
ExpressVPN
A VPN with excellent US servers? Enter ExpressVPN. The company makes use of an AES 256-bit encryption with the OpenVPN protocol by default. This makes the provider a great choice in terms of security. Although this provider doesn't keep any logs whatsoever, some metadata is recorded. Moreover, the company is located in the BVI, beyond the jurisdiction of the US and UK government.
This means that the company is not subject to any retention laws. The company has nothing to hand the government if asked about user logs. All servers use shared IPs, so you share an IP address with hundreds of other users. Furthermore, ExpressVPN has apps available for Windows, MacOS, Android, iOS, Linux (command line), and certain routers. I added an ExpressVPN review for you to get an in-depth look at the provider.
Pros
There are 34 ExpressVPN server locations in North America,
Headquartered outside of the Five Eyes
Offers strong data protection and security.
Over 1000 super-fast servers spread in over 90 countries.
The best encryption protocols for solid security and privacy
Great at unblocking content seamlessly.
Cons
Its services come for a quite expensive price.
BulletVPN
In my opinion, BulletVPN may be one of the most secure and reliable VPNs you can get. This provider runs a network of servers in all parts of the globe, and it is constantly growing. Moreover, BulletVPN cares a lot about security and speed.
The company makes use of industry best security protocols secure their customers when they access the web. BulletVPN follows a no-logs policy. It neither logs nor stores users' online activities. Because speed is important, the company makes sure that its servers are not overloaded. The company is known to be one of the few providers with the fastest speeds available. Furthermore, BulletVPN has apps for all platforms as well. If you're eager to learn a bit more about this robust VPN, check out this BulletVPN review.
Pros
It operates 17 servers in the United States of America.
Includes a Killswitch.
Has excellent VPN protocols.
VPN Alternative? Smart DNS option.
Covers 54 countries excluding the US.
Reliable support.
Cons
Browser extensions are missing.
NordVPN
Next, is the Panama-based NordVPN which I find very helpful when it comes to accessing US content. This VPN respects users privacy as it offers a no-log policy. This means that no user data is stored. As a matter of fact, this VPN is known for its security. The most important feature is its double VPN. The double-hop servers route your traffic through two VPNs. A Tor over VPN option that sends traffic through the Tor network upon exiting the VPN server.
Most IP addresses are shared, but some dedicated IP servers are available if needed. The OpenVPN protocol uses 256-bit encryption standard. This only goes to show how secure this VPN is. Additionally, this provider has apps for Windows, MacOS, Android, and iOS. Read the full NordVPN review here.
Pros
NordVPN has 1817 servers in the United States of America.
This provider has built a reputation for privacy.
Provides a secure and encrypted connection
Capable of unblocking a wide range of geo-locked sites
Offers 24/7 live chat and friendly customer support
Cons
I'm not so fond of their server speed.
They asked for my credit card info to activate a free trial.
Surfshark
Another one of my favorites would be Surfshark. It is an award-winning VPN that encrypts your online data and keeps you secure without any hassle. For a VPN service provider that has not been in the market for a long time, Surfshark servers list is pretty geographically diverse. The company operates over 800 servers in 50 countries around the world. Experts believe that Surfshark's services are comparable to established industry leaders that have been in the market for a long time.
Surfshark shares a home with ExpressVPN, the British Virgin Islands. Other features like speed and server locations give Surfshark this competitive edge. With Surfshark, you can make sure your location is private and your sensitive data is secure, at all times. Surfshark has way more to offer customers. Find out in this review.
Pros
15 Surfshark server locations in North America.
Supports P2P file sharing
24/7 live chat support
No-logs policy and a kill switch
Zero-knowledge DNS and strong encryption
Cons
I found their monthly plan to be overpriced.
IPVanish
Based in the United States, IPVanish is a VPN with a strong reputation in the VPN industry. The company claims to be the only Top Tier VPN service on the market for boasting more than 1300 servers located in over 60 countries. This VPN also provides users with more than 40,000 different IP addresses.
IPVanish has an advantage over its competitors. It is a Tier­1 network, which means it owns its servers. This provider owns and runs servers in over 80 cities, the largest concentration of VPN servers is located in the United States. Get more information about IPVanish in this review.
Pros
18 servers in the United States.
Over the top support
Connects to ten devices per account.
1000+ servers in 60 countries.
Internet kill switch available.
Cons
Couldn't access Netflix with this one.
VyprVPN
Finally, we come to our last VPN which has private and secure Internet written all over it, VyprVPN. This provider offers exclusive features in which you can protect yourself with. when you're online.
This provider offers its customers access to the top of the line security features, a large server park, and decent customer service. Not to mention that it boasts 17 American servers for you to tap into.
Our VyprVPN review will give you more details about this reputable VPN. However, here's a quick look at VyprVPN's features.
Pros
It has 17 US VPN servers.
Independently audited to prove that they keep no logs.
Has easy-to-use apps for every device.
VyprVPN Defeats Throttling.
To VyprVPN, unlimited means unlimited.
This provider uses multiple protocols for encryption.
Cons
I'd love it more if it adds more servers.
List of Popular American Content
So, what will you get out of all this after connecting to a US server? Trust me, a lot. Check them out for yourself:
Netflix
Amazon Prime Video
Hulu
Reddit
Youtube Live
ABC
NBC
Fox
Spotify
Showtime
CW TV
TruTV
Food Network
TNT
MLB
SyFy
Animal Planet
American VPN Server – Final Words
It's no secret that the US is the source of the world's most popular entertainment. No one would be surprised to hear about users seeking a US VPN server. The aim of the VPNs we have reviewed above is to tunnel into the United States by providing an American IP address. Many are the reasons that prompt users to select a US VPN server. Whether they want to access American Netflix or escape blackouts, connecting to a US server can help you out. Do you think I hit the mark with the VPNs I mentioned? Let me know your thoughts in the comment section below.
Best US VPN Server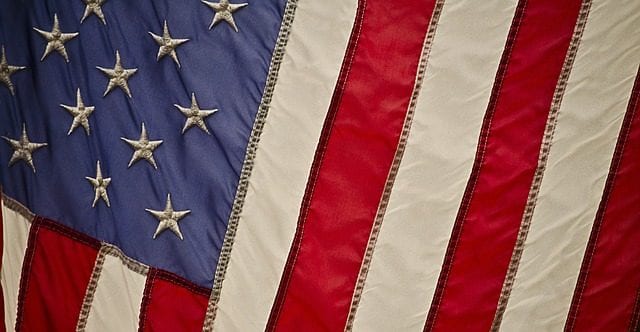 Name: ExpressVPN
Description: ExpressVPN is a highly reliable, functioning, and secure VPN service provider that seamlessly unblocks content.
VPN apps

Access blocked content

Speed

Support

Refund Policy