What's My IP Address? – Find Your IP Location Online
|
Whenever you subscribe to an ISP (internet service provider), you are assigned a public IP address. In most cases, that public IP address is only used by you. There are certain instances however where the ISP might assign the same public IP address to multiple uses. Your IP address can reveal a lot of information about you, including your location, online history, and the device you're operating on. The IP Location lookup tool we have created will help you figure out both your public and private IP addresses.
Public IP Address vs Private IP Address
Your public IP address is assigned to you by your ISP. In some instances, you might be able to successfully change your public IP address by simply restarting your router. In other cases, you will have to contact your ISP in order to switch to a new public IP. The websites you visit and apps you use can all see your public IP as well. Some might refer to a public IP as an external IP address.
Your device's private IP address, on the other hand, is assigned to it by your router. It allows your local devices to send and receive data from the router and each other. A private IP is also commonly known as an internal IP address.
Static IP Adress vs Dynamic IP Address
Depending on your Internet Service Provider, you will either get assigned with a Static IP address or a Dynamic IP address. A Static IP address is fixed and cannot be altered unless the ISP changes it. As for the Dynamic one, it is assigned automatically using DHCP. The difference here is that Dynamic IP addresses change frequently whenever the user connects to a network.
Dynamic IP addresses are considered to be more secure than Static ones. That's because Static IPs can be tracked. Conversely, Dynamic IP addresses are harder to track as they're changing constantly.
TheVPNGuru's IP Identifier
Here's how you check your IP address using TheVPNGuru's IP checker.
Steps 1. When you visit TheVPNGuru's official website, your IP will be presented on the top of the screen. Here's what it looks like.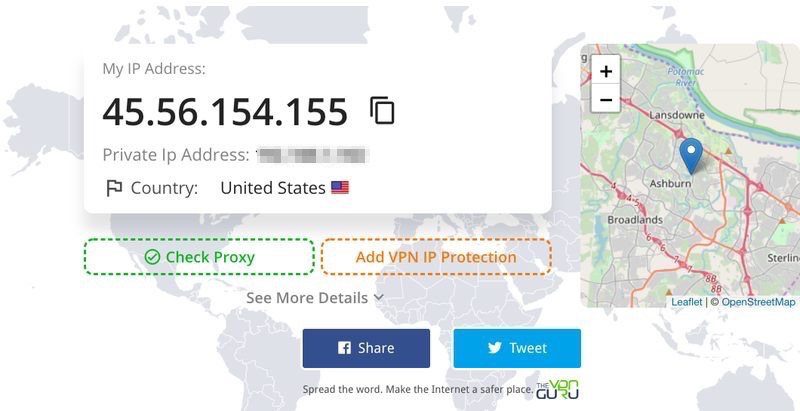 Step 2.
You can see all the details you need about your connection. First, you'll be able to know your own
public IP Address
.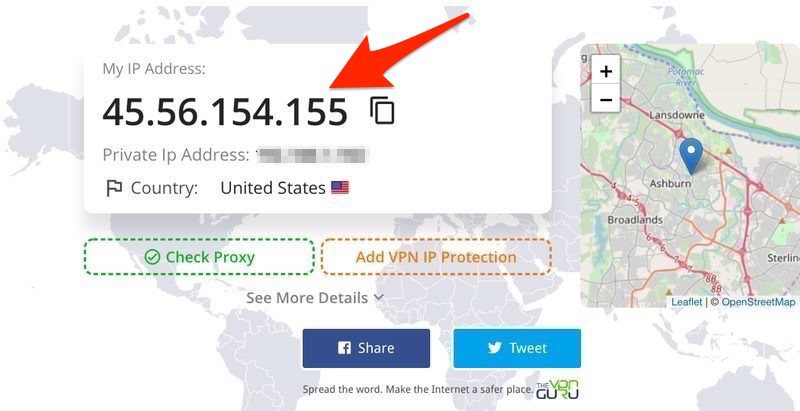 Step 3.
If you check below your IP Address, you'll notice that your
private IP
and the
country
you reside in are stated as well.
Step 4.
On the right side of the page, you can check where you are on the map. It's easy to navigate, you're the blue cursor on the screen.
Step 5.
You can also see what VPNs to use and how to check your Proxy as well. I'll be talking about why use a VPN later on in the article. That's not all. Your IP can give away a lot more stuff about you than you think. It's not just about the actual location. Click on
"See More Details"
to check out what I mean by that.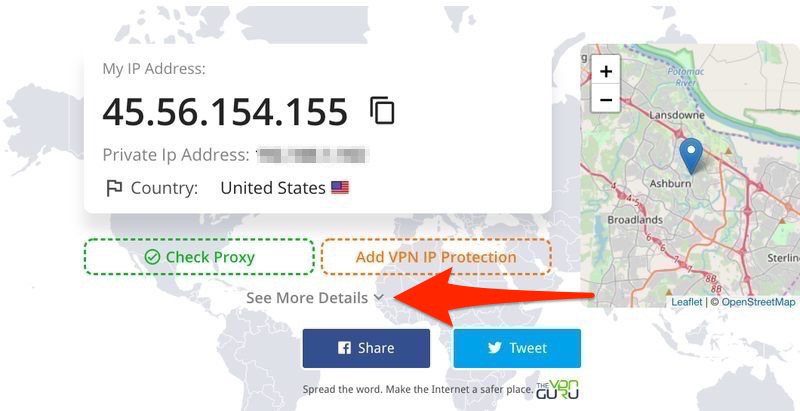 Step 6.
After that, a lot more details about you will be presented. We're talking about your
device, state, city,
and even the
browser
you're using at the moment.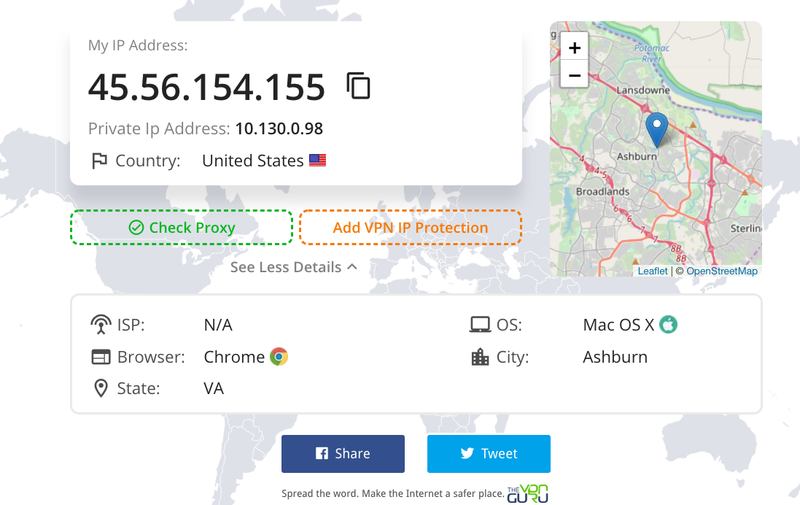 Your IP address can compromise a lot of information about you if someone with the right tools tried to get a hold of it. In order to avoid that, you need to access the web with the help of a Virtual Private Network.
How to Hide Your IP Address with a VPN
It's very easy to hide or change your IP address. All you need is a credible VPN that you can rely on all the way. A Virtual Private Network, aka VPN, is a secure connection between you (the internet user) and the network you're connected to. Once connected, your data will be encrypted and your IP address will be cloaked. Moreover, after you hide your IP, you will take on that of the country the selected server is located in. Hence, you'll be viewed as a current resident in that region.
What's great about this is that you get to access content that was never available in your district. For example, if you live in the US, your IP address doesn't allow you to view services in the UK such as BBC iPlayer. However, when you connect to a UK server, you'll receive a British IP address, which is all you need to access services exclusive to the United Kingdom. It's very easy to navigate.
On the other hand, a VPN secures your online traffic making it completely safe to use public Wi-Fi. Hackers can learn all about you if they get access to your IP address. Cybercrimes occur frequently in public places like coffee shops, airports, and others. But with a VPN, you can subdue all of these issues with a push of the "Connect" button.
Another benefit of using a reputable VPN is that it keeps no logs. Whatever you do online is yours to know only. If any country with high censorship tries to approach the company for details about you, it will leave empty-handed. What are they supposed to give out if they don't have anything, to begin with?
The Steps to Hide your IP Address
Using a VPN is quite simple actually. You don't need to be an expert or tech-savvy to navigate with a Virtual Private Network. Just follow the steps below and you'll be fine.
Step 1. First, subscribe to a credible VPN provider. If you don't know your way around, I recommend you use ExpressVPN as it has a huge server Network.
Step 2. Next, download and install their VPN application on a compatible device such as Android, iOS, PC, Mac, or Fire Stick.
Step 3. Log in with your VPN account and go to the server list.
Step 4. Connect to any server you want. ExpressVPN has more than 2000 servers in 94 countries, so choose what suits you best. I used a UK server as an example.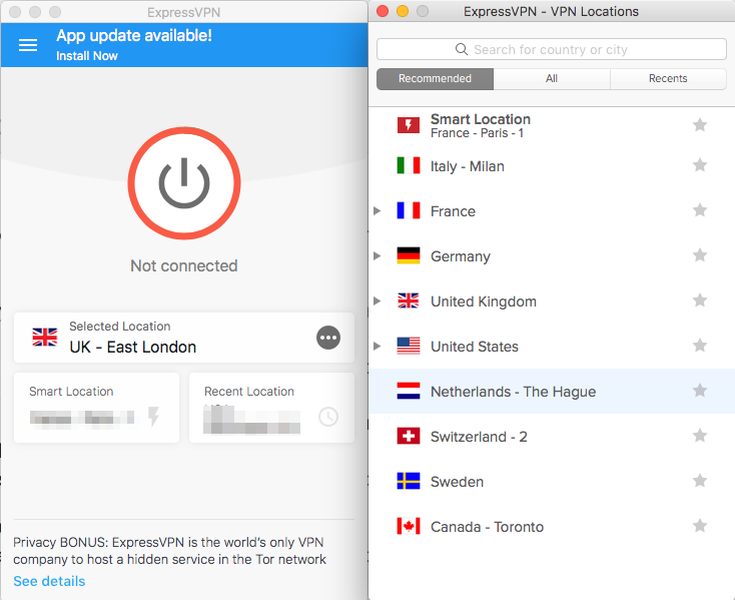 Step 5.
Once you're connected you can
go back to TheVPNGuru website
and check your new IP address.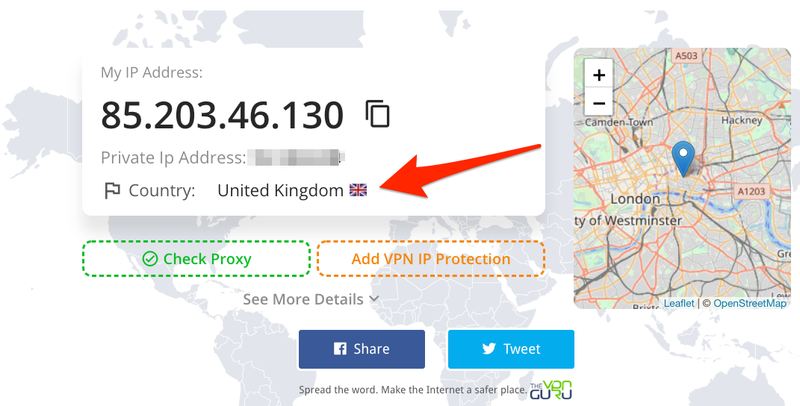 Step 6.
Finally, surf the web anonymously and bypass regional restrictions wherever you may be.
ExpressVPN offers steady and reliable servers around the world. It's the perfect example of what a true VPN should be like. If you don't seem to like their services, you can benefit from their 30-day money back guarantee or check the table of the best VPNs out there in the table below.
What's My IP? – The Conclusion
Knowing your IP is an important thing to do when you're accessing the internet. It's the main reason you can surf the web in the first place. Your IP is the key to a lot of things when you're browsing, so changing it every once in a while can benefit you on a grand scale, including hiding your identity and bypassing regional restrictions.