Best VPN for Ad Blocking
|
Browsing online has its own share of threats. The rate of cybercrime continues to rise the world over, meaning more and more criminals are now turning to the Internet to carry out their dubious work. With an increasing majority of users relying on the Internet for entertainment, news, shopping and also for their careers, there's no telling what will happen if they continue to rely on it without any form of protection. This is why we here at thevpn.guru insist that everyone online ought to put in place measures that'll keep their traffic safe whenever connected to the Internet. What would we recommend? Subscribing to a top VPN service.
How Advertisement Online Works
For companies and organizations that offer both goods and services to the general public, there's a need to get the word out there that they actually exist, and this is done through advertising. This could be through mediums such as radio, TV, or print, but one particular channel that has been misused and relied on to target unsuspecting victims is online advertising. Online adverts also come in many categories as well, and one advantage that it may have over other forms is the ability to be done in a very targeted manner.
Savvy firms now rely on the information that they get from their customer base to decide on who they'll spend the biggest chunk of money on to repeatedly try and convince to purchase their product or service. This is what is known as targeted advertising, and a lot of it happens on social media. Facebook is even earning from this since it allows you to use its user-generated data to target which of its users would be most interested in buying your product based on their likes and behaviors on the social media site.
While this is all fine and dandy, there exists another nasty side of the coin that most longtime Internet users probably relate to. If you tend to shop online a lot, you might've stumbled upon an advert related to whatever you were looking for, and decided to click on it only to be redirected to a suspicious page that might've been hosting a virus. One of the more dire cases is when you see a software advert, and proceed to click on download thinking you're going to get what had been advertised, only to launch it and notice your files start missing or your machine starts getting slow.
Such malicious ads may even be a gateway through which hackers remotely establish control over your computer, and access or steal very sensitive information. This is a situation that we're sure you'd not like to be in, and the only way to ensure you stay safe from these is by subscribing to a VPN provider.
Best VPN for Ad Blocking
Virtual Private Network providers have a lot of measures in place to encrypt your connection and protect you from being eavesdropped on by your ISP, but not many of them have the capability to block all those unnecessary ads you might find yourself seeing. There are certain VPNs that do have this feature, and luckily for you, we've already done the groundwork to find out which ones they are so that you don't have to. Find below, our list of the best VPNs for adblocking. Keep in mind that these top VPN service providers are all premium VPNs. Free VPN services tend to sell their users' data to third parties. Therefore, we cannot recommend using any free VPN when it comes to adblocking.
1. ExpressVPN
ExpressVPN tops our list as the best for ad-blocking since through its 256-bit AES encryption and its reliance on OpenVPN, the service is readily built to deter any kind of malicious pop-ups that could interrupt your browsing. The encryption that's offered by the provider means your connection is anonymous, and therefore the site that you're visiting won't be able to track or collect information about your browsing history to know what kind of adverts to push your way.
The service also allows simultaneous connections for up to 5 devices, and its location in the British Virgin Islands means no data regulation authority is even near enough to enforce any policies that would force them to record, store or submit user data. It is because of this convenient location that the company has a reputable zero logs policy.
Within ExpressVPN's range of 2000 servers, there are those that support and are great for users that want to torrent, as well as a group of stealth servers that can be used by those who want to use VPN without detection. ExpressVPN is also among the providers that have the best customer care teams, meaning you should be able to rely on them even as a first-time VPN user. There's plenty more you ought to learn about ExpressVPN, and you can do that by going through our ExpressVPN Review.
2. NordVPN
We wouldn't be doing justice to this list if we didn't mention NordVPN and its CyberSec feature, which is solely designed to block out any pop-up ads, auto-play ads, and harmful websites so that you can enjoy a smooth browsing experience. The service keeps you safe from malware, prevents you from being part of DDoS attacks, and helps conserve your data consumption. This goes to show NordVPN's concerted effort towards keeping you focused on what you're doing online and preventing any harmful threats that might derail you from what you're doing.
The service also has a very keen focus on your online security, offering services such as DoubleVPN where your traffic is routed through more than one server, and integrating with Tor to make you completely anonymous online.
The service package also comes with an Internet kill switch, the ability to choose which server to connect to based on what you're doing, and full support for users that want to torrent. NordVPN has also taken extra measures to ensure that its VPN client can run on diverse platforms such as iOS, Windows, Mac OS, and Android; leaving nobody left behind in their quest for online security. For more on what NordVPN is capable of, have a look at our NordVPN Review.
3. BulletVPN
BulletVPN also makes it to this list courtesy of its ability to get you to geo-restricted sites, which then helps you scramble your actual location and make it harder for any location-focused ads to pop up on your screen.
The service is based out of Estonia, placing it miles away from any of the authorities that try to get hold of user data. This also allows it to offer a reliable zero logs policy and ensures that all the data transmitted by a user who would want to connect up to 6 simultaneous devices would stay unlogged.
BulletVPN protects its subscribers' online activities through their 256 bit AES encryption, and also provides VPN protocol options such as OpenVPN, PPTP, IPSec, IKEv2, and L2TP/IPSec for them to choose from. In terms of customer support, BulletVPN maintains that users can ask for help through social media or email, but this would be best done after checking through the website's FAQ section to see whether your issue has been covered.
BulletVPN also ensures that its users can access the service regardless of what platform they're on as their apps come in versions that support iOS, Android, Windows, and Mac OS. The service still has a lot more to offer that we haven't listed in this brief overview, but you find out all about that by going through our BulletVPN Review.
Best VPNs for Ad Blocking – Final Word
In this review, we've had a look at services that have features directed towards ad blocking, and those that are just built well enough to block ads by default. If you're still not satisfied with the level of protection offered, you might then want to consider looking for a premier ad-blocking service. If this is the case, then we recommend you start here. Otherwise, we welcome your questions or comments in the section below, to which we will be glad to respond.
Best VPN for Ad Blocking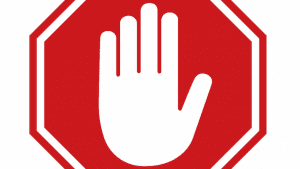 Name: ExpressVPN
Description: If you're looking for a VPN service provider that will help you browse the web securely without having to worry about malicious ads, we recommend signing up with ExpressVPN.
VPN Apps

Access Blocked Content

Speed

Support

Refund Policy