Learn how to change PSN region on PlayStation. Each PS Store region offers different games and apps. The US PS Store, for example, has apps like Netflix, Hulu, HBO Max, Disney Plus, and others. To download and install these apps on your PS5/PS4, you have to create an American PS Store account. However, you still won't be able to access these apps because they are geo-blocked. To unblock and watch US/UK apps on PS3, PS Vita, PS4, or even PS5 use VPN or Smart DNS proxies.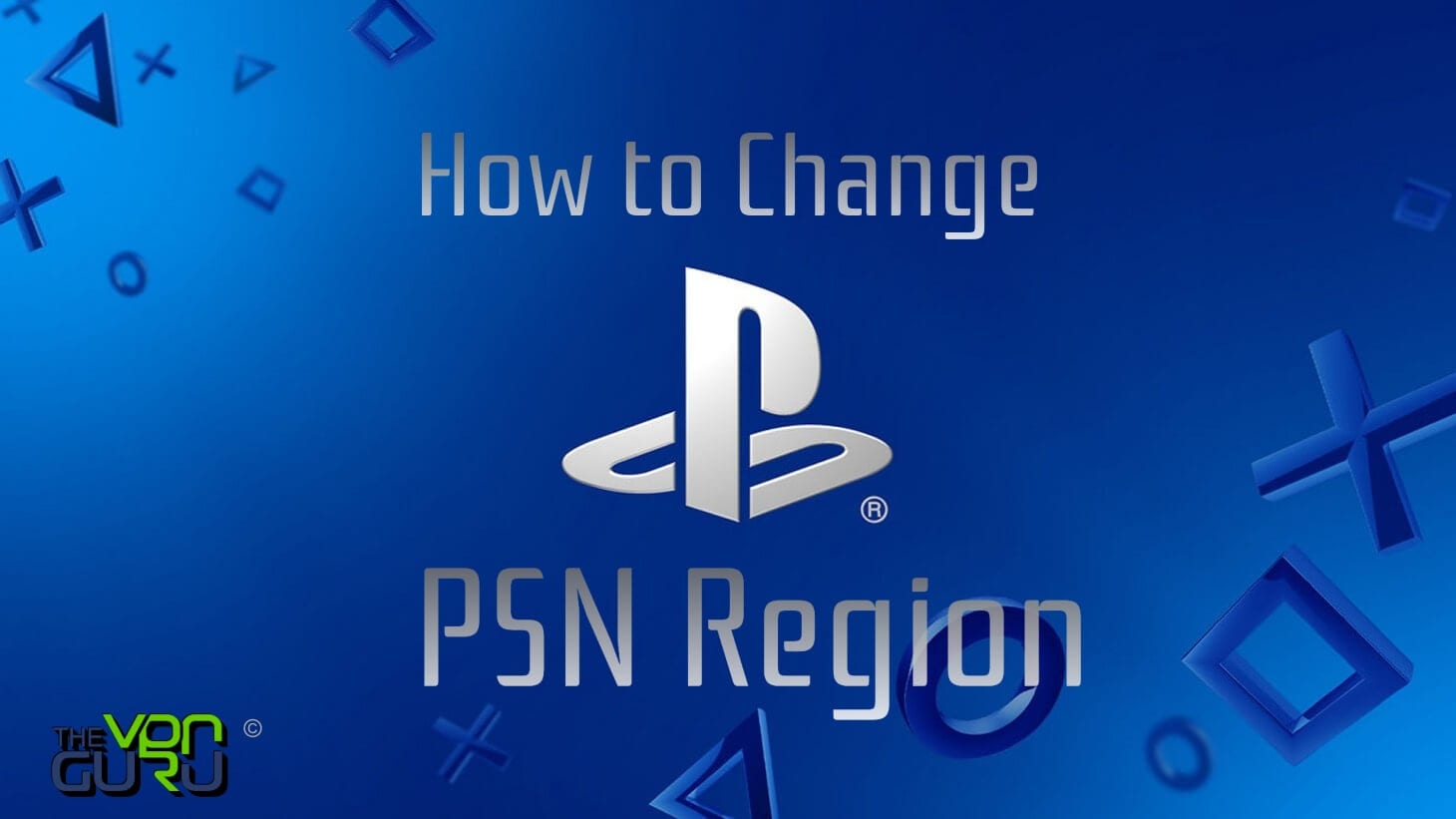 Change PSN Region – Create US PSN Account
There are various reasons which might tempt a PS4 owner to change their consoles region. You might want to get exclusive discounts not available in other countries. Additionally, some apps and games are only available in certain regions. Before we get into how to unblock US or UK apps on PlayStation, you need to create an American PSN account. To do so, please follow these steps.
When filling in your info, select the US next to Country/Region. This is very important. You cannot undo/change this later on. Use California as your state and 90210 as your zip code. If it's UK apps such as BBC iPlayer or Sky Go that you're after, choose the UK as your country.
Continue your PSN creation process as you'd usually do. You'll receive an email from Playstation to confirm your new PSN account.
Now you've finished creating the new PSN account.
You can directly create a new PS Network account on your PS4/PS5. Log out of your current Playstation account on your PS4. Then, select "Create New User". Follow the same instructions mentioned above.
You can use your credit card or PayPal account to fill your PS Wallet. Keep in mind, however, that PSN gift cards are region-restricted. That means that an American PSN gift card can only be redeemed on the American PlayStation Store. Luckily, digital PlayStation gift cards can be easily bought on the likes of Amazon and eBay.
Keep in mind that a lot of PS4 and PS5 apps are geo-restricted. You can always get around these regional blocks with the help of a VPN though.
Watch US/UK Channels on PS5 or PS4 – VPN
VPN allows you to completely change your online location. VPN stands for a virtual private network. Using a VPN, you can connect to a US VPN server. Consequently, you change your IP address to the US. Note that VPN is not needed for PSN region change or US/UK apps download. You do need a VPN, however, to watch US channels on your PlayStation.
Neither the PS5 nor the PS4 have VPN clients. If you want to install a VPN on your PS4, you need to set up a VPN connection on your router instead.
You can also set up a VPN on your PC and enable network sharing on it. Then connect your PlayStation console to the PC to share its VPN connection.
Connecting to an American VPN server unblocks all American apps on PS5/PS4. Watch Netflix, Hulu, Vudu, Crackle, Funimation on PS5 outside the US.
VPN does slow down your Internet speed a bit. However, in return VPN encrypts all of your traffic to protect you from potential online hazards.
When it comes to VPN providers, ExpressVPN is by far my favorite. I've prepared a table so that you can get an idea about the top VPNs for PlayStation 4.
How to unblock US/UK Channels on PS5 PS4 – Smart DNS
Now that you've got a "US or UK" PSN account, you can download and install any American channels you wish. To unblock and watch US channels on PS4 abroad, you have to spoof your online location. Smart DNS allows you to trick US apps like Netflix, Amazon, and Hulu into thinking you are located in the USA. Hence, you will be able to unblock them outside the USA. Here's all you need to know about changing DNS on your PlayStation 4.
Smart DNS unblocks PS4 and PS5 channels from different regions simultaneously. You can watch American Netflix and BBC iPlayer on your PlayStation without having to configure your PS network settings again.
Smart DNS can be directly configured on your PS5/PS4. Just head over to "Network Settings" and continue the setup as you'd normally do.
To setup Smart DNS on your PlayStation, you need to sign up with a Smart DNS service like Unlocator.
When asked about primary and secondary DNS, use the DNS server addresses you got after creating your Unlocator account.
Smart DNS does not affect your Internet speed.
Unlocator offers a free 7-day trial to test their service. You don't need a credit card to create an Unlocator account. In total, Unlocator supports 213+ streaming channels from around the world.
Why Change Your PS4/PS5 Region
Switching regions isn't all about getting access to content that's not available in your country. You get a lot by changing your PSN Store's territory. Let me give you a few examples.
Different Region, More Content
Have you ever Googled a title to see whether or not it's available on the PSN store for download? Yeah, I did that and it is. However, it turned out to be only available in the United States. I'm talking about the old PS1 game, Legacy of Kain: Soul Reaver.
My account was set in the UK, that's why it was missing from my download library. Once I changed my account, I was able to get the game and play it freely without having any problems whatsoever. You see, if you change your Store's region, you get access to all content exclusive to the country you switched to. That's pretty important if you're looking to step out of your country's limitations.
Better Prices
Imagine living in the United States and you decide to download a certain application. For instance, I'm a gamer who seeks PS1 classics to play in 2019, that's fun if you consider going back to the old days. As apps availability varies from country to country, so does the price.
You might find your desired application to be more expensive in your region, while in a different country it's so much cheaper or maybe free. Changing your PS4 account's country will get you better prices when it comes to PSN merchandise.
Redeem Gift Cards
One of the most things that a PS4 user struggles with is redeeming gift cards. PSN cards are region-based. This means they're exclusive to a specific country. For example, if the PSN card you want to redeem is a US one, you won't be able to use it on a UK account.
If you already bought yours and can't seem to benefit from it due to region incompatibility, you can always change your account's region to match the gift card you own. That way, you'll be able to use it no matter where you reside. Let me give you a proper look at the matter. Let's say you want to redeem a US gift card outside the United States. All you have to do is change your PS4's region to the US and you'll be able to do so.
Traveling with Your Console
If you're moving to another country, you're not going to leave your best buddy behind. I'm talking about your PS4 in case you didn't catch that. Whatever country you're going to might not supply you with the gift cards you need to shop on the PSN store. I mean why would the UK offer US gift cards for the residents?
Alright, I get that some international cards can be bought on Amazon or so, but that takes a lot of time. Just change your region to the country you're based in now and redeem your gift cards just like you were used to doing back home.
Access Games Earlier
Competitive attitude is all that gaming is about. Not only do you wish to win all the time, but if you play the game before others, you get the bragging rights. That's what I did when I got to play Days Gone earlier before it got an official release.
Yes, you read it right. You can access games before they're available in certain regions if your store's country is in the right place. I had to change my region to New Zealand in order to get the game before anyone else and it worked out pretty well in the end.
Apps Available in Certain Regions
I've listed some of the applications that you may find interesting to get on your PS console. Pay close attention as I'll also be categorizing the best apps for PS4 according to the region they're available in. Here we go:
United States (US)
Netflix
Hulu
HBO Now
CBS All Access
Dish Network
GoPro Channel
DirecTV NFL Sunday Ticket
NBC Sports
Pluto TV
PlayStation Vue
Redbox Instant
Popcornflix
United Kingdom (UK)
All 4
BBC iPlayer
Demand 5
BBC News
Now TV
Pop
BBC Sports
Australia (AU)
7Plus
9Now
ABC iView
Foxtel Play
SBS on Demand
Stan
Japan (JP)
DMM.com
Joysound.TV Plus
Dragon Quest 3 
Yakuza Ishin 
NHK on Demand 
U-NEXT
The Blue Marlin
Puyo Puyo Box
Change PSN Region – Unblock American Channels on PS5/PS4
So, first, create an American or UK PSN account. Then, change the PSN region on your console. Finally, use VPN or Smart DNS proxy to unblock and watch the US/UK channels you've installed on your PS5/PS4 outside the US.