How to Redeem an American PSN Gift Card outside the US
|
How long have you been using Sony PlayStation? Long enough to know that you can use US PSN Gift Card even if you're not present in the country? Yeah, you read that right. Although PS Stores vary from country to country, you can always tap into what your region doesn't offer. That includes content, prices. offers, and redeem codes. In this guide, I will show you how to redeem a PSN Gift Card abroad. Follow my lead.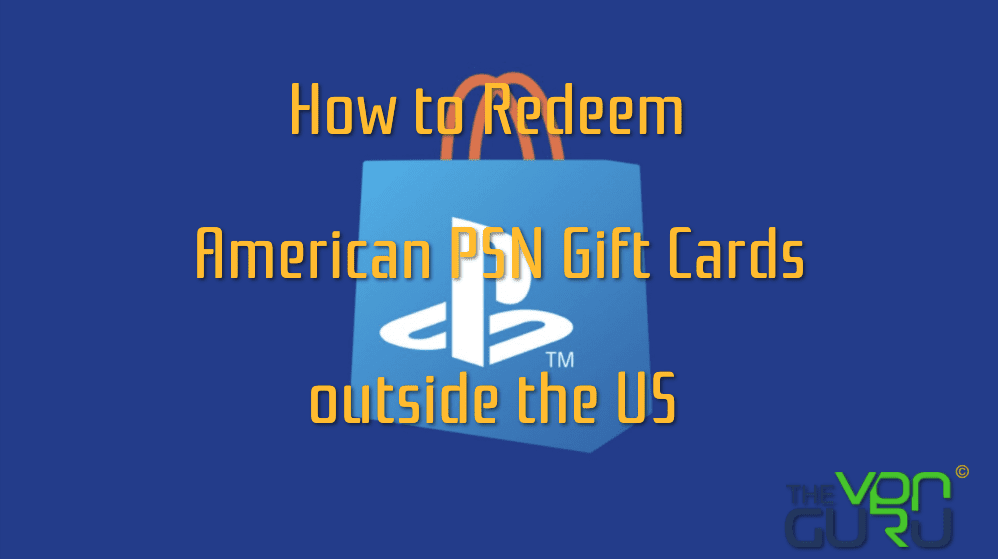 Do PSN Cards Work in Other Countries?
No, PSN cards from one country will not work in another. It's really simple, even when you purchase the card, it has the region next to it. Let me give you an example of what I'm stating. A USA PSN card will not work in the UK & vice versa, having said that if the country was an EU country then an EU PSN card would work in a number of countries, make sense? EU covers more than one country. However, when the PSN card is exclusive to a specific region, you'll only be able to redeem that card in that territory, period.
So, in other words, wherever you are, whether in the UK, Canada, Australia, the US, or elsewhere, the gift cards you get to spend are region-locked.
Moreover, based on your country, you'll receive specific content to tap into. Not only are PSN cards region exclusive, but whatever you get on your PS Store depends on your location. That, of course, comes according to the type of the account created. I'll be talking about this later on.
How to Redeem an American PSN Gift Card Outside the USA
Again, every PSN card is country-specific, you can only redeem it inside its country of issue. Well, that's unless you follow my guidance. Once you're done with this tutorial, you won't have to worry about country-exclusives any more.
Before I provide you with the steps, you need to know that it doesn't happen if your account isn't based in the US. You need to create an American PS account in order to do so. Here's what you have to do:
Log out of your PSN account on your PS4.
Select New User and click on Create an Account".
Choose "Sign Up Now".
Select the United States as your country. (Try to pick a state that doesn't have sales taxes, for example, Alaska, Montana, New Hampshire, Delaware or Oregon).
More info will be asked for along the way. Just fill them the same way you did when you created your first account.
When the process is done, you'll receive an email address to verify the email you submitted.
You've successfully created a US PS account.
Now, head over to the PlayStation website.
Sign in with your new account.
Go to your profile by clicking on the small image on the top right of your screen.
Select Payment Management -> Redeem Codes.
Enter the US Gift Card's code.
You're done.
Now, if you live in a region that only sells exclusive gift cards, you're going to love what I'm about to say next. Sony has strict policies and multi-layered background checks on transactions. Therefore, you can't use the likes of PayPal, and you won't be able to benefit from your own credit card.
Luckily, you don't have to contact anyone who lives in the United States to get an American PSN card. The only thing you need is to go to Amazon.com and purchase digital PSN credit which is available from $10.00 to $100.00. That's it. I mostly recommend buying ones that are 50$ or less as they're faster to be delivered when operating with Amazon.
Access Region-restricted Applications
Changing your PlayStation region to the United States has more benefits than you might think. When you have a US account, you'll be able to download applications like Netflix, Hulu, HBO Go, and so many more. However, although they're right there in front of you, access to whatever they offer won't be possible as they examine your actual IP address before they allow you access.
When you have a US account, remember that you're still using your own Wi-Fi, which means your operating on a local IP address that highlights your location. To be able to watch the likes of Hulu, you need a US IP address. Luckily, if you set up a VPN connection on your PlayStation, you can obtain an American IP with ease.
It's quite tricky when it comes to that as PlayStation is not natively compatible with VPN clients. That's why, as an alternative, you can install a VPN on your router instead. This will give you a VPN connection that can be shared across your house. You'll be able to protect all the devices connected to your network and have the privilege to bypass regional restrictions as well. You can literally gain access to the best apps on PlayStation 4 once you make use of a Virtual Private Network.
On the other hand, choosing the right VPN for the process can be a bit daunting. That's why I suggest the use of ExpressVPN since I use it myself on a daily basis. If you want to try something else, there are other VPN providers on the market to skim through. Give the table below a quick gander and pick one of these top VPNs for PlayStation 4 as an online companion.
How to Redeem US PSN Gift Card Outside the US – Summing Up
Having a US PS account doesn't only allow you to redeem American Gift Cards. The fact that you can tap into a whole different variety of content can elevate your gaming or streaming experience to the max. You now know how to redeem your gift cards and access geo-restricted channels on your PS4. Enjoy.