How to Watch NHL Winter Classic 2023 Live Online
|
The NHL season started back in October 2022 and we've had our fair share of excitement so far. However, the thrill is about to reach its peak as the 2023 Winter Classic will hit our calendars on January 2nd, 2023.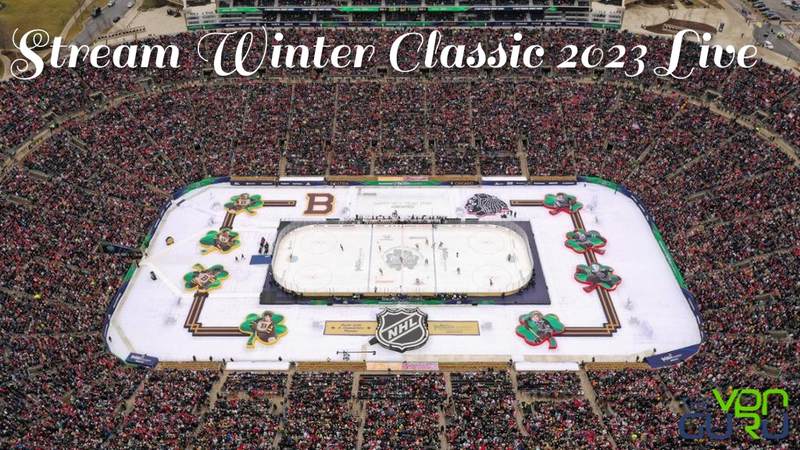 The outdoor regular season NHL game will be held at Fenway Park in Boston, Massachusetts. With the Boston Bruins hosting the Pittsburgh Penguins, the stakes can't get higher. Unfortunately, not everyone can tune in as TNT (the official broadcaster) is only available in the US.
Due to geo-restrictions, TNT only operates within the United States. But that changes now! Here's how you can watch NHL Winter Classic 2023 live anywhere.
Winter Classic Live – Quick Guide
Watching the Winter Classic requires no tech-savvy skills. All you have to do is follow the steps below and you'll be streaming the action in no time:
Subscribe to a VPN provider.

As a recommendation, give ExpressVPN a try.

Get the VPN client.

Download and install the VPN app on your device.

Submit your VPN credentials.

Sign in with your username and password.

Connect to a US server.

This process will give you an American IP address.

Launch TNT's application or website.

Sign in with your account (Cable provider required).

Enjoy Winter Classic 2023 anywhere.

Stream Boston Bruins vs. Pittsburgh Penguins wherever you may be.
Winter Classic 2023 – The Entire Process
The steps above are more than enough to get you full coverage of the Winter Classic. However, to get there, an entire process took place, which we shared in the following comprehensive walkthrough:
The Requirements
To unblock TNT outside the US and watch the Winter Classic live, everything on the list below is required:
A VPN subscription.
US-cable channel account.
A TNT-compatible device.
TNT – A Blocked Broadcaster
TNT is one of the biggest channels in the United States. In fact, back in 2018, the channel was accessed by over 89.573 million households that have a valid cable television service subscription throughout the country.
With live coverage of several sporting events, TNT is a must-have. However, that's not possible as, due to copyright agreements, it doesn't operate outside the US.
With geo-blocking techniques (examining your IP address), TNT can easily determine your physical location and block/allow your access accordingly.
In a nutshell, you can only access TNT if you're in the US (Holding an American IP address). If you're abroad, that's exactly what you lack, leading to an error message that looks exactly like the following:
"Sorry, the TNT app isn't available in your location."

The presented error is one of many you'll encounter when you try to watch the channel abroad. However, if you follow the steps above, none of them will show up as you'll be streaming anything, including the Winter Classic wherever you are.
What is a VPN?
A Virtual Private Network is a very useful tool if you want to bypass regional restrictions and access blocked channels anywhere in the world.
Here's how it works. First and foremost, a VPN elevates your security and privacy. Once you are connected to a server, the cybersecurity software will encrypt your data and hide your real IP address.
Based on the server's location, you'll receive a temporary IP in the region. As a result, you'll be able to access channels anywhere.
For example, if you connect to an American server, you'll obtain a US IP address. This entitles you to stream channels like TNT, Hulu, and any other US-restricted service wherever you may physically be.
Now, we have to note that even though a VPN is the go-to tool, not all of them are eligible for this task. You see, TNT can detect and block VPN traffic. The image below should give you a slight idea:
"We can't find your location. To watch this, please disable your VPN, proxy or other service that hides your location."

We conducted our research and tested out several VPNs. First, avoid using any free service – they don't work. For guaranteed results, we recommend the use of premium providers such as ExpressVPN.
Not only can it unblock TNT, but it also comes with high-end security features that protect your data all the way while browsing the web. Now, ExpressVPN might be our top recommendation, but it's not the only one. Here's a list of 100% TNT unblockers:
Winter Classic 2023 – FAQ
Do you want to know more about the 2023 Winter Classic? Then make sure you give this FAQ section a thorough read:
When Will the Winter Classic Begin?
The 2023 Winter Classic kicks off on January 2nd, 2023.
Where Will the Game be Held?
The Winter Classic will take place at Fenway Park in Boston, Massachusetts
Who is Competing in the 2023 Winter Classic?
On January 2nd, 2023 it's going to be Boston Bruins vs. Pittsburgh Penguins.
Can I Watch the Game for Free?
Unfortunately, that won't be an option. You need a cable subscription to watch TNT.
How to Watch Winter Classic in Canada?
Sportsnet will be the official broadcaster of the Winter Classic in the Canadian region.
Winter Classic 2023 – The Final Words
The Winter Classic is one of those annual games that everyone waits for. Unfortunately, with geo-restrictions around, a lot of fans have missed it in the past.
Not anymore! You now have everything you need to stream the game. If you need any help, we're just a comment away from assisting.