Have you tried Netflix's offline viewing? If not, you should start right away since it saves you a lot of time and helps avoid sudden connection problems while streaming. In case you don't know how to do so, let me show you how you can download Netflix content effortlessly.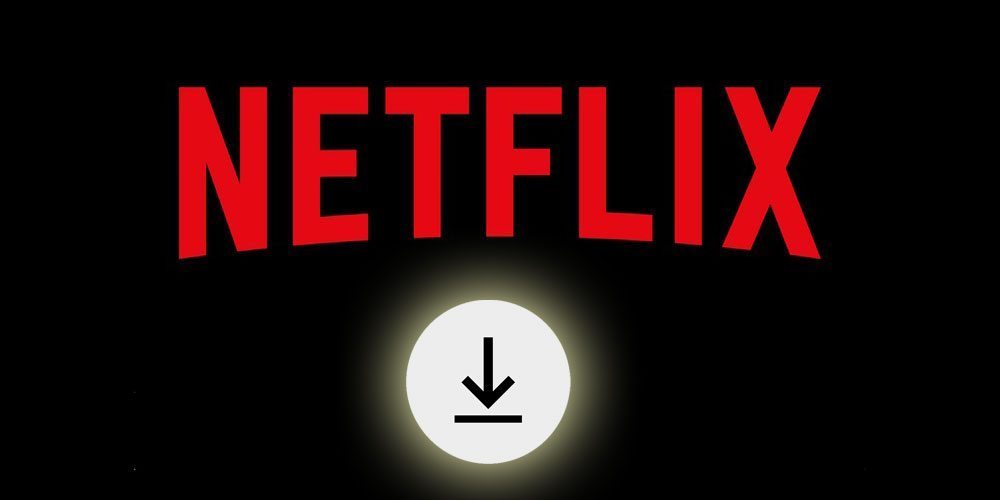 How to Download Netflix Content – Content Index
Yeah, it's true. You can download Netflix TV shows and movies for later viewing. It's quite easy if you know your way around. Here's a quick view of what's coming your way later on in this comprehensive guide.
Netflix's Offline Viewing – A Quick Intro
If you don't know this yet, Netflix has introduced us to a new offline viewing option. This feature allows you to download your movies or TV shows and watch them offline at a later time.
Unfortunately, this feature comes with a few restrictions as you're not allowed to download all the titles available in the library. There's a select few shows and movies that are subject to download while others are only available for streaming.
Since some movies and shows that are not Originals are covered by this feature, the channel might be adding more titles to the download feature sooner than you think.
Another thing to mention is that the movies and TV shows you downloaded will not be available for viewing outside the Netflix app. That means you won't be able to watch them on your device's default player or any third-party applications.
If you're in the "Giving" vibe, let me tell you that sadly, Netflix doesn't allow you to share what you downloaded with your friends. Even if they use the app as well, the files do not appear in the file system and do not include a sharing option.
Finally, this point is very important if you're a constant downloaded. Prioritizing your download is not applicable in the channel's service. Pausing downloads will pause everything. You can't select a single download to pause while you finish up with the other.
How to Download Netflix Content on Your Device
With a push of a button or a tap on the screen, you can watch your favorite shows and films anywhere, anytime. You don't even need an internet connection to do so. Just download the Netflix title back home and go wherever you want with a list of entertaining titles for the road. But if you don't know how to do so, how are you going to enjoy Netflix's outstanding feature? Oh, that's why you're here in the first place. Let's take a look at how you can download Netflix content for offline viewing.
iPhone/iPad
Having an iPad is the best option to stream downloaded Netflix content. First, the screen is decent to watch on a plane, car, or anywhere. Other than that, iPads are well known to be long lasting when we speak of its battery life. Both iPad's and iPhones share the same application with the same features. Therefore, this part is for both devices.
Now, you can download a series and enjoy binge-watching Netflix originals on the road. But before you jump right into the fun, let's see how you can download the content first.
First, launch the Netflix app on your iPad or iPhone and sign into your account. That's of course if you're not already logged in.
This will take you to Netflix's main page. Now select your movie or show that you're looking to download.
Just on the right of the title, you'll see a "Download" icon. It's like an arrow facing south.
After that, your download will start. Remember, if it's a TV show, you can't download the whole season, only one episode at a time.
When the download begins, a progress wheel will take the arrow's place.
Once the download is done, you can stream it wherever you are without the need of an internet connection.
Android
While using Android, downloading a show is as easy as tapping on the download button and letting Netflix handle the rest. You just need an internet connection and a valid subscription of course. If you own an Android and still wondering how to navigate through the downloading process, here's what you need to do:
First, launch the Netflix application on your device. If you're already logged in, this is where you'll be at.
After that, select the show or movie you wish to download. In my example, I'm going to be using Lucifer.
Now press on the download icon that's next to the episode you want to get.
Finally, your file is in the download section.
Wait for it to finish and you can watch in in offline mode.
Windows PC
You are able to watch shows offline on your Windows PC, but not on the browser my friends. Although Netflix is available for streaming using a web browser, the download function is only applicable inside the application. No matter what the situation is, this is great news for PC users who enjoy their series and movies on a 14″ screen. Go ahead, get the Netflix Windows app and follow my lead as I will show you exactly how to download some titles for your upcoming road trip:
If you don't have the app already, go to Windows Store and download it.
Sign in with your Netflix credentials. This will take you to the main screen.
Now, select the title you wish to download. It's pretty simple, the download icon will be visible directly.
I chose Underworld as an example, there's the download button.
Finally, open the menu section on the top left part of the screen, select My Downloads, and check your download progress.
Mac OS
Unfortunately, not all Apple products got to be so lucky to offer such a feature with Netflix. The problem is that the app doesn't even exist for download on Mac devices. I'm going to be telling you exactly why in a few seconds. For now, here's what I got when I searched for the Netflix app for my mac.
Apparently, the Netflix app only covers iPhone, iPad, and Apple TV when it comes to Apple products. It's really hard to know why, but I can guess a few reasons. Some of it may include what we call licensing of products. Netflix believes that it's protecting its content from piracy. You may not know this, but streaming content on Mac makes it very easy to pirate content.
You don't even need to download the show to watch at a later time. All you need to do is set a recording for the video you want and it's all yours. Alright, I know that you have to go through playing the whole video before you can have it, but isn't that the next best thing? After getting the perfect tool to record your video, you can then save it and watch whenever you want in offline mode. In my opinion, that's exactly why Netflix doesn't allow Mac users to download their app.
I don't encourage such an action because it goes against copyright laws. So, if you're a Mac user, just stick to Netflix's website to stream it's content legally.
Netflix Smart Download
This one is only for Android and iOS users. There's a feature called Smart Downloads. Enabling this option will allow you to automatically delete the episodes that you're done with. You can set up a certain series and more episodes will be downloaded without you taking part in the process.
All you need to do is go to the App Settings and slide the Smart Downloads' switch to the "On" side.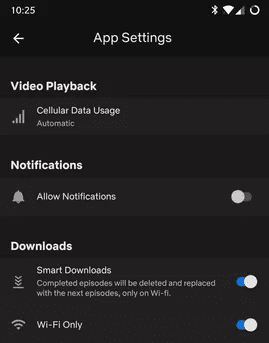 I suggest you keep the "Wi-Fi Only" part on since Smart Download can download multiple episodes depending on what you've been watching. If you binge-watched like 3 episodes, the next time your phone connects to the internet they'll be gone and 3 others start downloading.
How Long Does a Download Last?
If you think that owned the world once you have your download done, think again. Netflix's download titles have a limited amount of time before they expire from your download section. Mostly, the timer will start when you have less than 7-day to watch a movie or show.
This is what Netflix has to say on their website:
"After you download a title to your device, you have a limited amount of time to watch it before it expires. The amount of time depends on individual licenses and can vary by title. Titles that are expiring from your device in less than 7 days will display the amount of time you have left on the Downloads page of the Netflix app.
Some titles will expire 48 hours after you first press play. Once you have started playing one of these titles, you will see how many hours you have left on the Downloads page. You can watch a downloaded title as many times as you'd like before it expires."
One other question that haunts us is: "Can you watch the downloaded files even if you're subscription expired?" I'm pretty sure the answer is no. You need an active username and password to access the app. Without an active subscription, you'll be denied of all the privileges that you used to have.
New to Netflix? Get a Subscription
It's rare to find anyone who doesn't have a Netflix account nowadays. However, if you're one of those, here's how you can create a Netflix account:
First, go to Netflix's official website and click on the "Try 30 Days Free" button.
After that, click on "See the Plans" on the next page.
You have 3 plans to choose from. Each one has its own features. You can pick from Basic ($8.99), Standard$12.99), or Premium ($15.99).
Now, submit your email and password to create an account.
Choose your Payment Method. You have several options including Credit or Debit card (Visa, Mastercard, Amex or Discover), PayPal, or Netflix gift card.
Finally, tap on "Start Membership" and you'll become Netflix's newest subscriber.
More Titles with a VPN
With a Netflix account, you can tap into a wide variety of the best Netflix originals to ever exist. However, with a VPN, you get to access Netflix's full American library no matter where you might be. Although the streaming service is available almost everywhere nowadays, its library of content varies from region to region. 
In other words, what you get in the UK is so much different than what you may get in France. So far, the American region gets the best of what Netflix has to offer. But what makes them better than you?
You too should be able to watch the best there is on the streaming giant just like any other American. That's why you need the help of a VPN to change your location and appear to be browsing the web from the US region. So, without further ado, here's how you can access American Netflix anywhere in the world:
To kick it off, you must sign up with a VPN that actually works with Netflix. I highly recommend ExpressVPN.
After you subscribe, download and install the VPN application on a compatible device. You'll find clients available on Android, iOS, PC, Mac, as well as FireStick.
Now, sign in with your VPN account and head over to the server list.
Find a US server and hit connect.
Launch Netflix's website or its dedicated app.
Finally, search for Star-Crossed. If the title is available, you now have US Netflix.
A VPN protects your identity when you're browsing the web by hiding your IP address. Not only that but when you're connected to a VPN server, you get to encrypt your data shielding it against any cyber attack that may target your device. Still confused and can't figure out which VPN provider to use? Don't worry, I got your back. To access American Netflix outside the US, you must make use of one of these top VPNs for Netflix.
How to Download Netflix Content for Offline Viewing – Final Thoughts
Streaming content on the go has never been easier with Netflix. Now, you can actually download movies and shows from Netflix to watch offline. Just follow this comprehensive guide and you'll be on the right track. Enjoy.