YouTube doesn't really need an introduction; everyone and their mothers have used the video-sharing website at least a couple of times in their lives. Sometimes, you want to have the option of revisiting your favorite videos even if you're offline. In this guide, I'll show you how to download YouTube videos on PC, Android, iPhone, iPad, or Mac, safely using websites, applications, and browser extensions.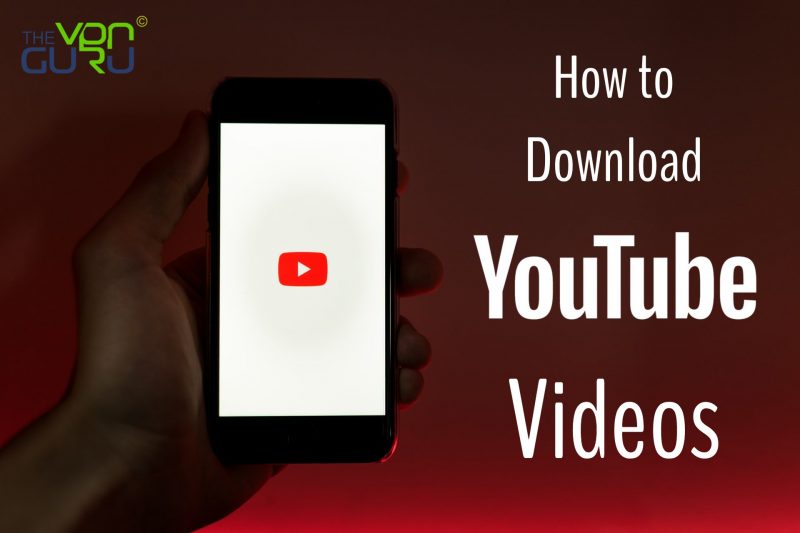 Caution: Things to Keep In Mind
Not all videos on YouTube are available for download legally. If you read Google's Terms of Service for YouTube, you'll see the following message:
"You shall not download any Content unless you see a 'download' link or similar link displayed by YouTube on the Service for that Content"
In other words, unless YouTube explicitly allows you to do so, downloading videos off of YouTube can be illegal.
This makes sense, many content creators rely on YouTube to make a living off of their videos. If you download the content illegally, you'll be taking money out of theirs and Google's hands. This guide is explicitly meant for YouTube videos that can be downloaded legally. The VPN Guru does not endorse any illegal downloads or activities and highly suggests you respect YouTube's Terms of Service.
Now that you know what limitations you have to abide by when downloading YouTube videos, let's talk about how you can download the videos next.
Download YouTube Videos via Websites
There are a variety of websites that claim to help you download YouTube videos (and then some), but not all of them can be trusted. From hidden malware to pop-up ads by the bucketload, looking for a trusted website to help you with your downloads isn't easy. That's why we suggest using the following websites.
WARNING: Most websites that help you download videos off of other platforms are NOT HTTPS secured. This could be very dangerous. Always make sure that you're completely protected before accessing any helper website. The safest way to do this is by using a VPN.
YoutubeMonkey.com
One of the most famous websites for downloading Youtube videos is YoutubeMonkey. There are 2 ways you can download videos off of YoutubeMonkey.
Method 1: 
Go to YouTube and load the video you want to download.
Copy the video URL.
Go to YoutubeMonkey and paste the URL as-is into the downloader.
Press "Download". You'll get a list of downloadable files.
Choose the file that works best for your specifications (video/mp4, video/WebM, audio/mp4, etc..) You can even choose to download based on size.
Method 2: 
Go to YouTube and load the video you want to download.
Copy the video URL.
Go to YoutubeMonkey and paste the URL into the downloader.
add the word "monkey" after in "youtube.com" > "youtubemonkey.com"
Press "Download". You'll get a more selective list of downloadable files.
Choose the file that works best for your specifications.
Online Video Downloader
Another website that can help you download videos off of youtube (and a variety of other sites, too) is Online Video Downloader. This website has a very straightforward download method, here's all you have to do:
Go to YouTube and get the URL of the video you want to download.
Go to Online Video Downloader and paste the URL into the URL box.
You'll get a list of "Available Links" and "Other Download Links" (for mobile users).
Pick the link that works for you.
Click on the red download icon on the right side of the link.
QDownloader
QDownloader is a secure video downloader that can help you download videos from YouTube, Facebook, Instagram, and Twitter. In fact, QDownloader can get you download links from over 800 supported websites, which you can check out here. To download YouTube videos off off QDownloader, you have to:
Go to Youtube and copy the URL of the video you want to download.
Paste it in QDownloader's URL box. Click on "Download".
You'll get a long list of links you can download from belonging to the following 3 categories:  "Download video without sound", "download audio only", and "download video with sound".
Choose the download you want and right-click on the download button.
Pick the "Save/Download option".
Pick the file you want the download to be saved in.
Click on "download".
QDownloader also gives you options to convert the video into an MP3 file.
Download YouTube Videos via Applications
If you don't want to risk using a website to get your downloads, there are many software options that you can use. You can download the software onto your computer and then use the dedicated app to download YouTube videos. Here are a couple of great applications you can use to download YouTube Videos:
4k Video Downloader
Don't let the name fool you, 4K Video Downloader is a software the offers incredible versatility. This software lets you:
Download YouTube playlists and channels in MP4, MKW, M4A, MP3, FLV, and 3GP.
Download annotations and subtitles off of YouTube videos in .srt format.
Get Videos in HD 1080p, HD 720p, 4K, and 8K.
Download videos and songs directly to iTunes.
Get video downloads in 3D format.
An in-app proxy that lets you download videos geo-blocked in your country.
4K video Downloader works on Mac, Windows, and Linux operating systems.
VLC
Who has not used VLC media player? It's one of the most well-known media players on the planet. It also has a pretty cool video downloading feature that's "hidden", so to speak, from the unknowing eye. Since it's not a feature that's very heavily advertised, here's how to go about downloading a YouTube video using VLC:
Find a video on YouTube you want to download and copy the URL.
Go to Media > Open Network Stream in VLC
Paste the URL in the box and click play.
Go to Tools and click on Codec Information.
Right-click and select all of the text in the box titled Location.
Open a browser page and paste what you copied into the address bar. The file will then open on YouTube's servers.
Right-click the video and select Save Video As
Pick the format you want to save it in and the destination of the download.
Download YouTube Videos via Browser Extensions
Another option that you can use instead of a website or a software is a browser extension. I have to warn you, do not use chrome, the extensions on chrome for YouTube video downloaders are more of a pain than a relief. Here is the best browser extension you can use to help you download YouTube Videos:
Video DownloadHelper
Video DownloadHelper is a browser extension that helps you download videos off of any website.
When you install the extension, you'll notice a little button on the top right of your browser's address bar. If you happen to land on a page with a video, the button will show you a notification, and you can click it to get the download options for your videos. Just pick the one that works best for you!
This extension is available on FireFox and Chrome. Again, I suggest sticking to FireFox if you want to download videos off of YouTube.
How to Download YouTube Videos – Final Thoughts
And there you have it, how to download videos off of YouTube using websites, software/apps, and browser extensions. Remember to respect YouTube's TOS when you're downloading videos off the video-sharing giant. Let me know what you think of these services in the comments below and tell me what methods you prefer.