Do you enjoy traveling to new places? Are you constantly hopping from one country to another because of your job? Are you in the process of moving to a new country?
When people travel, the first thing they think about is their safety. Am I going to a safe country? Do I need travel insurance? How can I make sure my luggage doesn't get lost?
This thought process should also extend to your online activities.
I'm a huge fan of always being safe online but I get extra picky when I'm about to travel. Let me walk you through why you need a VPN when you're traveling: from keeping safe online to benefiting from IP spoofing and cheaper flight fares!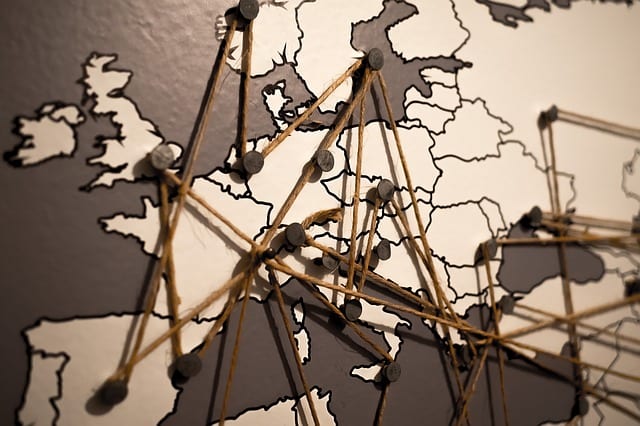 Before I start on what a VPN can do for someone who's traveling, here's a link to a post that explains exactly what a VPN is and what it does. Read that first to wrap your head around some of what I'm going to be getting into.
Before You Travel – Use a VPN to Book Cheaper Flights
Ladies and gentlemen, the rumors are true! Sort of.
You can get cheaper flight rates if you use a VPN when booking online. There are a few more steps you need to take to make sure you're getting the cheaper rates.
Launch your VPN. Booking sites use more than just your IP when they're showing you flight rates, so keeping all of your information private is always recommended.
Delete your cookies. Cookies keep track of whether you've been on a site before, and "first-time users" usually get better flight rates.
Go Incognito! Your browsing history affects the rates you get on booking sites, especially if you've been going through a few sites to compare rates.
Try out different servers. Test out the rates from different "locations" by testing out different servers. As an extra tip, try to match the site with the server.  For example, if you're using Expedia, connect to an Australian server while opening Expedia.au. Booking sites that cater to different markets offer up different rates based on that market's currency.
Public WiFi Connections  – Stay Safe with a VPN
I've covered how to stay safe while getting access to free public WiFi before, but it's a good reminder to anyone traveling soon that public networks are a hotbed for data theft. If you're traveling to a new country, you're most probably going to connect to a public network at one of the 3 locations below.
Airports
What's the first thing you do when you land? You text your friends and family to let them know you're safe…then you probably check your social media to see what you've missed when you were offline. Not everyone has a data plan that covers international trips, so the airport's public WiFi is usually the first network you connect to. Make sure that you turn your VPN on before you connect to the WiFi.
Hotels
Another hotbed for data theft would be the public WiFi offered at the hotel you're staying at. Just like with the airport, you can't be sure that this public network doesn't have any bad agents trying to siphon off the data of the guests. By using a VPN, you're keeping your information safe and private, even if someone is actively trying to get their hands on it.
Cafes and Restaurants
Have you ever tried to connect to a WiFi network in a cafe only to find out that it hasn't worked? Some people are so keen on getting their hands on other people's data that they set up fake public networks around actual public networks. The moment you hit that connect button, you've given that person access to your information. A VPN re-routes traffic and tunnels it, creating a private network just for you! This means that no one will be able to get your info, even if you're on a public network.
Unblock Geo-Restricted Sites While Traveling Abroad
One of the worst things (first world problems!) that happen when you're traveling is that you start encountering a very annoying message:
We're sorry, this content is not available in your region.
Welcome to the world of geo-blocked content. Because of certain issues with international rights, a lot of streaming services don't allow all of their content to be accessed everywhere.
Let's take Netflix as an example.
Everyone knows that the American Netflix has the highest Netflix library variation (100%). If you've moved to France, you now only have access to 33.45% of that library.
With a VPN, you can easily connect to an American server and spoof your IP. You can get that 100% content rate back even if you're watching from the comfort of your Parisian living room.
Keep Your Banking Information Safe While Traveling
If you're about to do some online banking, you better have a VPN setup and running. It's very easy for hackers and data thieves to get access to your information on a public WiFi network. If you're paying your bills or doing some quick online banking, you're essentially handing over your accounts to anyone that dares take it. With a VPN, you can make sure that your banking information is completely safe. This way, you can get your e-banking done without worrying if someone's going to get your credentials.
Best VPN for Traveling
When you're looking to subscribe to a VPN to make sure you're protected when traveling, there are a few things you need to keep in mind:
A VPN's log policy. Go with a VPN that implements a strict zero-log policy, that way you know that even your service provider can't track you.
Download Speed. When a VPN has to re-route and tunnel your data, it slows down your internet speed. The rate at which VPNs slow your speeds down depends on the VPN itself.
Encryption power. The better the encryption and the security measures offered by a VPN, the better that VPN is as an option when you're traveling.
Support. A VPN's support team needs to be available 24/7 and be able to offer up valuable help in case you run into any trouble.
My preferred VPN for traveling is ExpressVPN. It covers all the points I've mentioned above and then some.
Using a VPN When Traveling – Final Thoughts
We are living in a digital age. Being connected online opens up a world of possibilities for all of us, it's even become an integral part of our daily lives. This is why it's so important to be safe when we're online, especially when we're traveling outside of our home country.