QNAP Systems stands strong as one of the most recognized brands for users looking for a reliable Network Attached Storage solution. The company is based in Taiwan, and it's appliances are specialized for file sharing, virtualization, storage management as well as surveillance. The service has a well-established presence around the world with offices in about 16 countries. It also stands out from the other providers through its support for both Network Attached Storage and Network Video Recording.
As a user, you might choose to have a QNAP system that you'd like to access remotely, or you could also go for the ones that could be based at home or in your business premises. Once you've made that decision, the second thing you'll have to think about is the security of your data. The QNAP devices you're going to get will probably require an Internet connection to function, and with the many insecurities that come with being online, it'd be a good idea to look for a solution that'll provide a layer of protection.
Using QNAP with VPN
A Virtual Private Network or a VPN service helps by encrypting your Internet connection, thus preventing any third parties from intercepting your data as it gets uploaded or downloaded to or from your device.
Since you'll also probably be connected to a network, a VPN ensures that all your network traffic stays encrypted, thereby taking care of any loopholes that hackers may use to get hold of your data. Using a VPN also ensures that the data you store is not easily retrievable by anyone else other than you. This type of security is important especially if the type of data you're storing is really sensitive.
To pick out the right provider, there are a few things you'll have to know about how your QNAP device and VPN service will work together. VPNs offer a variety of protocols through which you can channel your connection.
The three most popular ones are OpenVPN, PPTP, and L2TP/IPSec. If you prefer L2TP/IPSec for example, you'll have to make sure that your QNAP is of QTS 4.2 or higher. If these details are a little too technical for you to get involved with, then you could also enable all three protocols, and then choose automatic route configuration on your VPN. This way, the service will choose by itself the best way to ensure your network traffic stays encrypted.
Other Advantages of Using a VPN
The advantages of using a VPN also extend to your normal use of the Internet, as it also allows you to hide your location. With this done, you'll have access to a wide variety of geo-restricted content regardless of your actual location.
You'll also have access to established Internet services that would normally block your connection if they found out that you're not based within their supported regions. If you tend to do a considerable amount of shopping online, hiding your location means that you'll have access to the most affordable prices, since you'll be buying through the regional sites where their prices are more affordable.
Using a VPN also keeps your ISP away from spying on your activities online, thereby helping to prevent any form of throttling that may be forced onto your connection. This is key especially if you tend to do a lot of streaming, as you'll be able to enjoy the full speed of your connection.
Best VPNs for QNAP NAS
Now that you know what you stand to gain by using your VPN in conjunction with your QNAP device, let's take a look at some of the best services to subscribing to so as to ensure your connection remains secure:
1. ExpressVPN
Headquartered in the British Virgin Islands, ExpressVPN has an impressive network of about 2000 servers based in about 60 countries around the world. The service is known as a premium choice especially for users that are looking for the best in online protection.
Security-wise, ExpressVPN offers 256 bit AES military-grade encryption, as well as VPN protocols such as OpenVPN, SSTP, PPTP, and L2TP-IPSec. The service also does not keep any logs of its customers' browsing activities, and this is ensured through its zero-logging policy.
ExpressVPN only allows up to 5 simultaneous devices per subscriber, but if you install the provider's VPN client onto your router, you'll be able to significantly increase that number.
The provider also has a reliable customer service team that you can reach 24/7 through email, live chat, or even through their social media channels. ExpressVPN also offers a 99.99% uptime guarantee, as well as a Smart DNS service to spoof your location. To learn more about what the service has in store, have a look at our more in-depth ExpressVPN Review.
2. BulletVPN
If the name doesn't do a good job of hinting at what to expect from signing up with BulletVPN, then we might as well break it down for you in this short review. This Estonia-based provider offers one of the fastest server speeds in the VPN industry, making it suitable for transferring data quickly between your device and your NAS system.
The provider ensures that your data remains secure through its industry-standard 256 bit AES encryption, and supports a wide range of devices based on iOS, Windows, Linux, and Android.
BulletVPN has a server presence in about 55 countries and supports OpenVPN, L2TP/IPSec, and IKEv2 as VPN protocols. The service also has a version of its VPN software that can be downloaded manually onto a router, and if this gets done, you'd be able to increase the number of simultaneous devices that are supported by the device up from three.
BulletVPN allows users to spoof their location through their Smart DNS service and provides for both unlimited bandwidth and server switching. For more info, have a look at our BulletVPN Review.
3. NordVPN
NordVPN easily stands out among all the other VPN services thanks to its wide range of 4000+ servers and its collection of tools and features meant to ensure you get unrivaled protection. Its base in Panama is quite convenient as it is far away from the jurisdiction of any data regulatory authority, and on top of that, they adhere to a strict zero-logging policy that ensures that none of your data gets recorded or stored.
NordVPN is capable of sustaining up to 6 simultaneous connections, and also offers double VPN encryption for reliable security. The provider also has obfuscated servers for connecting to servers based in different countries, as well as support for onion over VPN for increased anonymity.
DNS leak protection and an automatic kill switch are also provided, alongside a series of dedicated IP servers for users that would need a larger bandwidth for their connection and security. The service also supports torrenting and is sure to provide a secure enough layer for the transfer of files to and from your NAS device. If you're already thinking of buying a NordVPN subscription, we suggest that you first go through our well laid out NordVPN Review.
Wind Up On The Best QNAP VPN
Hopefully, by the end of this review, we've covered what you'd need to know about the kind of service to subscribe to if you hope to encrypt your data transfer process. In case you have any questions that you'd like to put to us, type them out in the comment section below, and we'll be sure to get back to you.
ExpressVPN Review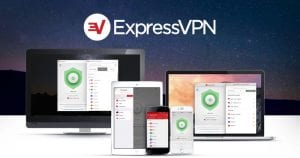 Name: ExpressVPN
Description: ExpressVPN is a VPN service that allows you to browse the web anonymously and unblock geo-restricted sites.
Price: 12.95
Currency: $
Operating System: Windows, OSX, Android, iOS
Application Category: Multimedia
Refund Policy

Speed

Support

VPN Apps