Countries with limited Internet access can lead to a frustrating online experience. Venezuela now has currently become one of them. Censorship and restrictions have increased in Venezuela making it difficult for its residents to enjoy web browsing. The only way Venezuelans can surf the Internet freely and more comfortably is if they make use of a virtual private network. A VPN connection offers a safe and secure connection that provides access to the sites and content that you desire. VPN connections perform in Venezuela and in other countries around the world. The reality is that different governments over the world try to censor communications and contents, however, with a VPN all can be accessed.
Best VPN Venezuela
If you don't want to read through the whole review and already know what a VPN can do for you, here's a summary of the best VPNs for Venezuela:
Why Need a VPN in Venezuela?
President Maduro, President of Venezuela issued an official order that carries the number 2489, which particularly authorized Internet policing and content filtering.
The circumstance related to Internet censorship reached the point where 42 websites were blocked. The Venezuelan government, attacked by the protests of nationwide, seem to have increased restrictions on Internet censorship. El Nacional and El Pitazo are examples of news outlets that have been banned.
The state-owned ISP CANTV has even blocked access to the Tor Network. A number of the ISPs monitor the websites you visit in Venezuela to push related items and services. A VPN can ensure you the security you need when online. It will also allow you to virtually exit Venezuela and access the blocked websites.
Best VPN for Venezuela
What a VPN will do is it will help you avoid Venezuelan censorship and access websites that are blocked in the country. Additionally, you can protect your online privacy so no one can know what you're doing online. You also get to connect to other countries from all over the world to get entertaining content. Here are some of the best VPN service providers one can use in Venezuela.
ExpressVPN
If you're in Venezuela and want to avoid censorship to access services outside the country, the best way to do that is by subscribing to a service provider of many local connection points. ExpressVPN is one of the few VPN service providers that actually has VPN servers in Venezuela.
They also offer a massive 30-day money back guarantee so if you want to try the service first in Venezuela, and you don't like it, you can get your money back. TExpressVPN's software is compatible with all types of devices including Windows, Mac, Android, and Apple. To learn more about all the features ExpressVPN has to offer, make sure to take a look at our ExpressVPN review.
Simply follow these steps to get a Venezuelan IP address abroad:
Sign up with ExpressVPN.
Download the ExpressVPN app on your PC, Mac, Android, or iOS.
Launch the VPN app and sign into it using your ExpressVPN account.
Select "Choose Location".
Click on "All" -> "Americas" -> "Venezuela".
Wait for the VPN connection to be established.
That's all it takes to browse the web as if you were in Venezuela. The process itself enables you to access sites and apps that would normally not be available outside Venezuela.
BulletVPN
BulletVPN is a service provider you can use in Venezuela to visit the internet securely. The provider is compatible with all devices including, your PC, Mac, Android, iPhone, iPad, or Firestick. This provider offers users a 30-day money-back guarantee and a Smart DNS proxy feature. To learn more about BulletVPN, check out this review.
NordVPN
NordVPN deserves to be among the other VPNs because it offers two encryption methods. This service provider encrypts your data twice! It operates hundreds of new servers added worldwide.
NordVPN's speeds are fast throughout the server network. It includes great new features (CyberSec and adblocking). NordVPN may just be one of the best values in the VPN industry. And with the money-back guarantee, you can try the VPN risk-free for 30 days. For more information on this service provider check out our NordVPN review. 
List of Websites Blocked in Venezuela
Here's a list of sites Venezuelan citizens are unable to access:
elpitazo.com
elpitazo.info
elpitazo.ml
el-nacional.com
infobae.com
maduradas.com
minuto30.com
noticiaaldia.com
noticias.com
ntn24.com
armando.info
dolartoday.com
dollar.nu
dollarparalelovenezuela.com
eldolarparalelo.info
aguacateverde1.blogspot.com
liberal-venezolano.blogspot.com
tucadivi.com
ovario2.com
vdebate.blogspot.com
content.zello.com
Best VPN for Venezuela – Wrap Up
You can find in all of these four providers suitable options for Venezuela. All you need to do now is just pick any of the four above and enjoy using a VPN in Venezuela whether you're a resident or just traveling through the country and only plan to spend a short time there. Let us know which VPN you would subscribe to in Venezuela in the comment section below.
Best VPN for Venezuela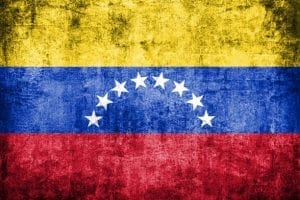 Name: ExpressVPN
Description: ExpressVPN is a highly reliable, functioning, and secure VPN service provider to use in Venezuela.
VPN apps

Access blocked content

Speed

Support

Refund policy