Ninety-four percent of the population in Sweden uses the Internet. That marks the fourth-highest usage rate in the world. But how disappointed would its users be when they find out that their internet privacy is not secured and can be breached? The country that has one of the largest population of online users have witnessed data theft on a huge scale. The most pressing internet related problem in Sweden today is having its citizens' information stolen once connected to a public network. These unfortunate incidents are avoidable with VPN usage. Can you actually trust that VPN not to violate your privacy as a retention law would? And more importantly, which are the best VPNs for Sweden? Let's find out.
Best VPN for Sweden – Content Index
A Virtual Private Network in Sweden is important for many reasons. In this review, we covered everything you need to know about the necessity of using a VPN in the country and the best ones for the job. Check them out below.
Why Use a VPN in Sweden?
A Virtual Private Network is a tool that solely exists to give internet users the chance for better, free internet access. With it, users can hide their actual location and appear to be browsing the web from any country in the world based on the server they connect to.
Moreover, a VPN also encrypts all the data sent and received. It reroutes the traffic through a private tunnel, shielding it with military-grade encryption, which makes it totally unreadable by any party that might intercept it.
There's more. This cybersecurity tool also can bypass regional restrictions and allow access to several websites/services around the world. Such a brief introduction is not enough, which is why we'll be digging deeper. Here's why a VPN is an absolute necessity in a country such as Sweden.
Internet Freedom – A Mixed Bag
The Internet in Sweden cannot be freer. In fact, among 200 other countries, Sweden gained the best freedom rating, political rights, and even civil liberties.
However, as good as it may sound, the mechanism used in the region for residents to access unfiltered and open web does come with a price. We all wish for internet freedom, but the ugly truth is, no matter how free the country is, it's not happening.
Sweden does present its image as a bastion for free speech, human liberty, and vibrant democracy, but the country does apply mass surveillance on its netizens.
We have to note that the country is known to make part of the Fourteen-Eyes alliance. Also known as the UKUSA Agreement, this arrangement is dedicated to harvesting, analyzing, and sharing netizens' data between one another.
In other words, the country commits surveillance over its residents, which is a huge invasion of one's privacy. Using a VPN protects that confidential data you hold dear and shields it from being collected by all the government agencies.
The VPN's main job is to encrypt the data sent and received, making it totally unreadable by whoever tries to hijack the connection. Also, it hides a user's IP address, anonymizing his/her internet browsing in the process.
As a result, whatever they're doing won't be monitored by their ISP, government, or any other online entity.
Torrenting
Torrenting is arguably the most performed activity on the internet. In fact, BitTorrent stated that it has about 170 million users, which is quite a number. When it comes to Sweden, torrenting and downloading pirated content are frequent practices.
Let's not forget the well-known torrenting site is Sweden-based, which gives us an idea of how popular file sharing is in the country. In 2014, the New York Times reported that more users in Sweden downloaded more than 280 million movies and TV shows.
Over one-third of the population admitted that they regularly engage in such practices. However, that took a toll on Sweden itself as it cost the country nearly 100 million dollars in lost revenue per year.
That's when authorities in the country took considerable steps in order to put an end to such actions. The country issued a court order that forces ISPs to hand over the names of customers who regularly download illegal content.
Now, this caused some controversy as ISPs refused to do so, pointing to the priority of their customers' privacy. As a result, this clash ended up with some ISPs and mobile broadband providers being forced to submit personally identifiable data.
More Reasons?
It doesn't end here. There's also the Spridningskollen (Sharing Watch) initiative, which was created by private debt collector, Gothia Law, and PR agency, Prime.
These firms operate on behalf of copyright holders, allowing them to gain access to users' personal data via their ISP without having to involve the police or any other authority figure.
The copyright holders we're talking about include Scanbox Entertainment, Noble Entertainment, Atlantic, and Crystalis Entertainment. That aside, when users download torrent files, their IP address becomes visible to whoever is sharing the same file, compromising their location, and a lot of other data. So, isn't it clear why a VPN is a necessity?
A Virtual Private Network hides users' IP addresses and anonymizes their internet browsing. We do not encourage illegal downloads. However, if the torrenting action performed is innocent, one should not be prosecuted for it.
Whenever users want to download a torrent file, they have to connect to a VPN server and cloak their identity. That way, they don't have to worry about who might be monitoring them.
Bypass Regional Restrictions
Whether internet users reside in or outside Sweden, not everything on the web is accessible due to what we call geo-blocking. It's a mechanism used by certain websites and services that restricts users' access based on their location.
Those who live in Sweden cannot access streaming channels such as US Netflix, Hulu, Amazon Prime, BBC iPlayer, and more due to the fact that they hold a Swedish IP address.
The aforementioned services require an IP address in their respective countries. Those who are based in Sweden lack that and they'll get blocked when they try to access them almost instantly.
The only thing they'll be getting out of those services is a geo-error message terminating their access on the spot. Here's an example of BBC iPlayer as it's only available in the United Kingdom (Requires a UK IP address).
"BBC iPlayer only works in the UK. Sorry, it's due to rights issues."
Whoever wants to access geo-blocked channels while in Sweden have to use a VPN and obtain a valid IP address in the service's country. For instance, if BBC iPlayer is what they're looking for, they have to connect to a UK server, while a US server unblocks the likes of Hulu, US Amazon Prime, and US Netflix.
A Swedish Expat?
The same goes for Swedish ex-pats who live abroad as their local channels back home will cease to operate the moment they connect to the internet outside of their country.
Sweden is well known to host a plethora of streaming services, including the likes of SVT, DPlay, TV4 Play, and C More. However, these channels require a Swedish IP address to operate.
If an ex-pat or any other person living abroad tries to stream their content overseas, yet another error message will appear. Here's what SVT shows if accessed abroad:
"Programmet kan bara ses i Sverige."

In case Swedish is not the language most of you speak, the error translates to: "The program can only be seen in Sweden." With a VPN, those who are interested in Swedish content can connect to a server in the country itself, granting themselves a Swedish IP address in the process.
As a result, anything Swedish-based online can be accessed no matter where the user resides on the map.
Access Public WiFi Networks Securely
Public networks available in Sweden are deemed inviting for hackers, and their malicious attacks are continually increasing to an extent even laws are no longer able to stop them.
WIFI is the first thing consumers ask for upon walking into a café or coffee shop is "do you have free Wifi?" The answer would most probably be yes, but just because they have free WiFi doesn't mean it's secure wifi.
Using a VPN, in this case, is crucial to ensure secure internet connection through tunneling and encryption.
Best VPN for Sweden
Now that we know what a VPN is and does, we have to note that not every VPN is up for the task of being the best VPN in Sweden or anywhere else, to be honest.
We're talking about free VPNs that don't abide by what a VPN really stands for. These services are free, which means the quality of what they provide won't be what users might expect.
First, they don't optimize their servers well enough to maintain good speeds. Second, they lack premium features that help enhance a user's security and privacy. Finally, they sell users' data to sister companies and third parties in exchange for revenue.
Nothing is for free when it comes to the internet. You'll always be the main product. We always assess VPNs by running them through a strict evaluation process. By doing so, we were able to handpick 4 of the best VPNs to use in Sweden. Check them out in this full review.
1. ExpressVPN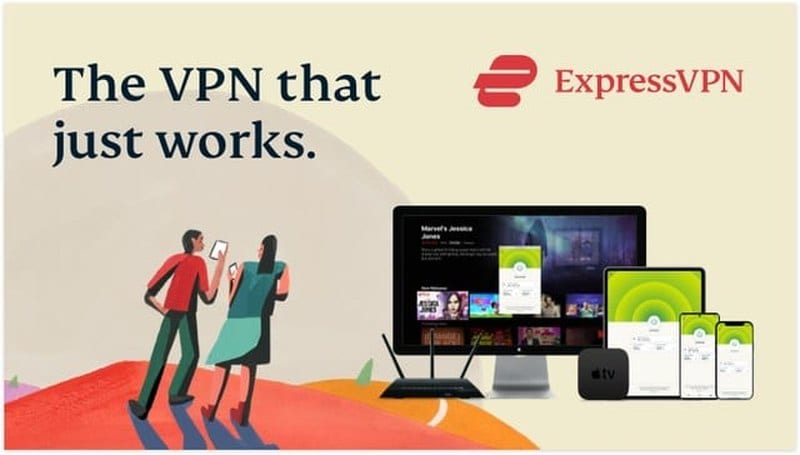 ExpressVPN is one of the best VPN service providers out there. The ExpressVPN servers operate at high speed and the app itself is very easy to use.
When we launched the app, we directly saw how user-friendly it is. In other words, anyone, whether their tech-savvy or not, can operate their client. We accessed their list of servers, which was pretty vast. Users get to connect to more than 2000 servers across 94 countries.
ExpressVPN is also very fanatical about their privacy and security, and their aim is to help protect users from getting hacked or tracked using tough encryption – 256-bit AES to be exact. 
Aside from that, ExpressVPN offers a kill switch feature. This is a technology that cuts off the internet connection if the VPN suddenly fails or disconnects. It's an important addition to any VPN as it doesn't allow the users' traffic to flow back through the ISP's servers, compromising everything in the process.
As for speed, ExpressVPN apparently optimizes its servers to maintain excellent connection speeds regardless of its over-the-top encryption. We tried out several servers during our tests and not one of them affected our streaming or browsing activities.
Finally, we have to say that ExpressVPN is a premium service, which means a subscription is required. The provide has several plans to choose from and a 30-day refund policy in case it didn't turn out to be what you're looking for.
Pros
Has more than 148 VPN locations.
Torrenting/P2P support.
Unblocks American Netflix.
Kill Switch.
Military-grade encryption.
Five simultaneous connections.
30-day refund policy.
Easy-to-use apps.
Smart DNS feature (MediaStreamer).
Split-tunneling.
Browser extension
Cons
Expensive monthly plan
No free trial
2. BulletVPN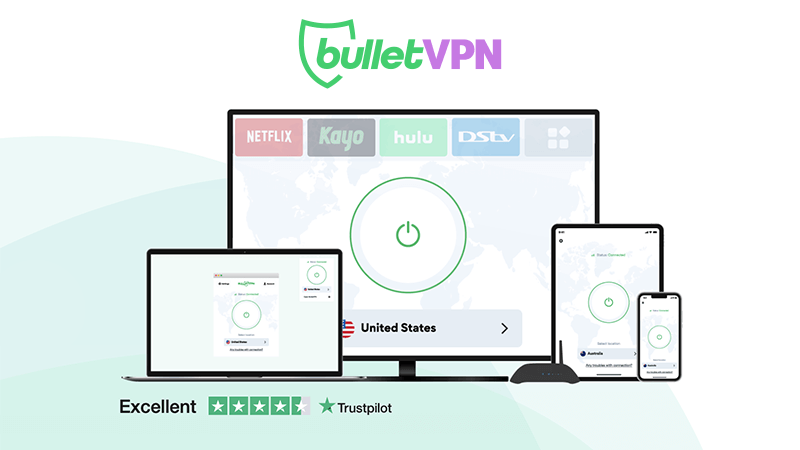 BulletVPN is yet another VPN provider that made the list based on the services it has within its arsenal. At first glance, we noticed that the provider is security and privacy-focused. 
However, with some testing, it turned out to be an all-rounder. The Estonian-based service is all about protecting its users. The app is very easy-to-use and its server network includes more than 150 servers across 54 countries, which gives more options to anyone who wants to bypass regional restrictions.
As for security, BulletVPN applies the latest in-class encryption along with five different security protocols. It's also another VPN that has a kill switch and added plus that comes in the form of Bullet Shield.
This technology doesn't allow users to connect to the internet unless they're using the BulletVPN service. Privacy at its best. Speed-wise, the tests we performed came out with excellent results.
While assessing the app, we found that BulletVPN has dedicated servers for UltraHD streaming. Some VPNs claim to provide speed, but their just claims. When we tested the connection, BulletVPN walked the walk, offering what they promised.
Out videos streamed seamlessly, our gaming experience was flawless, and our web surfing couldn't get any smoother. Generally speaking, BulletVPN has excellent speeds.
Subscription plans vary according to users' budgets. Anyone can find a plan that suits their needs. If BulletVPN wasn't what they're looking for, they can ask for their money back within 30 days of purchase.
But before they get to that, new customers using Android or those who contact BulletVPN support can benefit from a premium 1-day free trial.
Pros
150+ servers in 55+ countries.
Allows torrenting
Access to American Netflix.
VPN Kill Switch.
256-bit AES encryption.
Six concurrent connections.
30-day money-back guarantee.
User-friendly apps.
Smart DNS.
Bullet Shield
1-day free trial
3. Surfshark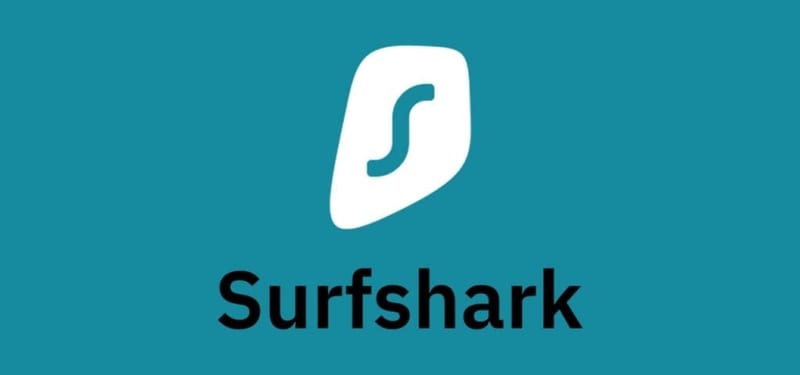 Sweden is a beautiful country with lots of channels to access. If you're an ex-pat living abroad, SurfShark is one of the best ways you can watch your local channels with.
In fact, the provider has servers across 65 countries, including Sweden. In other words, whether you're an ex-pat or a resident, unblocking international or local services won't be a problem.
The provider is based in the British Virgin Islands – that's important for your privacy as no data retention laws apply in that region. Surfshark is not obligated to hand over your data.
Even if it was requested to, nothing would be obtainable since Surfshark doesn't keep any logs. It doesn't stop here. Surfshark has top security features that'll ensure seamless browsings such as military-grade encryption, a kill switch, CleanWeb, and Double VPN.
When it comes to streaming, Surfshark also offers Smart DNS. You can configure on devices that don't natively include VPN clients such as Apple TV, Samsung Smart TV, as well as gaming consoles.
Everything mentioned above is included in Surfshark's 30-day refund period. You can try the service out and ask for your money back if it didn't live up to your expectations.
Pros
Supports torrenting.
Unblocks American Netflix.
Automatic Kill Switch.
256-bit AES encryption.
Unlimited concurrent connections.
30-day money-back guarantee.
Smart DNS.
Adblocker.
Double VPN.
4. Unlocator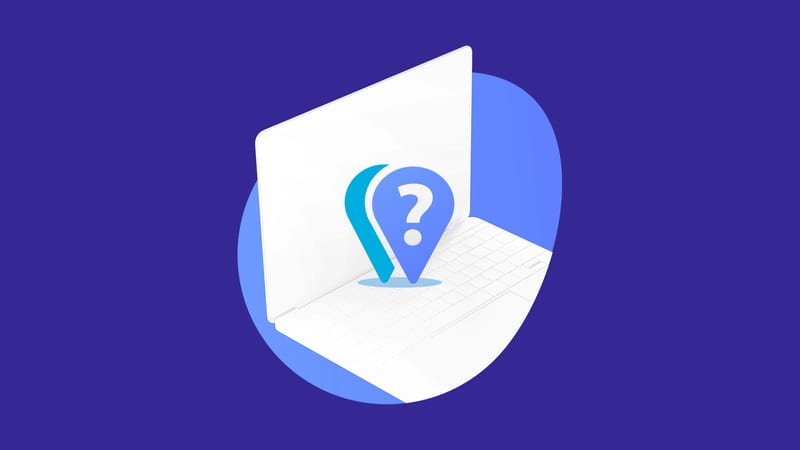 Unlocator VPN is a newly established provider that saw the light back in 2019. However, before that, Unlocator made a name for itself as one of the biggest Smart DNS services in the world.
The provider is based in Denmark, a sister country to Sweden in terms of its membership in the 14-Eyes Alliance. This raises some questions about Unlocator's credibility when it comes to privacy, but its strict no-logs policy helps answer a lot.
Unlocator doesn't collect user information, store them, or share them with any online entity. In other words, Unlocator customers are safe and private while browsing the web.
The service doesn't cover much ground as it only has servers in 39 countries. We did find that the available locations are key points in which most VPN users are interested in.
With 256-bit AES technology, top security protocols, a kill switch, and Unlocator Shield, the service ensures that no data is compromised, users are always safe, and that everyone can browse anonymously with a push of a button.
As for speed, well, this wasn't that satisfying. We came across several servers that slowed our connection down drastically. Even our videos altered to low quality. That was while using some servers as others showed decent speeds.
Unlocator isn't expensive at all and comes with a 30-day refund policy. But before we get to that, new customers can benefit from a 7-day free trial (No credit cards required).
Pros
P2P Friendly
Access to American Netflix.
VPN Kill Switch.
256-bit AES encryption.
Five concurrent connections.
30-day money-back guarantee.
User-friendly apps.
Smart DNS.
Unlocator Shield
7-day free trial
Cons
Doesn't have browser extensions
No split tunneling.
Small server network.
Inconsistent speeds.
5. NordVPN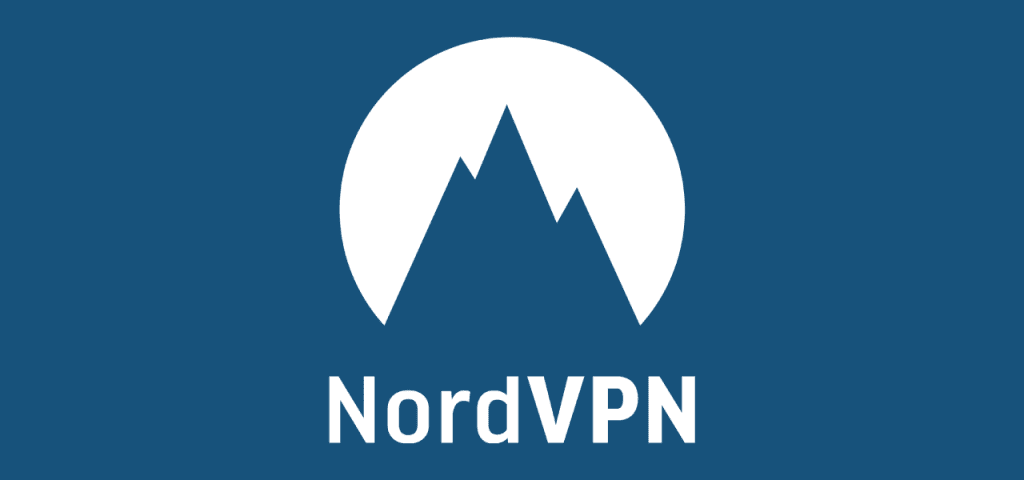 NordVPN's security and privacy features are what make it one of the best VPNs for Sweden. The Panama-based provider has one of the biggest server networks in the industry, hosting thousands of servers across 59 countries.
The service applies military-grade encryption – AES with 256-bit keys, which is recommended by the NSA for securing classified data. On top of that, NordVPN has a VPN kill switch, along with other exclusive technologies.
First, we have Double VPN – an option that allows users to connect to two servers instead of one. This encrypts the data not once, but twice, offering top security to whoever is browsing the web with NordVPN.
Another feature is CyberSec. This one helps shield NordVPN customers from any incoming virus, malware, or malicious software that might be targetting their device.
Speed was a bit of mixed bag as some servers were slow, while others maintained a decent connection. The worst results came when we used Double VPN as the double encryption did affect speed and caused a huge drop.
NordVPN isn't as expensive as other VPNs in the industry. In fact, based on the features customers get, it's quite reasonable. Not to mention that it also has a 30-day refund policy.
Pros
Servers in 59 countries.
P2P support
Access to Netflix, Hulu, and Amazon Prime
VPN Kill Switch.
256-bit AES encryption.
Six devices per account.
30-day money-back guarantee.
User-friendly interface.
Smart DNS (Smart Play).
CyberSec
Double VPN
Browser extensions
Cons
Some slow servers.
No free trial.
The Best VPN for Sweden – Final Words
In light of political implications, the Swedish government took a different approach to the worldwide web. But one cannot be too sure about the amount of freedom given to online users.
This is why we recommend using a VPN because that way your data will neither be filtered nor collected by Swedish authorities. Let us know which VPN you have chosen to secure your internet connection in Sweden.
Best VPN for Sweden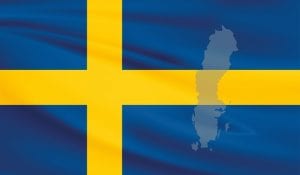 Name: ExpressVPN
Description: Regardless of whether you're a Swedish citizen or expat, using a VPN like ExpressVPN is a must in order to stay protected online at all times.
VPN Apps

Unblock Geo-Restricted Content

Speed

Support

Refund Policy