I've been using Telegram for a long time now, but when I landed in the UAE, I realized that no messages were sent through. I couldn't even access the app; I was denied access to all of its features. All I could care about at the moment was how to reactivate it. Luckily, I came across a VPN, which can make Telegram accessible again in countries where apparently it is not allowed. The ultimate problem was trying to decide on a VPN! I finally figured it out and to spare you the confusion, I'm going to share with you which VPN is the best for Telegram.
VPN and Telegram – A Great Combo
We all have the Middle East to thank for making the Telegram messaging app one of the most popular messaging apps in the world, all within a short span of 4 years. Founded by two Russian brothers back in 2013, the app now competes for users with the likes of Whatsapp, Skype, and Viber. It continues to attract a large mass of new users at an ever-increasing rate. This widespread use of the service has been viewed as a threat by various governments across the world, and they have resulted to banning the use of the service without much being considered.
Here Are the Steps
If you rely on Telegram for most of your chats, and you happen to have traveled to a country where the use of the app is prohibited, it might be a good idea to turn to a VPN service if you want to continue your use. A credible provider will allow you to bypass all the restrictions set up by the ISPs in a particular country, and access the service without anyone being able to track you or your connection down.
Simply put, a VPN is a cybersecurity tool that connects your device to one of its servers in a different location over the internet. This connection results in you getting a different IP address, complete anonymity, utmost privacy, and the ability to browse the internet freely. If the server you connect to is in a different country, connecting to it will make you appear to be in that country as well. Consequently, you get to access that country's content without any restrictions.
The whole VPN sign-up process is as easy as A, B, C. It takes a valid VPN subscription and a few minutes to make the connection happen, and we're going to lay it on you right now:
Get yourselves a reputable VPN like ExpressVPN. Benefit from all its offers and 30-day money back refund policy.
Click on the link that allows you to download the VPN application. Install it on your device.
Now, launch the VPN application.
Sign in using your VPN account.
Scan the network of servers and connect to a server where Telegram is allowed.
Obtain that location's IP address and appear to be connecting from there.
Access Telegram as you please in any place all over the world.
Before we explicitly explain each VPN and its features, you can check out this brief overview of the best VPNs on the market in this table.
The 5 Best Telegram VPNs
The list of 5 VPN providers we put together below should do a lot to help keep all your Telegram messages securely encrypted. We know how difficult it can be to choose the perfect VPN provider especially in a market where most of them aren't really honest in what they can or can't do for you. Find below the best VPNs for use with Telegram in this list.
1. ExpressVPN – The Best VPN for Telegram
ExpressVPN is right at the top of our list for many reasons. First, the company had designed the easiest software with the slickest interface. While users are navigating through the app, they can make use of ExpressVPN's excellent 24/7 support team for any questions they may have. The level of security this company has to offer is unbelievable as it only employs the toughest protocols.
ExpressVPN operates thousands of servers spread in over 93 countries. This means you'll have no problem connecting to any server you want in any location.
If you were ever to experience an issue while connecting to the internet to use Telegram, you can send the support team an email, ask for a help ticket, or chat with them live. In exchange for stealth security aspects, a wide server network, and top-notch services,$12.95 is nothing but cheap.
At least, consider making use of their 30-day money-back guarantee period. Then you get to see whether or not you want to go on with the subscription. 
2. BulletVPN
BulletVPN is a VPN provider that goes forward to include a free Smart DNS for any of its interested customers. While their Smart DNS service cannot really compare to the level of security offered by VPN, it still helps to cater to the section of the market that just needs to do a few things with their identity hidden.
Users who turn to BulletVPN for their security needs will be able to pay for their service anonymously through Bitcoins and conduct P2P file transfers without any need for worry.
The variety of features offered by the service is also impressive, with useful tools like automatic kill switch and Bullet Shield included with the service. BulletVPN is headquartered in Estonia, a region far away from the Five Eyes' reach. Not that it matters though as BulletVPn does not keep logs of its customers' use.
3. NordVPN
NordVPN designers have worked really hard to create apps that users would find easy and enjoyable to use. It's safe to say that the company has successfully achieved its goal, along with many others like security. The company offers a double VPN feature because one is simply not enough.
That's how secure this VPN is. Speaking of security, the fact that NordVPN is based in Panama makes it even more secure. Its location prevents it from being subject to retention laws, meaning it is not obliged to submit any logs to anyone- if kept. But, it most likely doesn't, considering its zero-logging policy. 
Also, the service allows you to connect up to six simultaneous connections. You can share the VPN connection with six different devices. This provider's features are more than secure. You can rest assured that the level of security is going to make it hard for third parties to track you. 
Best VPN for  Telegram Review – Verdict
Before you go subscribing to any of the providers we've listed above, it might be better to try out their free or money back guarantee versions just to see how well you like them. Have any questions or comment you'd like to pass across? Leave them in the comment section, and we'll contact you as soon as possible. 
ExpressVPN Review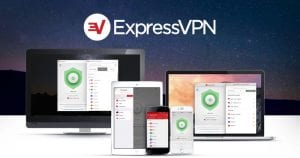 Name: ExpressVPN
Description: ExpressVPN is a VPN service that allows you to browse the web anonymously and unblock geo-restricted sites.
Price: 12.95
Currency: $
Operating System: Windows, OSX, Android, iOS
Application Category: Multimedia
Refund Policy

Speed

Support

VPN Apps