Previously, Panasonic wasn't considered a top-tier Smart TV producer. Their 2018 lineup, however, shook the TV world by storm. Panasonic has been slowly increasing the color accuracy of its TVs. This culminated in the 2018 FZ952 Smart TV; a TV that brings the full Hollywood experience to your living room. This is the exact TV used by Hollywood to finalize the quality of their movie's images, so you can bet it creates viewing experience like no other. The truth is, all of Panasonic's 2018 line-ups now go above an beyond to provide quality viewing for all budgets. The only thing that can make them better is a VPN. A VPN will let you unblock restricted content and apps that aren't available in your country. Read on to find out which VPN works best with your Panasonic Smart TV. 
Best Panasonic Smart TV VPNs – Overview
Readers that know what a VPN does and how to install a VPN onto a Smart TV like Panasonic's Viera don't really need to read the rest of this blog. Here are the top VPNs you should use on your Panasonic Smart TV:
Best VPNs for Panasonic Smart TV
What is a Smart TV? It's a TV that can connect to the internet and act as an all-encompassing multi-media streaming platform. With a Smart TV, you can access different channels, streaming apps, and content from the comfort of your living room.
The problem is that the internet isn't exactly the safest thing in the world, and Smart TVs are as susceptible to third-party surveillance and data theft as much as any device. To top it off, Smart TVs give access to a different range of apps, channels, and content based on their geographical location. To protect yourself from possible threats and increase your viewing choices, you need to get a VPN.
A VPN will:
Encrypt your data and protect you from cyber-attacks and data theft.
Re-route your traffic through a secure connection, blocking anyone from seeing your online activities.
Spoof your IP and give you a new IP address that matches the server you connected to.
Spoofing your IP will allow you to access content and apps that are only available in specific countries. Depending on the resources and capabilities of the VPN you subscribe to, you can unblock sites like US Netflix (not all VPNs can do this), BBC, Hulu, and Amazon Prime without having to relocate. That's a great feature to have in a Smart TV.
Here are the top 3 VPNs for Panasonic Smart TVs
ExpressVPN
The first pick is the best VPN service provider currently on the market. ExpressVPN may be a little pricey, but it more than makes up for it with the quality of the service you'd be getting. With ExpressVPN, you can benefit from:
2000+ servers in over 94 countries.
256-bit AES encryptions.
DNS/IPv6 leak protection
Split Tunneling
A strict Zero-log policy.
A Killswitch to protect your traffic and data even if your connection breaks.
A Smart DNS feature
The ability to unblock US Netflix
5-star 24/7 live chat support
A 30-day "No Questions Asked" money-back guarantee.
Read the full ExpressVPN review here.
BulletVPN
The second pick is known for its blazing internet speeds. BulletVPN isn't as pricey as ExpressVPN but is still one of the best top-tier VPN providers you can subscribe to. With BulletVPN, you'll get:
150+ servers in 55+ countries spread all over the world.
military-grade encryptions and the latest VPN protocols.
Servers optimized for speed and P2P sharing.
A free Smart DNS feature.
A zero-log policy.
A Killswitch.
Unblock American Netflix
24/7 live chat support
A 30-day refund policy, no questions asked.
Read the full BulletVPN review here.
NordVPN
The third option for Panasonic Smart TVs is NordVPN. This is a features-heavy VPN provider that delivers an exceptional service to its users. With NordVPN, you'll benefit from:
4000+ servers in 59+ countries.
A zero-log policy.
Double VPN
2048-bit SSL encryptions.
Servers optimized for speed.
A free Smart DNS feature.
A Killswitch.
24/7 live chat support.
A 30-day refund policy.
Read the full NordVPN review here.
How to Install a VPN on your Panasonic Smart TV
Smart TVs, Panasonic included, don't support native VPN apps. That means that you'll have to configure the VPN onto the Smart TV for it to work. The process isn't as technical as it sounds, though, as there are 3 different methods you can use to get a VPN working on your Panasonic Smart TV:
Share your PC or Mac network connection with your Smart TV: You don't really have to configure your VPN onto anything with this options. All top-tier VPN providers have native apps for PCs and Macs, which means that all you have to do is download the VPN app on your computer and hotspot the connection onto your Smart TV. This way, your Panasonic Smart TV. You can read this guide on sharing your connection via Windows to give you a better idea on how to use this method.
Install a VPN onto your router: Installing a VPN onto your router will automatically protect all of the devices that hook up to your internet. This method will only work if you have a VPN compatible router, which means you need a router that runs on DD-WRT or Tomato. You can read this guide on how to flash your router with DD-WRT and this guide on how to install your VPN onto the flashed router for step-by-step instructions on how to utilize this method.
Use a Smart DNS Proxy: A Smart DNS proxy doesn't offer the same protection as a VPN but does unblock a wide range of channels for you without having to server-switch. ExpressVPN, BulletVPN, and NordVPN all have a free Smart DNS feature you can use. You can also opt to subscribe to a Smart DNS proxy like Unlocator if you don't really want a VPN's online protection.
Best VPN for Panasonic Smart TV – Final Thoughts
With more and more people embracing the cord-cutting lifestyle, Smart TVs are getting increasingly popular. Panasonic Smart TVs use the user-friendly Smart Viera platform for a straightforward TV experience. If you add a VPN into the mix, you can take your Panasonic Smart TV to higher levels of security, privacy, and quality entertainment.
ExpressVPN Review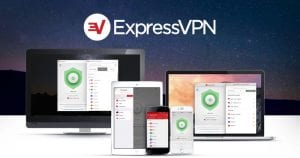 Name: ExpressVPN
Description: ExpressVPN is a VPN service that allows you to browse the web anonymously and unblock geo-restricted sites.
Price: 12.95
Currency: $
Operating System: Windows, OSX, Android, iOS
Application Category: Multimedia
Refund Policy

Speed

Support

VPN Apps