How to Bypass The Great Firewall of China
|
Chinese citizens, as well as foreign expats living in Mainland China, are not allowed to visit websites such as Google, Facebook, Twitter, and many others. This form of Internet censorship is implemented by using the Great Firewall of China. To get around these blocks, many have begun using virtual private networks, commonly known as VPN. However, VPNs are banned in China as of 2017. They also issued a warning earlier to their citizens that all VPN services will be blocked by April 2018. Luckily, there are plenty of VPNs that still allow users to bypass the Great Firewall of China. These include some of the most powerful and robust VPN services which have been on the market for more than 5 years and have made significant efforts avoid the Chinese government's VPN block. All these VPN providers offer unlimited bandwidth and their servers span across various countries around the world.
Best VPNs That Still Bypass The Great Firewall of China
Finding a VPN that still actually works in China has become quite difficult. We have tested many VPN service providers and lots of them no longer function in Mainland China. In the review below, we have listed the best VPNs that still enable you to avoid the Great Firewall of China.
Last Updated Today


30-Day Money-back Guarantee
Unlimited Bandwidth
Apps For All Your Devices
24/7 Live Support
Visit ExpressVPN
ExpressVPN
ExpressVPN are the preferred VPN for Chinese users in 2018. The user-friendly design of ExpressVPN mobile and desktop apps has attracted the Chinese audience and the ExpressVPN website is also very easy to use. For beginners and non-technical users, ExpressVPN is considered the ideal choice because of these reasons:

The ExpressVPN app is simple to set up.

ExpressVPN have VPN servers spread across the globe.

They also provide a 30-day money-back guarantee to their users.

ExpressVPN still works in Mainland China.
NordVPN
NordVPN have remained a dominant player in the VPN market of China for several years. They are using certain aggressive techniques to tackle the VPN blocking restrictions imposed by the Chinese government. The reasons why people prefer NordVPN over other VPN service providers are as follows:
They have well-designed software with intuitive GUI for both Mobile platforms and Desktops.

They permit users to run 6 simultaneous connections using a single VPN account which is not offered by other competitors. (Most VPN service providers allow only 3-5 connections at a time)

They also provide a thirty-day money-back guarantee.
VyprVPN
VyprVPN offer more transparent VPN services when compared to other providers. Their product uses "Chameleon" protocol which is their propriety concept for enhanced security. This technology is the ultimate encryption protocol since it's regarded as one of the few to have ever been able to break through China's unbreakable firewall. It uses unmodified OpenVPN of 256-bit encryption and prevents DPI, VPN blocking and throttling by scrambling metadata. Other things which you may admire about VyprVPN include:
They offer more transparent and reliable services with user-friendly software.

You can install the VyprVPN app on your PC, Mac, Android, or iOS device,
You can test VyprVPN for free thanks to a 3-day trial.
They have been in the VPN industry since 2009 and GoldenFrog, which is their parent company, has been offering various online services for more than ten years. The company is focusing strongly on the Chinese market and have adapted to various regulations proposed by the Chinese government.
PureVPN
With more than 1 million users across the world, PureVPN are yet another famous VPN provider among Chinese citizens. They have a rapidly growing user base in China and they have updated their software design to make it more efficient and user-friendly. They offer excellent download speeds and are preferred by users who like to watch streaming videos online.
They also provide a tool for selecting a VPN server depending on your preferences. By giving specific instructions to the software regarding what kind of service you expect like streaming US or UK content, downloading videos, or accessing banned websites, it suggests a VPN server which is the most appropriate for your requirement.
PureVPN offer a cost-effective product and their prices are cheaper when compared with other competitors. This mainly is why they are preferred by customers looking for affordable VPN services.
BulletVPN
BulletVPN is a simple and reliable VPN service provider which works flawlessly in China. BulletVPN has dedicated apps available for Android, Mac, Windows PC, Amazon Fire TV Stick and iOS platforms.
They also provide SmartDNS services along with their VPN product. You can use their DNS service for unblocking streaming services like Netflix and Hulu at high speeds without the need to connect to VPN server.
Which VPNs Should You Avoid in China?
You should understand that Chinese government makes constant changes regarding the rules and regulations which block their people from using any VPN service within China. You should carefully choose a VPN provider who can swiftly adapt to these sudden changes.
Choosing free VPN services or small providers can be a reason you run into trouble. They will not have enough resources to modify their software for bypassing the Internet sensors of the Great Firewall of China. You may have a tough time trying to connect to their VPN servers from inside China as a result.
You should also inquire about the customer support they offer and whether they demand a phone number for the purpose of authentication. This can be risky as the government can track the relationship between you and the VPN provider. You should carefully evaluate all the benefits and drawbacks of each VPN service before making your choice.
ExpressVPN Review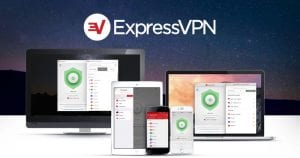 Name: ExpressVPN
Description: ExpressVPN is a VPN service that allows you to browse the web anonymously and unblock geo-restricted sites.
Price: 12.95
Currency: $
Operating System: Windows, OSX, Android, iOS
Application Category: Multimedia
Refund Policy

Speed

Support

VPN Apps