Are you a proud owner of a Tenda router? Well, did you know that there's a way to boost your router's functionalities? All you have to do is install a VPN on your router, and you'll be able to turn your Tenda router into a security-centered tool. This will protect all of your devices' security and privacy, as well as give you the ability to access geo-blocked content on any streaming device. Read on to find out how to install a VPN on a Tenda router, step-by-step.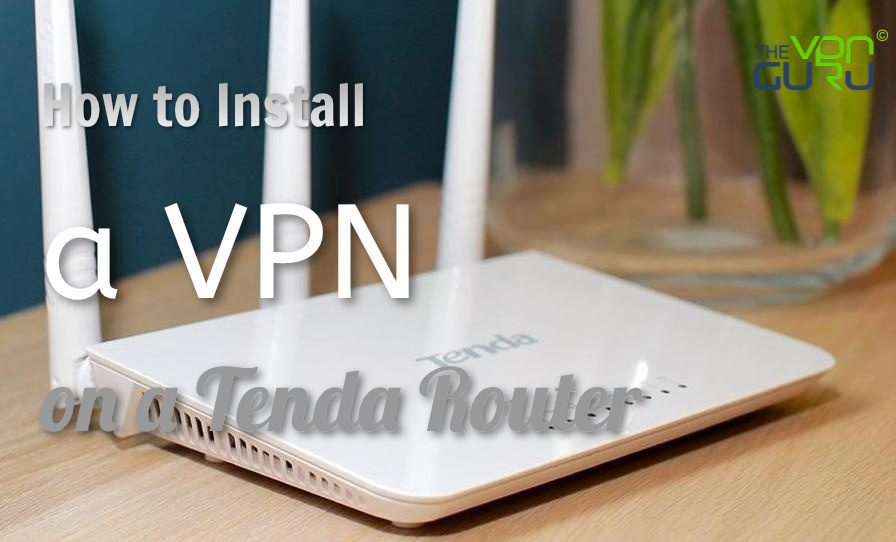 Why Setup a VPN on a Tenda Router
Why set up a VPN on a Tenda Router? The answer is very simple, but first, let me explain what a VPN does.
Short for Virtual Private Network, a VPN has 2 basic functionalities:
Encrypting your data.
Re-routing your traffic through its own secure servers.
In other words, VPNs protect you from data theft and make sure that your traffic is tunneled in a way that makes it incredibly difficult (and unrealistic) for anyone to monitor your traffic. To add to all of that, re-routing your traffic automatically changes your public IP address. By selecting specific servers, you can control which IP address you're showing and access geo-blocked sites at ease.
Now, how will this benefit your router?
Imagine these functionalities…but in hyperdrive.
When you install a VPN on a router, you're basically expanding on that VPN's functions and making sure it covers all of the devices connected to the router. In other words, you'll be able to secure all of the phones, laptops, and IoT devices you have. You'll also be able to use the VPN's ability to access geo-blocked content on all streaming devices. This includes devices that don't have native VPN apps, like Smart TVs and gaming consoles.
Best VPN for Tenda Router
Our experts suggest using ExpressVPN on your Tenda router. It also offers 2000+ servers in 94+ countries, a 5-star customer support team, and a 30-day refund, no questions asked. In other words, you can test out this service for a whole month before you decide if you want to make a commitment to it or not. Personally, I'll be using ExpressVPN to illustrate the process of this installation.
In case ExpressVPN doesn't end up tickling your fancy, feel free to use any of these top-tier providers instead:
How to Install a VPN on a Tenda Router – Step-by-Step Guide
As I mentioned above, I'll be using ExpressVPN to show you how you can set up a VPN on a Tenda router. I'll also be using the Tenda AC1900 Model AC18 as the test device. This guide should still work on other Tenda models using other top-tier providers.
Here's how to install a VPN on a Tenda router:
Download VPN Configuration Files
 Sign in to your VPN account
Click on Set Up on More Devices
Click on Manual Config. Select PPTP & L2TP-IPSec. This will show you your manual configuration Username and Password. You'll also find a list of server addresses around the world. Pick a server and save this information for use later. 
Configure Tenda Router
Access the Tenda router's control panel. You can do this either by typing 192.168.0.1 into your address bar.
On the dashboard, click on VPN
Select the PPTP/L2TP Client option.
Fill in the details as I've written them down below:

PPTP/L2TP Client: Toggle this box on.
Client Type: L2TP
Server IP Address/Domain Name: The name of the server you selected from above.
User Name: The username you found above.
Password: The password you found above.

Click on Connect. Hit Save.
To disconnect from the server, toggle off the PPTP/L2TP Client and click Save.
Install a VPN on a Tenda Router – Final Thoughts
Congrats! If you've followed this guide, you've managed to set up your VPN on your Tenda router! Pat yourself on the back and go get a cookie, you deserve it.
Now, if you want to give your router an even bigger kick, look into the DD-WRT and Tomato firmware flash guides we have. This kind of firmware will supercharge your router and give it the configurability you need to take full control of your connection.