Youtube is by far the biggest streaming service in the world. However, the advertisement on the platform is getting more and more frustrating by the day. Not to mention the limitations when you play a video such as the lack of background streaming. Sure you can go Premium, but is there a free alternative? Enter NewPipe.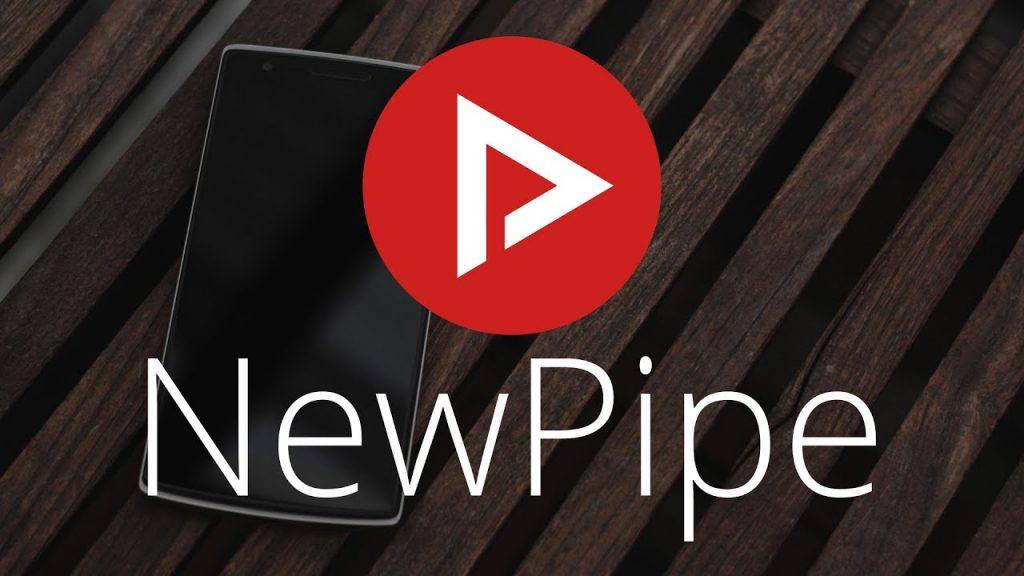 A Premium Youtube subscription will require you to shell out a few bucks every month. But with Newpipe, you can get the full experience minus the ads and all the restrictions you come across with Youtube.
The open-source Android application gives users a free ticket to unlimited binge-viewing. But we have to ask: What is NewPipe? How does it operate? And more importantly, is it safe to use? Here's everything you need to know.
NewPipe – The Ultimate Alternative to the Alternative
As we mentioned, Youtube is probably the biggest streaming platform in the world. Back in 2012, the channel had around 0.8 billion users. Fast forward to 2021, Youtube's user growth was tremendous reaching 2+ billion users.
Now, despite the huge user base, a lot of these individuals hate the fact that their video gets interrupted every now and then. It started off with long videos, but now, even short ones take a few breaks to show advertisements.
This drove everyone to find an alternative that operates the same way minus the ads and the restrictions. Well, they did in the form of Youtube Vanced.
Unfortunately, the platform that showed us the joy of ad-free video/music streaming didn't last for long. After facing a legal threat from Google, the popular Vanced YouTube app was discontinued.
This shook every single Vanced user as it deprived them of the perfect Youtube alternative. However, it also left the market wide open for a competitor, and NewPipe instantly stepped in. In other words, an alternative for the alternative.
But First! Is NewPipe Safe to Use?
Before we head over to the part where we reviewed every single aspect of NewPipe, we have to talk about how safe it is. Since it's Open-Source, anyone can modify and share it because its design is publicly accessible.
In other words, even cybercriminals can take advantage of it. Third-party applications don't really have a good reputation when it comes to online security.
Many people have doubts about using such apps that are not available to download from the Google Playstore. After all, it can be malware masquerading as a useful tool to deceive users.
Well, that doesn't reflect what NewPipe is about. Unlike other open-source applications, NewPipe is hosted on Github, which means that thousands of developers have examined its codebase and verified its legitimacy.
Not only that, but they also work on updating and maintaining the app's sustainability, and performance, among other stuff.
In fact, NewPipe protects your data. While it's not on Google Play (Not for security reasons, but since it competes with Google's platform), the application performs so much better than Youtube in the security/privacy department. It safeguards your data as it does not sell your information to advertisers.
Speaking of not available on Play Store – don't fall for this look-alike. It's not NewPipe and it bombards your device with multiple ads, ruining your streaming experience in the process: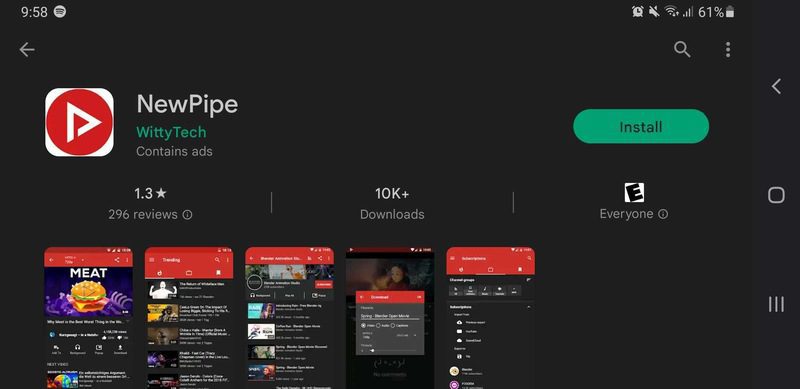 While a lot of users may be convinced that this is the real thing, it's definitely not. Part of this is NewPipe's fault as on April Fool's, it released a statement that they reached an agreement with Google.
But in the end, it's all a joke on the team's behalf and no such deal was made. Read the reviews, they're not good at all. It says "Contains Ads" in the title – that should be the first indication of a look-alike application.
NewPipe Dissected – Inside the Application
Now that we know that NewPipe is completely safe to use, let us show you what the application is all about.
NewPipe is the new Youtube alternative that interfaces with the platform's API to play videos without having to show ads.
To download the application, we had to visit the group's official website. The download link is presented directly on the home page based on the Android OS you're operating.
Once downloaded, no sign-in was required. We can't sign in even if we wanted to. The application kicks off with the "Trending" section – no recommendations (None will be available because we're not signed in). Here's what the application looks like:
As seen above, on the top right of the screen, the three lines allow you to access the app's features. You can change from Youtube to other platforms, including SoundCloud, FramaTube, and Bandcamp. This support is still in beta, so these features may not always work properly.
But how does NewPipe do it? Well, first thing first, NewPipe does not use the official YouTube API. Instead, it just scrapes the website for video and meta-data in an attempt to decrease the amount of data shared with Google.
Overall, NewPipe is the new Ad-free Youtube Alternative and we've rounded up everything thing (The Good and the Bad) in the following section:
Pros
Lightweight (Low storage space)
Quick start performance
Support of other players
Video download support

Picture in Picture support

Completely ad-free
Live-streaming available
Cons
Can't use an account
No history, no recommendation
NewPipe: A Lightweight YouTube Android App
Advertisements can be very frustrating for streamers. Not to mention intrusive. However, with applications such as NewPipe, not only do users get the best ad-free streaming experience, but they also don't have to worry about their data being sold to third parties.
We get it. Downloading applications from unknown sources can be dangerous and we don't recommend it. However, getting bombarded with advertisements calls for desperate measures.
And hey, even Google Play Store hosted some malicious applications in the past. In other words, there's no perfectly secure app library. We have to cope with what we have. NewPipe is the perfect ad-free Youtube alternative.