NordVPN and Surfshark Merger – A Long Overdue Announcement?
|
A couple of months ago, software provider Kape Technologies acquired the VPN leading giant, ExpressVPN as part of a $936 million deal. Now, since most of the VPN market is now owned by the likes of Kape, Tesonet, and Ziff Davis, other top providers should make their move to keep up.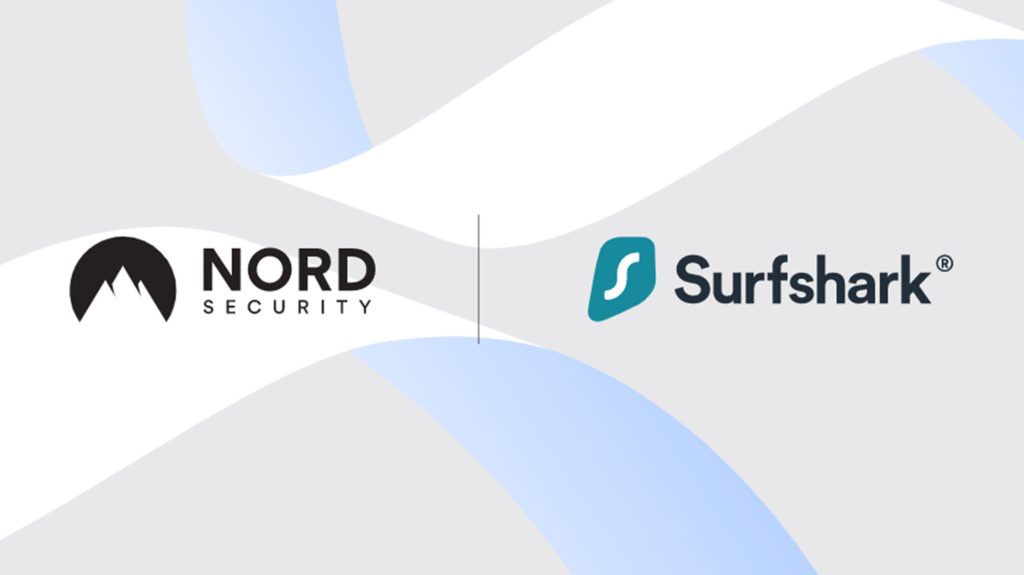 A merger isn't a new practice in the industry, and recently, two of the leading services have announced their collaboration. To some, this might not come as a surprise, but NordVPN and SurfShark have decided to join forces.
With such forces in the VPN world, one would definitely be wondering what upgrades and enhancements these two would offer for customers. So, what's this deal all about? Are both fusing to become a single company? We'll shed more light on the matter below.
NordVPN & SurfShark: Together, yet Apart
We've written separate reviews for both of these VPNs, but this article will include both. They are merging after all.
NordVPN is a strong provider that has servers across 59 countries. SurfShark, on the other hand, has a wide server network in around 65 countries.
Both services have their own customers, and based on what they have to offer, we know that these customers are well satisfied.
So, if both of them are doing just fine, why did this merger suddenly surface? That's a question that can only be answered by one of these VPNs. Luckily, Surfshark founder and Chief Executive Officer Vytautas Kaziukonis explained everything in the following statement:
"Consolidations in the global consumer cybersecurity market indicate the industry's maturity. They also bring new competitive challenges.

Nord Security and Surfshark joining forces will set the ground to scale in different digital security dimensions, which is necessary to meet the growing requirements of our customers."
Most users are concerned if any of the two has acquired the other. We're here to confirm that none of this is true. According to Nord Security:
"This is not an acquisition, Nord Security is not buying Surfshark, this is a merger. However, further details of the transaction are not disclosed."
Simply put, the merger opens technical knowledge-sharing opportunities and gives both companies diversity in what they have to offer.
Did Anything Change?
As we mentioned, this is a merger, which means that Surfshark and Nord Security will continue to operate as autonomous companies. In other words, each one of them will be using its own infrastructure different product development plans.
"Nothing changes concerning our brands, infrastructure, company management, employees, and product development. The idea behind the deal is to align on a tactical level in reaching mutual goals while keeping the autonomy of our operations."
Aside from the aforementioned individual traits, there will also be no changes in how the companies secure their user data, despite having so little of it. The companies' original Terms of Service or Privacy Policy still apply.
As Surfshark further elaborates:
"The increasing complexity of cybersecurity and digital privacy is a growing challenge worldwide. We believe that this industry requires radical simplification and ease of access, both for consumers and businesses.

Together, Nord Security and Surfshark create the largest internet security powerhouse in the market, ready to bring advanced solutions for customers."
Talk about a power couple! Apparently, it's a give and be given deal, which might just actually work. Both of these services have big names in the industry and they're quite reputable on their own.
If what they're stating is true, their customers are in for a treat in terms of enhanced privacy, security, and unblocking capabilities.
Announcement? More Like a Confession!
Some VPN companies are proud to announce that their self-owned. However, other providers like Surfshark, tend to be kind of coy about the matter.
Even NordVPN has been accused of hiding a lot of stuff about its origin. You see, in the business world, a lot of people might get confused when naming a certain product.
For example, regular consumers know Oral-B and Pampers. In reality, they all fall under the "Procter & Gamble" category.
Apparently, NordVPN was accused of being a product of none other than Tesonet. If you don't know it, it's a large company that provides business solutions. That includes recruitment, cybersecurity, performance-based marketing, sales, technical support, machine learning, and business hosting.
Not only that but SurfShark is also rumored to be developed under the same Lithuanian business incubator Tesonet, alongside NordVPN.
According to Surfshark:
"Tesonet is an IT business accelerator/incubator in Lithuania that fosters a number of prominent companies, such as Hostinger, Nord Security, Zyro, and others. Surfshark kicked off with the help of the incubator, especially in terms of office space, hiring, and advice.

Today, Surfshark is a completely separate company but we remain close friends with people from other Tesonet companies, have occasional events, and share knowledge about the labour market situation."
Reports state that Tesonet only helped Surfshark in the first couple of years of operations. Not to mention that both companies initially denied any connections before the merger was announced.
We still don't know what this is about, but the merger raises so many questions. Are NordVPN and Surfshark really under the Tesonet umbrella? Is this a confession? Or have they just decided they want to control the conversation?
Surfshark Merges with NordVPN – Promising Fusion Sparks Confusion
NordVPN has been operating since 2012, and SurfShark saw the light back in 2017. In just a few years, these two rose to the top of the food chain in the VPN industry.
A merger like this one can change a lot when it comes to security. However, as good as it may seem, it also raises a lot of questions.
Following previous reports, customers can be concerned. If Tesonet does really own the companies, how truthful were they about protecting their users' data? Let's hope we can get more answers when SurfShark and NordVPN seal the deal.