When people ditch cable TV for streaming services, they do so with the hope of having more freedom and flexibility. Streaming services do offer a lot of flexibility. You get to choose your plan, the channels you want to watch, how long you want to keep the service, and on which device you want to watch. These features are unimaginable on cable or satellite TV. You have to pay a hefty price every month and watch what they show you. With streaming services, you get to experience a different dimension of TV viewing. Due to regional restrictions, you won't be able to watch your favorite movies and TV shows on these premium services while you are spending time abroad. To bypass geoblocks, you have to use a VPN. How does a VPN help you stream TV while overseas? What is the best VPN to use while on vacation? We will attempt to answer all these inquiries in the guide below.
Best VPN for Streaming TV while on Vacation – Quick Summary
The best VPN services you can use while on vacation are as follows:
Disappointing Limitations
However, streaming services aren't flawless. They have their own limitations and drawbacks. One of the biggest downsides of streaming services is experienced when subscribers go on vacation and are away from home. Because this service is available on mobile devices, you expect it to carry with you to any part of the world, right? Well, turns out, you cannot.
If you paid for six months subscription but are away from home for a month, you may not be able to access the service on your international trip and your money will be wasted.
Most of the streaming subscriptions don't work outside your home country. If you didn't know this year until now, just try watching CBS, Netflix, or Hulu while you're in a different country and you will be very disappointed. You will pay, but you won't get to watch what you want.
Geoblocking
This is because of geo-blocking – yes, the menace that won't let you watch Mad Men or Hunger Games in the UK. Geo-blocking has become quite infamous around the world among streaming lovers. What you watch in the US remains in the US. Though you may not want to watch Jurassic World and Planet of the Apes III anywhere else or anywhere at all for that matter!
When you go to Europe on vacation, you don't get to use your service because your location is not the US, even if you have an American subscription. Geoblocking came about back in the day when corporations and production houses needed to control release dates around the world.
Not much has changed
Even today, when you play some of the old DVDs, you must choose your region to be able to play the content. If you aren't in the geographic areas where the DVD is licensed to work, you won't be able to play it. With streaming, you thought those pains are gone, but they seem to still be the norm.
Streaming services claim that they care about customer convenience, but actually, they don't. They only care about making profits from every corner of the world. They think anyone watching one region's content in another nation is commuting piracy – even if you are a legitimate customer.
Different streaming services have different rules and restrictions regarding viewing their content while on vacation.
Some of them allow you to download certain shows but not the ones you get in your home country. If you're vacationing in the US, you won't be able to see the content you get in your home country, and vice versa. So if you leave for Paris for a summer vacation, your prime subscription will sit at home doing nothing. It could be getting a suntan and relaxing but that does not make someone who is paying for it very happy.
Services like Amazon Video, Hulu, CBS, and HBO Go (The Wire was amazing!) are only available in the US, Alaska, and Hawaii. You are able to watch Netflix in other countries but have to settle for shows available in your geographic region.
No one likes their subscription to go to waste. Therefore, there exists a wonderful way to use American streaming services while on vacation. All you have to do is use a VPN.
A Virtual Private Network has become very popular recently, with all the Internet security threats around. A VPN is basically used for privacy and anonymous Internet activities but it can also be used to bypass geo-blocks and access your streaming service anywhere in the world.
How to Use VPN for Streaming While On Vacation?
In order to watch your favorite TV channels and shows from back home while spending quality time overseas, you have to spoof your online location. To do so, you basically need to change your IP address. Here's how you can achieve that using a VPN.
First of all, sign up with a VPN provider. We have summed up the best VPN service providers below.
Once you have created your VPN account, it's time to download and install the VPN app. VPN applications can be set up on PC, Mac, Android, iPhone, iPad, and FireStick.
Next, launch the VPN app and sign in using your VPN account.
From within the app, connect to a VPN server in the same region as the channel or website you wish to unblock. For example, if you want to unblock American Netflix or HBO Go outside USA, connect to an American VPN server.
That is all it takes to bypass regional restrictions and stream any content you want anywhere you want.
Best VPN to Use on Vacation?
In terms of top VPNs you can use while abroad, there are a lot of choices. Premium VPN service providers offers users a 30-day money-back guarantee. It is always best to set up your VPN account and app before you leave your homeland. Here are the best VPNs you can use while on vacation.
A VPN is the Answer
You simply have to choose a US server when you're traveling to watch shows available in the US. For instance, if you are in Paris, and you want to watch House on Netflix, you cannot do so, because your location isn't in the US. When you connect with a US server, you easily get to spoof your location and watch your favorite shows.
Keep in mind that streaming services are very smart, and they can easily find out if you are connecting through a VPN. Therefore, only a few VPNs will work. Mostly the reputed, paid services are usually the ones with the maximum number of IP addresses. Free VPNs keep getting blocked. There are VPNs available solely for unblocking purposes, so check them out before purchasing a service.
ExpressVPN Review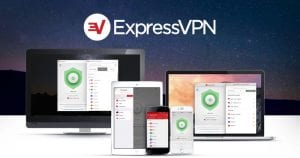 Name: ExpressVPN
Description: ExpressVPN is a VPN service that allows you to browse the web anonymously and unblock geo-restricted sites.
Price: 12.95
Currency: $
Operating System: Windows, OSX, Android, iOS
Application Category: Multimedia
Refund Policy

Speed

Support

VPN Apps