Best VPN for Split Tunneling
|
If you spend a considerable time on the Internet, there's a high chance you might have heard about VPN. Short for Virtual Private Network, this simple tool allows you to hide your traffic from anyone who might be interested in whatever you're up to online, and also ensures you remain anonymous as you carry about your activities. There are many advantages to this since you'll be able to hide information relayed through your IP address such as your actual location. This allows you to visit geo-restricted sites, and work around their location-sensitive restrictions.
The advantages of using a VPN are quite widespread, and the fact that they encrypt your data may help keep away hackers and spammers, but there's one particular thing that using a VPN will likely affect. This is the speed of your Internet connection. The process of encrypting your data takes up some amount of your bandwidth, meaning you'll have a slightly slower connection once you sign up to your provider of choice. This is, in fact, part of the reason why a lot of providers base their quality of service on how fast your Internet connection will be despite using VPN.
Split Tunneling Explained
While there are users that insist all their data be encrypted through a VPN, there are others that may not necessarily need the service on all their devices. This group of users would be okay with having, for example, their mobile devices connect to the Internet directly instead of through a VPN client. They would still need their main devices to use a VPN for security but would prefer that their phones or tablet access the Internet without any facilitation by a VPN. They're willing to sacrifice a bit of their security for some added speed.
This group of users would greatly benefit from a feature known as split tunneling. Split tunneling is a service that lets you control whether or not to route your device or app traffic through a VPN. Split tunneling also has some advantages that you may find very useful. It allows you to:
Access the devices within your local network while connected to your VPN.

Access both foreign and local websites and services at once.

Download and transmit your data without utilizing all the bandwidth allocated to your connection.
Split tunneling also works very well for a remote working setup, as most businesses rely on it to safeguard the internet traffic of their foreign-based employees, and also to encrypt their connection to the company's network.
Best VPNs for Split Tunneling
If you're thinking about securing your workers' connection to the company network, or increasing the bandwidth within your connection while still remaining secure online, you should probably look for a VPN service that has split tunneling as one of its supported features. Being the resourceful people that we are, we've already done the groundwork for you and identified the best VPNs you could turn to for split tunneling.
1. ExpressVPN
ExpressVPN does support split tunneling, but only offers it for its Windows and Mac OS users. If you don't belong to either side, then they allow you to have it set up on your router. Nonetheless, the feature comes with a variety of options that allow you to apply one of two configurations. You can choose to either protect all connected apps and devices except a few or to only have your chosen devices or apps selected.
Aside from this, the provider is capable of offering excellent service through its network of 2000+ servers, and still allow for both unlimited bandwidth and unlimited server switching.
Security is also well provided through its chosen OpenVPN protocol, and its military grade 256 bit AES encryption. Simultaneous use is supported for only up to 3 devices, and the provider also supports P2P file sharing. Being based in the British Virgin Islands means that the service isn't obligated to log user traffic. As a reward to its loyal customers, ExpressVPN's users are encouraged to refer their colleagues and get a month of free use for them and the new subscriber once they join. In addition, Express VPN users will also get to benefit from its automatic Internet kill switch and its range of stealth servers for accessing sites based in regions where VPN use is outlawed. There's more on all that on our ExpressVPN Review.
2. VyprVPN
While VyprVPN does not really allow you to get under the hood and configure exactly what servers to engage when managing how your data is transmitted, it does have a Per-App feature which lets you tell the VPN to include or exclude certain apps. If you'd like to manage which devices are covered by VPN, and which ones are not, there's that facility on the VyprVPN Router application. This might have you spend more time to get configured, but it all works well nonetheless.
If VyprVPN ends up being your chosen provider, you'll have access to over 700 servers distributed throughout the world. All of them are owned by the service, and this keeps out any vulnerabilities that may be caused by third parties within the network. Privacy online is ensured through its 256 bit AES encryption standard, as well as its famous Chameleon protocol. This exclusive feature scrambles your packet data such that it cannot be intercepted even through deep packet inspection that's normally carried out in countries that restrict VPN use. Another well known VyprVPN feature is their message encryption service, dubbed Cypher. This tool is able to secure messages through end to end encryption for your Android or iOS-based devices. Lastly, VyprVPN also has a well-designed VPN app, that is available in versions that are compatible with Windows, iOS, Android and Linux based devices. To see exactly what this provider can do for you, have a look at our VyprVPN Review.
Device Split Tunneling
As illustrated in the video below, you can use ExpressVPN's device split tunneling feature to decide which devices you wish to connect to the VPN server and which ones you would like to keep connected to the Internet without VPN protection.
Conclusion on The Best VPNs for Split Tunneling
As you can see, split tunneling is an exclusive feature that's not offered by as many providers in the market. Signing up to either ExpressVPN or VyprVPN, however, will allow you to control what gets protected by your VPN service, and what does not. In case you have any questions you'd like to put forward to us, you're welcome to leave them in the comment section below. We'll be sure to respond.
ExpressVPN Review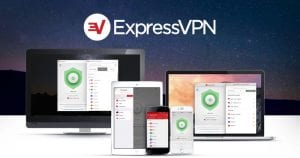 Name: ExpressVPN
Description: ExpressVPN is a VPN service that allows you to browse the web anonymously and unblock geo-restricted sites.
Price: 12.95
Currency: $
Operating System: Windows, OSX, Android, iOS
Application Category: Multimedia
Refund Policy

Speed

Support

VPN Apps