Best MLB.TV VPN 2022 Blackout Bypass Workaround Guide
|
This is the ultimate MLB.TV blackout workaround in 2022. What is the best VPN you can use to bypass MLB blackout restrictions we hear you say? With the 2022 Major League Baseball just around the corner, it is time for MLB streaming to take center stage. Unfortunately, due to the age-old blackout policies, I will not be able to stream your favorite baseball franchise live online, even though I own a premium MLB subscription. These policies are pretty unfair. Luckily, I learned how I can spoof my online location and trick the MLB at Bat app into thinking I am located somewhere else. In the review below, I will introduce you to the VPNs that worked the best when I used them to watch MLB games without blackouts. Take a look at my best MLB.TV VPN review to avoid blackouts on PC, FireStick, Roku, Apple TV, PS4, Xbox One, Chromecast, iPhone, or iPad for the 2022 season.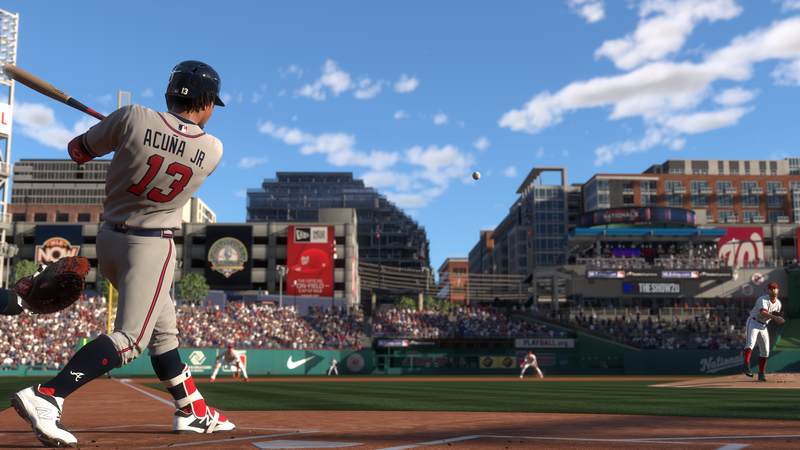 Best MLB.TV VPN 2022 – Content Index
Getting around blackouts can be a daunting task, especially if users don't know which VPN to choose. We, at theVPN.guru, are here to help our readers choose the best VPN for the task.
We ran dozens of VPNs through our evaluation criteria to see which of them fit to be listed in this review. Here's what we came up with:
---
Avoid MLB.TV Blackouts – The Basics
If you are unfamiliar with the process of bypassing blackouts using a VPN, here are some pointers.
You do not need to sign up for a different premium MLB account. Your existing account is enough.
You cannot bypass MLB.tv blackouts on devices that use location services and GPS. In other words, even if you are using proxies or a virtual private network, you cannot get around baseball blackout restrictions on Android, iPhone, iPad, or Amazon Fire TV.
In some cases, you might need to delete your browser's cookies after setting up VPN or Smart DNS proxies.
While there are free VPNs that could potentially allow you to watch MLB live online, I would never recommend using them. They are notoriously slow which leads to endless buffering. Some free VPNs are also known to infect users' devices with malicious malware or viruses. Use a trusted and tried VPN service only.
Generally speaking, it is better to connect to a VPN server located in the USA as opposed to a VPN located abroad. This mainly due to the fact that the closer the VPN server is to your location, the less your Internet speed will be affected.
How Do I Know If an MLB Game is Blacked Out?
You can enter your ZIP code on the official MLB.tv website to check whether a certain game is blacked out in your region or not. If you receive any of the following MLB blackout errors, you will not be able to stream the game live online. Unless you use a VPN that is.
"We're sorry. We have determined that you are located inside one of the applicable Club's home television territories and are therefore blacked out of watching the game you selected. Live Audio of this game is available as part of your MLB.TV subscription."
"Media Error. This game is temporarily unavailable. Please try again in a few moments."
"We're sorry. The broadcasters' required blackout checks cannot be performed at this time. Please try again in a few moments."
How to use VPN to Bypass MLB.tv Blackout Restrictions
Your IP address allows MLB to determine where you currently reside. That's because IP addresses allow apps and websites you visit to see where you are browsing the web from. This also means that if you get to change your IP address, you can trick MLB.tv into thinking you are in an area where the game you want to stream isn't blacked out. A VPN or virtual private network will help you avoid all those annoying blackouts. By connecting to a VPN server in a different state, you can hide your real IP address and bypass MLB.tv blackouts. Here's how to I have set it all up.
How to Bypass MLB.tv Blackouts on PC/Mac
As a first step, you need to sign up with a VPN service. Make sure that whichever VPN you end up signing up with has numerous VPN servers in the United States.
Download the VPN application on your Mac or Windows PC after you create your VPN account.
Now open the VPN application, sign in, and choose a VPN server that is located in a state where there are no blackouts.
Finally, go over to the MLB.tv website and watch baseball games black-out free.
Is It Possible to Watch Blackout Games on iOS (iPhone/iPad)?
Due to the fact the MLB at Bat app on iPhone and iPad devices use location services, you will not be able to bypass MLB blackout restrictions on either of these platforms. If you do turn off location services, the MLB at Bat will not function.
Can I Bypass MLB.TV Blackouts on Android?
As is the case with iOS devices, the MLB.tv app on Android-based phones and tablets uses a combination of location services and GPS to determine your current location. Thus, you cannot bypass MLB blackout restrictions on Android, even when using VPN.
How to Avoid MLB Blackouts on Amazon Fire TV or FireStick?
The Amazon Fire TV operating system is based on Android. Therefore, you cannot get around blackouts on this device either.
How to Bypass MLB Blackouts on Apple TV?
In order to watch blacked out MLB games on Apple TV, you either have to set up a VPN on your router or subscribe to a VPN provider that offers users Smart DNS proxies that can be directly set up on the Apple TV such as ExpressVPN.
How to Avoid MLB Blackout Restrictions on Roku
None of the Roku devices allows you to configure its network settings. The only way to get around MLB blackouts on Roku is by changing your router's settings. You can either purchase a VPN-enabled router and configure a VPN connection on it or sign up with ExpressVPN and use their DNS codes on your router instead.
Bypass MLB Blackouts on Smart TV
Unless you are using an Android Smart TV, you should be able to set up Smart DNS directly on your Smart TV. Supported models include Samsung, LG, Panasonic, and older Sony Smart TVs. Sign up with either ExpressVPN, BulletVPN, or Unlocator to watch blacked out games on your Smart TV.
How to Avoid MLB.TV Blackout Restrictions on PlayStation
As with most other MLB.tv compatible streaming devices, neither the PS4 or PS4 have a VPN client. That means you either have to set up a VPN on a VPN-ready router or use Smart DNS directly on the PlayStation console. The second option is both cheaper and easier.
Bypass MLB Blackouts on Xbox One or Xbox 360
In case you do not own a VPN-compatible router, your best option is to sign up with ExpressVPN or any other VPN service that provides DNS codes that can be directly set up on the Xbox console to bypass MLB.tv blackouts.
Best MLB.TV VPN 2022
Now that everybody knows what a blackout is and how it is applied, let's show you the top VPN contenders that will definitely help you subdue this technology and watch any MLB season blackout-free.
ExpressVPN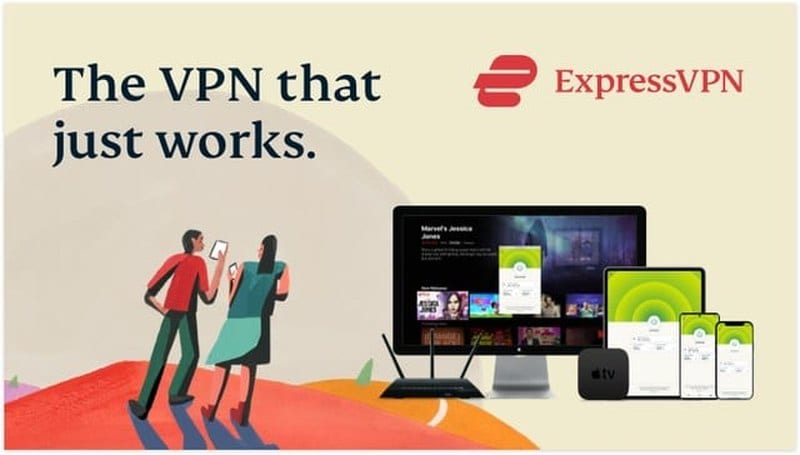 We have tried ExpressVPN to get around MLB blackout restrictions for several seasons now. Never have we run into any major issues.
There were a few instances where I did have minor problems, but ExpressVPN's live chat support team was able to quickly resolve matters. In short, this probably is one of the best VPNs anyone can use for MLB.tv.
It has a huge server network with more than a dozen VPN locations in the United States. This of course is very important if we're talking about bypassing MLB blackouts.
Other than that, ExpressVPN offers top-notch speeds on each and every server we connected to. Despite being far away from the US (location-wise), our connection speed did not drop much. We maintained blazing-fast speeds, streaming MLB.tv without any buffering issues or witnessing video-quality drops.
Pros:
2000+ servers in 94 countries
25+ server locations in the US
Blazing fast speeds
Smart DNS (MediaStreamer)
Available on all major operating systems
30-day refund policy
Cons:
No free trial
Expensive monthly plan
BulletVPN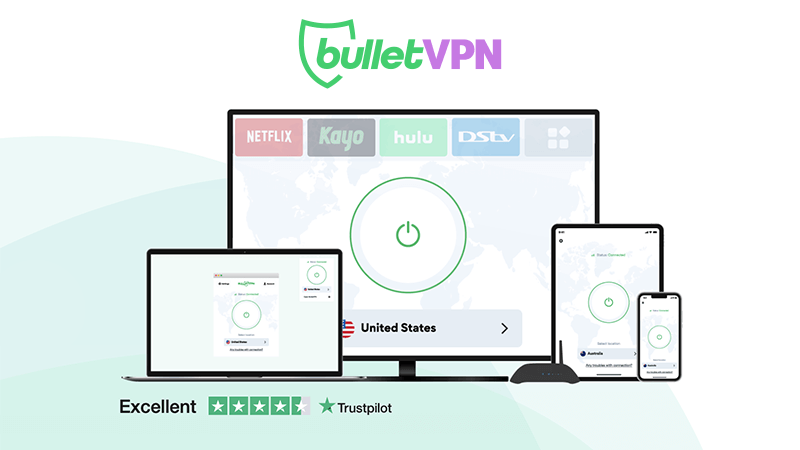 BulletVPN is definitely a VPN service you should consider if you want to avoid getting that irritating blackout error. The service is constantly adding server locations to its already well-rounded network.
As of now, BulletVPN has 154server locations across 55 countries and counting. Their servers are dedicated to HD and UltraHD streaming, which are, based on our tests, not just claims.
Within the server list, users can find special servers labeled as (UltraHD Support). These do exactly what they're named for. When we performed some tests, our internet connection did not drop at all.
In fact, it got faster as it turned out, our ISP was throttling our connection. So, when it comes to speed and MLB UltraHD streaming, BulletVPN is a choice users should not ignore.
Pros:
110+ server locations in 51 countries.

16 server locations in the US

UltraHD support
Free Smart DNS feature
Supports all devices
30-day refund policy
1-day free trial
SurfShark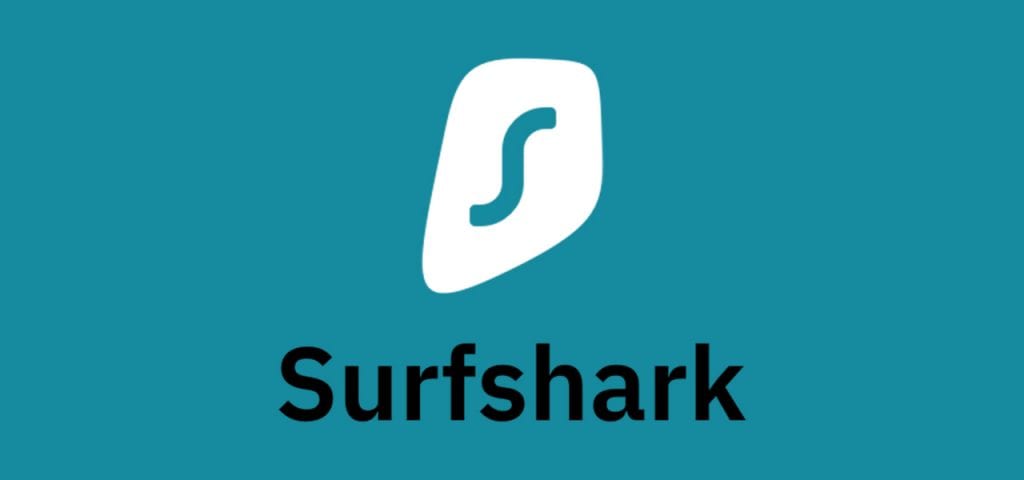 SurfShark proved its capabilities the moment it launched some years ago. The provider is a great way to unblock streaming services, bypass regional blackouts, and secure your data while browsing the web.
The service offers more than 1700 servers in 63 countries. But we're looking to bypass MLB blackouts, so the servers in the US are the ones that matter. According to what we found, SurfShark has 500+ servers in 20+ United States cities, which gives users a wide variety of options to choose from.
Speedwise, SurfShark is one of the best. We barely noticed the speed drop the encryption caused and we were able to stream our content in full HD. Also, for better speed, or in other words, no speed loss at all, users can configure SurfShark's Smart DNS.
No encryption will be added, but streaming will be seamless. The provider has decent prices and 30-day refund policy. However, new customers can also opt for their 7-day free trial as well, but their credit card information is required.
Pros:
Servers in 63+ countries.
20+ server locations in the US
Fast connections
Free Smart DNS feature
Excellent device support
30-day refund policy
Cons:
Free trial requires credit card info
Unlocator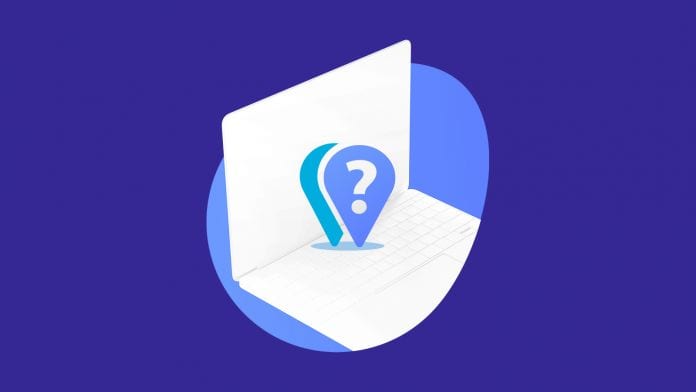 Unlocator was first and foremost designed for streaming any kind of content online. It came out as a Smart DNS service in 2013 and became Hybrid software in 2019.
Now, it offers both Smart DNS and VPN services, either within the same subscription or individually. Ever since we laid eyes on the provider, Unlocator was always able to bypass MLB blackouts.
In 2022, nothing has changed. It does offer good speeds, but not ones that could match the others on our list. Unlike the likes of BulletVPN, there are no UltraHD support servers, yet the connection remained capable of streaming HD content.
Unlocator is the only service that offers a 7-day free trial to all new customers. Nothing is required other than an email address and a full premium free trial is all yours.
Pros:
Servers in 35+ countries.
Free Smart DNS feature
Supports all devices
30-day refund policy
7-day free trial
Can purchase Smart DNS on its own
Cons:
3 server locations in the US only
Inconsistant speeds
NordVPN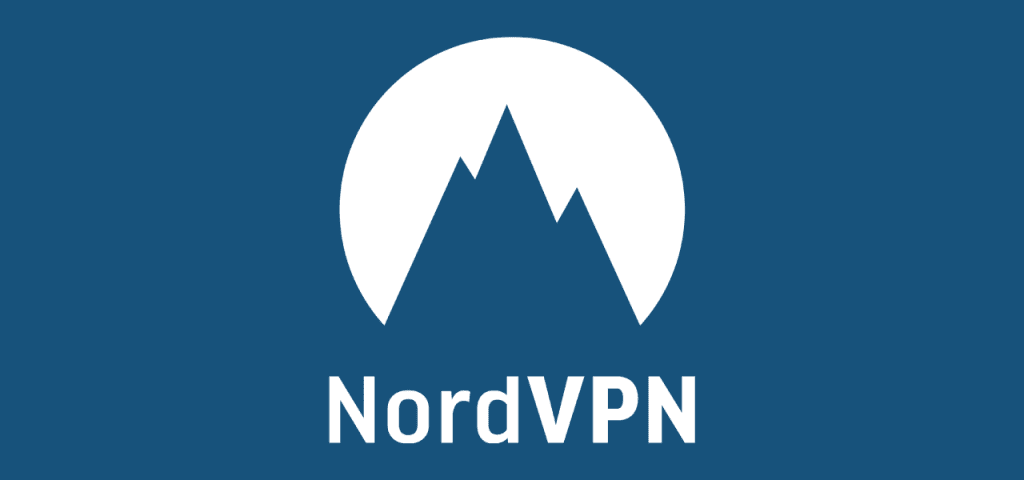 NordVPN's VPN applications for iPhone, iPad, Android, PC, and Mac are possibly the easiest and most friendly I have used. Setting them up took us a couple of minutes.
From there on in, we simply launched the app and we connected to a VPN server of our choice. It's safe to say that a lot of effort went into creating these apps. NordVPN has a wide server distribution, covering 59 countries around the world.
Speeds are ok. Some servers recorded very fast connections, while others, including the Double VPN ones, managed to drop our connection drastically.
Other than a few instances, NordVPN did offer great speeds on most of the American servers we used to bypass MLB blackouts.
Pros:
Servers in 59 countries.

15 server locations in the US

Free Smart DNS feature
User-friendly apps
30-day refund policy
Cons:
No free trial
Some slow speeds
IPVanish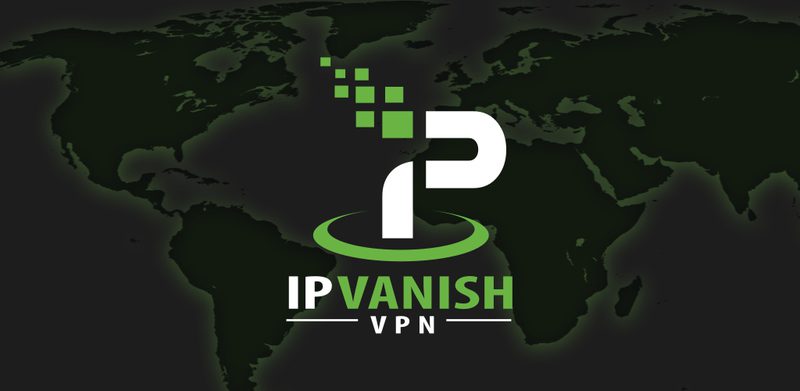 IPVanish is a household name in the VPN industry. They are based in the USA, which might spook a few VPN customers due to it being part of the Five Eyes.
Still, they do have a strict no-logging policy which means you should, in theory, be able to surf the Internet anonymously. As is the case with the others on our list, IPVanish has many servers scattered around the USA.
According to its website, IPVanish claims to be the fastest service provider in the industry. However, our tests beg to differ. It is fast, but it's in no way the fastest out there. We did witness some connection drops along the way, but IPVanish did a great job on most of its servers.
We were able to stream MLB without any problem, which is why the provider made it to the list of the best VPN to bypass MLB blackouts today.
Pros:
Servers in 75+ locations

18 server locations in the US

Fast connections
Supports all devices
Cons:
7-day refund policy
No free trial
No Smart DNS
Tech-savvy apps
Best MLB.TV VPN in 2022 – Smart DNS Proxy Alternative
While using VPN is the best method to get around MLB.tv blackouts, it certainly is not the only one. Smart DNS proxies also allow you to watch MLB games without blackouts. The downside, however, is that Smart DNS doesn't completely mask your IP address. You are therefore still exposed when browsing the web using Smart DNS proxies.
Almost all streaming devices can be configured with Smart DNS. You can set proxies up directly on an Apple TV, PS4, Xbox One, and even your Smart TV.
You will not lose access to any of your local streaming channels after you configure Smart DNS on your device.
You can use this method to get around MLB, NFL, NBA, and NHL blackout restrictions.
There is no way to choose a virtual location when using Smart DNS. The channel and sites you can unblock depend on your Smart DNS proxy service's setup.
Unlocator is one the best when it comes to Smart DNS proxy service. Many MLB fans use it on a yearly basis to watch MLB without any blackouts. We mentioned Unlocator as a recommendation since its the only provider that has a stand-alone Smart DNS subscription.
All the others include both VPN and Smart DNS, which results in a more expensive subscription. They also have a 7-day free trial.
MLB Teams
Here's the complete list of every Major League baseball team:
AL Central
Chicago White Sox
Cleveland Indians
Detroit

Tigers

Kansas City Royals
Minnesota

Twins
AL East
Baltimore Orioles
Boston Red Sox
New York Yankees
Tampa

Bay

Rays
Toronto

Blue Jays
AL West
Houston Astros
Los

Angeles Angels

Oakland Athletics
Seattle Mariners
Texas Rangers
NL Central
Chicago Cubs
Cincinnati Reds
Milwaukee Brewers
Pittsburgh Pirates
St. Louis Cardinals
NL East
Atlanta Braves
Miami Marlins
New York Mets
Philadelphia Phillies
Washington

Nationals
NL West
Arizona Diamondbacks
Colorado Rockies
Los

Angeles Dodgers

San Diego Padres
San Francisco Giants
Best MLB.TV VPN for 2022 – The Wrap Up
We all long for a day when MLB blackout restrictions become a thing of a past. Until then, using VPN providers like ExpressVPN to watch MLB game without blackouts will do. Have you tested any of the VPN services we have suggested? How was your experience? Feel free to share your thoughts below.
Best VPN for MLB
Name: BulletVPN
Description: Avoiding MLB blackout restrictions can be quite a hassle unless you sign up with a proper VPN. Watch any MLB game you want, anywhere you want with BulletVPN.
VPN Apps

Bypass MLB Blackouts

Speed

Customer Support

Refund Policy