Are you ready to witness some epic cricket rivalry? If so, brace yourself, as Australia and England will go head to head once more at the LV= Insurance Ashes Series. The Test Event will take place from June 16th, 2023, till July 31st, 2023, across five venues, and yes, we have all the means to help you watch it online.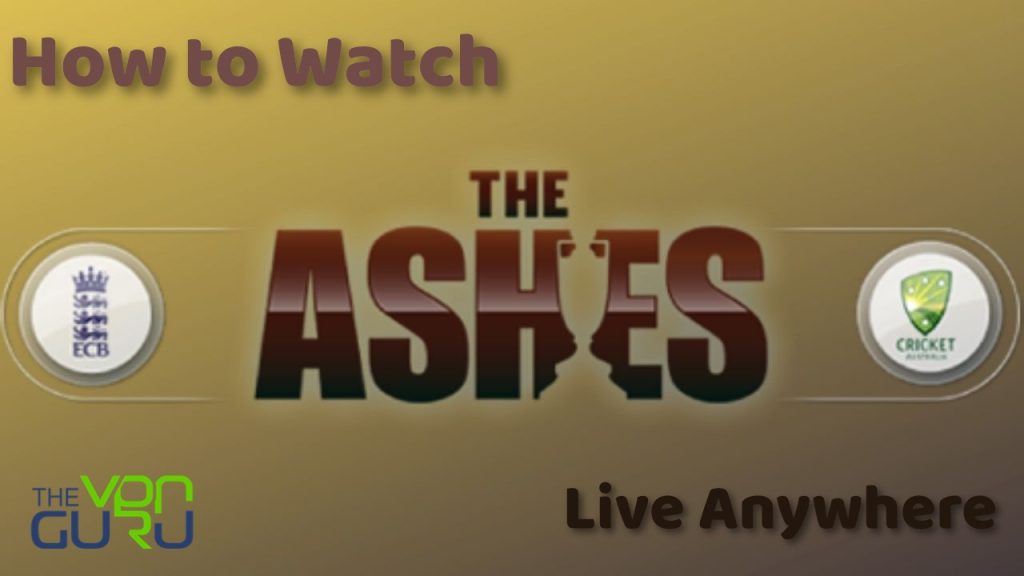 Several channels are broadcasting the Ashes live around the world. However, every single one of them is geo-blocked outside its respective country, mainly for copyright reasons.
Geo-restrictions can be frustrating, especially for cricket fans overseas. Well, this changes today. In this guide, you'll find everything you need to know about how to watch The Ashes 2023 live online.
Watch The Ashes 2023 Live – Quick Guide
Time needed: 4 minutes
We won't take much of your time. Here's how you can stream The Ashes 2023 live anywhere:
First, sign up with a credible VPN service provider.

We highly suggest you give ExpressVPN a try.

Download and install their VPN application on a compatible device.

You'll find dedicated clients on Android, iOS, PC, and Mac.

Open the app, sign in with your account, and connect to a server based on the selected channel.

The full channel list is provided later on in the article, but here are some examples:
– US server for Willow TV.
– UK server for BT Sport.
– Australian server for 9Now, etc…

Launch the channel's website or application.

All of the channels on the list require some kind of login, be it a subscription or a free account.

Stream The Ashes 2023 Live Anywhere.

Enjoy the new edition of The Ashes wherever you are.
The Ashes 2023 – Streaming Channels
Such a big showdown demands to be broadcasted all over the world. Luckily, that's exactly the case with The Ashes.
Several channels across the globe are bringing the event straight to your households. Now, if you want to know which one suits your needs the best, we've shed some light on the top channels airing The Ashes this year. Check them out below:
Willow TV
Willow TV brings you all the Live and On-demand Cricket action to your screens anywhere you are in the US. The channel is the official broadcaster of various cricket events, including The International Cricket Council (ICC), Indian Premier League (IPL), Cricket Australia, Pakistan Cricket Board, and of course, The Ashes.
There are two ways to benefit from what Willow TV has to offer. You can sign in with a valid cable subscription, such as with DISH, Sling, Verizon FIOS, Spectrum, Google Fiber, and Xfinity.
On the other hand, you can stream cricket matches on Willow TV by signing up for its streaming service for only 9.99$ a month. After that, you'll be able to watch The Ashes on Android, iOS, PC, Mac, and Apple TV,

BT Sport
The channel's customers who sign up to the full range of BT channels can watch the likes of Premier League, Champions League, cricket (including the Ashes), NBA Basketball, Major League Baseball, Ultimate Fighting Championship, Moto GP, and Nascar.
BT broadband and TV packages include the BT Sport channels, while BT broadband customers can pay £10/month to watch online or through the app (the first three months are free). Once you have yourself a BT subscription, you'll be able to watch the Ashes on:
Android
iPhone
iPad
PC
Mac
Roku
Sonyliv
Sonyliv is the home of cricket events in India. For a small subscription fee, you get to tap into a wide range of content, including movies, TV shows, and sporting events.
You can choose several kinds of subscription plans. You either pay for the channels individually or select a pack called Happy India. The packs come in different forms. However, they're all very cheap compared to other streaming services.
The most expensive one will cost you ₹299 and is the only subscription that allows live sports streaming. Not only that, but Sonyliv is available on a plethora of devices, such as:
Android
Tablets
iPhone
iPad
Android TV
Sony Bravia TV
Chromecast
Several Options, One Problem
The Ashes is a very popular event, especially in Australia and the United Kingdom. In fact, over 14,167,646 unique viewers have tuned in to watch the matches to date, and that's in Australia alone.
Now, despite having several channels broadcasting the 2023 event, we have to note that the channels are geo-restricted to their respective countries.
In other words, for those of you who don't live in the regions listed above, streaming the Ashes has become a lot more difficult.
You see, these channels examine your IP address to determine whether you're within their area of coverage or not. That's what we call geo-blocking.
For example, if you're trying to stream The Ashes on 9Now, you'll need to be in Australia, i.e., browse the web with an Australian IP address.
If you live abroad, that's exactly what you lack, which will result in a geo-error message that looks exactly like this:
"Sorry, 9Now is only available in Australia."
Every channel has its unique geo-error, but we decided to use 9Now as an example since it allows live streaming for free. With that said, all you need to do is change your IP address by following the steps above, and you'll be watching The Ashes in no time.
VPN Explained
A VPN is an internet tool that helps you spoof your online location. This process makes you appear as if you're browsing the internet from a different country based on the server you're connected to.
Once you're connected, you'll receive an IP address in the region where the server is located and access to all restricted content in that territory.
For example, if you want to watch The Ashes on Willow TV, you'll have to connect to an American server. After that, you'll receive a US IP address almost instantly.
Now, go to Willow TV, and you'll notice that it's accessible despite you being abroad. Now you can stream all of the channel's content regardless of where you might be.
When it comes to choosing a VPN service, quality always comes first. You can't just operate using any VPN you stumble upon in your search results.
ExpressVPN offers fantastic services such as fast speeds, a global server network, and friendly 24/7 customer support. If you wish to check out other VPN providers, you can take a look at the following table.
The Ashes 2023 – What to Expect
The upcoming series of Test cricket matches will take place from June 16th, 2023, till July 31st, 2023, across five different venues, including the Edgbaston, Lord's, Headingley, Old Trafford, and The Oval.
Ever since 1883, England and Australia have been going head to head up to this date. More than a hundred years later, the series remains one of the most important and viewed events in world cricket.
Australia's Cricket team is the defending holders of the Ashes, having won the 2017-18 Ashes and came to a draw in the 2019 event. They also got their hands on the 2021 championship.
Do you have more questions? The following section should cover everything:
When Will The Ashes 2023 Take Place?
The series is scheduled to be played between 16 June 2023 and 31 July 31.
Can I Watch The Ashes 2023 for Free?
Yes, you can. 9Now offers live streaming completely free; no subscription is needed.
Who's in the Lead? Australia or England?
So far, Australia has won 34, England 32, and six Tests have ended in a draw.
Where Can I Watch The Ashes in India?
Sonyliv has exclusive TV rights to the Tests, and with a premium subscription, you can watch all the matches live.
What Venues are The Ashes Hosted In?
The matches will be played in 5 venues, including Edgbaston, Lord's, Headingley, Old Trafford, and The Oval.
How to Watch The Ashes 2023 Live Online – Final Thoughts
The Ashes is a Test series played between England and Australia. Australia has the lead with 33 wins. All England has to do is win this year, and they'll be even.
Do you think the host country can pull it off? Or will Australia take the Ashes of England's cricket back home? The series is very exciting to watch, and every cricket fan looks forward to it on a yearly basis.
Don't miss a match just because the channels aren't available in your country. Make use of this guide and watch The Ashes 2023 live anywhere you are.