Best VPN for Sky Ticket
|
With all the effort Sky is exerting to have its services accessible to a wide market, subscribers may have to deal with problems of geo-restrictions when they're abroad. This has to do with the fact that Sky Ticket is blocked to users outside Europe. It may be to maintain the licensing agreements that govern the distribution of its content. Fortunately, we have a solution that might help take care of this concern.
What is Sky Ticket?
The Sky Media and Telecommunications company is one of the largest conglomerates in the world. It has a wide presence in Europe, as well as a long list of channels that it broadcasts. With the preference for on-demand content becoming so popular among today's viewers, the service has gone on to introduce a number of streaming services. One of the many that the multimedia giant introduced to its consumers is Sky Ticket.
Launched first in Germany in 2016, the streaming service allows viewers to catch up with the latest in sports action, as well as award-winning entertainment programming.
The service was originally introduced to cater to the German and Austrian market. But, it has expanded to serve other regions within and around Europe. The service provides a no-contract alternative where users are only able to choose the most suitable option based on how long they'd like to access content through the service.
How To Unblock Sky Ticket Outside Europe Using a VPN
The one reliable way you could use to unblock Sky Ticket outside Europe is to employ the services of a Virtual Private Network. A VPN allows you to connect to foreign-based servers that hide your IP address to make it seem as if you're based in a specific country.
This is key because services such as Sky Ticket rely on your IP address to know whether or not you're within Europe. And based on your geographical location, they grant you access. With a VPN, you're able to access remote servers within a country of your choice. By doing so, you can change your location to appear as if you're within that country. Follow the steps below to learn how to unblock Sky ticket abroad:
Sign up with a VPN service provider like ExpressVPN.
Download and install the application on your device.
Launch the application and sign in.
Connect to a German server to obtain a German IP address.
You can now access Sky Ticket anywhere you want in the world.
Best VPN for Sky Ticket
With that many VPN services available in the market, it's not that difficult to get duped into signing up with a fraudulent provider. To help you avoid this, we've narrowed down the list of services into just three well-known services that are guaranteed to provide you with the best value. Here's our shortlist of the Best VPNs for Sky Ticket.
ExpressVPN
ExpressVPN starts out at the top thanks to its top-notch quality and professional customer service. The provider went on to win numerous awards in recognition of its capabilities.
The service has its headquarters based in the British Virgin Islands. This is to keep away from any authorities that might want to investigate its users' data. The service also enforces a strict no logging policy, together with military grade 256 bit AES encryption for all-around security.
ExpressVPN supports VPN protocols such as OpenVPN, PPTP, SSTP, and L2TP/IPSec. It also allows for up to 5 simultaneous devices to connect to the service and offers a special feature known as split tunneling. This feature allows users to choose which parts of their traffic to encrypt, and which parts not to. The service also has stealth servers that users can choose to connect to. To find out what more ExpressVPN has in store, go through our ExpressVPN Review.
BulletVPN
BulletVPN is another well-respected provider that has been around long enough to know how to offer the best kind of service. Since 2017, BulletVPN has provided the most reliable service to users who prefer to have both speed and security from their VPN providers.
This includes users who tend to play online games. Their servers are known to be consistent enough and to avoid lags. BulletVPN has a network of more than 150 servers all around the world, particularly in 55 countries.
The provider is also one of the most capable in regards to simultaneous connections. It can handle more than 6 at a go. BulletVPN also relies on the industry standard 256 bit AES encryption. 
BulletVPN also promises unlimited bandwidth, as well as the option to switch between servers as many times as possible. Finally, there's a 30-day refund policy if you wish to test their service out at no risk.
NordVPN
Closing down our list is NordVPN. It's another reliable provider that has more than 4000 servers for its users to choose to connect to. Based in the Panama Islands, NordVPN exists as one of the most versatile providers in the industry. It has features that are geared towards providing a stress-free experience whenever online. The provider is also capable of supporting up to 6 simultaneous users, and through its double VPN protocol, it doubles the level of protection.
Its unique double VPN encryption means that user data is routed through two servers instead of one. Doubling the level of encryption that is already provided through its industry standard 256 bit AES encryption makes this VPN more secure.
NordVPN also allows users to choose which servers they'd like to connect through based on the kind of activity they'd want to conduct online. NordVPN also offers some software to ensure that everything gets to run smoothly. Two of its most reliable software are CyberSec and SmartPlay. For a more detailed analysis of NordVPN and what it has to offer, check out our NordVPN Review.
More Information About Sky Ticket
Users can opt to pay 10 euros for daily access, 15 euros for weekly access, or 30 euros for monthly access. These options are further categorized into the Supersport ticket for all things sport, the entertainment ticket for series, docs, and the cinema ticket for the best of blockbuster movies. The Sky Ticket service is supported by both Apple TV and Chromecast. However, if a user doesn't have access to any of these, the Sky Ticket TV Stick is a great alternative.
The dongle is simple to use. It only requires you to plug it into the HDMI port of the TV. For best performance, it'll be great to ensure that you have an unlimited WiFi bundle subscription, so that the streams are faster and of superior quality. You can buy The Sky Ticket TV Stick for 30 euros. But, this again can come across as free if you decide to purchase the entertainment ticket (10 euros) for 3 months, cinema ticket (15 euros) for 2 months, or the Supersport ticket (30 euros) for 1 month.
Best VPN for Sky Ticket – Final Thoughts 
The best way to get the most out of a streaming service is to use a VPN service. This way, you get to avoid any form of throttling or restrictions. You will also guarantee your security. Make sure you read all of the individual reviews so that you get a better perspective of what each service has to offer. Let us know in the comment section below which VPN will it be. 
ExpressVPN Review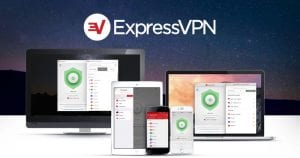 Name: ExpressVPN
Description: ExpressVPN is a VPN service that allows you to browse the web anonymously and unblock geo-restricted sites.
Price: 12.95
Currency: $
Operating System: Windows, OSX, Android, iOS
Application Category: Multimedia
Refund Policy

Speed

Support

VPN Apps