TalkTalk hasn't been receiving the best publicity of late if Ofcom's most recent report is anything to go by. Conducted in the last quarter of 2017, the report reflects a worrying state of affairs among its customers. Most of them seem to be largely unsatisfied with the quality of service that they're paying for. The service pales in comparison to what BT and Sky have to offer. But then again, only about 15% of the subscribers registered a complaint.
Should You Consider Switching ISPs?
If you're one of the few that prefer getting the full benefits of the package you're paying for, switching to a different provider is something that can be easily done. The problem is that most people are normally very hesitant to do so. It's one of those situations where you'd rather stick with the devil you know than the angel you've never met. All in all, most of the issues raised by TalkTalk customers centered around customer service; meaning their network provision was largely up to standard.
This doesn't mean that there aren't any available areas of improvement. TalkTalk is still an ISP. Like most ISPs, the service still has some issues that would be in your best interest to try and work around. One of those issues is centered around usage. If you are a heavy user, chances are high that TalkTalk or whatever ISP you are subscribed to is aware of the large bandwidth that you tend to consume. Because of this, they'll put in measures to try and discourage you. When applied, your ISP is said to be throttling your connection.
ISP Throttling
ISP throttling is a widespread issue across the world. It includes measures such as restricting access to certain sites. Slowing down your speed when doing bandwidth-intensive activities like downloading movies or live broadcasting is another form of throttling. For your ISP to know what sites to block, they normally have a way of eavesdropping on your connection, despite not being supposed to. Being subject to these conditions can be really frustrating. It's best to adopt a solution that'll prevent you from such situations. The best option you could possibly turn to? Using a VPN.
Best VPN for TalkTalk ISP – Why Use a VPN with TalkTalk
The initials VPN stand for Virtual Private Network. They refer to a large collection of servers that tend to encrypt your connection and secure your presence online. To have your connection protected by these servers, you'll have to identify a credible provider and purchase a subscription from them. Once done, you'll be able to work around any form of throttling that your ISP may throw at you, and also completely hide your online activity from them.
Using a VPN has a lot of other advantages. One, for example, is that using a VPN ensures that you have unrestricted access to geo-restricted websites at any time, no matter where you are. This means you'll be able to visit sites that only allow visitors from within its country boundaries. You'll also be able to stay anonymous as you browse the Internet. No traces of your location or identity will be left behind since you'll be able to hide your IP address. 
Best VPN for TalkTalk
To ensure you subscribe to the best possible service, we've rounded up a few to make deciding a little easier. Here's a compilation of the best VPNs you can use with TalkTalk
1. ExpressVPN
Established in 2009, ExpressVPN has quickly risen the above competition to become one of the VPN best providers. The service is based in the British Virgin Islands. It has more than 2000 servers assigned to its subscribers. The award-winning provider is also one of the best in terms of customer service. Its support team can be consulted 24/7 through social media, email or live chats. ExpressVPN allows for 5 simultaneous connections. If you opt to set up its VPN client directly on to your router, you'll be able to have plenty more than that.
ExpressVPN also doesn't disappoint in terms of features. A subscription will have you enjoy its split tunneling feature, where you'll be able to choose what traffic to encrypt and what traffic not to. ExpressVPN also promises that your browsing data will not be recorded thanks to their zero logging policy. It also offers 256 bit AES encryption to keep you well protected and hidden from your ISP. If you're still curious, there's a lot more about the service that you can learn by going through our ExpressVPN Review.
2. BulletVPN
BulletVPN knocks a lot of providers out of the water in regards to the kind of speed you'll get when subscribed. The service is very keen to be seen as the go to provider for those who want both speed and security. Based in Estonia, this provider has a growing network of servers, with a larger focus in areas such as the US, South Africa, and the UK. BulletVPN also supports OpenVPN, L2TP-IPSec, SSTP and PPTP as optional VPN protocols.
The service has a versatile, well-built VPN client that can run on your Android, Windows, iOS or Linux based device. Remote support is also easily available, and can be contacted 24/7 incase of any issues regarding your connection. Once you subscribe, you'll be able to sample their Smart DNS feature.
This will allow you to access geo-blocked sites and channels from wherever you may be. Its headquarters in Estonia is another huge plus since the country isn't part of the "14 Eyes" initiative where information about Internet users is collected and shared. For more information on what you're likely to get from the service, have a look at our well detailed BulletVPN Review.
3. NordVPN
Last but not least on our list is NordVPN. NordVPN is the provider to work with especially if you're going to be spending a lot of your time on the Internet. The service is based in Panama, and is therefore away from any kind of data regulatory authority. With over 4200 servers under its purview, NordVPN is one service that'll keep you connected and also secured all through, thanks to its military grade 256 bit AES encryption standard.
The service is also well known for its unique offerings, with features such as doubleVPN where you have your traffic pass through two servers. You also have the choice to select which server to connect to based on the work you're doing online. NordVPN ensures that you're kept away from any malware and bothersome ads through its Cybersec software. You can access geo-restricted sites through the SmartPlay feature as well. Have a look at our more elaborate NordVPN Review. You'll get a more complete picture of what you're likely to get once you purchase a subscription.
Best VPN for TalkTalk ISP – Conclusion
Regardless of the quality of your connection or the standard of your ISP, you can improve quite a lot by subscribing to a credible VPN. You shouldn't have to use the Internet only under the conditions set up by your ISP when you can use a VPN and have a lot more privacy, security and anonymity online.
ExpressVPN Review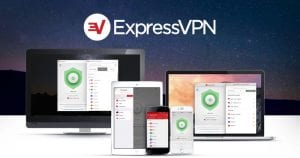 Name: ExpressVPN
Description: ExpressVPN is a VPN service that allows you to browse the web anonymously and unblock geo-restricted sites.
Price: 12.95
Currency: $
Operating System: Windows, OSX, Android, iOS
Application Category: Multimedia
Refund Policy

Speed

Support

VPN Apps