It's not to be said that Thailand is similar to China in terms of Internet restrictions, but neighboring next to it might have inspired the oppressive laws that govern the Internet there. In 2014, Freedom House awarded Thailand a score of 62 (meaning not free) for Internet freedom. Internet censorship in Thailand has been growing year by year with its focus on crimes that offend the monarchy (lèse majesté), political issues, and problems that threaten national security. VPNs can enhance users' online experiences in Thailand. Not only are these private networks compatible with PC, Mac, Android, and iOS operating systems, but they also guarantee Internet security and freedom.
Best Thailand VPN Summed Up
In case you don't really want to go through the lengthy review below, we have summarized the best VPNs for Thailand for you here:
Is There a Need For A VPN In Thailand?
Internet censorship exists in Thailand, which means free browsing and networking are uncommon practices. This has come as a cultural shock for ex-pats who travel to South Asian countries. Accessing the Internet securely is also not guaranteed in a country where users' online traffic is monitored. The fact that there are partially-blocked websites such as Google, Wikipedia, and Social media platforms in Thailand justifies the urgent need for a VPN.
Thai ISPs such as 3BB are also known to apply DNS Hijacking. That means that you are forced to use these ISPs' DNS server addresses even when you manually configure your own DNS settings. By doing so, Thai ISPs can dictate which sites you are able to access and which ones you are not. Using VPN is a perfect solution to get around DNS Hijacking.
Internet Access In Thailand
The fact Thailand is among the top 25 in the world for being subjected to malware attacks and the estimation that 90 percent of its network is infected by this type of software, makes connecting to its Internet completely unsafe.
The government is way too preoccupied with chasing political dissents, that it's pushing cybercrimes to the sidelines. The Thailand Government has restricted access to over 100,000 websites making it incredibly hard for users to enjoy working online.
Best VPNs for Thailand
Choosing a VPN might seem like a difficult task for those who lack the knowledge and experience, which is why we are here to present you with the top VPNs to use in Thailand.
ExpressVPN
This VPN service is one of the best in the market. It offers excellent internet speed servers aside from impressive tunneling speeds. ExpressVPN has over 1500 servers spread over 94 countries.
This VPN uses reliable 256-bit encryption and has a strict no-logging policy, which ensures privacy and security. Other features include unlimited server switch, data and bandwidth, 5 devices simultaneous connection, and a 30-day refund policy.
BulletVPN
BulletVPN offers the standard VPN protocols: OpenVPN, L2TP/IPSec, IPSec, IKEv2, PPTP. An Open VPN provides the highest level of security and performance out of all protocols, and not many VPNs offer the IKEv2 protocol.
Applications are available for Windows, Mac OSX, Android, iPhone, and iPad and are easy to use. BulletVPN has a strict no-logging policy which appeals to an audience that values their privacy.
With that being said, they also provide services that unblock content including American Netflix, BBC iPlayer, and Amazon Prime Video in Thailand. Similar to other top VPN service providers, BulletVPN has a generous 30-day money-back guarantee.
NordVPN
This is an excellent service for Thailand for its undeniably strong security. A 2048-bit SSL encryption provides its users the best protection especially when connected to public wifi.
Even with servers in over 59 countries speeds are still the fastest. NordVPN also allows bypassing all kinds of restricted content, which can be very helpful in Thailand.
Best VPN for Thailand
In a heavily censored country like Thailand, privacy and freedom are unattainable virtues. In order for one to acquire freedom while Internet browsing he/she must get his/her hands on a VPN, so secure that the government of Thailand would be in the blind seat. To bypass Thailand's restrictive laws and censorships, you need to access the best VPN out there, and those include the ones we've mentioned above. Let us know which VPN you think is best for Thailand.
Best VPN for Thailand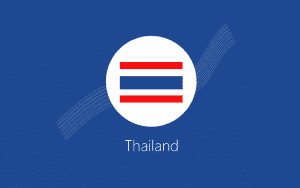 Name: ExpressVPN
Description: Due to the complex nature of Internet censorship in Thailand, using a premium VPN like ExpressVPN is always advised.
VPN Apps

Access Blocked Content

Speed

Support

Refund Policy