Best VPN for Tor Browser
|
What is the best VPN for Tor Browser? Known initially as The Onion Routing project, Tor is a concept that was first developed by employees of the US Naval Research Laboratory back in the early 1990s. The pioneers of the software had been told to develop a method through which US Intelligence information could be safely transmitted online. To say that they were successful would be a gross understatement. The scientists came up with a foolproof method to safely communicate online, and after the software was made available for public use, many more security conscious individuals looked to it as their go-to solution for staying anonymous online.
Best VPN for Tor Browser – Quick Overview
In case you're fairly familiar with how both Tor and VPNs work, you can skip reading through the detailed review below. We've summed up the best VPNs you can use with Tor here:
Tor Explained
The Tor network follows a simple working concept. When Internet users sign up to use the service, their devices also become nodes through which forms of communication from other users gets bounced off of on their route to the destination server. This, therefore, makes it extremely difficult to track the messages or user requests sent right back to the originator. The volunteers through which these messages are relayed include millions of people around the world who happen to be part of the network, so surfing under the Tor network means you're able to conceal your identity, location and online activity regardless of wherever you may be.
There are also a number of factors that make it increasingly difficult to find out where exactly data is being sent from. For starters, the data being transmitted gets encrypted each time it bounces off a node, and each node is also only aware of the IP address of the node that's either "in front" of it, or "behind" it. This means nobody participating in the network can predict where the data being relayed is going to end up. Lastly, no one is also able to discover your true identity, so you'll be part of a large network of users who really have no idea about each other.
Using Tor and VPN
At first blush, most Internet users would agree that Tor seems like a more formidable solution compared to VPNs if all you're looking for is anonymity and online security. The problem is, there are some aspects of the service that might put you off, especially if you really not at such a big threat of having someone track what you're up to online. The first setback is the speed. Tor is known to be quite slower compared to VPNs. This means added time whenever you're loading a video, or chatting with anyone else whenever you're online. In addition, the experience delivered by a VPN is far much better and suitable for day to day usability of the service. This is because it permits activities such as P2P file sharing, which you'll have to compromise if you'd still opt to be part of the Tor network.
VPN Over Tor vs Tor Over VPN
Before we explore which providers you ought to go for, allow us to compare kind of service you're likely to get when you choose to go for either VPN over Tor, or Tor over VPN.
VPN over Tor
Pros:
Your ISP won't know you're using Tor

The Tor entry node will only see the IP of the VPN provider.

You'll get access to .onion websites.

Your VPN provider won't see what you're up to on the internet provided you use the Tor Browser.
Cons:
Your real IP address is visible to the VPN provider.

You don't get any protection from malicious Tor exit nodes.

Tor exit nodes get blocked.
T
or Over VPN
Pros:
The VPN provider cannot see your real IP address.

You get protected from any malicious Tor exit nodes.

You're able to bypass any Tor exit nodes.

You can choose your server location.

All your traffic goes through Tor.

You'll be able to open ports through a VPN.
Cons:
Your VPN provider sees what you're up to online.
The Best VPNs for Tor
For users that are aware of the advantages gained from using Tor, and those gained from a VPN service, it might be difficult deciding which option to go with between the two. In truth, this decision doesn't need to be that difficult to make because there are VPN services that are able to combine the use of both. These are the VPN providers that we're going to be reviewing today so that you at least have an idea of what to go for.
1. ExpressVPN
Known for offering the best VPN service the world over, ExpressVPN explicitly supports the use of VPN and Tor for maximum online protection. The tier-one provider however supports only one format through which the service can be set up; "Tor over VPN".
This setup is the one that works best with the provider, and in fact, it even prevents your VPN network from knowing what you're up to online. Aside from this excellent feature, ExpressVPN is also loved for its highly reliable customer service team, since they are always available to tackle customer issues.
The service also boasts of a 1500+ strong server network, which makes it possible for users to launch a connection to any country they would want to. The service also has Stealth Servers that allow users based in countries like China & the Middle East to use VPNs without their ISPs finding out.
Their 30-day money-back guarantee will expose you to a lot more of their features, so take it up, and see exactly what they have to offer.
2. BulletVPN
BulletVPN is widely popular for the fact that they have 150+ servers across 55 countries. Their servers are quite fast, and this is why online gamers prefer this provider over others. 
BulletVPN is also known for its capacity to allow up to 6 simultaneous connections under only one account and has a very strict zero-logging policy, where no logs of customer usage history are kept.
As a tier 1 provider, their customer help service is also among the best in the industry, and it allows users to seek out help at whatever time of day or night that they may need it.
The service supports L2TP, IKEv1, IKEv2, and OpenVPN as its main VPN protocols, but encourages its customers to rely on OpenVPN as it is the most secure. This service offers 30 days for its refund trial period, so anyone hoping to use it needs to test out all its features as soon as they sign up for this offer.
3. NordVPN
Based in Panama, this feature-rich provider also adopts the "Tor over VPN" model, meaning data is first encrypted by the VPN service, then pushed forward for further encryption through the Tor network.
The more than 4000 servers that are accessible through this service allow for enhanced forms of encryption at the VPN level, such as through their DoubleVPN service. When data gets sent over two servers, the encryption level becomes twice as much compared to normal providers. Route it again through the Tor network, and you have among the highest levels of online security that can be attained.
NordVPN also helps users avoid malicious ads and malware through their CyberSec feature, and their servers can also be optimized depending on the activity that the Internet user would want to be engaging in when online. The provider offers servers geared towards HD streaming, gaming, P2P downloads, and double encryption.
NordVPN also makes it possible for users to have up to 6 simultaneous connections to function under one account and promises to have no records kept of their subscribers' browsing history through their zero-logging policy. If this all sounds good to you, there's a 3 day free trial period they have on offer that you should really try out.
Conclusion on The Best VPN for Tor Browser
Using a Tor and VPN combination is sure to ensure you have one of the best forms of protection whenever you're online, and the three services we've listed above provide the best possible Tor and VPN combinations, assuring you of guaranteed anonymity, and enhanced security.
ExpressVPN Review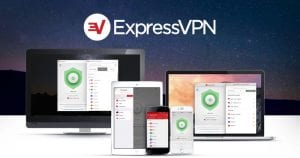 Name: ExpressVPN
Description: ExpressVPN is a VPN service that allows you to browse the web anonymously and unblock geo-restricted sites.
Price: 12.95
Currency: $
Operating System: Windows, OSX, Android, iOS
Application Category: Multimedia
Refund Policy

Speed

Support

VPN Apps