Speaking to people based in different places around the world has become very easy nowadays. Through the Internet, a long list of apps and services allow you to connect to different individuals, situated in different continents, in real time. This is great especially for work collaboration, or just keeping in touch with your friends. One of the solutions that allow people to do this effectively is TeamSpeak.
How Does TeamSpeak Work?
Through its Voice over Internet Protocol (VoIP), Teamspeak allows different people to communicate with each other by connecting to different servers. TeamSpeak can also be licensed to servers at a fee, as long as the company or group using it isn't doing it for profit.
TeamSpeak is also widely popular in the online gaming community. The service allows players to coordinate better when carrying out a team mission, all without having to take their hands off their consoles. The audio quality delivered is top notch, and the level of performance is also very high compared to other alternatives.
TeamSpeak Regional Restrictions
This is the service you'd want to use to keep in touch with your work colleagues when abroad, or to continue with your team missions even when you're in a different country. Problem is, the service doesn't have servers based around the world that you could connect to. Additionally, some countries such as China, KSA, and the UAE, block most VoIP services.
This can be a huge hindrance especially to users who are constantly on the move. To work around this, what they'd need is a solution that's capable of hiding their actual location. This will make it possible to connect to their respective servers without the fact that they're outside the country being detected. This can only be done effectively through the use of a VPN.
How To Unblock TeamSpeak When Abroad – Using a VPN
A VPN, or a Virtual Private Network, allows users to connect to remote servers located around the world so as to hide and encrypt their connection. Accessing TeamSpeak through a VPN allows users to gain access to their specific TeamSpeak servers by hiding their IP address. Think of your IP address as your online digital fingerprint. It conveys essential details such as your location and sometimes your identity to the website you're trying to access.
Through a reliable VPN service, you can choose to have these details hidden, or even manipulate them to your own benefit. To connect to a TeamSpeak server based in the US for example, all you should do is identify a VPN server that's there, and once you establish that connection, you'll seem as though you're based in the US.
Thanks to user-friendly VPN apps, the whole process is pretty easy as well. But first, you need to sign up with a VPN provider.
Best VPNs for TeamSpeak
To help you make the right decision, we've listed down the best 3 VPN services to access TeamSpeak regardless of your location. Have a look below:
1. ExpressVPN
ExpressVPN is one of the most sought-after services in the industry, thanks to its premium level of service, and well-upheld reputation. There are about 2000 servers in its network, based in more than 90 countries. The service has won numerous customer awards thanks to its customer service, which can be contacted 24/7 through email, live messages as well as social media. ExpressVPN also applies 256 bit AES encryption, to make it difficult for any ill-intentioned users to access the service. Using ExpressVPN also means being able to choose what to have encrypted thanks to its split tunneling feature.
The service is also based in the British Virgin Islands, and this is great because the region doesn't subscribe to any data regulatory authorities. Subscribing to ExpressVPN also allows you to have up to 5 simultaneous connections. These can be used to protect your Android, iOS, Windows or Linux based device from online threats. There's also the option of connecting the service to your router. With this alternative, you get to connect well over 5 devices to your account, ensuring that all your data gets well protected. To learn more about ExpressVPN, take a look at our more detailed ExpressVPN Review.
2. BulletVPN
BulletVPN is another great addition to this list, with over 150 servers that keep its subscribers well protected regardless of wherever they may be. The service has its headquarters in Estonia, and also uses military grade 256 bit AES encryption to keep its user data secured.
BulletVPN guarantees that its users get to enjoy both unlimited bandwidth use and unlimited server switching. This makes it possible to easily access your TeamSpeak server without any hassle and easily switch between VPN servers for a better connection.
With the capacity to hold up to 6 connections simultaneously, BulletVPN allows users to have all their gadgets well secured from any hazardous online activity. The service also has tremendous support for users who would like to torrent.
This is because it supports both unlimited peer-to-peer file transfers and anonymous torrenting. To find out more about what BulletVPN has to offer, take a look at our BulletVPN Review.
3. NordVPN
NordVPN takes up the third position on this list, as it also has features that make it one of the best VPNs for use with TeamSpeak. From its base in Panama, the service provides up to 4000 servers for users to connect to, present in more than 60 countries. The well-known provider also allows for up to 6 multiple connections, and also offers 256 bit AES encryption for online security. NordVPN also has tools and features that also enhance its service, and one of their best offerings is their double VPN feature.
The double VPN feature means users get to reroute their traffic through two servers, thereby doubling the current level of security. The service also allows users to choose which servers to connect to, thanks to their expansive network. The provider has optimized its servers for online gaming, torrenting, large volume downloads, as well as HD streaming. Subscribers also get full support for Tor over VPN, as well as dedicated IPs for those that wouldn't prefer to keep switching. For a better insight into what you should expect, take a look at our well put together NordVPN Review.
About VPNs
Using a VPN also has its own set of other advantages. They include really increasing the level of your online privacy. A VPN service encrypts your data and allows you to connect to websites without leaving them with any of your information. This helps keep you anonymous and also prevents you from being eavesdropped by your ISP. You also get to avoid any forms of throttling that your ISP may apply, such as limits on your bandwidth and online censorship.
Summary on The Best VPN for TeamSpeak
The three top providers we've looked at in this review are more than capable of having your back when dealing with online security. To know which of the three to pick, we advise going through each of the individual reviews. In case of any questions or comments, you're welcome to leave them in the section below, and we'll be glad to get back to you.
ExpressVPN Review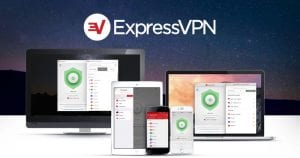 Name: ExpressVPN
Description: ExpressVPN is a VPN service that allows you to browse the web anonymously and unblock geo-restricted sites.
Price: 12.95
Currency: $
Operating System: Windows, OSX, Android, iOS
Application Category: Multimedia
Refund Policy

Speed

Support

VPN Apps