Best VPN for Uzbekistan
|
The Republic of Uzbekistan is a Central Asian country known for its carb-rich cuisine. Being a visitor gave me no problem while touring the country, I mean site seeing is wonderful. However, some other sites were quite daunting, websites to be exact. If you're an expat or a tourist planning a trip to Uzbekistan, you need to be aware of the internet situation in the country. Freedom House lists Uzbekistan as "Not Free" internet-wise. The government actively blocks Social Media platforms, blogs, apps, VoIP, and a lot of political and social content. That leads us to the importance of having a VPN there. But which VPN providers are best to use in Uzbekistan? Let's find out in this review.
Best VPN for Uzbekistan – Content Index
Uzbekistan is a small landlocked country located in Central Asia. The country is great and all, but have you tried to surf the web? Well, let's add Web-locked country to the mix. Yeah, it's very strict there and you'll need to do something about that before you land in the region. Simple, get a VPN. You can choose a good one by reading this review.
Why Would You Need a VPN in Uzbekistan?
Some websites won't be accessible as they used to be back home. The government publically monitors all communications traffic in the country. You can't see them, but they're always there. A bit scary don't you think? To worsen the situation, regional restrictions will prevent you from accessing some of your favorite streaming sites.
Short for Virtual Private Network, a VPN is a cybersecurity tool that adds a layer of privacy, security, and anonymity to your internet use. What a VPN does is rechannel your internet traffic. The process will prevent any third-party, including a government entity, from monitoring your traffic. In other words, you block out any possible surveillance the moment you connect to a VPN.
As an added bonus, re-routing your traffic automatically changes your IP address. Most blocks work on detecting the IP of incoming connection requests and blocking out IPs from regions they want to restrict. Country-wide website bans work within the same parameters. The only difference is that the ISPs in the country impose the IP blocks, not the websites themselves. In both cases, changing your IP address works to bypass those annoying restrictions.
Best VPN for Uzbekistan
So, you have an idea now about what a VPN does and how vital it is to use one in Uzbekistan. Before I shed more light on the best VPNs to use in the country, there are a few things I would like to point out. First, the VPNs on our list are all premium providers, which means you have to pay for their services. However, you'll get what you pay for in the end in terms of security, privacy, and service.
Seconds, please stay away from free VPNs. They'll do you more harm than good. Sure, you'll be able to access some websites located in different countries, but at what cost? Your private information is always compromised with those. How do you think they pay for their servers? It's not charity guys. These VPNs store your data so that they can sell them to sister companies for revenue. Not to mention that their servers are not fast and their clients might infect your device with malware.
Nothing to worry about, just stay away from those and scroll a bit further. Here are the best VPN providers to use in Uzbekistan.
1. ExpressVPN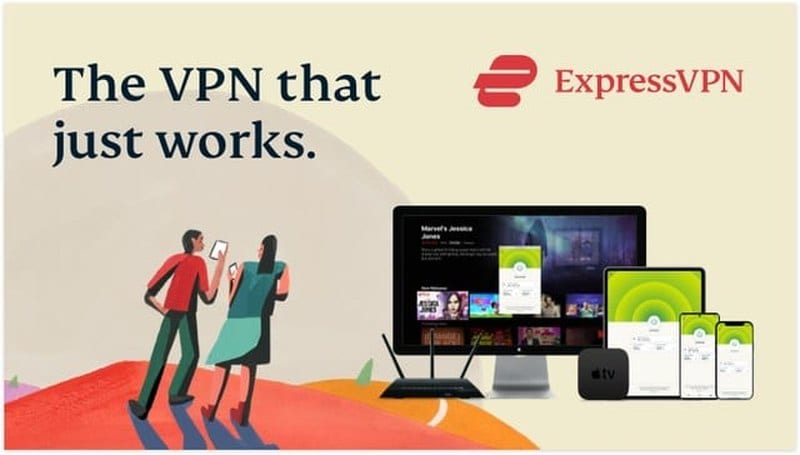 All the VPNs on our list are considered to be the best in the country, so their place on the list doesn't matter. However, ExpressVPN has to be mentioned on top as tests prove that it's the top out there.
The provider is one of the fastest VPNs on the market. It has more than 3000 blazing fast servers in almost 94 countries. That makes it a popular choice for streaming, gaming, and even torrenting.
Yeah, I mentioned torrenting because ExpressVPN allows P2P torrenting. You can download all you want in Uzbekistan without being caught in the act.
On the other hand, with ExpressVPN, you can rest assured that your device and data are always protected with the latest AES encryption. Not to mention their DNS leak protection and kill switch in case your VPN connection took a sudden drop.
ExpressVPN has a verified no-logs policy. Therefore, whatever you do will never be traced back to you. If you run into trouble while setting up ExpressVPN, their 24/7 live chat support is ready to answer your questions.
As for a free trial, the service doesn't offer that. However, you can benefit from their 30-day refund policy. You have plenty of time to decide whether this VPN is the one you should end up with or not.
Pros
2500+ servers in more than 160 locations.
Apps on Android, iOS, PC, Mac, and Fire Stick.
Browser extensions.
Smart DNS.
Military-grade encryption.
Several security protocols.
Superfast servers for streaming in HD quality.
Strong no logs privacy policy.
Cons
Slightly more pricey than other services.
Not enough details, check out this full ExpressVPN review.
2. BulletVPN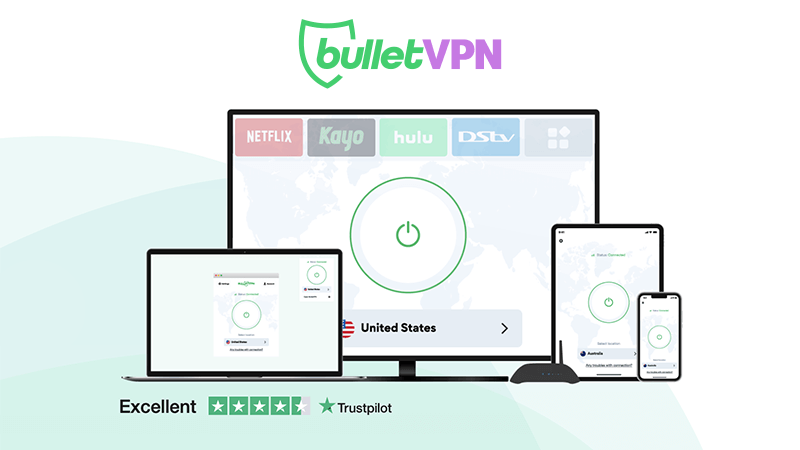 BulletVPN is an Estonian-based service provider famous for its blazing fast internet speeds. It offers 154 very fast servers in 55 countries, maintains your privacy with the latest security technology, and can unblock American Netflix.
You'll have no problem accessing restricted websites in Uzbekistan with this one, don't worry. Not to mention their strict zero-log policy, which guarantees that your data doesn't get stored for the government to get a hold of in the near future.
Moreover, BulletVPN offers a free Smart DNS service. I don't recommend that in Uzbekistan, but if you're not into security and want maximum speed, that's what you need.
Pros
Zero-traffic logging.
A transparent privacy policy.
154 servers in 55 countries.
Outstanding Smart DNS service
Live chat customer service.
A Kill Switch.
Money-back guarantee (30 days)
More of this robust VPN provider in this full BulletVPN review.
3. NordVPN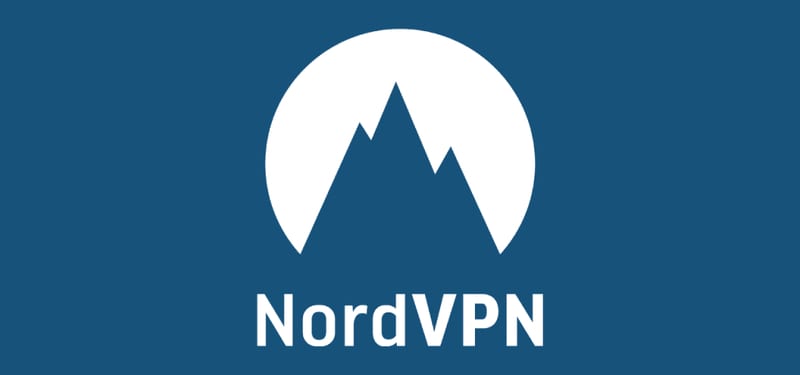 So, this one has a presence in 59 countries. It might be less than ExpressVPN, but it boasts a network of 5000+, which is most probably the largest in the industry.
NordVPN is cheaper than other providers out there despite offering the best services on the market. You might want to subscribe to their three-year plan, it's very cheap that way. I know I know, investing in a long-term deal can be a bit worrying. However, NordVPN offers a 30-day refund policy in case you change your mind.
NordVPN is one of the few providers that work in China. If a VPN can bypass the Great Firewall, I don't think it will have a problem in Uzbekistan. Moreover, they offer clients for all major devices and desktops, which is beneficial considering they allow 6 simultaneous connections per account.
NordVPN is fine with its customers using P2P networks for downloading and it has specialized servers for that activity. As for privacy, you'll love their Double-Hop connection where your traffic passes through two servers and includes double encryption.
Pros
Fast servers for HD streaming.
5000 servers throughout 62 countries.
Unblocks the majority of streaming services.
Top-notch security and privacy protection.
Offers 24/7 live chat.
6 simultaneous connections.
Smart DNS feature.
Cons
Some servers were really slow.
There's a lot more to learn about this VPN. Skim through this full NordVPN review and find out.
Best VPN for Uzbekistan – Final Thoughts
For the readers out there heading to Uzbekistan, make sure to skim through this article very well. You really need a reputable VPN to use in Uzbekistan and one you shall get. Check out each VPN on our list and pick according to your needs. Once done, let me know in the comment section below which one you ended up with and how did it benefit you in Uzbekistan.
Best VPN for Uzbekistan
Name: ExpressVPN
Description: The best VPN provider for security, privacy, and access to geo-restricted content.
Speed

Server Location

Security & Privacy

Refund Policy

Support