What are the best VPNs for the Middle East? It's no secret that the Middle East enforces some of the strictest Internet censorship laws in the world. The UAE doesn't allow VoIP protocols like Skype and Viber so that they profit from their own national carriers. Iran not long ago blocked Telegram to defuse public dissent. And Saudi Arabia has almost everything blocked for… well do they really need a reason? Weirdly enough, even with tight Internet censorship and restrictions, Middle Eastern Internet users have been very vocal about the positive impact the Internet has on their everyday lives.
Internet Freedom in the Middle East
It would be really interesting to see how enthusiastic they would be if they had unlimited Internet access and freedom. No, this is not a fantasy but a very tangible reality that can be acquired with the use of a VPN. Syria, Pakistan, Qatar, Sudan, Oman, Egypt, Bahrain, and Kuwait can do whatever the heck they want to do online without ISPs' knowledge or government interference.
In order to obtain online anonymity and Internet freedom without getting dragged into legal problems, you need a reliable and trustworthy VPN. Read on to find out what rea the best VPNs for the Middle East.
Best VPNs for the Middle East
We've conducted various tests to find the best VPNs for the Middle East. Here are the results:
Examples of Internet Censorship in the Middle East
As the world moves towards Internet connectivity, The Middle East will lag far behind for not allowing its people Internet freedom. If the governments in those countries won't encourage Internet penetration, citizens should take matters into their own hands and do something about it.
In the United Arab Emirates, Skype is blocked on both mobile data and WiFi/Lan Internet networks. Telegram users in Iran have been denied access to this app since the 9th of April. Don't forget Egypt's Supreme Administrative Court's abrupt decisions to block content like Youtube.
Why Need a VPN for the Middle East?
While many Internet users in the Middle East have shown their support for authorities' blocking of harmful content, a lot of racist-free, harmless, and inoffensive content got blocked for no reason along the way. Whether you're a Middle Eastern resident or you're visiting for business or leisure, at some point you'll find yourself at a loss for ways to use the Internet a bit more freely. A VPN will grant you a new identity that will allow you to bypass geo-restrictions and provide you with a layer of security so that no third parties can have access to your data. Here are other reasons why you would need a VPN in the Middle East:
Unblock websites and avoid filters.
Browse the web anonymously.
Improves online security.
Enables you to access a public connection safely.
Allows p2p torrenting.
Bypasses worldwide geo-restrictions.
Hides the users' IP addresses.
Grants remote access to files.
Enables users to share large files safely.
How to Use a VPN in the Middle East?
We cannot stress enough the importance of having a VPN, especially in the Middle East. A Virtual Private Network (VPN) is a technology that is used to ensure a secure connection between the user's device and other networks. It hides the IP Address of anyone who connects to its servers. Not only does a VPN hide your IP Address, they allow you to use the Internet freely.  All of these blocked websites, restricted or limited access to forums, and streaming media, well all of that can be gone once a VPN is installed. A VPN is made up of a network of servers that are distributed in countries all over the world. Meaning, you can connect to any server in any country around the globe. That connection would replace your current IP with that of the country to make it look like you're located there. Having a different IP, enables you to have access to almost any restricted website within the country you chose.
Sign up with a VPN service provider that offers its users VPN apps.
Download and install your VPN app on your device.
Launch the application and sign in.
Select one of the VPN servers and connect to it.
Check your IP address via a website like WhatIsMyIP.network to make sure a change has been made.
You have officially hidden your IP address. So now, you can avoid ISPs and third parties.
Best VPN for the Middle East
In the Middle East, the VPN becomes your best friend. It's your ticket out of Internet censorship and limitations. But not every VPN is the same. Those free ones, for example, stay as far as you possibly can from them. They're bad news. Even the premium ones prove that not everything that glitters is gold. Based on that, we have made our research and were able to compile a list of the best VPNs to be used in the Middle East. Take a look:
ExpressVPN
ExpressVPN has one of the largest networks of servers and server locations, with over 130 server locations in 94 countries. Meaning, Internet users in the Middle East can benefit from its wide range of server distribution.
This service provider would be the ideal choice for the Middle East for leading a zero-logs privacy policy and supporting the best encryption methods used by many governments. For those who want to protect their data from surveillance and bypass censorship without run-ins with the authorities, ExpressVPN is the provider you need. To read the full review, make sure you check out this article.
BulletVPN
BulletVPN strives to provide its Middle Eastern users with the best services so that they get to have an enjoyable online experience. They make use of strong encryption protocols capable of unblocking restricted material and lifting all kinds of bans.
Their reliable connections and servers guarantee the bypassing of censored content from all around the world. Additionally, this service provider doesn't record any of its users' browsing or downloading history.
Meaning, they have nothing to store or retain as they follow a strict zero-logging policy. BulletVPN's goal is to ensure that their customers' privacy and security in the Middle East are safely maintained. Read the full BulletVPN review right here.
NordVPN 
This is by far one of the most security-oriented service providers. It offers not one but two encryption methods, meaning your data gets encrypted twice! A feature that will most certainly reassure those connecting from the Middle East.
A zero-logs privacy policy, a kill switch, and specialty server types qualify NordVPN as a great option for those seeking higher levels of security. For more information on this service provider, read this article.
VPNs for the Middle East
No more missed movies or videos, no more error messages, and certainly no more " I can't place a call" excuses. We don't all have the same priorities. But we would appreciate, the very least decent online communication methods to maintain our connections with our loved ones. Or being able to see those people whenever we want or the luxury of streaming a movie we've been dying to see without receiving a "this content is not available in your area". With that being said, we can all agree on the indispensability of a VPN in the Middle East. Otherwise, none of these options would even be options, to begin with.
Best VPN for Middle East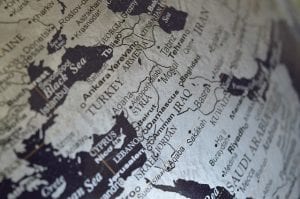 Name: ExpressVPN
Description: Countries in the Middle East suffer from various forms of online censorship and surveillance. Signing up with a VPN such as ExpressVPN is crucial for a safe and secure browsing experience.
VPN Apps

Access Blocked Content

Speed

Support

Refund Policy