How to Unblock Skype in UAE?
|
Skype Unblocked in UAE on mobile Smartphone, Windows PC, or Mac OS? So, you're in Dubai or Abu Dhabi and intend on making an important voice or video call using your Skype app. This would normally be a straightforward process. However, in the United Arab Emirates, Skype is blocked on both mobile data and WiFi/Lan Internet networks. This isn't the first time the popular VoIP service gets banned in the Arabic states, and it certainly won't be the last. As an American, British, Canadian, Australian, or Indian expat, the fact that Skype is blocked can be quite annoying. You can get around Internet censorship, however, by using Virtual Private Networks.
The UAE Blocks Skype
Skype is one of the many services that are blocked in the UAE. The main reason is that having free VoIP services in the UAE will bring telecommunication companies a run for their money. Emphasis on "Money". Companies like Etisalat and du are the leading telecoms in the country. Therefore, the government blocks any service that might jeopardize their revenue streams.
When you're one of these telecommunication companies' subscribers, you'll get billed on international calls. If I may say, calls like these are the best way providers benefit from users. So, if you go and operate with a free service, you'll be hitting them right where it hurts most, their income. That's why as an alternative, du came up with a paid video calling service. Yeah, you may have guessed it right away, it's not cheap at all.
According to Etisalat, UAE's major telecommunication provider, "The access to the Skype app is blocked since it is providing unlicensed Voice over Internet Protocol (VoIP) Service, which falls under the classification of prohibited contents as per the United Arab Emirates' Regulatory Framework."
Skype, on the other hand, stated on its website that "It has been brought to our attention that our website and services have been blocked by the ISPs in the UAE. That means you won't be able to use Skype in the UAE."
How to Unblock Skype in UAE using VPN
Voice over Internet Protocol (VoIP) is technically banned in the United Arab Emirates. According to Emirate authorities, VoIP services carry several risks such as hacking, phishing, and privacy vulnerabilities. That means that service such as Skype, Whatsapp and Viber are all blocked in the UAE. Luckily, there is a workaround you can use to bypass Internet censorship and get access to all the sites and apps you'd usually be able to access back home. All you need is a VPN. Regardless of whether you currently reside in Dubai, Sharjah, Ajman, Ras Al Khaimah, Abu Dhabi, follow these steps to unblock Skype in UAE.
First, you need to sign up with a credible VPN provider. Creating an ExpressVPN account is highly recommended as I use it myself when I'm visiting the country.
While on their website, go to their app section where you can choose which device you want to download their client on. ExpressVPN's application is available on Android, iOS, PC, Mac, and Fire Stick.
Download and install your VPN apps on the device you intend to use Skype on.
Now, sign in with your VPN account.
Head over to the server's list and navigate through it.
Connect to one of ExpressVPN's 145 VPN server locations worldwide.
Use Skype without restrictions. You can now make both video and voice calls using your Skype app.
What should be noted is that not all VPN services work in the UAE. If you're looking for the best VPN to unblock Skype or other VoIP services in the United Arab Emirates, we suggest using ExpressVPN. They offer a 30-day refund guarantee so you can always get your money back just in case things aren't to your liking. Feel free to check our list of best VPNs for UAE in 2019.
Internet Access in the UAE
Internet freedom is something you don't find in many regions around the world, especially when it comes to the UAE. The country has strict laws and regulations that impose instant blockings on websites that include pornographic, anti-religion, or anti-Islam content, as well as any subject that undermines the country's government and the royal families.
These blockings have become an issue for travelers and expats passing through or living in the country, particularly people from the US, UK, Canada, and India of course. Living abroad can be hard since you don't have that many means to contact your families back home. In the UAE, it's next to impossible to do so as the country blocks the likes of WhatsApp Calling, Viber, and Skype, as well as Instagram's and Snapchat's video calling feature.
The government might even ban a website for no specific reason. Even if it senses the potential of a future issue with a web page, the authorities block it on the spot. That's why you need a VPN to unblock websites in a country such as the UAE.
Best VPN to Unblock Skype in the UAE
Here's a list of working VPNs you can use to make Skype calls in the UAE:
1. ExpressVPN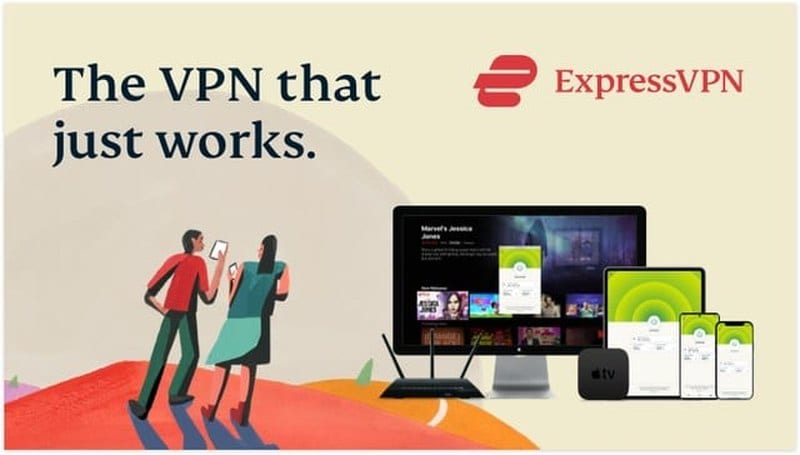 ExpressVPN comes straight from the British Virgin Islands, which is a relief as its not subject to any data jurisdiction. You're safe when it comes to securing your privacy. The government won't be able to get a hold of what you're doing online since there's nothing to submit. Now that's a strict no-log policy.
As for security, ExpressVPN uses one of the best encryptions to ever exist, 256 bit AES, which works perfectly with VPN protocols such as SSTP, PPTP, L2TP/IPSec. Moreover, this VPN is capable of unblocking Netflix regardless of where you might be on the map. So, alongside protection, you'll get a streaming experience you've never witnessed before. That's not all, ExpressVPN has more to offer:
Thousands of servers around the world.
No-log policy.
More than 40000+ IP addresses.
Smart DNS feature.
A Kill Switch.
5 devices under one subscription.
Live chat support.
30-day money-back.
2. BulletVPN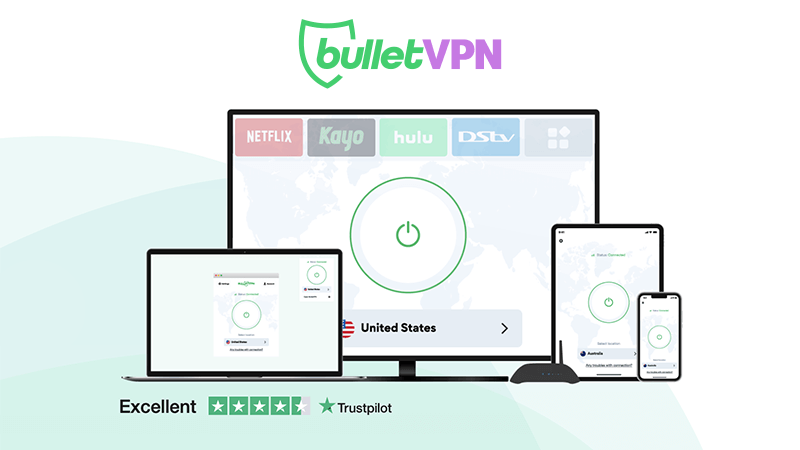 BulletVPN certainly owns a spot in our best VPN list considering how fast their service is. It doesn't matter if you're looking to unblock websites in the UAE or gain access to international ones, this VPN can do it all.
The service has 154 servers in 55 countries, placing them strategically around the world. Their application is very easy to use in case you're not a tech individual. You just sign in, select a server and connect, that's it.  Have a closer look at its features here:
Live chat support.
Unlimited bandwidth.
Smart DNS option.
Automatic kill switch.
Servers in 55 countries.
Zero logs policy.
Connects 6 simultaneous devices.
3. NordVPN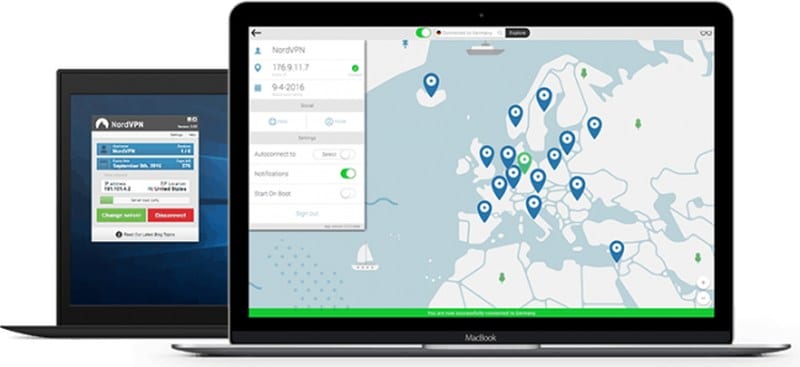 NordVPN is a reputable VPN that has an unimaginable number of IP addresses to provide for subscribers. That for sure comes with more than 4000 servers scattered across the globe. Its servers are optimized for different uses including HD streaming, torrenting, and online gaming. Furthermore, these servers are well equipped so that a user can rely on them if located in countries with high censorship such as the UAE. That's not even half the story, check out more features below:
Blazing fast servers in 59 countries.
Strict no-log policy.
Military-grade encryptions.
Double VPN.
A kill switch.
Connects 6 devices under one subscription.
24/7 live chat support.
4. SurfShark
SurfShark grabbed my attention as soon as I knew that it offers unlimited connections. To my surprise, that wasn't the only good feature it has in its pockets.
The budding VPN service provider has a fresh-looking website, friendly customer support, and its app is very user-friendly. It has servers in 65 different countries including ones in The Americas, UK, Middle East, and Asia-Pacific. If that's not enough to make you fall in love with this VPN, find out more below:
Speedy servers in 65 countries.
High-level security protocols.
Keeps no logs.
Live chat support.
30-day cash-back guarantee.
Kill switch.
DNS Leak Protection.
Free VPNs in the UAE?
This is an important part, so please read well. It's technically possible to operate with a free VPN in order to unblock services like Skype in the UAE. However, you must be careful as no-charge VPNs are quite dangerous nowadays. Other than being slow and lacking servers, they might compromise your privacy.
Have you ever wondered how a free VPN collects its debts by the end of the day? If it's free to use, how is it paying for the servers it offers for users? Simple, it collects and sells your data to third parties. Free VPNs have no incentive to actually protect your information, as they can make far more money selling data to the highest bidder instead. 
So be careful what you do while using a free VPN. If you're not convinced and still determined to use a gratis service, check this guide on the best free VPNs for a better idea.
Skype Banned in UAE – How to Unblock with VPN
While Whatsapp remains a great app for communicating with your friends and relatives, Skype is more business oriented. Without access to Skype, you might miss out on important online meetings with your clients or associates. Fortunately, you can always use VPN to get around those blocks and access any site or app you want, regardless of where you currently live.